This copycat Costco pumpkin pie recipe has an incredibly silky-smooth and creamy texture. It is a perfect re-creation of Costco's legendary pumpkin pie.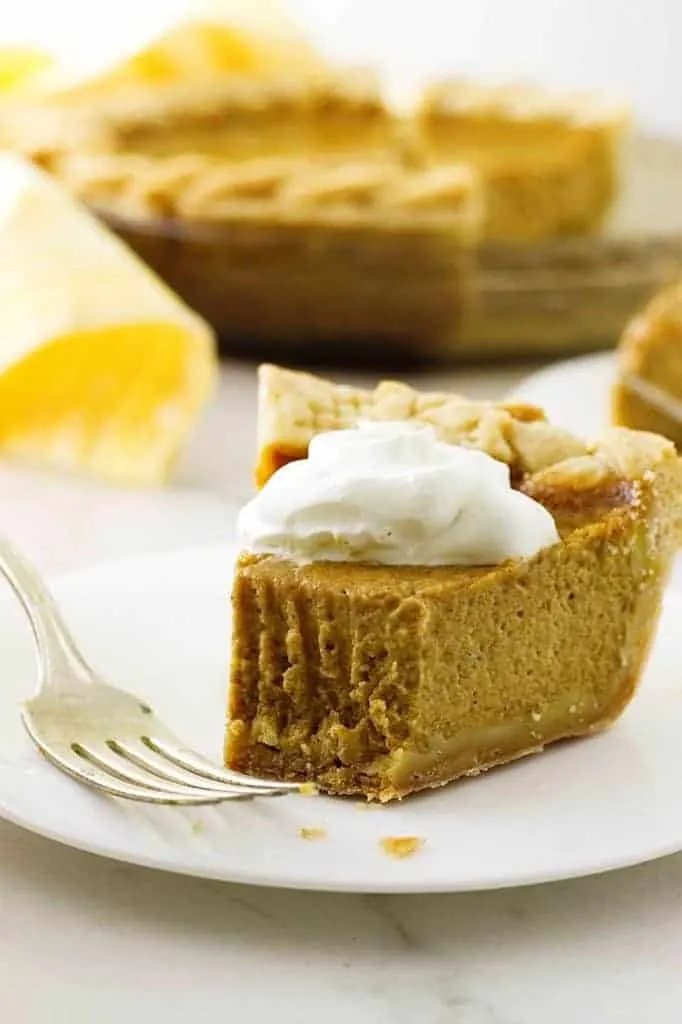 I believe pumpkin pie must be the most popular pie for Thanksgiving. It seems to be on every table and every year Costco seems to sell out of their pumpkin pie.
Have you ever heard Costco customers complaining when the store is sold out of pumpkin pie the day before Thanksgiving? It's quite a scene. This copycat Costco pumpkin pie will ease all your worries of any short supplies at Costco.
I have to admit that Costco has perfected their pie. I can't say as much for their pie crust but certainly, their pumpkin filling is foolproof.
This recipe fulfills your wishes for that same ultra-creamy and smooth custard filling that Costco has accomplished. It isn't too sweet and it has just the right amount of spice to allow the pumpkin flavor to remain the star.
Costco's pumpkin pie is 12 inches and weighs over 3 pounds. That's a lot of pie for a holiday dinner that is known for unreasonably excessive amounts of food. Our Thanksgiving dinner is always followed by more than a few sweets to choose from but most of the guests are pretty full when it is time for dessert. Since it is hard to turn down a delectable confection, everyone asks for "just a sliver" of each dessert. This recipe has been scaled down to a normal size 9-inch pie. It is just right!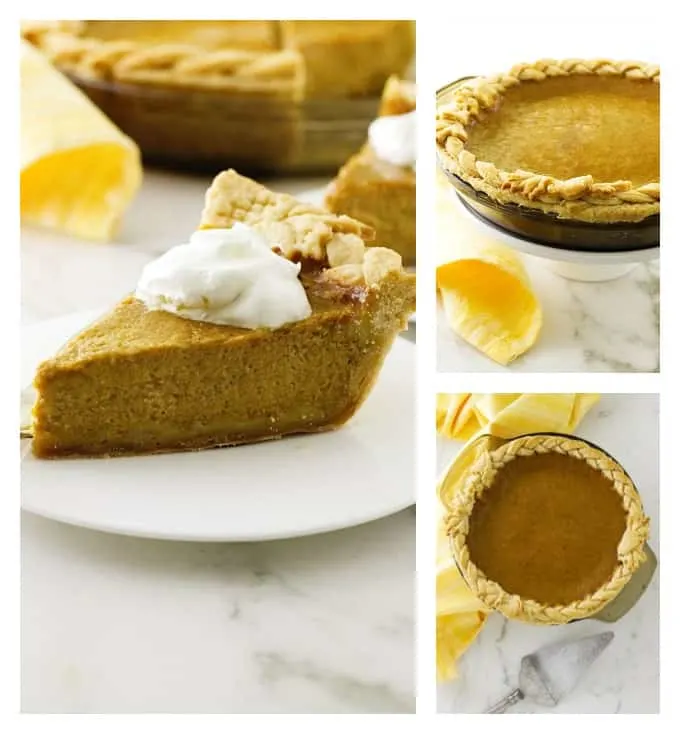 The secrets to a creamy, smooth copycat Costco pumpkin pie:
Pumpkin pie is actually an egg-based custard. Custards require gentle, low heat and should only be cooked until the egg base is set. If the pumpkin filling is firm when you remove it from the oven, it is over-baked and will lose that smooth texture.
Bake the pie only long enough for the eggs to be cooked. The pie should still have a little jiggle when you remove it from the oven.
Here is why this recipe works:
Cooked to a precise temperature. In order to prevent over-baking the pie, get an instant read thermometer and take the pie out of the oven when the center reads 175°F.

If you do not have a thermometer, you can bake this pie without one but a good instant-read thermometer will give you the best results.

Extra egg yolks. To enhance the creamy, smooth, and rich texture of the pumpkin pie, there is a greater proportion of yolk in this pie. Replacing some of the egg whites with egg yolks contributes to a more tender and creamy texture as well as creates richness and depth of flavor.

Heavy cream. There is also a higher proportion of cream to milk in this recipe. It just won't turn out the same if you replace all the cream and milk with half and half nor will it be the same if you replace the milk with a non-dairy milk.

You can certainly create a pumpkin pie that is dairy-free but if you are looking for that quintessential Costco pumpkin pie flavor and texture, you will want to use real dairy.
We really like this thermometer from ThermoWorks. It gives an accurate reading in only one second so you don't have to hold the oven door open for an eternity while you wait to get a reading.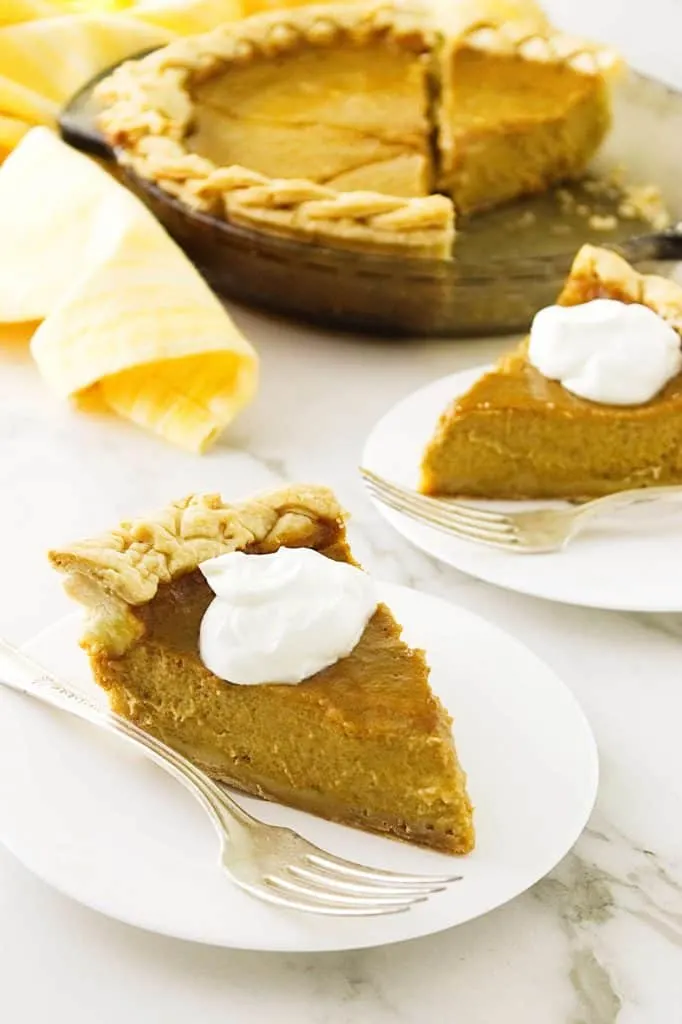 Canned or Fresh Pumpkin?
Costco uses canned pumpkin for their pies. That's pretty much a no-brainer since they are baking on such a large scale. But the type of pumpkin they use is pretty important to the taste and texture of their pie.
I have learned through the Costco Connection magazine that they use the Dickinson variety of pumpkin. This variety of pumpkin has a more assertive pumpkin flavor and a texture more suitable for baking. This is certainly another secret to the ultimate Costco pumpkin pie.
If you're at a loss for finding Dickinson pumpkin, don't despair. Libby's uses a Dickinson variety in their pumpkin purée. If you are feeling especially adventurous and have the forethought to plan well in advance, you can plant your own Dickinson pumpkins.
Why You Should Pre-Bake the Pie Crust:
Since you will be baking the pie at a fairly low temperature the crust needs to be baked in advance or it simply won't get completely cooked by the time the custard filling is finished.
Pre-baking (or blind-baking) the crust ensures that both the crust and the filling will be perfectly cooked. No soggy-bottomed crust in this copycat Costco pumpkin pie! Watch our video to see how easy it is.
The trick to pre-baking the crust is to solidify the fats in the dough before you put it in the oven. Once you have the pie dough in the pan, pop the whole thing in the freezer for about 15 minutes before putting it in the oven.

You will also want to line the unbaked crust with parchment and fill it with pie weights. Doing this will hold the shape of the pie dough and prevent the sides of the crust from slumping to the bottom of the pan during baking.
The Pie Crust
We used our favorite all-butter pie dough recipe with einkorn flour for our pie crust. It isn't necessary but it really does make an incredible pie crust. You could also make a traditional all-butter pie crust.
Our recipe for a single crust, all-butter einkorn pie dough is just below the pumpkin pie recipe. If you want to make decorations and a braided crust like the pie in our photos then you will want to double the recipe so you have enough dough for the decorations.
Check Out Our Video Above
You may also like one of these pie recipes: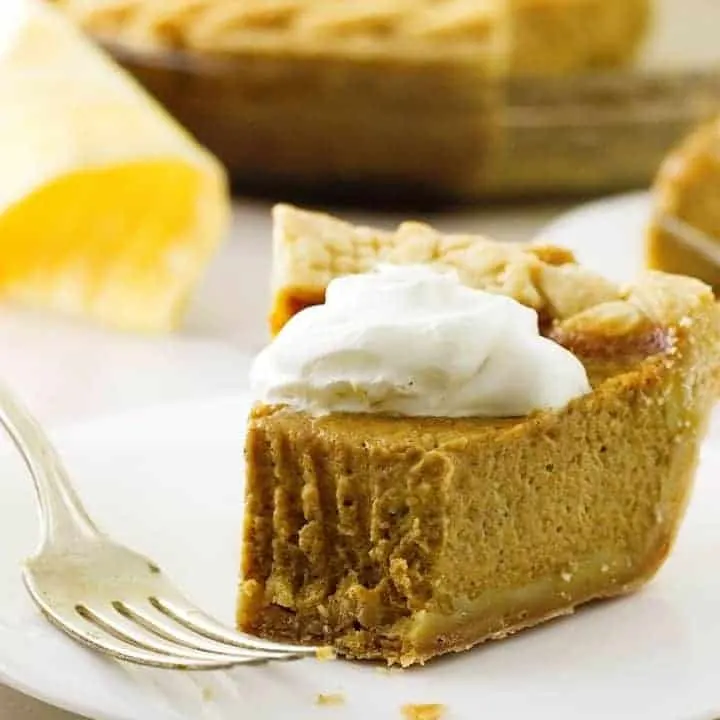 Copycat Costco Pumpkin Pie
Cook Time:
1 hour
5 minutes
Total Time:
1 hour
20 minutes
This re-creation of Costco's pumpkin pie is an ultra rich, smooth and creamy pumpkin pie. A perfect copycat of Costco's most famous pie
Ingredients
Crust
or use a store-bought crust (standard size)
Filling
1 large egg (50 grams)
3 egg yolks (50 grams)
1 cup heavy cream (227 grams)
½ cup whole milk (113 grams)
1 (15-ounce) can pumpkin purée (not pumpkin pie filling)
¾ cup sugar (150 grams)
2 teaspoons vanilla extract
2 teaspoons ground cinnamon
¾ teaspoon ground ginger
½ teaspoon nutmeg
⅛ teaspoon ground cloves
½ teaspoon salt
Instructions
Prepare the Pie Crust
Pre-heat the oven to 375°F
Roll the chilled pie dough out on a floured board then position the pie crust in a standard size 9-inch pie plate. Fold the edges of the pie dough under and crimp or press down with a fork. Freeze for 15 minutes. (See note 1)
Line the pie crust with parchment paper and fill it with pie weights. (See note 2.)
Bake for 15 to 20 minutes then remove the pie weights and bake for another 5 minutes. Remove the pie crust and set aside while you prepare the filling.
**Reduce the oven temperature to 325°F
Prepare the Filling
Whisk the egg and egg yolks in a large bowl. Add the rest of the ingredients and whisk until well blended.
Pour the filling into the pre-baked pie shell and bake for 45 to 60 minutes (time may vary based on your oven). The edges will look slightly puffy. The center may jiggle like jello when you shake the pie plate... that's fine, it will firm up when it is cool. (See note 3) If you have an instant-read thermometer, the center of the pie should measure 175°F.
Cool on a wire rack for 2 hours, then cover with plastic wrap and store in the refrigerator until ready to serve.
Notes
Chilling the un-baked pie dough in the freezer prior to baking it will solidify the fat and prevent shrinkage.
It is also necessary to add weights to the pie crust while it is pre-baking. If you skip this step the sides of the crust will fall to the bottom of the pan. You can use any combination of weights such as rice, wheat berries, beans, or store-bought pie weights.
When the pie is finished cooking the center should wiggle like jello. If it is firm, it is overcooked. If you want to be more accurate with the cooking time then use an instant-read thermometer. The perfect time to pull the pie from the oven is when the center reaches 175°F. Preventing the filling from over-cooking will ensure that you get a smooth and creamy pumpkin pie.
If the pie crust seems to be browning too quickly while the pie is baking then cover the crust with foil.
If you want to make decorations with the pie dough like the pictures then double the pie dough recipe and you will have enough dough for decorating.
You can make this pumpkin pie 2 to 3 days in advance. Keep it covered and stored in the refrigerator until time to serve.
Use canned pumpkin puree and not homemade pumpkin puree from fresh pumpkins. Homemade pumpkin puree will often have more liquid than canned pumpkin puree.
Do not confuse canned pumpkin puree with canned pumpkin pie filling. The two products look very similar so check the label carefully.
Libby's canned pumpkin uses the same variety of pumpkins that Costco uses in their pumpkin pie. I have noticed other brands of pumpkin puree can look watery and may not work well with this recipe.
Recommended Products
As an Amazon Associate and member of other affiliate programs, I earn from qualifying purchases.
Nutrition Information:
Yield:

8
Serving Size:

1
Amount Per Serving:
Calories:

355
Total Fat:

20g
Saturated Fat:

12g
Cholesterol:

155mg
Sodium:

547mg
Carbohydrates:

40g
Fiber:

2.5g
Sugar:

22g
Protein:

5.3g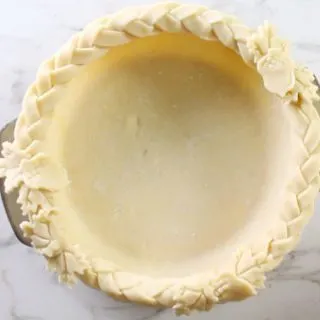 Single Crust All-Butter Einkorn Pie Dough
Yield:
1 single crust pie dough
Additional Time:
30 minutes
A single crust, all-butter pie dough made with einkorn flour. The einkorn flour behaves almost like pastry flour and makes a tender, delicious pie crust. The butter adds to the the flavor of this pie dough and creates a flakey crust.
This recipe gives a slightly larger portion of dough than most single crust recipes and will not leave you feeling short changed for pie dough. It is even a large enough recipe for a deep dish pie pan!
Ingredients
1 1/2 cups (180 grams) all-purpose Einkorn flour
1/4 teaspoon salt
10 tablespoons ice cold butter (141 grams)
3 to 4 tablespoons ice cold water
Instructions
Add the einkorn flour and salt to the bowl of a food processor and pulse to combine.
Cut the butter into small pieces and add to the flour. Pulse for 30 seconds or until only small pea-size bits of butter remain. Sprinkle the mixture with 2 or 3 tablespoons of ice water and pulse the processor for about 30 seconds or until the flour mixture just barely comes together. Do not over-process, it will seem like moist, loose sand but all the crumbs will stick together when you form it into a ball.
Transfer the dough to a work surface that has been dusted with flour. Shape the dough into a ball, smashing all the loose crumbs together. Flatten the ball into a disk and wrap it in plastic wrap then refrigerate for 30 minutes or until ready to use.
When ready to shape the dough, roll the chilled dough onto a floured work surface. Roll it out until the dough is large enough to fit in the pie plate with about a 2 to 3 inch overhang.
Fold the excess overhang under itself and crimp the edges.
Nutrition Information:
Yield:

8
Serving Size:

1
Amount Per Serving:
Calories:

88
Total Fat:

1.8g
Saturated Fat:

1g
Cholesterol:

4mg
Sodium:

84mg
Carbohydrates:

15g
Protein:

3g