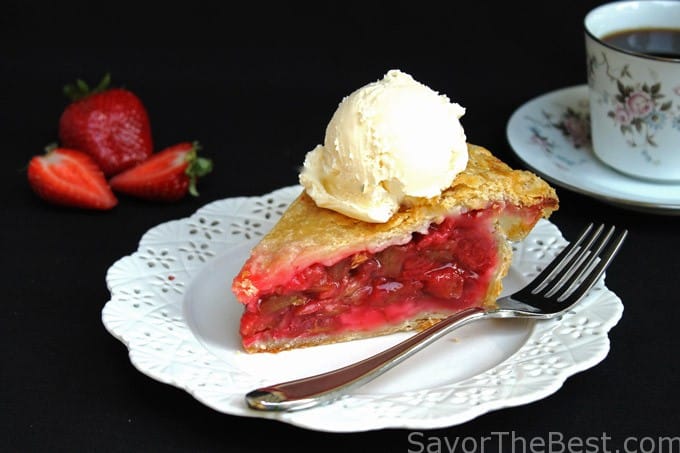 One of my favorite fruit pies ever is strawberry-rhubarb pie. Rhubarb has a very unique tart flavor and mixes well with the sweetness of many kinds of fruit. Rhubarb blends well with peaches, blueberries, raspberries and most other fruits but strawberries and rhubarb is a classic and an all-time favorite.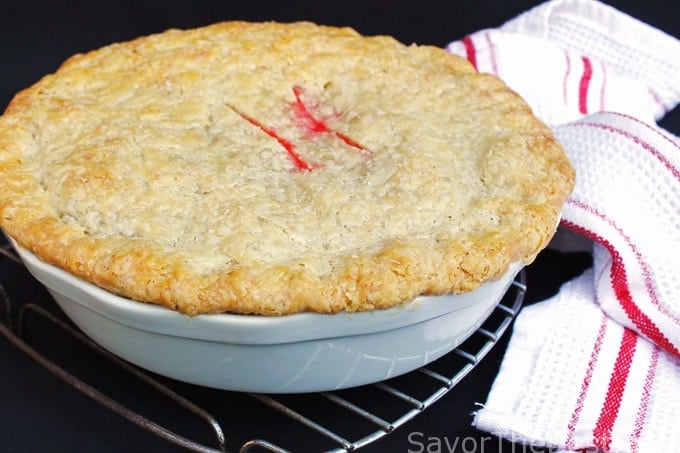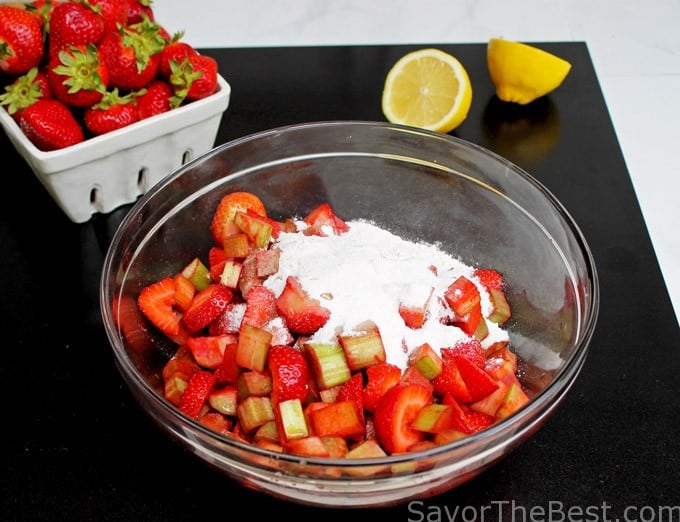 We have three rhubarb plants in our garden and these guys have a long 15-year history. Without going into a long and boring story I will only say, they have avoided Don's rototiller, his weed poisoning and having to be relocated to sunnier spots for the last four-plus years.
Those poor guys have really taken a beating but we are enjoying them now. Last year I made several quarts of rhubarb sauce, just the way I make applesauce and Don would rather have that on his German 'Dutch Baby' pancakes than real maple syrup.
To make this strawberry-rhubarb pie I have used my old stand-by, flakey, double-crust pastry but the recipe for the filling has been adapted from my cookbook, "Me, Myself and Pie".
I used a deep dish 9-inch pie plate for this recipe and it will easily serve 8 people. I suggest serving it cold so the filling stays intact. Oh, but how I love it served warm with a scoop of vanilla ice cream, even if the filling runs all over the plate. It makes my mouth water just thinking about it.
So, let's get to this recipe for strawberry-rhubarb pie, I hope you enjoy it as much as we did.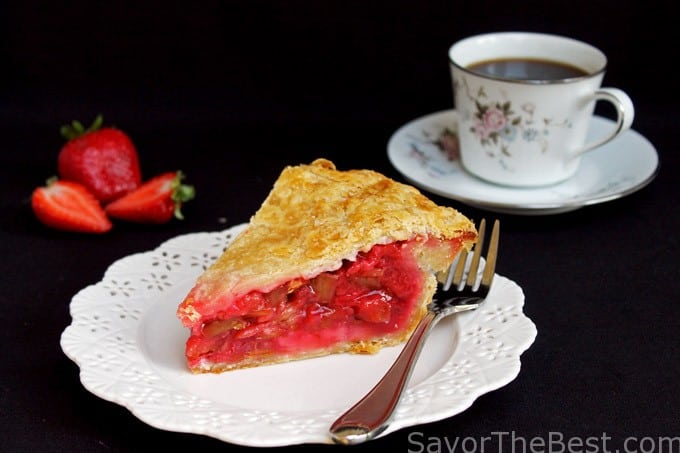 Connect With Savor the Best:
Please follow us on our social media accounts
Facebook * Instagram * Pinterest * Twitter * Youtube
Did you make this recipe? We would love to hear from you. Drop us a comment below.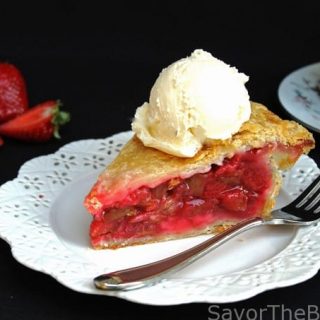 Strawberry-Rhubarb Pie
Yield: 8 servings
Prep Time: 30 minutes
Cook Time: 1 hour
Total Time: 1 hour 30 minutes
Strawberry-rhubarb pie is a classic dessert that is sweet and tart at the same time. Serve warm with vanilla ice cream for an extra treat.
Ingredients
For the Pie Crust:
2 1/2 cups all-purpose flour, plus more for dusting
3/4 teaspoon fine sea salt
2 sticks (8 ounces) cold butter, cut into cubes
1 teaspoon cider vinegar
5 tablespoons ice cold water
For the Strawberry-Rhubarb Pie Filling:
2 cups strawberries, (3/4 of a pound) hulled and sliced into large chunks
4 cups fresh rhubarb cut into 1/2-inch pieces
2-3 drops of red food coloring (optional)
1 tablespoon fresh squeezed lemon juice
1-1/3 cup sugar
1/2 cup cornstarch
1/4 teaspoon sea salt
1 tablespoon butter, cut into 3-4 pieces
2 tablespoons heavy cream
¼ cup coarse sugar, or sugar sprinkles
Instructions
For the Pie Crust:
Mix the flour and salt in a large bowl. Add the butter and cut it in with a pastry blender until the largest pieces are the size of small peas and the mixture begins to clump on the pastry blender.
In a small dish, mix the vinegar and 5 tablespoons ice water together. Add the liquid to the flour mixture and stir with a fork. Squeeze a clump of dough in your hands, If it holds it's shape it is just right. If it is still crumbly and doesn't hold together easily, add another tablespoon or two of ice water until you can squeeze a handful and it holds together.
Divide the dough in half and form each half into a flat disk. Wrap each disk in plastic wrap and refrigerate for at least 45 minutes
Thirty minutes before you're ready to roll out the dough, remove it from the refrigerator and let it sit at room temperature to soften up a little. The rolling will be easier.
For the Strawberry-Rhubarb Pie Filling:
Preheat oven to 400°F.
Add the strawberries and rhubarb to a large bowl, add the red color if you are using it, add the lemon juice and toss to combine.
In a small dish, add the sugar, cornstarch and salt, whisk together. Sprinkle the mixture over the top of the strawberry-rhubarb mixture. Fold together to coat the fruit well.
Roll out the first pastry disk and carefully fit it into a 9-inch deep-dish pie plate/pan.
Spoon the fruit mixture into the prepared pie crust, dot with the butter pieces and cover with the rolled upper crust and crimp around the edges in a decorative manner. Lightly brush the top with the cream, cut vent slits and sprinkle with the sugar. Transfer the pie to the middle rack of the oven with a baking sheet lined with parchment paper on the rack just below the rack with the pie. This will catch any drips from the pie and save an oven cleaning job.
Bake at 400°F for 15 minutes, reduce the temperature to 375°F and continue to bake for an additional 1 hour. If the crust begins to brown too quickly, drape a piece of foil or parchment paper over the top.
Transfer the pie from the oven to a wire rack to cool, then refrigerate and serve cold.
Nutrition Information:
Yield: 8
Serving Size: 1
Amount Per Serving:
Calories: 484
Total Fat: 15g
Saturated Fat: 9g
Trans Fat: 1g
Unsaturated Fat: 5g
Cholesterol: 38mg
Sodium: 374mg
Carbohydrates: 84g
Fiber: 3g
Sugar: 43g
Protein: 5g
Nutrition information is a guideline only, is calculated automatically by third party software, and absolute accuracy is not guaranteed.