Strawberry-rhubarb slab pie is a summertime crowdpleaser, especially with a hefty scoop of vanilla ice cream on top! Sweet strawberries combine amazingly with the tart flavor of rhubarb, and that flakey, buttery crust takes this incredible dessert to a whole new level of goodness.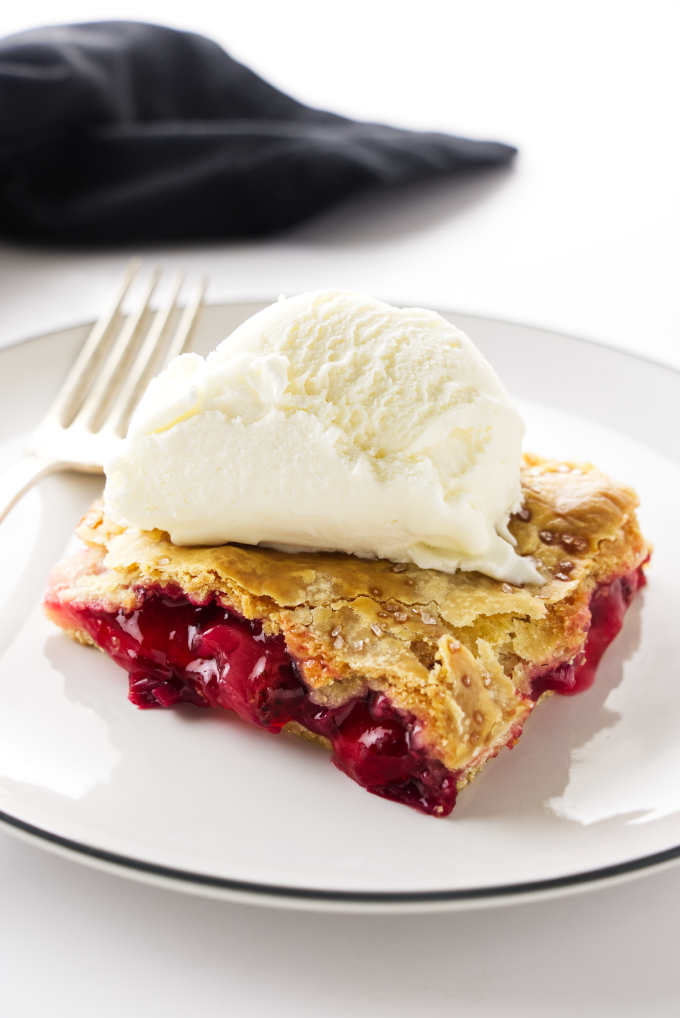 Strawberry rhubarb is a classic summertime combo that just makes sense, especially since strawberries and rhubarb share the same peak season. Snag fresh stalks of rhubarb at your local farmer's market (or plant your own if you're in the right growing region) to enjoy this crisp and tart produce item all summer long!
Besides this slab pie, we have a few other ideas for how to make use of rhubarb season, like our Strawberry Rhubarb Crisp or this Blueberry Rhubarb Pie.
What is a Slab Pie?
A slab pie is nothing more than a large pie baked in a rectangular baking dish that is more shallow than a standard pie pan. If you have a baking sheet with a one-inch lip, you're good to go! Since slab pies serve more people than a regular pie dish, slab pie recipes are perfect for feeding a crowd. Think summer barbecues, family gatherings, holiday weekends… If you've never made one, a slab pie is definitely in order. 😉
Why You Will LOVE This Pie:
Our strawberry-rhubarb slab pie has a lot going for it. First, it's large. More is more when it comes to pie, right? Second, the baking process is similar to a traditional round strawberry rhubarb pie, with a few minor recipe alterations to adjust for the size of the slab pie.
This slab pie is:
Flakey and delicious with an all-butter crust
Perfectly sweet and tart
Juicy but not runny
A perfect, non-soggy pastry crust that stays nice and firm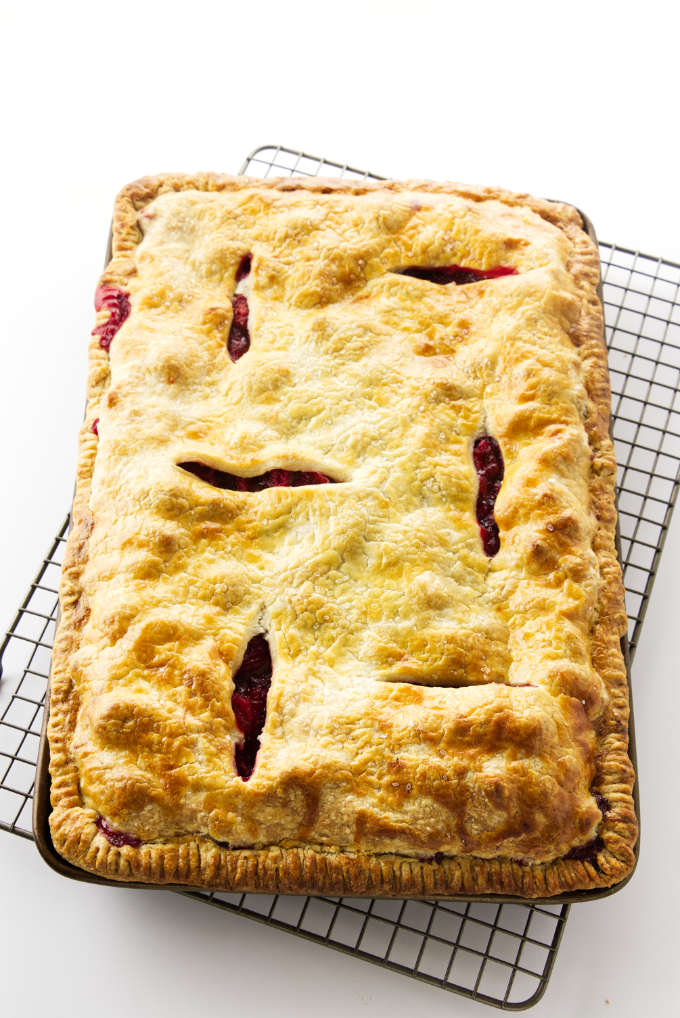 Ingredient List:
To make this strawberry-rhubarb slab pie, you will need:
All-purpose flour
Table salt
Cold butter, cut into small cubes (for the crust and pie filling)
Ice water
Rhubarb, cut into 3/4-inch pieces
Granulated sugar
Light brown sugar
Ground cinnamon
Freshly-squeezed lemon juice
Quick-cooking tapioca
Egg yolk
Heavy cream
Sanding sugar (optional, but the extra course sugar crystals are nice on top of the crust)
Do you Need to Cook Rhubarb Before Baking?
No, it is not necessary to cook the rhubarb before using it in the pie. The bake time and temperature will result in perfectly softened rhubarb pieces, so make sure to use freshly cut rhubarb that is raw.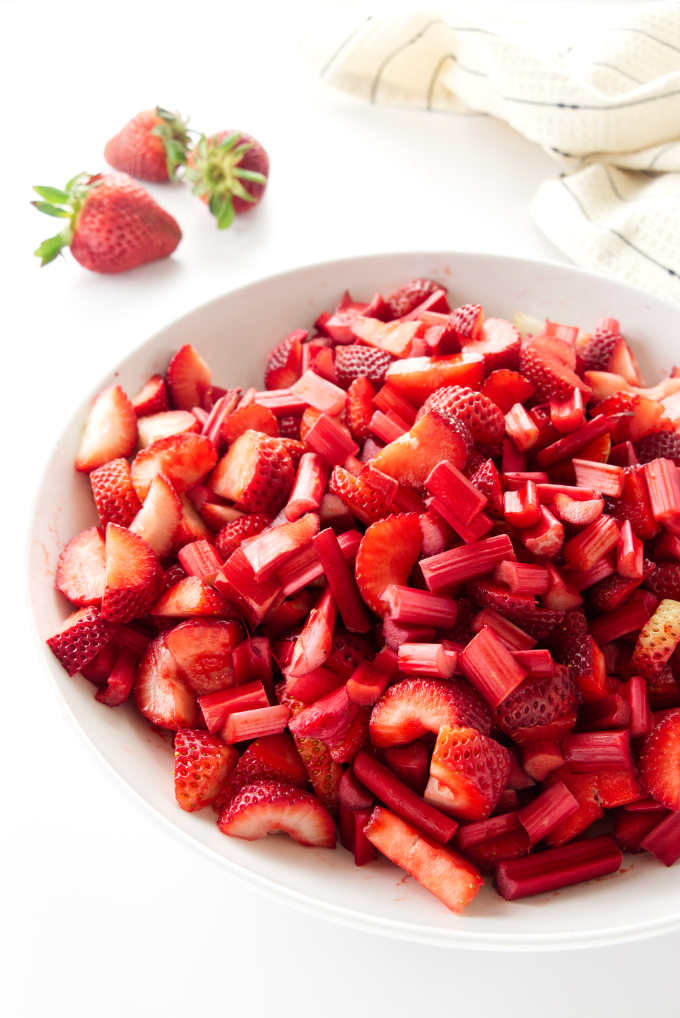 The Pie Process:
This strawberry rhubarb slab pie is actually pretty simple to make as far as pie recipes go. Here's a quick look at the process (see the full recipe at the bottom of the page):
Make the pastry crust: use a food processor and pulse the flour and salt with the butter until the mixture resembles course sand. Drizzle in the ice water and continue pulsing until the dough holds together. Shape into two pastry discs, wrap and chill!
Make the filling: Mix the rhubarb, strawberries, sugars, cinnamon and tapioca until it is well combined. The tapioca will help ensure the mixture becomes thick and doesn't get runny.
Assemble the slab pie: Roll out one pastry disc into a large rectangle, transfer it into the sheet pan and press it to fit. Add the fruit mixture- we do half the fruit, then the bits of butter, then the remaining half- and drizzle on the lemon juice. Roll out the other disc of dough and fit it on top of the fruit mixture, trimming the dough as needed and crimping the edges to seal.
Bake the pie! Brush the egg yolk/cream mixture over the top and cut a few slit vents before baking. Bake for 55-65 minutes and cool a couple of hours before serving.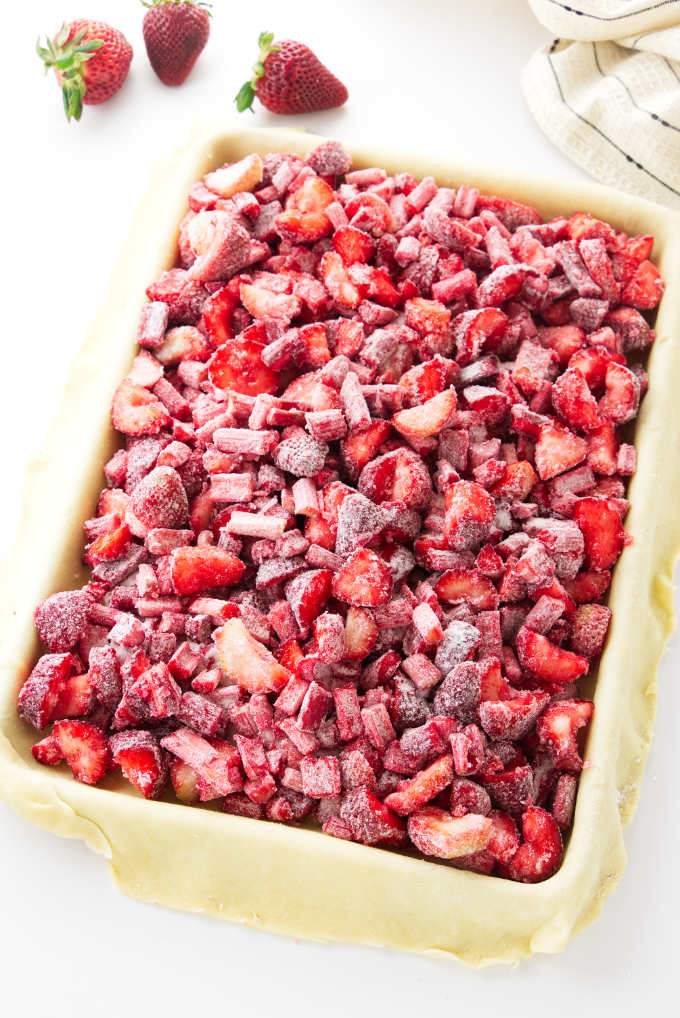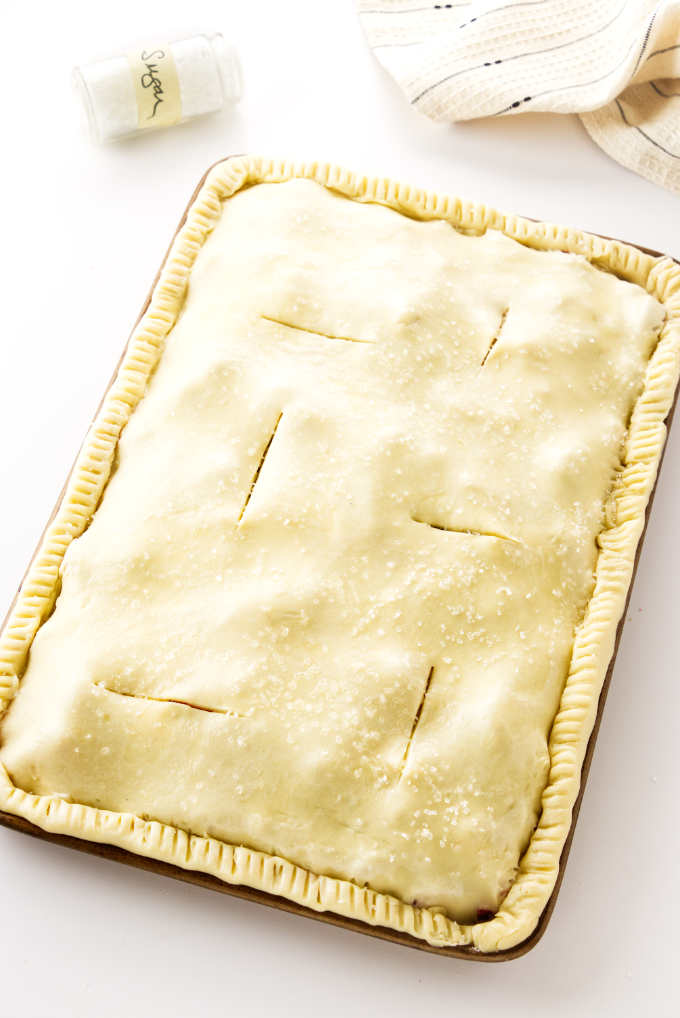 Baker's Tips For the Best Slab Pie:
The egg wash will help give the pie crust a nice, glossy finish. Sprinkle on sanding sugar right before baking if you choose to use it.
Crimp the edges however you like but don't skip venting the dough– this allows steam to release during the bake.
Make sure to let the pie cool for a couple of hours. This cooling time helps firm up the filling and will let the juices thicken up. That also means nice, clean cuts when you finally get to slice into it!
Serve with vanilla ice cream. It's kind of a given. 🙂
Why is My Strawberry Rhubarb Pie Runny?
As strawberries bake, they become extra juicy and end up releasing a lot of juices during the cooking process. Since we use tapioca as a thickener for this strawberry rhubarb pie, you shouldn't end up with a "runny" pie unless your measurements are off or you skip the tapioca altogether.
Other thickening options include cornstarch or flour (not necessarily a 1:1 swap), but we find that tapioca works best. It also gives the pie the perfect juicy, "gooey-ness," especially when cooled, that is just irresistible with fruit pies.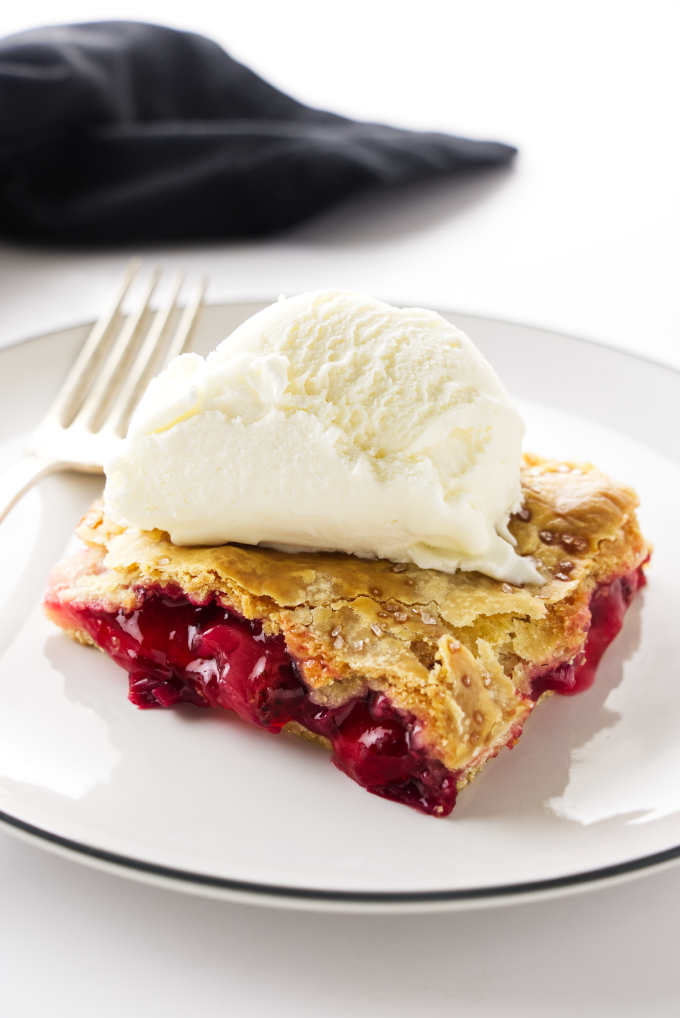 This strawberry rhubarb slab pie is a dreamy summertime dessert! Plump, fresh strawberries and tart rhubarb are an irresistible match, and that flaky pastry crust? That alone is a treat in itself. Have a slice, then have another, because this slab pie is made for second servings.
Helpful Tools:
Some of the following links are affiliates. If you click on these links and purchase something, we may receive a small commission. You don't pay any extra but it will help us keep the lights on.
Some Other Recipes We Are Sure You Will Love:
Fresh Blackberry Pie: Freshly picked, sweet, plump, wild blackberries piled into an all-butter double pastry crust. Try this pie with a scoop of vanilla ice cream!
Dutch Apple Pie with Oatmeal Streusel: An apple pie with a twist! Sweet, apple slices cooked on the stovetop then piled into a pre-baked pastry shell, sprinkled with an oatmeal streusel and baked until crispy. Enjoy!
Blackberry Crumble: This is a perfect dessert when you are in a hurry for a pie. The sweet, blackberries have a touch of lemon for a bit of tartness, packed into a dish and topped with a crumbly streusel mixture and baked to a sweet goodness. A crustless pie-in-a dish!
Connect With Savor the Best:
Please follow us on our social media accounts
Facebook * Instagram * Pinterest * Twitter * Youtube
Did you make this recipe? We would love to hear from you. Drop us a comment below.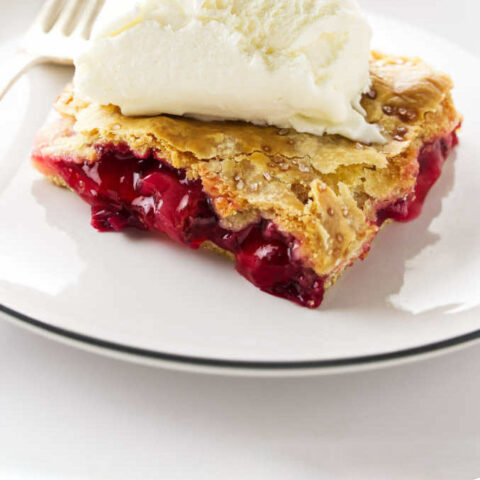 Strawberry-Rhubarb Slab Pie
Yield: 18 to 24 slices
Prep Time: 30 minutes
Cook Time: 1 hour 5 minutes
Additional Time: 1 hour
Total Time: 2 hours 35 minutes
Strawberry-Rhubarb Slab Pie...the perfect dessert for a crowd! Sweet and tart strawberries and rhubarb baked in a tender, all-butter crust!
This pie serves 18 generous slices or 24 smaller (reasonable sized) slices.
Ingredients
For the Pastry Crust:
5 cups (600 grams) all-purpose flour
1 teaspoon table salt
2 cups (4 sticks) cold butter, cut into bits
1 cup ice water
For the Filling:
2 pounds rhubarb, cut into 3/4-inch pieces
2 pounds strawberries, hulled and sliced (about 6 cups)
1/2 cups (100) grams granulated sugar
1/2 cup (100 grams) light brown sugar
1 tablespoon ground cinnamon
2 tablespoons cold butter, cut into bits
1/4 cup freshly squeezed lemon juice
1/3 cup quick-cooking tapioca
1 large egg yolk, lightly beaten with 1 tablespoon heavy cream
1/4-1/2 cup sanding sugar (optional)
Instructions
For the Pastry Crust:
Add the flour and salt to the bowl of a food processor and pulse to combine. Add the butter bits and pulse until the mixture resembles coarse sand.
With the processor running, drizzle in the ice water, then begin pulsing until the dough is crumbly but holds together when squeezed.
Tip the mixture out onto a floured work surface and divide into two portions. Shape each portion in a flat disk, wrap with plastic and refrigerate for at least 1 hour or overnight.
Note: If you are using a food processor of less than a 14-cup bowl you will need to divide the pastry ingredients and make two separate recipes of the pastry crust, shaping and wrapping each one as it is mixed.
For the Filling:
Preheat the oven to 400°F
In a large bowl, add the rhubarb, strawberries, granulated sugar, brown sugar, cinnamon and the tapioca. Toss the mixture together until well combined. Set aside.
Roll and Fill the Pastry:
On a lightly floured work surface, unwrap and roll out 1 pastry disk to a 12x16-inch rectangle. Transfer the dough to a 10x14-inch sheet pan, pressing to fit into the pan. Tip half of the rhubarb-strawberry mixture into the pastry and distribute the butter bits evenly on top. Add the remaining fruit mixture and, using a teaspoon, drizzle the lemon juice over the fruit mixture.
Roll out the remains pastry disk to a 11x15-inch rectangle and transfer to the top of the fruit mixture. Trim the edges of the dough, leaving a 1-1/2-inch overhang around the pie. Fold the overhanging dough under and crimp the edges.
In a small dish, whisk together the egg yolk and the cream and brush on top of the pastry crust. Cut a few slit vents on the top of the crust.
Place the pie in the oven and immediately reduce the oven temperature to 375°F. Bake until the crust is a deep golden brown and the juices are bubbling in the center vents, about 55-65 minutes.
Cool on a wire rack for at least 2 hours before serving.
Notes
For smaller than 14-cup food processors make two batches of pastry: 2-1/2 cups (300 grams) AP flour, 1/2 teaspoon salt, 1 cup (2 sticks) butter and 1/2 cup ice water.
Be sure to turn the oven temperature down to 375°F when placing the pie in the oven.
Nutrition Information:
Yield: 16
Serving Size: 1
Amount Per Serving:
Calories: 241
Total Fat: 4g
Saturated Fat: 2g
Trans Fat: 0g
Unsaturated Fat: 2g
Cholesterol: 32mg
Sodium: 165mg
Carbohydrates: 45g
Fiber: 2g
Sugar: 11g
Protein: 5g
Nutrition information is a guideline only, is calculated automatically by third-party software, and absolute accuracy is not guaranteed.