This is the best blackberry crumble in the land. It is loaded with juicy ripe blackberries and brightened up with a hint of lemon zest and cinnamon. There is an EXTRA LARGE helping of crumble topping because I am crazy about a sweet, crunchy streusel like crumble. You just can't end your summer without this dessert.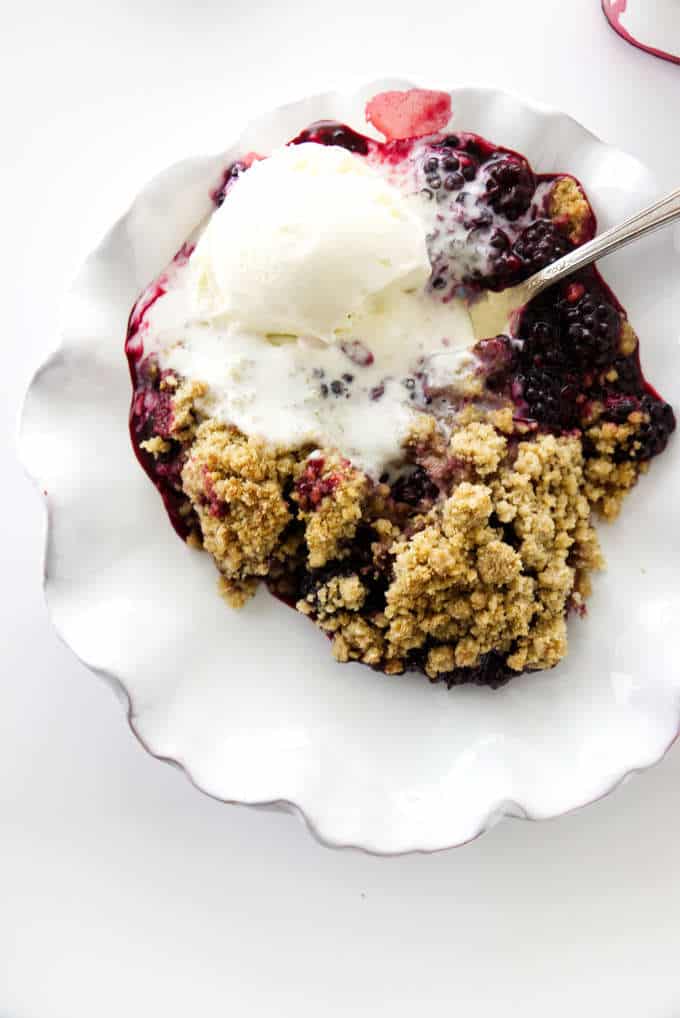 This blackberry crumble recipe is easy. It is easier than pie because you don't have to roll out any pie dough. All you do is mix the filling and topping, then dump them in a baking dish. No skills required but you end up with blackberry crumble that tastes just like grandma made it.
That is probably because this is exactly how grandma made her blackberry crumble. With one exception of coarse…. I have made an extra-large portion of the crumble topping for this fruit crumble. I tried to go bigger but bigger isn't always better. A larger portion of crumble topping does not cook correctly and you will end with a doughy center.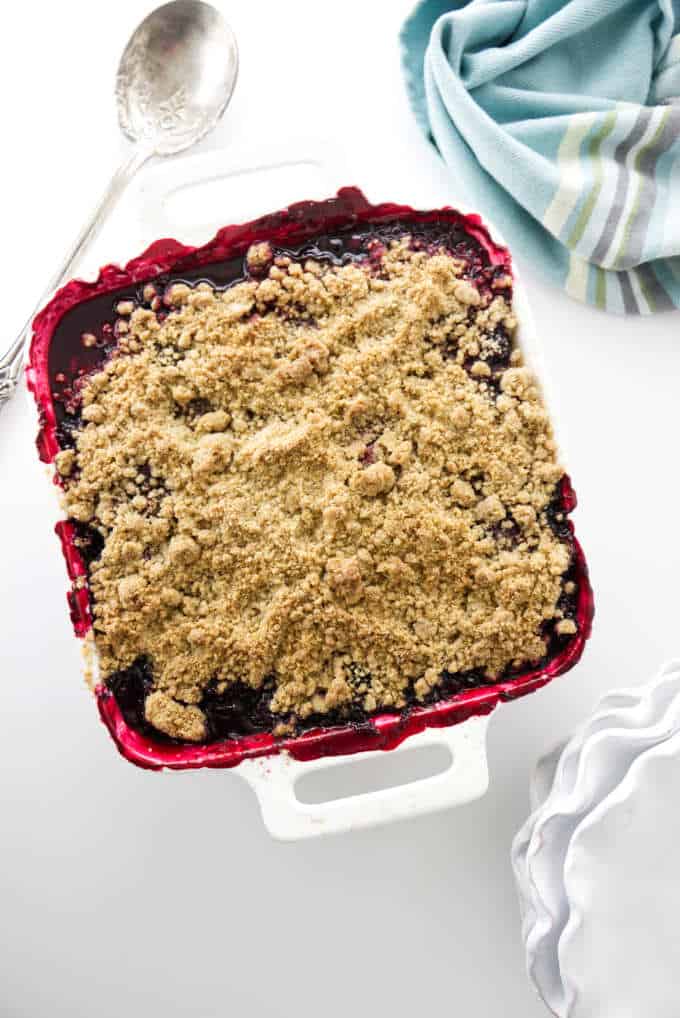 Ingredients needed for blackberry crumble:
With the exception of the blackberries, these are ingredients I always have in my pantry or fridge. If you freeze some blackberries you will be able to make this all year long. Here is what you need.
Blackberries
White sugar
Cornstarch
Cinnamon
Fresh lemon
Flour
Brown sugar
Salt
Butter
How to make blackberry crumble:
This is pretty much a dump and bake recipe.
Step 1: Mix the filling ingredients in a bowl then dump them into a baking dish.
Step 2: Mix the crumble ingredients in a bowl and dump it on top of the filling. Spread the crumble over the top of the filling.
Step 3: Bake the blackberry crumble until the juices bubble and the crumble topping is golden brown.
Tips for success:
Adjust the cornstarch as needed:
This is an easy recipe but there are always variables in baking. The biggest variable is the fruit. If you have super ripe blackberries then you will need a little more cornstarch to thicken the filling. The recipe includes a range of 4 to 6 tablespoons of cornstarch. Just adjust the cornstarch based on how ripe and soft the blackberries are.
Where I live, blackberries grow wild in my backyard. At the beginning of the season, they are firm, plump, and slightly tart. Toward the end of the season (and the longer they sit on the vine) they get super sweet, soft and incredibly juicy. Those soft juicy berries will need more thickener and sometimes I even cut back on the sugar.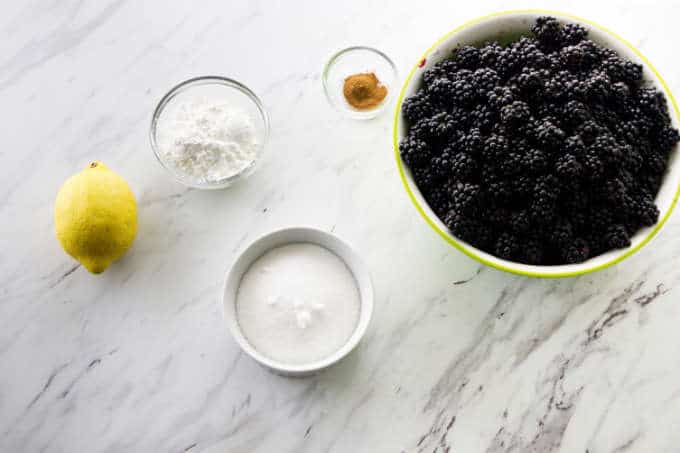 Combine the cornstarch and sugar mixture before you toss it with the berries.
If you dump the cornstarch directly on top of the berries it will clump up and it won't coat all the berries very well.
Instead, mix the cornstarch with the sugar, cinnamon and lemon zest THEN toss it with the berries. The sugar helps separate the starch granules so you can get it more evenly distributed among the berries.
Place the baking dish on a rimmed sheet pan.
Expect juices to bubble up and flow over the edge of the baking dish. Save yourself from cleaning the oven and set the baking dish on a sheet pan so the juices fall onto the pan and not all over the bottom of the oven.
Can you use frozen blackberries?
You can substitute frozen blackberries for fresh ones but use the larger measurement of cornstarch when you use frozen berries.
What is the difference between a crumble and a crisp?
Crumbles and crisps are very similar and the terms are often used interchangeably. Technically there is a difference. The topping determines whether your baked fruit dessert is a crumble or a crisp.
A crumble topping is made with flour, sugar, and butter while the topping for a crisp has oatmeal flakes in the mixture. Sometimes we see crumbles with oatmeal and we are OK with that. They are both delicious streusel toppings that are perfect with sweet fruit.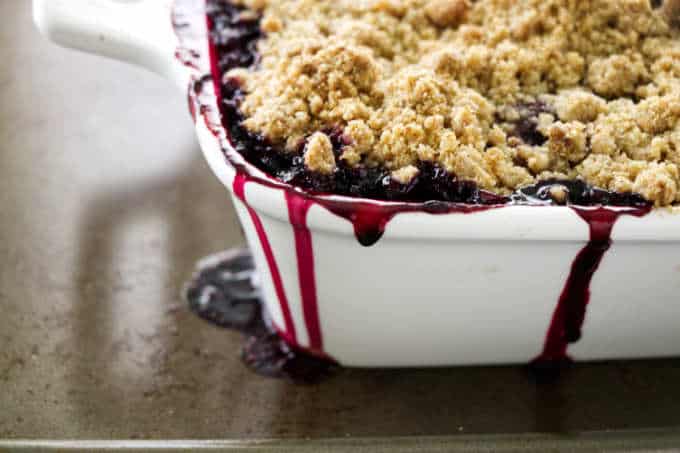 SOME OTHER RECIPES WE ARE SURE YOU WILL LOVE:
If you still have fresh blackberries leftover, make this blackberry pie. Our tender, all-butter double pastry crust is just as addictive as the filling. Add a scoop of vanilla ice cream on top and enjoy!
Don't let the summer go by without baking this Easy Peach Crisp. Sweet, juicy fresh peaches, a tangy bit of lemon juice, a grating of nutmeg and a buttery oatmeal topping. Pure bliss!
Sweet strawberries and tart rhubarb combine perfectly in this Strawberry Rhubarb Crisp. This easy dessert has all the goodness of a strawberry rhubarb pie without the bother of making a pie crust.
CONNECT WITH SAVOR THE BEST!
Be sure to follow us on our social media accounts
Facebook * Instagram * Pinterest * Twitter * Youtube
Did you make this recipe? We would love to hear from you. Drop us a comment below.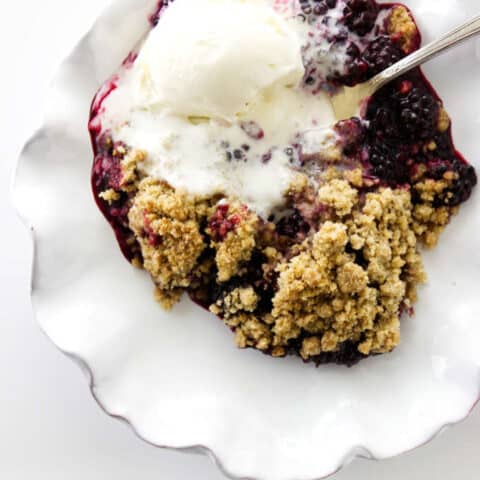 Blackberry Crumble (Easier Than Pie)
Yield: 8 servings
Prep Time: 10 minutes
Cook Time: 1 hour
Total Time: 1 hour 10 minutes
Sweet plump blackberries combine with a blend of lemon zest and cinnamon in this easy dessert. There is an extra-large portion of crunchy crumble topping for all the streusel lovers. This easy dessert has all the goodness of a blackberry pie without the bother of rolling a pastry crust.
Ingredients
Filling:
3/4 cups granulated sugar
4 to 6 tablespoons cornstarch (see notes)
1/3 teaspoons ground cinnamon
Lemon zest from 1 lemon
3 pounds fresh blackberries (about 6 cups)
Crumble topping:
2 cups all-purpose flour
1 cup packed brown sugar
1/2 teaspoon ground cinnamon
1/2 teaspoon salt
10 tablespoons butter, melted
Instructions
Pre-heat the oven to 350°F. Grease a 8x8 inch baking dish.
Combine the sugar, cornstarch, cinnamon and lemon zest in a small dish until all the dry ingredients are blended well. Gently toss the sugar mixture with the berries then place in the baking dish.
Crumble topping:
Combine the flour, brown sugar, cinnamon, salt, and butter. Stir with a fork until it has clumps the size of peas. Sprinkle evenly over the berries
Place the dish on a rimmed baking sheet (in case the juices bubble over the edge). Bake for about 55 to 60 minutes until the top is golden brown and the juices are bubbly.
Let the berries cool slightly and serve with ice cream or sweetened whipped cream.
Notes
The amount of cornstarch you use will depend on how ripe and juicy the blackberries are. If you have really ripe juicy blackberries then use 6 tablespoons but if your blackberries are not super juicy or soft then use 4 tablespoons. If you use frozen blackberries use 5 to 6 tablespoons of cornstarch.
Nutrition Information:
Yield: 8
Serving Size: 1
Amount Per Serving:
Calories: 500
Total Fat: 16g
Saturated Fat: 9g
Trans Fat: 1g
Unsaturated Fat: 5g
Cholesterol: 38mg
Sodium: 256mg
Carbohydrates: 88g
Fiber: 10g
Sugar: 50g
Protein: 6g
Nutrition information is a guideline only, is calculated automatically by third party software, and absolute accuracy is not guaranteed.