We can't let the summer go by without baking this Easy Peach Crisp with Oatmeal Crumble. Sweet, juicy fresh peaches, a tangy bit of lemon juice, a grating of nutmeg and a buttery oatmeal topping. Pure bliss!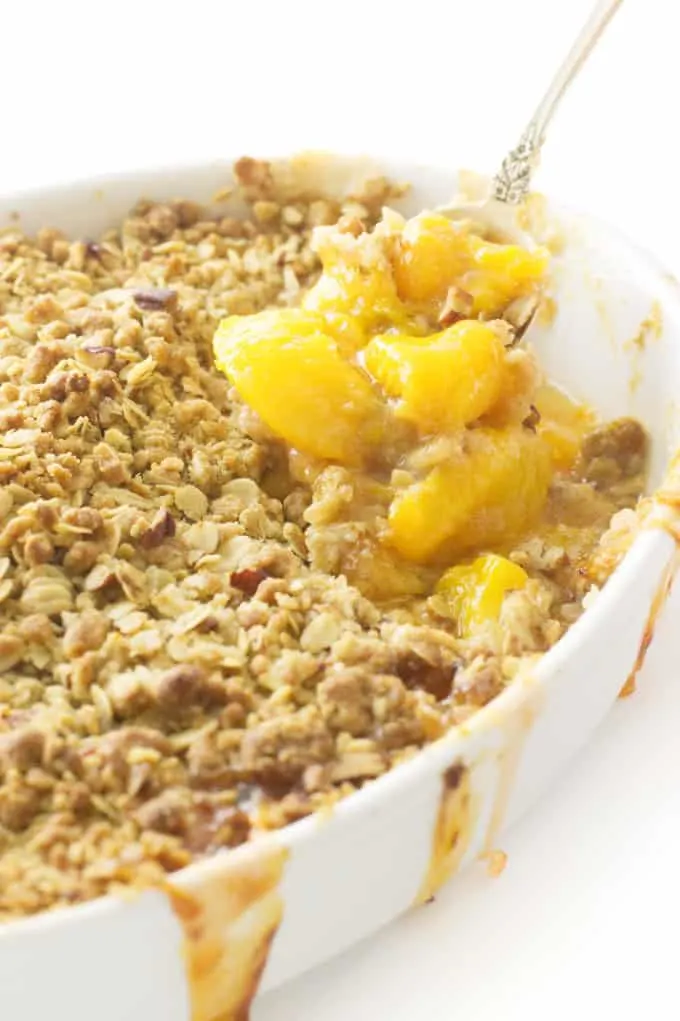 If the summer days are too hot and steamy to fire up the oven you can plan ahead and beat the heat by baking this easy peach crisp early in the morning while the day is still cool.
Summer is filled with all manner of wonderfully delicious fresh fruit, including the peach! Peaches are in their prime season during July and August. Did you know that August is National Peach Month? Yep, and August 24th is National Peach Pie Day. I do believe that this easy peach crisp with oatmeal crumble topping falls in that category.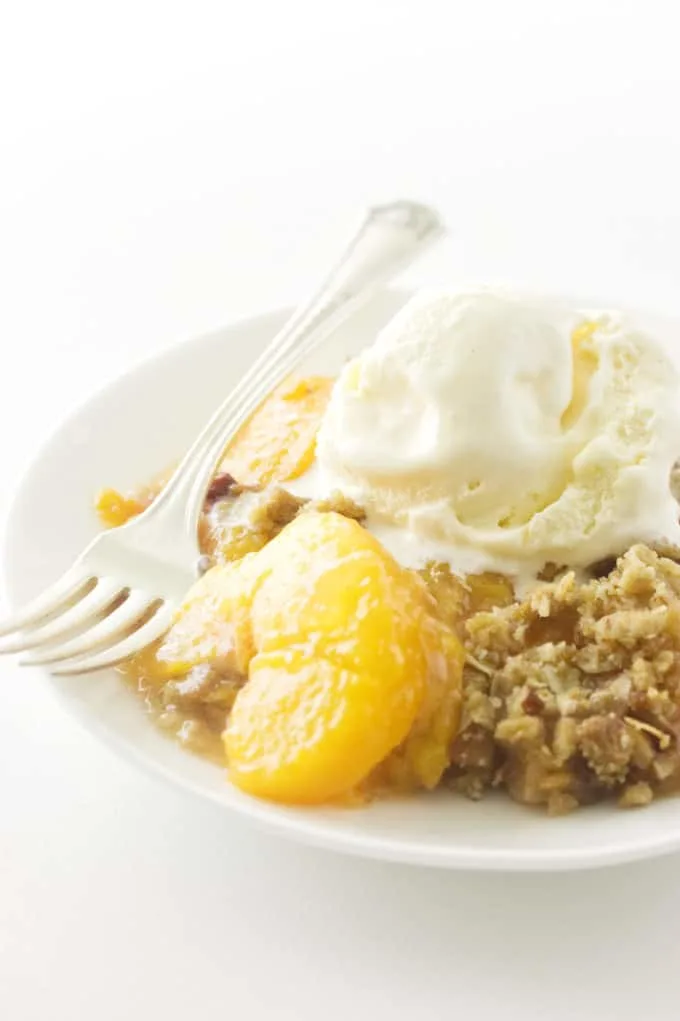 What is a peach crisp anyway?
Are you confused between a crisp, cobbler and a crumble? They are all pretty similar and I like to think of them as an easy version of pie. Since you don't have to make a pie crust, they come together pretty fast and easy. Just dump the filling into a baking dish, top with an easy topping, then bake.
The main difference between the three is in the topping. A cobbler is topped with a batter, dumpling or biscuit dough. The dollops of dough bake into a cake-like consistency that are generally soft and tender on the inside.
On the other hand, crisps and crumbles are made with a streusel-like topping similar to the streusel on our pumpkin muffins. If the streusel is made without oatmeal then it is generally called a crumble, however, if oatmeal is mixed into the streusel then it is usually called a crisp. That being said, the two terms are often interchanged.
The crumb topping on our fresh pear cake is an example of a crumble and the streusel topping on our Dutch apple pie is an example of what you would see in a crisp.
The ingredients.
Here is what you need for this recipe.
For the filling:
Fresh peaches (if you want to use frozen peaches keep reading for tips).
Sugar.
Tapioca. Thickens the crisp so it isn't runny.
Lemon zest and lemon juice. The lemon brightens the flavor and makes a big difference.
Almond extract. Almond extract brings out the peach flavor. It's kind of a secret ingredient but a little bit goes a long way. Don't use too much or it will overpower the flavors.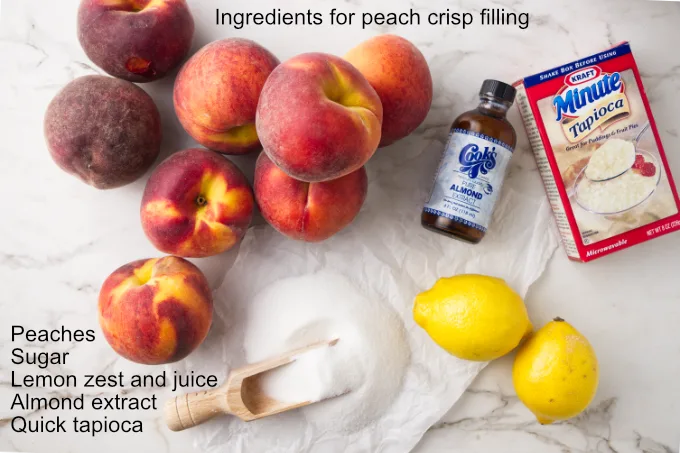 For the oatmeal crisp topping:
Rolled oats. We used regular old fashioned oats but quick-cooking oats will work too.
Flour. We used all-purpose flour but this works with whole wheat flour as well.
Brown sugar. You can use either light or dark brown sugar.
Salt. Salt helps enhance all the flavors.
Nutmeg. You will get more flavor from nutmeg if you freshly grate from a whole nutmeg seed. If you don't have the whole nutmeg then use the pre-grated stuff.
Chopped pecans or walnuts. If your not a nutty person then leave them out 😉
Butter. Butter brings it all together.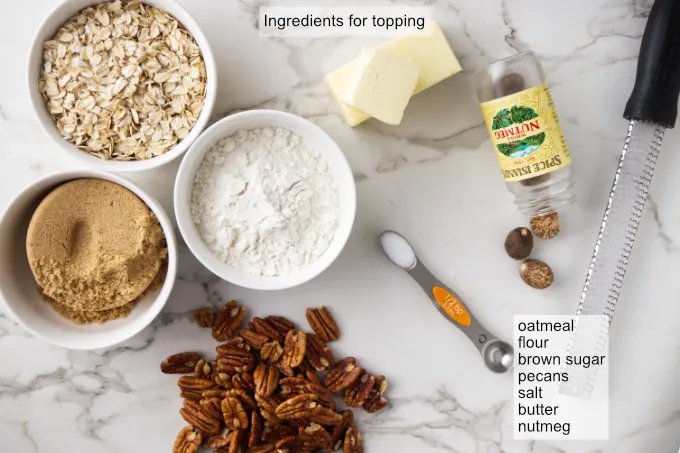 How to make it:
This really is easier than pie. You can throw this dessert together in 10 to 15 minutes. Here is a quick snapshot of the steps but make sure you scroll all the way down to the printable recipe card.
Combine all the filling ingredients and let is sit for a few minutes while you make the topping.
Combine the oatmeal crumble topping.
Pour the filling into a baking dish then top with the oatmeal crumble.
Place the dish on a sheet pan (to catch any of the juices) and bake.
Let the peach crisp cool down for 15 minutes before serving.
This is so fast and easy you will want to make more desserts like this. Try a strawberry rhubarb crisp or a blackberry crumble next time.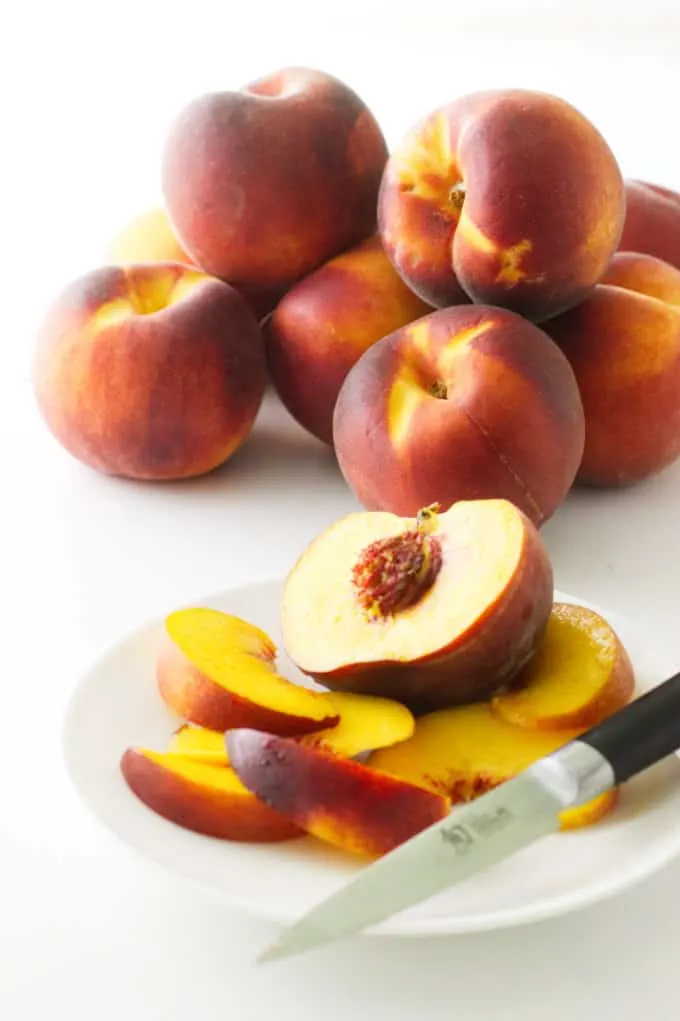 Do you have to peel the peaches?
Peaches….to peel or not to peel? Some folks like the peach skin left on when baking pies and cobblers. If you are in this group then just cut them in half, remove the pits and slice them up.
However, they really are easy to peel. First, drop them into a hot water bath for ten seconds, then immediately into an ice water bath. The skins just slip right off. Cut the peach in half, remove the pit and slice them nice and thick.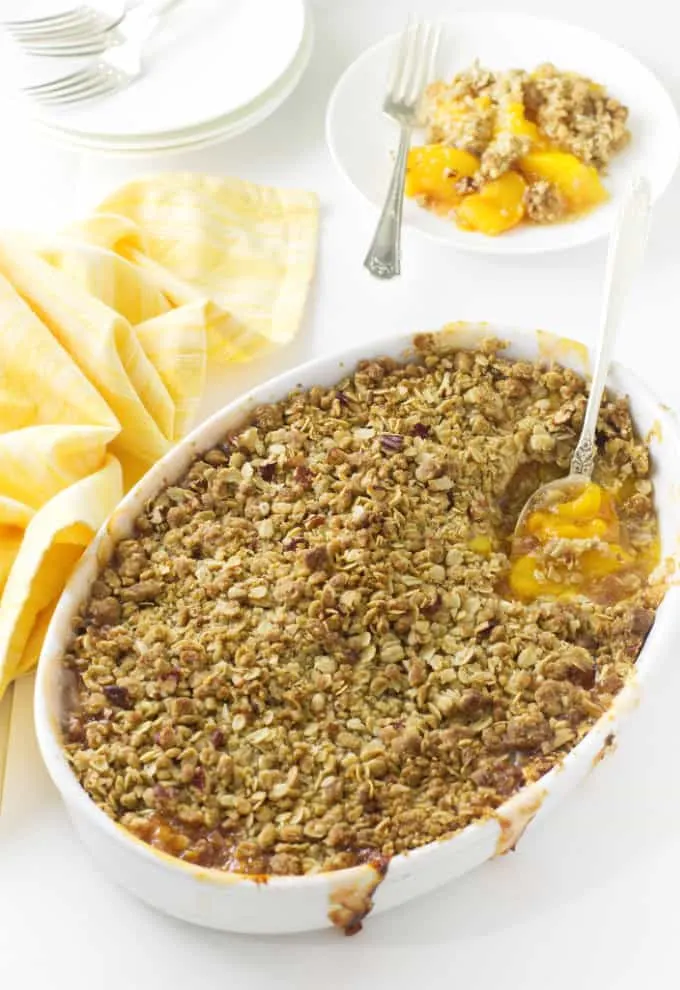 What is Tapioca?
Tapioca is a starch extracted from the cassava root. It is a thickening agent similar in texture to cornstarch. Fruit can be pretty juicy when baked into pies, cobblers, and crisps.
Make sure you use quick tapioca for this recipe. It is also called minute tapioca or instant tapioca. Don't use the larger pearl tapioca beads.
Tips for success.
Bake the crisp until the top is golden brown and the juices are bubbly around the edges. If the oatmeal topping looks like it is getting too brown then you can place some aluminum foil over the top.
Use a pastry blender or a couple of forks to combine the ingredients for the oatmeal topping. You could even use your fingers if you want to speed things up. Just keep in mind that your fingers are warm and can melt the butter so work fast.
The juices will bubble up and run over the sides of your baking dish. Stick the baking dish on a cookie sheet to prevent a mess on the bottom of the oven. We took it a step further and set the dish on a rack that was on the cookie sheet. That way the juices fall under the rack and don't bake to the serving dish.
Is your peach crisp always runny? Usually that means you have too much juice for the thickener to work well. We used tapioca in this recipe. It works great for super juicy peaches. If you want to use frozen peaches then add an extra tablespoon of tapioca. The frozen peaches will release more juices than fresh ones.
Do you want to freeze your peach crisp? If you want to freeze it before you bake the crisp then add an extra tablespoon of tapioca to the filling. You can bake it while it is still frozen but add an extra 20 to 30 minutes to the bake time and cover it with aluminum foil for the last 20 minutes.
If you don't plan to eat the peach crisp right away, cover it and store it in the fridge for up to 3 days. You can also freeze it for 3 months.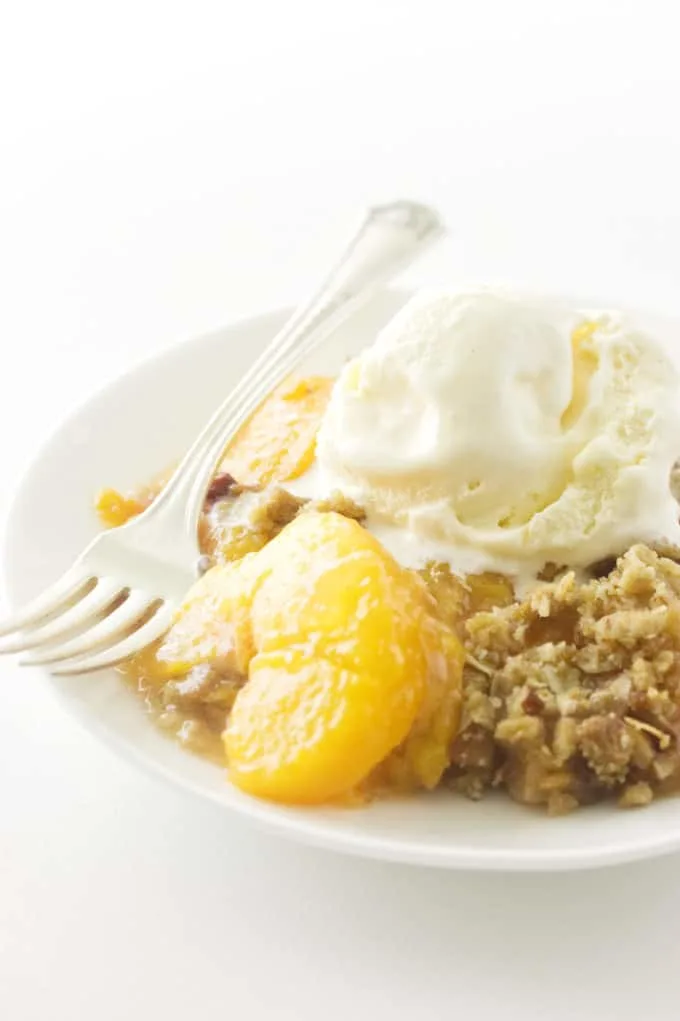 Want to make it gluten-free?
This recipe is easy to make gluten-free. All you have to do is substitute the flour in the oatmeal topping for a gluten-free flour blend. The oatmeal is naturally gluten-free but you may want to make sure it was packaged in a gluten-free facility.
Check out these recipes:
This peaches and cream tart has a buttery shortbread pastry and a creamy filling for the fresh peaches to sit on top of.
Our fresh blackberry pie is always in high demand during the summer. We usually pick the blackberries in our back yard.
These apple ginger hand pies take a bit more time to make but it is time well spent. The individual pies are great to eat on the run.
Have you made this easy peach crisp with oatmeal crumble? We would love to hear from you. Drop us a comment below.
Connect With Savor the Best:
Please follow us on our social media accounts
Facebook * Instagram * Pinterest * Youtube * Twitter
Did you make this recipe? We would love to hear from you. Drop us a comment below.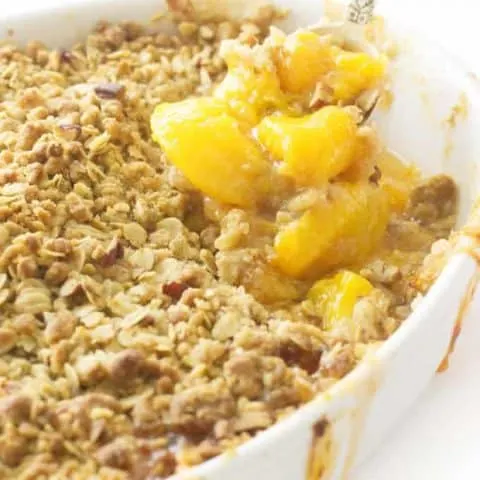 Easy Peach Crisp with Oatmeal Crumble
Total Time:
1 hour
15 minutes
Celebrate the fuzzy peach! Bake this Easy Peach Crisp with Oatmeal Crumble. Sweet, juicy fresh peaches, a tangy bit of lemon juice, a grating of nutmeg and a buttery oatmeal topping. Pure bliss!
Ingredients
For the Peach Filling:
4 pounds ripe peaches, peeled, pitted and sliced into 1/2-inch thick wedges
3/4 cup sugar (175g)
1/4 cup quick-cooking tapioca
1 tablespoon lemon zest
1/4 cup fresh squeezed lemon juice
1 teaspoon almond extract
For the Oatmeal Crumble Topping:
1 cup dry old-fashioned rolled oats (90g)
2/3 cup all-purpose flour (80g)
3/4 cup brown sugar (175g)
1/2 teaspoon sea salt
1/4 teaspoon freshly grated nutmeg
1/2 cup chopped pecans or walnuts
10 tablespoons butter (1-1/4 cubes), softened
Instructions
For the Filling:
In a large bowl, add the sliced peaches, sugar, tapioca, lemon zest, lemon juice and almond extract. Toss to combine and let stand for 15 minutes to soften the tapioca. (See Notes on peeling the peaches)
For the Oatmeal Crumble Topping:
Preheat the oven to 350°F and butter a 3-quart ovenproof baking dish. Set a wire rack in a baking sheet and reserve. (See Notes)
In another bowl, add the oats, flour, brown sugar, salt, nutmeg and nuts. Combine thoroughly.
Using 2 forks or a pastry blender, incorporate the butter into the dry ingredients to a crumbly consistency. Set aside.
Add the peaches to the prepared baking dish, sprinkle the topping evenly over the top of the peaches. Set the dish on the wire rack and transfer to the lower third of the preheated oven. Bake for 40-45 minutes or until the topping is lightly browned and the juices begin to bubble at the edges.
Remove from the oven and allow to cool for 15 minutes. Serve with vanilla ice cream.
Notes
Prepare the peaches for peeling by cutting an 'X' just thru the skin on the bottom of the peach. Bring a large pot of water to the boil, reduce the heat to low. Drop the peaches into the hot water, and scald for 10-15 seconds. Remove and place in an ice water bath. The skins will slip right off.
Slice the peach by either cutting off wedges from the pit or slice the peach in half, remove the pit and slice into wedges.
Adding a touch of almond extract will bring out more of the peach flavor
A baking sheet will catch any overflow drips keeping your oven clean.
The wire cooling rack will allow for air-flow around the peach crisp and even baking.
Recommended Products
As an Amazon Associate and member of other affiliate programs, I earn from qualifying purchases.
Nutrition Information:
Yield:

8
Serving Size:

1
Amount Per Serving:
Calories:

501
Total Fat:

21g
Saturated Fat:

10g
Trans Fat:

1g
Unsaturated Fat:

10g
Cholesterol:

38mg
Sodium:

252mg
Carbohydrates:

78g
Fiber:

6g
Sugar:

55g
Protein:

5g
Nutrition information is a guideline only, is calculated automatically by third party software, and absolute accuracy is not guaranteed.
Fuzzy Peach Facts:
The Peach originated in Northwest China

The white-fleshed peach is sweeter than the yellow-fleshed peach.

There are over 2000 varieties of peaches

Clingstone and Freestone are the most popular varieties.

A medium peach will contain about 40 calories.

Georgia is the official "Peach State".

A freshly picked peach will last about one week.

The peach and the almond are related.