We can't let the summer go by without baking this Easy Peach Crisp with Oatmeal Crumble. Sweet, juicy fresh peaches, a tangy bit of lemon juice, a grating of nutmeg and a buttery oatmeal topping. Pure bliss!
These summer days are hot and steamy, much too warm to fire up the oven. We planned ahead to beat the heat and baked this easy peach crisp early in the morning while the day was still cool.
Summer is filled with all manner of wonderfully delicious fresh fruit, including the peach! Peaches are in their prime season during July and August. Did you know that August is National Peach Month? Yep, and August 24th is National Peach Pie Day. I do believe that this easy peach crisp with oatmeal crumble topping falls within that category.
Fuzzy Peach Facts:
The Peach originated in Northwest China
The white-fleshed peach is sweeter than the yellow-fleshed peach.
There are over 2000 varieties of peaches
Clingstone and Freestone are the most popular varieties.
A medium peach will contain about 40 calories.
Georgia is the official "Peach State".
A freshly picked peach will last about one week.
The peach and the almond are related.
Our Easy Peach Crisp with Oatmeal Crumble:
Peaches….to peel or not to peel? Some folks like the peach skin left on when baking pies and cobblers. If you are in this group then just cut them in half, remove the pits and slice them up.
However, they really are easy to peel. First, drop them into a hot water bath for ten seconds, then immediately into an ice water bath. The skins just slip right off. Cut the peach in half, remove the pit and slice them nice and thick.
Sprinkle the tapioca, lemon zest, juice and almond extract over the peaches, toss to combine and let the mix sit to soften up the tapioca.
What is Tapioca?
Tapioca is a starch extracted from the cassava root. It is a thickening agent similar in texture to cornstarch. Fruit can be pretty juicy when baked into pies, cobblers, and crisps.
They need some sort of thickener to bind them together. The most common thickeners are flour, cornstarch, and quick-cooking tapioca. You can substitute one starch type for another but not equally.
When replacing flour in a recipe, use half the amount of cornstarch or use two teaspoons of quick-cooking tapioca for every one tablespoon of flour.
We prepared the topping by combining the oats, flour sugar, salt and a few gratings of nutmeg and chopped pecans. Butter is what gives this topping the crumble effect. We used a pastry blender to work the mixture to a crumbly consistency.
If you do not have a pastry blender, two forks will do as well as a pastry blender. Fingers are great tools in cooking but not for this crumble as the heat from your fingers will soften the mix and make it oily.
Sprinkle the topping over the peaches and bake the crisp until the top is golden brown and the juices are bubbly around the edges.
What a way to celebrate National Peach Month than with a dish of warm peach crisp with a crunchy oatmeal topping and a cool scoop of vanilla ice cream!
Check out these recipes:
Have you made this easy peach crisp with oatmeal crumble? We would love to hear from you. Drop us a comment below. Or, if you snap a photo then hashtag it to #savorthebest on Instagram or Facebook.
Yield: 8 servings
Easy Peach Crisp with Oatmeal Crumble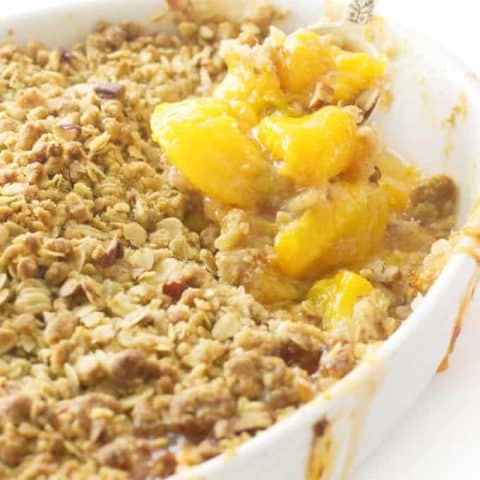 Celebrate the fuzzy peach! Bake this Easy Peach Crisp with Oatmeal Crumble. Sweet, juicy fresh peaches, a tangy bit of lemon juice, a grating of nutmeg and a buttery oatmeal topping. Pure bliss!
Prep Time 30 minutes
Cook Time 45 minutes
Total Time 1 hour 15 minutes
Ingredients
For the Peach Filling:
4 pounds ripe peaches, peeled, pitted and sliced into 1/2-inch thick wedges
3/4 cup sugar (175g)
1/4 cup quick-cooking tapioca
1 tablespoon lemon zest
1/4 cup fresh squeezed lemon juice
1 teaspoon almond extract
For the Oatmeal Crumble Topping:
1 cup dry old-fashioned rolled oats (90g)
2/3 cup all-purpose flour (80g)
3/4 cup brown sugar (175g)
1/2 teaspoon sea salt
Nutmeg gratings
1/2 cup chopped pecans or walnuts
10 tablespoons butter (1-1/4 cubes), softened
Instructions
For the Filling:
In a large bowl, add the sliced peaches, sugar, tapioca, lemon zest, lemon juice and almond extract. Toss to combine and let stand for 15 minutes to soften the tapioca. (See Notes on peeling the peaches)
For the Oatmeal Crumble Topping:
Preheat the oven to 350°F and butter a 3-quart ovenproof baking dish. Set a wire rack in a baking sheet and reserve. (See Notes)
In another bowl, add the oats, flour, brown sugar, salt, nutmeg and nuts. Combine thoroughly. 
Using 2 forks or a pastry blender, incorporate the butter into the dry ingredients to a crumbly consistency. Set aside.
Add the peaches to the prepared baking dish, sprinkle the topping evenly over the top of the peaches. Set the dish on the wire rack and transfer to the lower third of the preheated oven. Bake for 40-45 minutes or until the topping is lightly browned and the juices begin to bubble at the edges.
Remove from the oven and allow to cool for 15 minutes. Serve with vanilla ice cream.
Notes
Prepare the peaches for peeling by cutting an 'X' just thru the skin on the bottom of the peach. Bring a large pot of water to the boil, reduce the heat to low. Drop the peaches into the hot water, and scald for 10-15 seconds. Remove and place in an ice water bath. The skins will slip right off.
Slice the peach by either cutting off wedges from the pit or slice the peach in half, remove the pit and slice into wedges.
Adding a touch of almond extract will bring out more of the peach flavor
A baking sheet will catch any overflow drips keeping your oven clean.
The wire cooling rack will allow for air-flow around the peach crisp and even baking.
Nutrition Information:
Yield:
8
Serving Size:
1
Amount Per Serving:
Calories: 501
Total Fat: 21g
Saturated Fat: 10g
Trans Fat: 1g
Unsaturated Fat: 10g
Cholesterol: 38mg
Sodium: 252mg
Carbohydrates: 78g
Fiber: 6g
Sugar: 55g
Protein: 5g
Nutrition information is a guideline only, is calculated automatically by third party software, and absolute accuracy is not guaranteed.