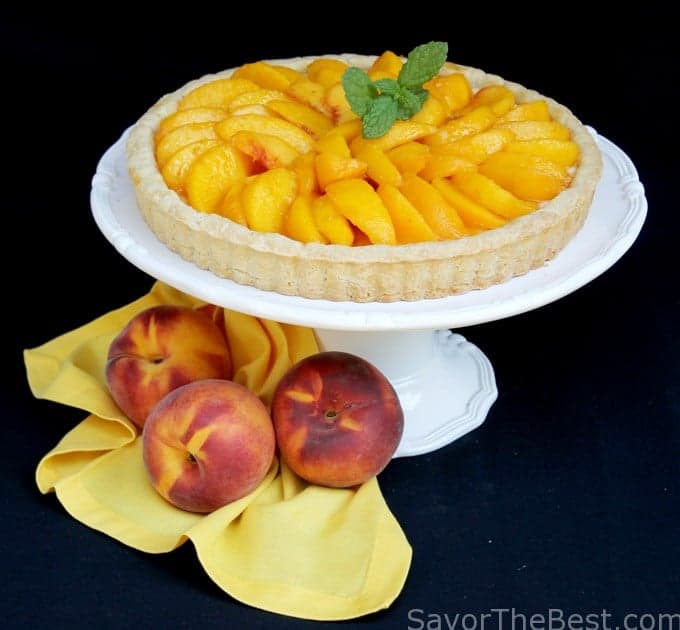 It is time for the annual pot-luck party for our bible study group and then we break for the summer. I have been assigned to bring a dessert to the party and thought this peaches and cream tart would be lovely.
Don and I really enjoy our weekly meetings with our group and we have an excellent leader that is always keeping us on our toes with new spiritual learning. Meeting up with our friends is one of the highlights each week and we look forward to our lessons as well as sharing what God is doing in our lives. But, it is also nice to have a summer break and we will be ready to return in September.
Peaches are just coming into the season now and I am loving it! They are so sweet and just drippy with juice. I am thinking of all kinds of delicious ways to include them in our snacks and meals. We just grilled some on our BBQ and I will be having one for my breakfast but it is hard to beat a peach inspired dessert like this peaches and cream tart.
I used the same shortbread crust that I used for the chocolate-mint tart which is a delicious and easy press-in crust. The filling is made with cream cheese, similar to a cheese cake with a little almond flavoring and after it is baked and chilled it is topped with fresh peach slices mixed with peach jam. Now who wants a slice of this peaches and cream tart?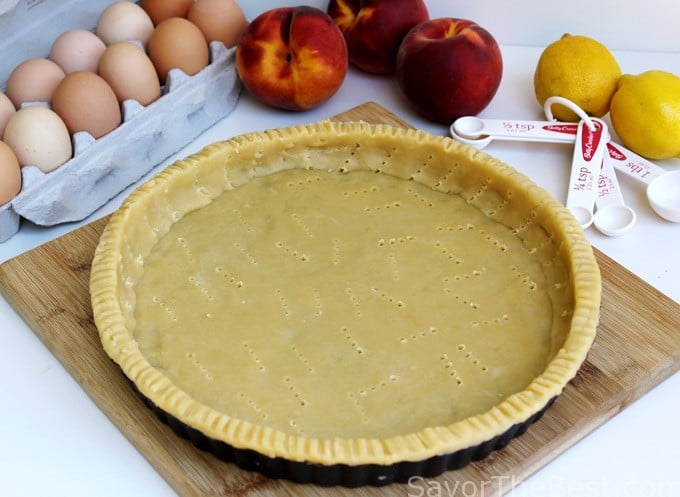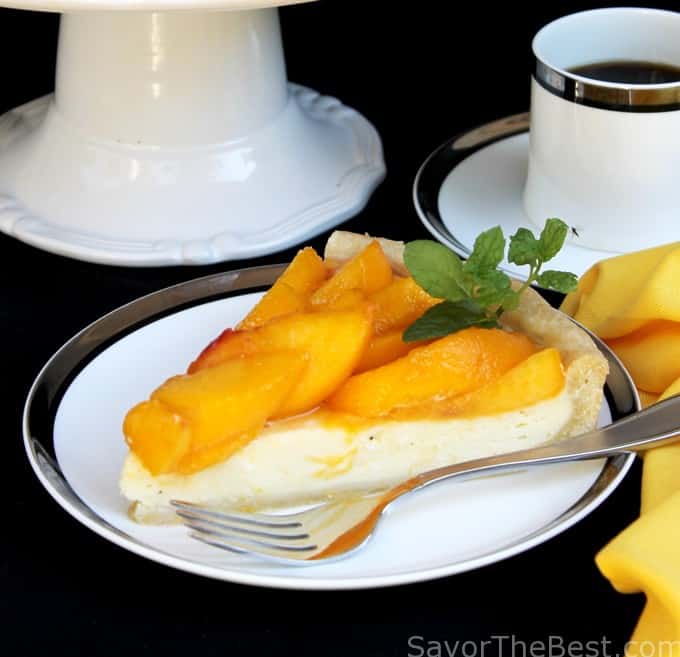 This recipe has been adapted from my old 1978 Betty Crocker cookbook.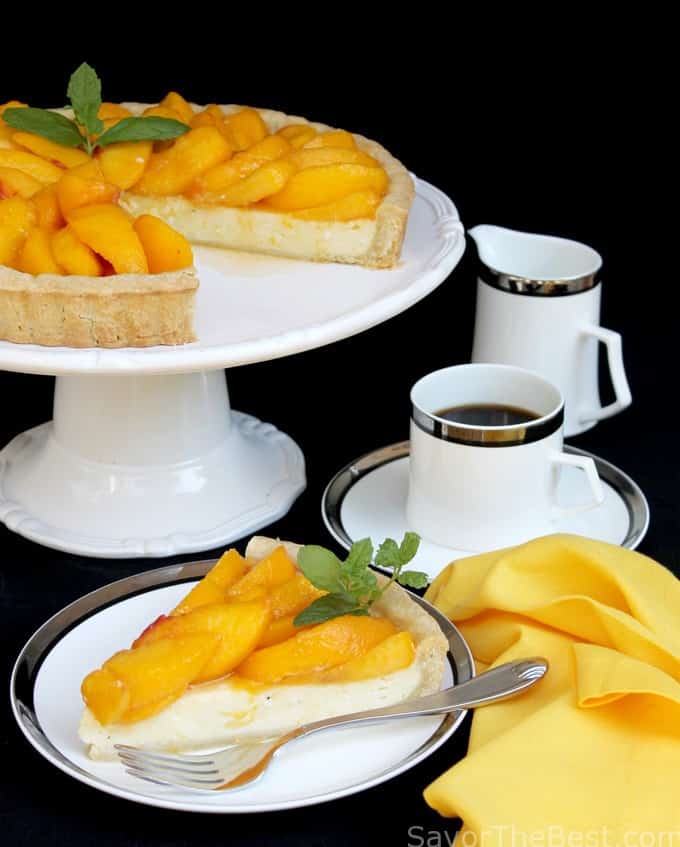 CONNECT WITH SAVOR THE BEST!
Be sure to follow us on our social media accounts
Facebook * Instagram * Pinterest * Twitter * Youtube
Did you make this recipe? We would love to hear from you. Drop us a comment below.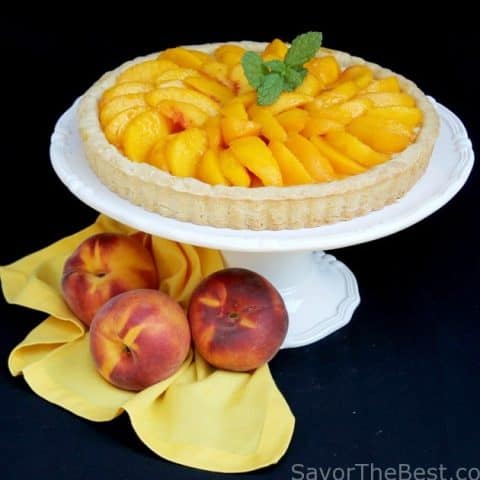 Peaches and Cream Tart
Yield: 10 to 12 servings
Prep Time: 1 hour
Cook Time: 1 hour
Total Time: 2 hours
Peaches and cream tart is a rich summer-time fruit dessert with a shortbread crust and a cream cheese filling, topped with peach jam sweetened fresh peaches and garnished with mint sprigs.
Ingredients
For the shortbread crust
½ cup powdered sugar
1 teaspoon vanilla
2 egg yolks, whisked lightly with a fork
¼ teaspoon sea salt
2 sticks butter, melted and cooled
2 cups all-purpose flour
1 tablespoon cornstarch
For the Cream Cheese Filling:
16 ounces cream cheese
3 eggs
3/4 cup sugar
1 teaspoon vanilla extract
1 teaspoon almond extract
1/4 teaspoon salt
For the Peach Topping:
1/2 cup peach jam
4-5 fresh peaches, peeled and cut into 1/2-inch slices
juice of 1/2 of a large lemon
Instructions
For the Shortbread Crust:
In a medium-size bowl, mix with a spatula or wooden spoon, the powdered sugar, vanilla, egg yolks and sea salt. Add the butter and mix to a smooth consistency. Add the flour and cornstarch and stir until the dough forms a smooth ball.
Press 3/4 of the dough into the bottom of the pan then make 5 or 6 ropes out of the remaining dough and press into the sides of the pan, pressing and shaping with your fingers to create the crust edge.
Prick the bottom and edges of the crust with a fork, place on a baking sheet and transfer to the freezer for 30 minutes.
Preheat the oven to 350F.
Remove the crust from the freezer, spray a piece of aluminum foil with non-stick spray and press the sprayed side of foil very tightly up against the bottom and up the sides of the crust. Add pie weights and transfer to the middle rack of the oven.
Bake for 15 minutes. Remove foil and continue to bake uncovered for another 10 to 15 minutes, or until lightly brown. Remove from the oven and let cool on a wire rack.
For the Cream Cheese Filling:
In a large mixing bowl, add the cream cheese, sugar, vanilla and almond extracts, mix until well combined. Add the eggs, one at a time, beating well after each addition to a creamy consistency.
Pour the filling into the cooled tart pan. Transfer the tart to the middle rack of a preheated 350°F oven and bake 25-30 minutes, until firm. Transfer the tart to a wire rack and cool completely before adding the topping.
For the Peach Topping:
In a small saucepan over low heat, add the peach jam and allow to melt into a thick syrup. Remove from the heat and cool before adding to the peaches.
While the peach jam is cooling, Bring a large saucepan filled with water to a boil and dip each peach into the boiling water for 5-10 seconds, scalding the peach to loosen the skins, and then immerse them into a pan of ice-water. The peach skins slip off easily.
Cut the peaches uniformly into 1/2-inch slices and add them to a large shallow bowl and gently toss with the lemon juice and the melted cooled peach jam.
To Assemble the Tart:
Arrange the peach slices in a concentric circles, beginning at the crust edge and working to the center.
Refrigerate the tart for 6-8 hours, garnish with mint leaves and serve.


Notes
After filling the tart crust with the filling, place strips of foil on the edge of the crust to prevent over-browning.
Nutrition Information:
Yield: 12
Serving Size: 1
Amount Per Serving:
Calories: 516
Total Fat: 31g
Saturated Fat: 18g
Trans Fat: 1g
Unsaturated Fat: 10g
Cholesterol: 156mg
Sodium: 364mg
Carbohydrates: 54g
Fiber: 2g
Sugar: 33g
Protein: 7g
Nutrition information is a guideline only, is calculated automatically by third-party software, and absolute accuracy is not guaranteed.