Blackberry peach pie is a classic summertime dessert that pairs tart blackberries with sweet juicy peaches. The perfect combination of flavors to celebrate the changing seasons! This pie is the ideal blend of flavors with acidity from plump blackberries, sweetness from ripe peaches, and a golden, flakey all butter pie crust.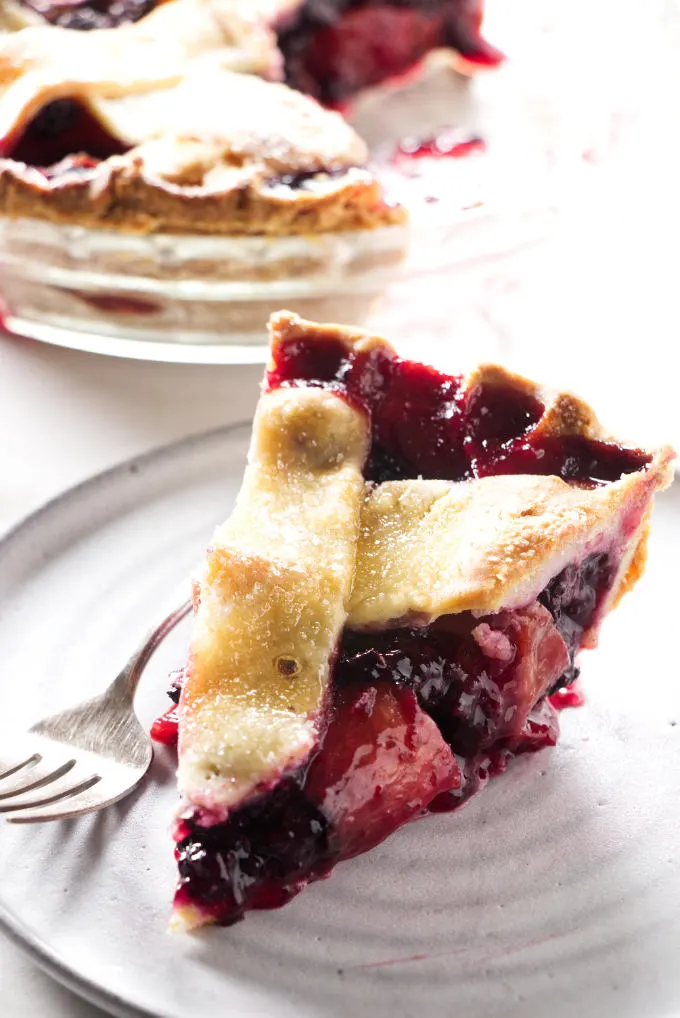 We have combined the flavors of a fresh peach pie with a traditional blackberry pie for a delicious end to summer.
Peaches and blackberries pair beautifully in this pie. Both of these fruits tend to release a lot of juices when they get cooked which can lead to a runny pie and soggy crust, but that doesn't have to happen. Follow our tips for a perfectly sliceable pie and no soggy crust.
If you happen to have extra blackberries, make our lemon blackberry bread.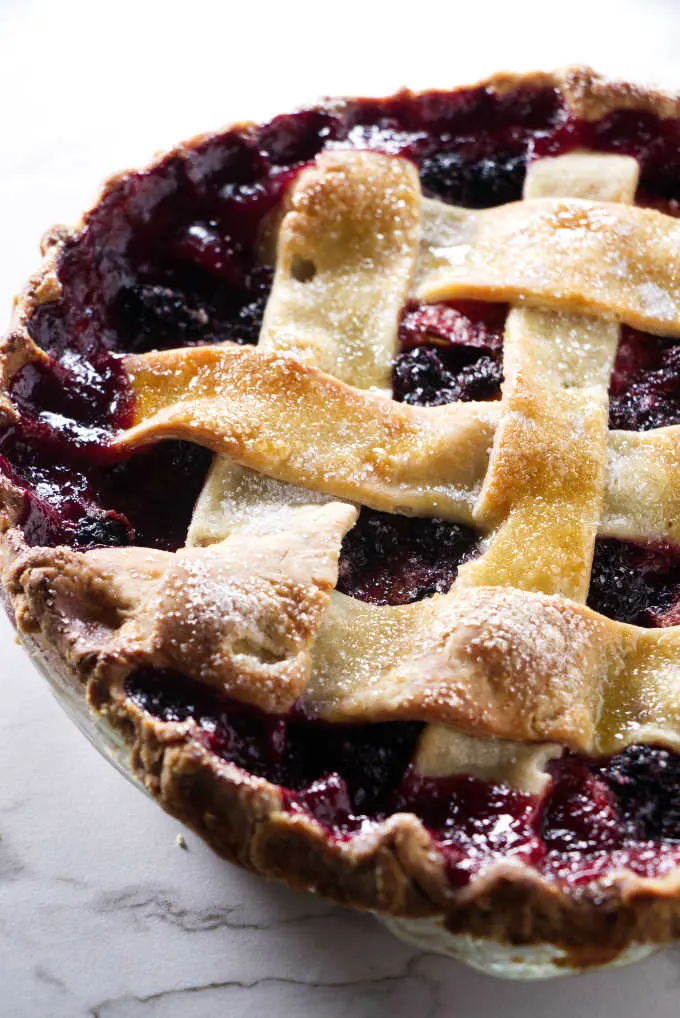 The Ingredients:
Here is the list of ingredients you will need for our blackberry peach pie. Make sure the fruit is not over-ripe or bruised. Blackberries are especially prone to falling apart and turning to mush if they get too ripe.
Double crust pie crust. You can use a store-bought crust or make your favorite recipe from scratch.
Peaches
Blackberries
Lemon juice
Sugar
Instant tapioca
Nutmeg and cinnamon
Salt
Zest of 1 lemon
We also used a splash of cream and a sprinkle of sugar to cover the top crust. It gives the crust a beautiful, shiny finish with a bit of sparkle. The cream makes a quick and easy coating but you can also use milk or an egg.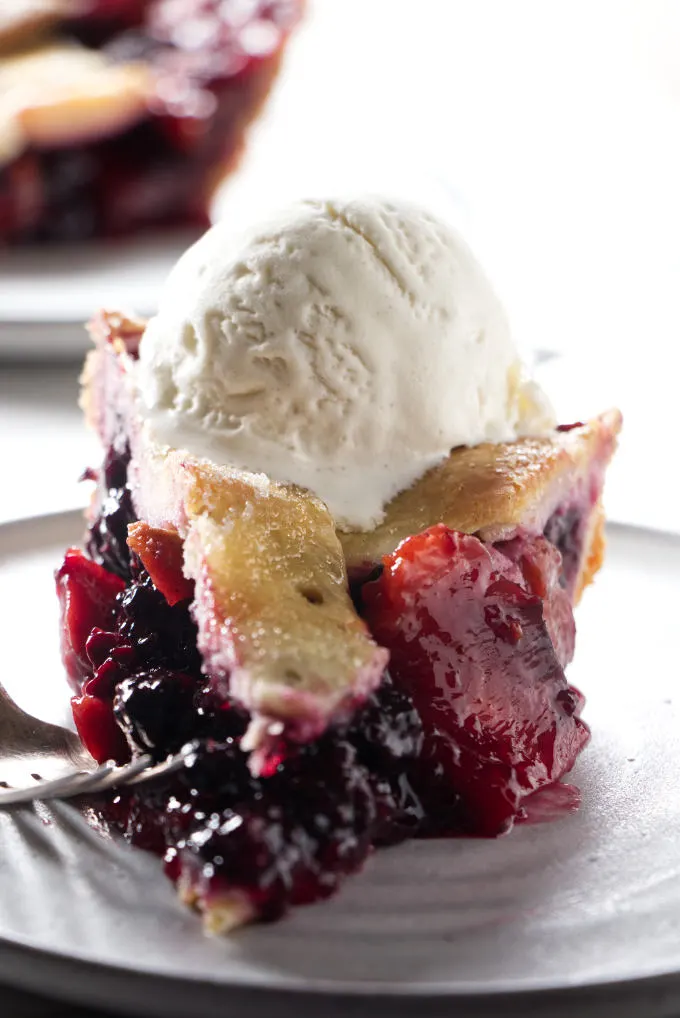 How to Make Blackberry Peach Pie:
Here is a quick overview of the recipe to give you an idea of how easy this pie is to make. Read the tips below and scroll down to the printable recipe card for all the details.
Roll the bottom crust into a 9-inch pie dish.
Add the fruit to a mixing bowl and drizzle it with lemon juice.
In a separate bowl, combine the sugar, thickener, and spices. Fold the sugar mixture into the fruit.
Pour the filling into the pie dish and place the top crust over the filling.
Brush milk, cream, or raw egg over the crust and sprinkle it with sugar. Bake!
Tips for Success:
Spray the pie dish with non-stick spray. That will give you some extra insurance that your pie will come out easily.
Lower the oven rack. Put the oven rack toward the bottom third of the oven. The extra heat from the bottom of the oven will help the bottom crust get crisp.
Bake the pie at a higher temperature for the first 15 minutes. The extra boost of high heat will help set the bottom crust quickly so it doesn't get soggy while the filling cooks.
Don't forget to turn the temperature down. Set a timer to remind you to turn the oven down after the first 15 minutes.
Let the pie vent. Cut slits into the top crust or use a lattice design so that the steam can escape from the pie.
Place the pie on a baking sheet. If the juices in the pie bubble over, the baking sheet will catch them and spare your oven from a mess.
Let the pie cool down before slicing it. The filling needs time to set up and thicken. If you slice it too soon then the filling will run out. You can always warm the pie back up later if you want to serve warm pie.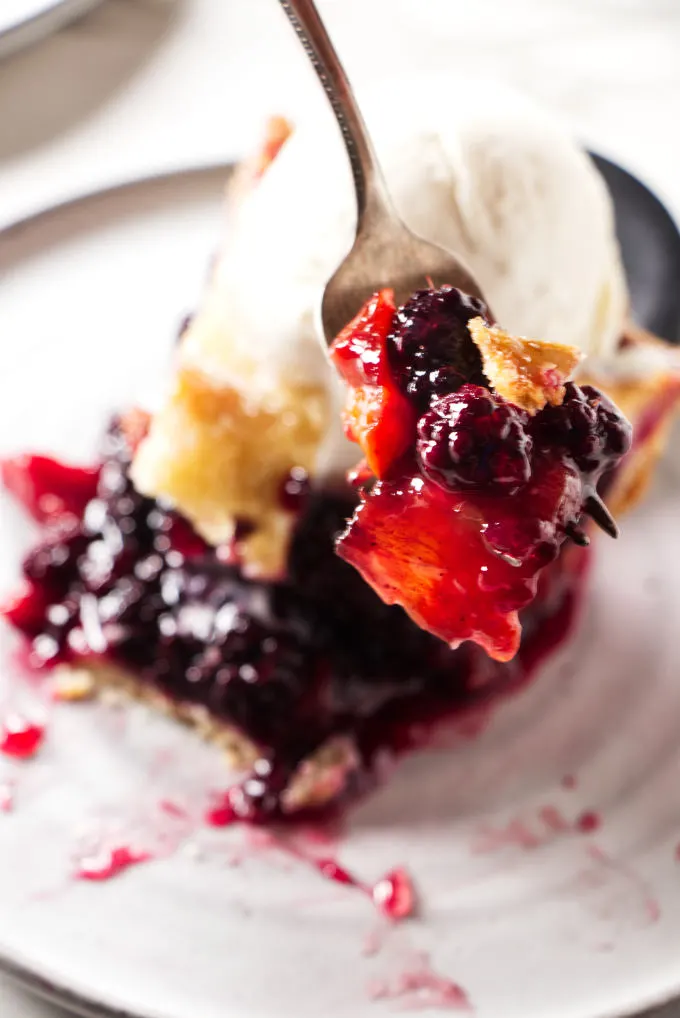 This blackberry peach pie is simple and delicious with just the right amount of sweetness from peaches and blackberries. The best part? No soggy crust! Serve it with homemade whipped cream or get fancy with some lavender ice cream. It's a great combination.
Helpful Tools
Some of the following are affiliate links. If you click on these links and purchase something, we may receive a small commission. You don't pay any extra, but it will help us keep the lights on.
Some Other Recipes We Are Sure You Will Love:
Our blackberry crumble is bursting with luscious blackberries and infused with a touch of lemon zest and cinnamon. An EXTRA LARGE serving of crumble topping finished this dessert perfectly. And if you like blackberries, try our razzleberry pie.
This Dutch Apple Pie isn't like any other apple pie! The apple filling is made even more luscious and creamy by the addition of cream. The pie is finished with a crunchy oatmeal streusel topping that pairs well with the sweet creamy interior.
Our Butterscotch Cinnamon Pie and our turtle pie are rich, decadent, and gooey desserts.
Connect With Savor the Best:
Please follow us on our social media accounts
Facebook * Instagram * Pinterest * Youtube * Twitter
Did you make this recipe? We would love to hear from you. Drop us a comment below.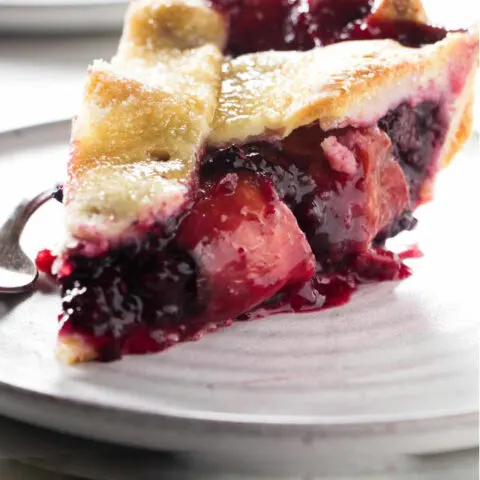 Blackberry Peach Pie
Total Time:
1 hour
25 minutes
This blackberry peach pie recipe uses fresh peaches and sweet blackberries in a delicious flaky pie crust. Serve it warm or cold with whipped cream for a delicious dessert.
Don't forget to reduce the oven temperature after the first 15 minutes of baking time.
Ingredients
1 recipe for double crust pie crust
3 cups sliced peaches (about 4 medium)
6 cups (3 pints) fresh blackberries
1 tablespoon lemon juice
2/3 cup sugar
3 tablespoons instant tapioca*
1/2 teaspoon nutmeg
1/4 teaspoon cinnamon
1/4 teaspoon salt
zest of 1 lemon
Optional topping
2 tablespoons milk or cream
2 tablespoons sugar
Instructions
Preheat the oven to 425°F and spray a 9-inch pie plate with non-stick cooking spray.
Sprinkle the counter with flour and roll out the bottom pie crust. Transfer the crust to a 9-inch pie dish letting about an inch hang over the sides.
Add the peach slices and blackberries to a large mixing bowl and drizzle the lemon juice over them.
In a separate bowl, toss together the sugar, tapioca, nutmeg, cinnamon, salt, and lemon zest.
Pour the sugar mixture over the fruit and gently fold everything together with a wide spatula.
Pour the filling into the bottom pie crust.
Roll out the top crust and place it on top of the peach filling (or cut strips to make a lattice top). Fold the edges of the pie crust together and crimp them with your fingers.
Brush the top crust with milk or cream then sprinkle sugar over the crust.
Cut several slits in the top crust if you did not make a lattice top.
Place the pie on a baking sheet and stick it in the oven. Bake for 15 minutes at 425°F then reduce the temperature to 350°F and continue baking for 40 to 45 minutes. Cool on a wire rack for 2 to 3 hours before slicing.
Notes
Coating the pie dish with the non-stick spray will help the pie slices come out of the dish easily.
The 3 tablespoons of tapioca makes a filling that has a thick, and jammy consistency. If you want a runny, syrupy filling, use 2-1/2 tablespoons of instant tapioca.
If you want an extra sparkling crust, use sparkling white sugar on top instead of regular granulated sugar.
If the crust starts to get too brown before the cooking time is complete, cover it loosely with aluminum foil.
Nutrition Information:
Yield:

8
Serving Size:

1 slice
Amount Per Serving:
Calories:

231
Total Fat:

7g
Saturated Fat:

3g
Trans Fat:

0g
Unsaturated Fat:

4g
Cholesterol:

5mg
Sodium:

160mg
Carbohydrates:

41g
Fiber:

2g
Sugar:

26g
Protein:

2g
Nutrition information is a guideline only, is calculated automatically by third-party software, and absolute accuracy is not guaranteed.