This ultra moist blackberry lemon bread is bursting with fresh blackberry and tart lemon. We took an extra step and made a blackberry swirl that runs throughout the loaf to give it a more intense blackberry flavor and make it a showstopper.
It's rich, tender, and has a sweet-tart lemon glaze that makes it simply irresistible. Be fully warned: one slice of this delicious blackberry lemon cake is never enough!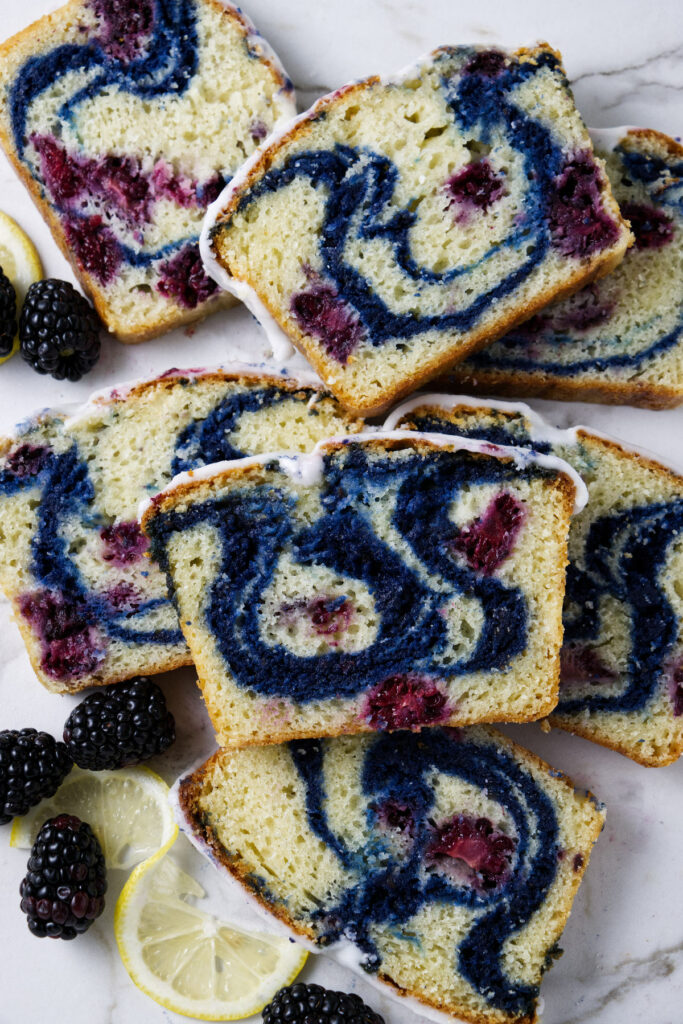 Our lemon blackberry bread looks like traditional pound cake, but when you slice into it, there is a stunning purple ribbon of blackberry goodness. The fun part about this sweet bread recipe is that it will have a different design every time you make it.
It is a great way to use up the wild blackberries at the end of summer. (Not to mention our blackberry crumble and blackberry peach pie).
And, if you love lemon, may we suggest these lemon ricotta cookies, and our triple lemon cheesecake bars ?
Why This Recipe Works
The best part about this blackberry lemon bread? It's easier to make than you might think!
Not only is it a simple yogurt cake recipe, but we've also included a helpful video tutorial showing you exactly how to make the blackberry swirl.
The recipe doesn't need any special equipment.

Rubbing the lemon zest with the sugar releases the lemon oil and intensifies the flavor.

An extra drop of lemon oil adds more lemony goodness without adding too much liquid from lemon juice.

Combining some of the cake batter with blackberry jam and swirling it into the cake gives this loaf cake a beautiful marbled effect and extra blackberry flavor.

You can use fresh or frozen blackberries.

It is the perfect lemon blackberry dessert for any occasion.
This recipe was adapted from Dorie Greenspan's French yogurt cake in her cookbook Baking: from my home to yours.
Her recipe calls for 1-1/2 cups of flour. However, she uses a different method for measuring flour. Since we measure our flour according to King Arthur's measurements, we have adjusted the volume measurement for 1-2/3 cups of flour (the weight measurement is the same).
The Ingredients
If you've ever tried a Starbucks Iced Lemon Loaf, you know what to expect: a moist lemon cake and a delightful lemon glaze.
But we have a better way to get your lemon loaf fix. Our lemon blackberry bread takes it to the next level with a blackberry ripple and juicy pockets of fresh blackberries.
Sugar. Regular granulated white sugar.
Eggs. Make sure the eggs have time to come to room temperature.
Sour cream or yogurt. Let the yogurt or sour cream come to room temperature.
Oil. Use a neutral flavored oil such as canola oil or safflower oil.
Lemon zest. Use a microplane to get fine bits of zest.
Vanilla extract and lemon oil.
Flour. This blackberry yogurt bread works just fine with all-purpose flour.
Baking powder. Make sure the baking powder is not expired.
Salt.
Blackberry jam. Homemade or storebought.
Blackberries. You can use fresh or frozen blackberries. If you have extra-large berries, cut them, so they are just a bit larger than blueberries.
Lemon glaze. Made with powdered sugar, lemon juice, and a pinch of salt.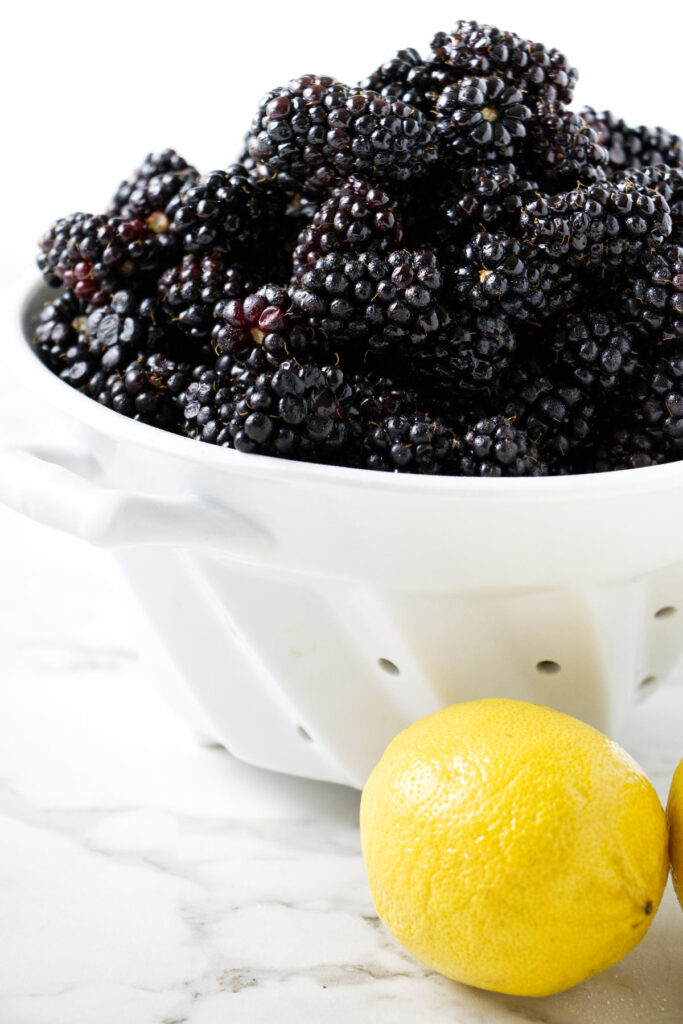 How to Make Blackberry Lemon Bread
To make this blackberry pound cake, follow these easy steps! For the full recipe and ingredient amounts, scroll down to view the printable recipe card.
Combine the dry ingredients in a bowl and set aside.
Use your hands to rub the lemon zest into the sugar. This will release the lemon oils and give the sweet bread a more lemony flavor.
Whisk in the yogurt (or sour cream), eggs, lemon oil, and vanilla extract.
Fold in the flour mixture, then drizzle in the oil while stirring with a spatula.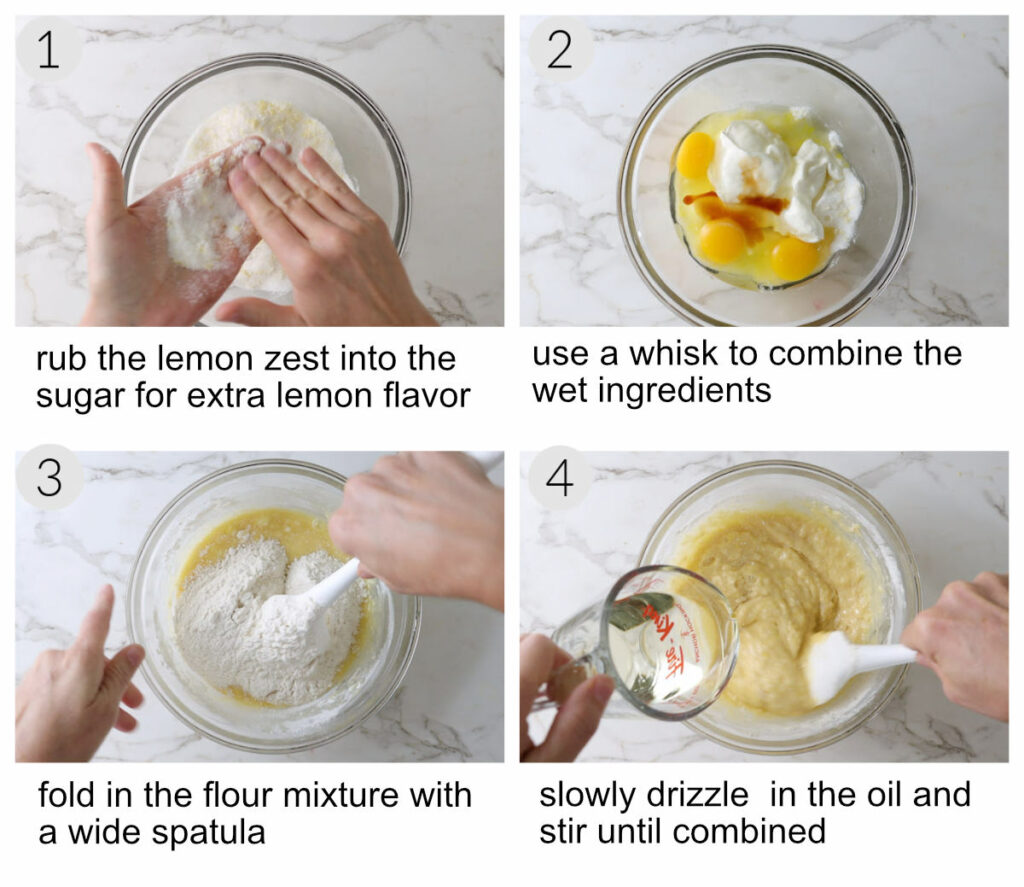 Transfer 1/2 cup of batter to a small bowl and stir in the blackberry jam.
Fold the blackberries into the bowl with the larger amount of batter.
Alternate the two batters into a loaf pan.
Give the batter a swirl with a knife and place it in the oven.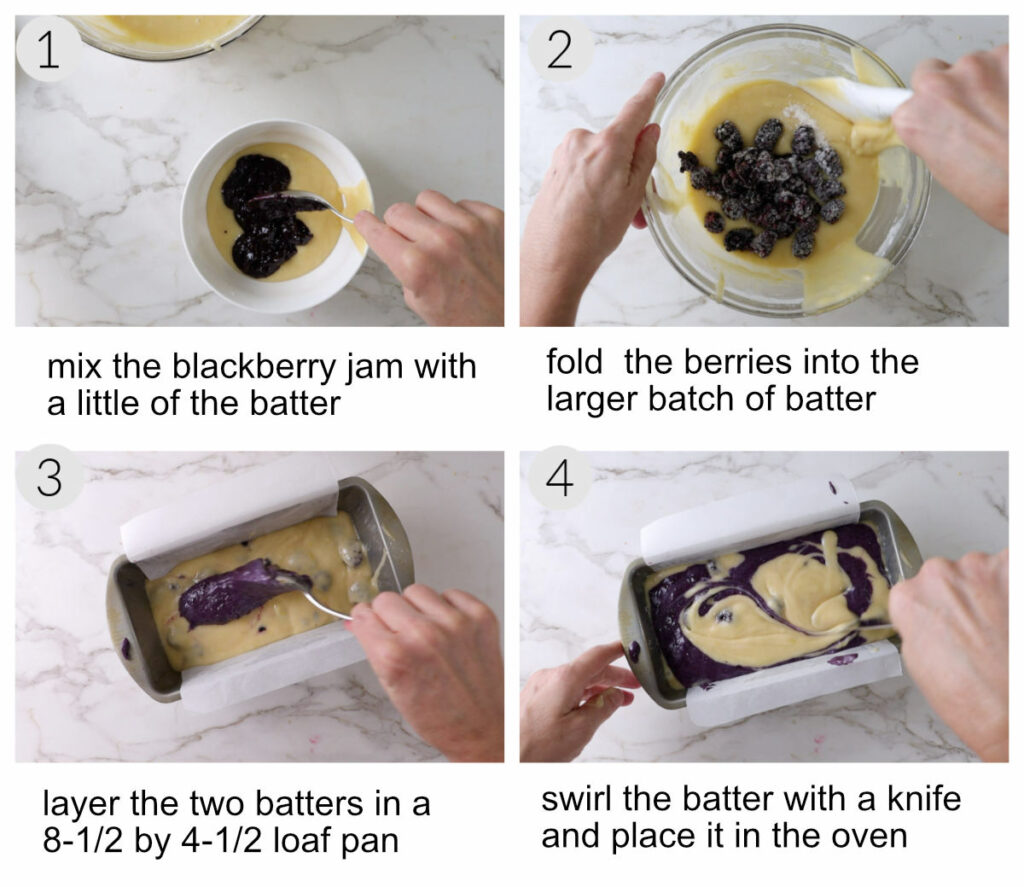 Recipe Tips
We have a few tips to get the best results for this blackberry lemon bread.
Make sure your loaf pan is the right size. We used an 8-inch by 4-inch loaf pan for this recipe. If you use a 9 x 5-inch loaf pan, the cake will not need to cook as long, and it will not rise as tall.

Room temperature ingredients help the batter hold an emulsion and blend together better.

If you notice the pound cake browning too much, place a sheet of greased aluminum foil over the top halfway through the baking time.

Try to use small blackberries. If you have large blackberries, cut them into smaller bits. Larger berries tend to sink to the bottom even if you coat them in flour.

The original recipe is a yogurt cake, but sour cream works equally well.

If you want the blackberry swirl to have a deep purple color, add a couple of drops of blue food coloring to the jam.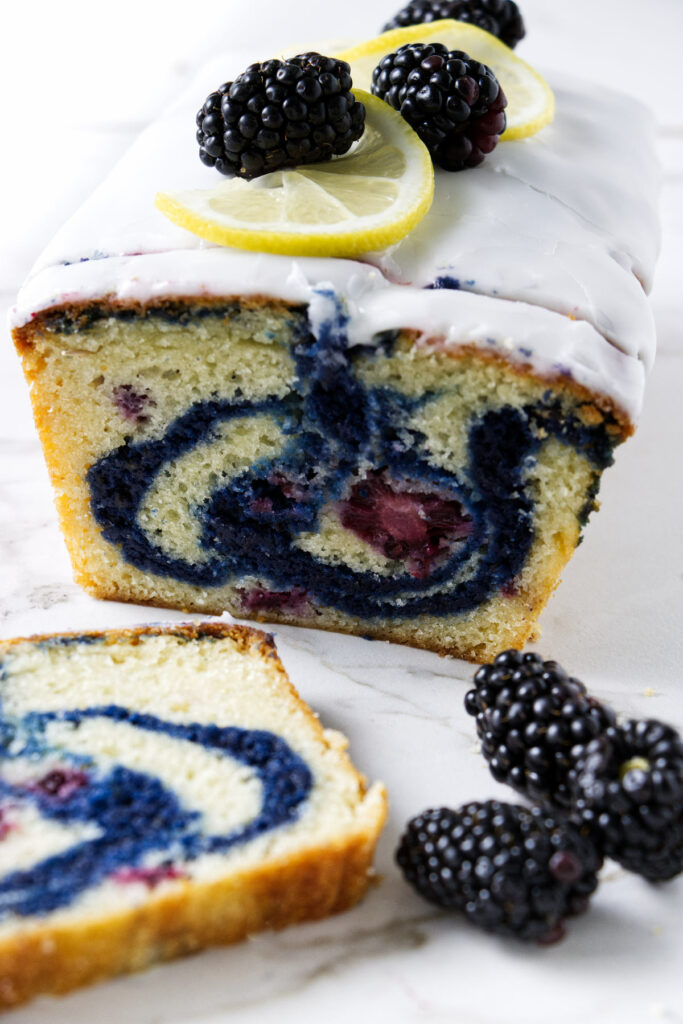 Using Frozen Blackberries
I mentioned above that you could use frozen berries to make this lemon and blackberry cake. However, there are a couple of things to keep in mind.
If the blackberries are small (about 1/2 inch long), keep them frozen and toss them right into the batter. You may need to add a few minutes of baking time.
For larger frozen berries, thaw them, cut them into smaller bits, and then blot the moisture with paper towels.
Thawed blackberries will break up easily and make purple streaks in the batter.
Frequently Asked Questions
Can I freeze this bread?
Yes, you can freeze this blackberry lemon bread! Wrap it well in plastic wrap (after it is completely cool) and place it in a freezer-safe bag. It will keep well for up to three months. It freezes better if you don't ice the cake first.
How long will this sweet bread last?
This blackberry bread will stay moist for up to one week.
Since you are adding fresh (or frozen) berries to the cake, you should store it in the fridge. If you omit the berries from the recipe, you can keep it on the counter for up to four days.
This blackberry lemon bread is the perfect combination of sweet and tart flavors. The blackberry swirl gives it more blackberry flavor and makes the bread look extra special.
It's pretty enough to serve at a bridal shower or a small, casual wedding, and it is fantastic for brunch. Every time you make this recipe, you will have a different design, so make it on repeat.
Helpful Tools
Some of the following are affiliate links. We may receive a small commission if you click on these links and purchase something. You don't pay any extra, but it will help us keep the lights on.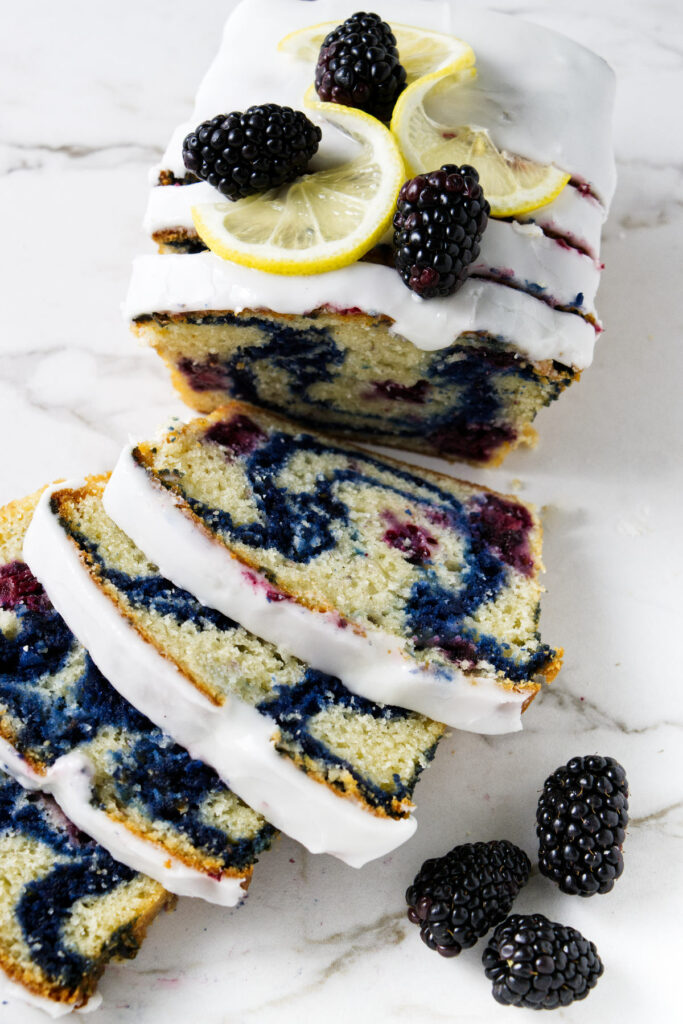 Some Other Recipes We Are Sure You Will Love:
Tangy lemon curd, layers of lemon-lavender sponge cake, and an Italian meringue buttercream topping come together for an elegant and sophisticated dessert.
If you love lemon desserts, this lemon ricotta cake is right up your alley! It's part cheesecake, part butter cake, with a rich and dense texture and lovely lemon flavor.
And, our chocolate buttercream cake is one you'll make on repeat! With only one bowl required and less than 10 minutes to prep the batter, it's an easy recipe.
Connect With Savor the Best:
Please follow us on our social media accounts
Facebook * Instagram * Pinterest * Youtube * Twitter
Did you make this recipe? We would love to hear from you. Drop us a comment below.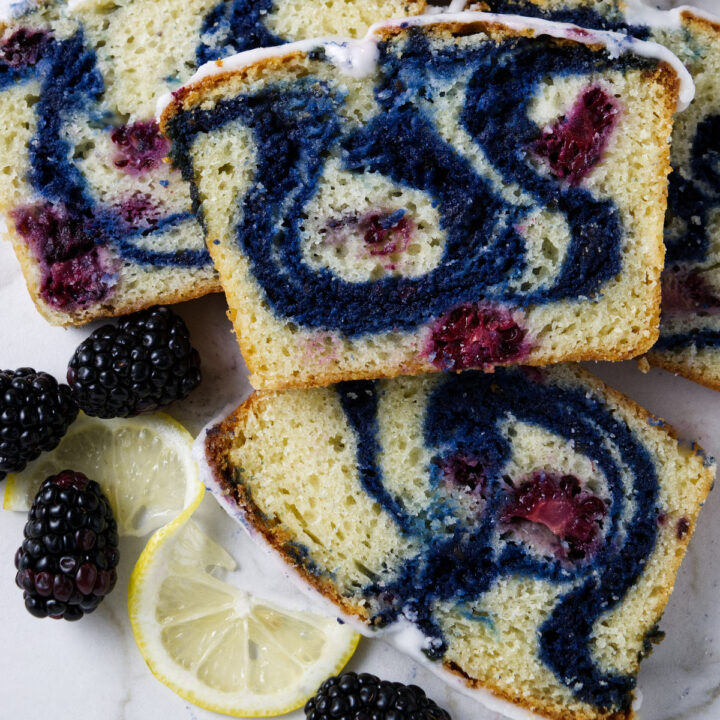 Blackberry Lemon Bread
Total Time:
1 hour
10 minutes
This ultra moist blackberry lemon bread bursts with fresh blackberry and tart lemon flavors. A blackberry swirl runs throughout the loaf, giving it a more intense blackberry flavor and making it a showstopper.
Ingredients
1-2/3 cups all-purpose flour (200 grams)
2 teaspoons baking powder
1/4 teaspoon salt
1 cup sugar
zest of 1 lemon
1/2 cup sour cream, room temperature
3 eggs, room temperature
1/2 teaspoon vanilla extract
1/4 teaspoon lemon oil
1/2 cup flavorless cooking oil such as canola
5 tablespoons blackberry jam
Optional: 2 to 4 drops blue food coloring**
1 cup blackberries, tossed with 1 tablespoon flour
Lemon Glaze
1 cup powdered confectioners sugar
pinch of salt
2 to 3 tablespoons lemon juice
Instructions
Preheat the oven to 350°F and spray an 8-1/2 x 4-1/2 inch loaf pan with cooking spray (or line the pan with parchment paper).
Combine the flour, baking powder, and salt in a small bowl. Whisk or sift to distribute the ingredients and get the lumps out.
Place the sugar and lemon zest in a mixing bowl. Rub the sugar between your fingers to infuse the lemon zest. Add the sour cream, eggs, vanilla, and lemon oil. Whisk until everything is well blended.
Use a silicone spatula to stir in half of the dry ingredients until well blended, then stir in the other half of the flour mixture.
Pour the oil into the batter gradually while stirring with a silicone spatula.
Transfer 1/2 cup of the batter into a small bowl and stir in the blackberry jam and blue food coloring if desired.
Stir the blackberries into the larger bowl of batter and pour about 2/3 of the batter into the prepared loaf pan.
Pour the blackberry jam batter into the pan, then top it with the rest of the batter in the larger bowl.
Transfer the loaf pan to the oven and bake for 55 to 65 minutes or until the loaf cake starts pulling away from the pan's edges. A toothpick inserted in the center should come out clean or with a few crumbs attached.
Let the loaf bread cool in the pan for 5 to 10 minutes, then run a knife around the edges and remove it from the pan. Let it cool completely on a wire rack.
Lemon Glaze
Add the powdered sugar and salt to a bowl. Pour in 2 tablespoons of lemon juice and whisk until smooth. If you want a thinner glaze, slowly add more lemon juice until you get the consistency you like.
Drizzle the glaze over the top of the cooled loaf bread. Let the bread sit at room temperature for about 10 minutes or until the glaze firms up.
Garnish with fresh blackberries or candied lemon slices.
Notes
Make sure you have the correct size loaf pan. A larger pan will change the baking time and the blackberry bread will not rise as high.
You can substitute the sour cream with plain or Greek yogurt. Full-fat sour cream or yogurt will give the bread a better texture than reduced fat.
If you line the pan with parchment paper, let the edges overhang a bit. You can use the edges of the paper to lift the loaf cake out of the pan.
You can store this cake at room temperature for 1 day or in the fridge for 4 days. Let it cool completely, then wrap it in plastic wrap to prevent it from drying out. If you don't add the blackberries, you can store the loaf cake at room temperature for 4 days.
If you have extra large blackberries, cut them in half. Larger berries will sink to the bottom of the pan even if you coat them in flour.
If you use frozen berries, add them to the batter while they are still frozen unless they are extra large berries. If you have larger berries, thaw them, cut them in half, then blot the extra moisture off with paper towels.
The food coloring gives the blackberry swirl a brighter color. You can also use 2 teaspoons of butterfly pea flower powder if you don't want to use artificial coloring.
This recipe is a riff on Dorie Greenspan's French yogurt cake. The original recipe only needs about 50 to 55 minutes to bake, but the extra moisture from the blackberry jam increases the baking time slightly. Bake the loaf cake until a toothpick comes out clean or has just a few crumbs.
Nutrition Information:
Yield:

16
Serving Size:

1 slice
Amount Per Serving:
Calories:

369
Total Fat:

11g
Saturated Fat:

2g
Trans Fat:

0g
Unsaturated Fat:

8g
Cholesterol:

39mg
Sodium:

122mg
Carbohydrates:

62g
Fiber:

2g
Sugar:

23g
Protein:

6g
Nutrition information is a guideline only, is calculated automatically by third-party software, and absolute accuracy is not guaranteed.