These flaky and tender buttermilk barley biscuits are made entirely with whole-grain barley flour! It gives the rustic biscuits a coarse texture and nutty flavor that tastes extra hearty and filling. We love one of these warm barley biscuits with a smear of butter and a drizzle of honey. It's the most delicious side or snack any time of the day!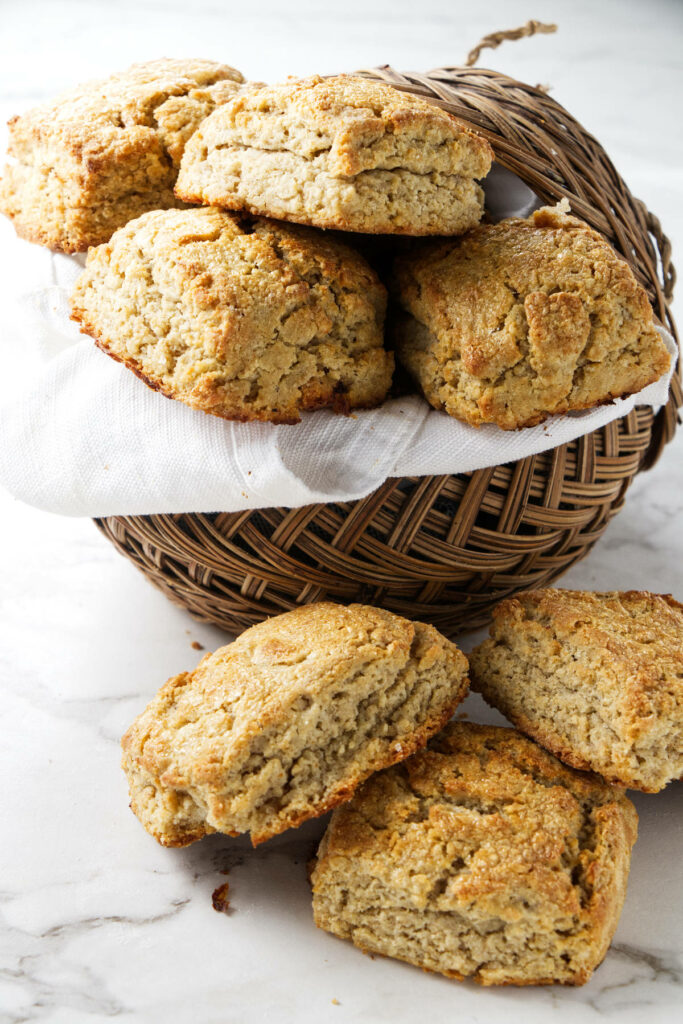 Whole-grain barley flour is a wonderful ingredient to incorporate into your baking. It has a slightly nutty flavor and an impressive nutritional profile. The barley flour gives the biscuits a slightly crumbly texture similar to our brown butter cornbread.
Along with these biscuits, we also love this quick barley bread and barley pancakes! If you're new to baking with barley flour, this recipe is the perfect place to start.
Why This Recipe Works
Barley biscuits are the variation of biscuits you never knew you needed. You can't go wrong with these homestyle sour cream biscuits or our savory sour cream and onion biscuits, but barley flour adds a unique, rustic flavor to a classic buttermilk biscuit.
While many barley biscuits recipes are made with a combination of barley flour and all-purpose flour, this recipe is all barley. That means they pack a nutritious punch but still, thankfully, meet all the flavor and texture qualifications that any good biscuit needs.
These rustic whole-grain biscuits are:
Using 100% barley flour gives the biscuits a hearty, nutty flavor that is packed with nutrients.

Since barley flour is a whole grain and has less gluten than wheat, they have a rustic, dense texture that is slightly crumbly yet tender, flaky, and comforting.

This is a simple biscuit recipe that only requires 8 ingredients.

Barley is an ancient grain that makes delicious, homestyle biscuits everyone will love.
The Ingredient List
With only eight ingredients required, these delicious biscuits are a breeze to make! They're easy enough to whip up on a weekend morning and we know you'll be thrilled you did.
You will need:
cold butter
barley flour
sugar
baking powder and baking soda
salt
cold buttermilk
cream or melted butter (for the tops)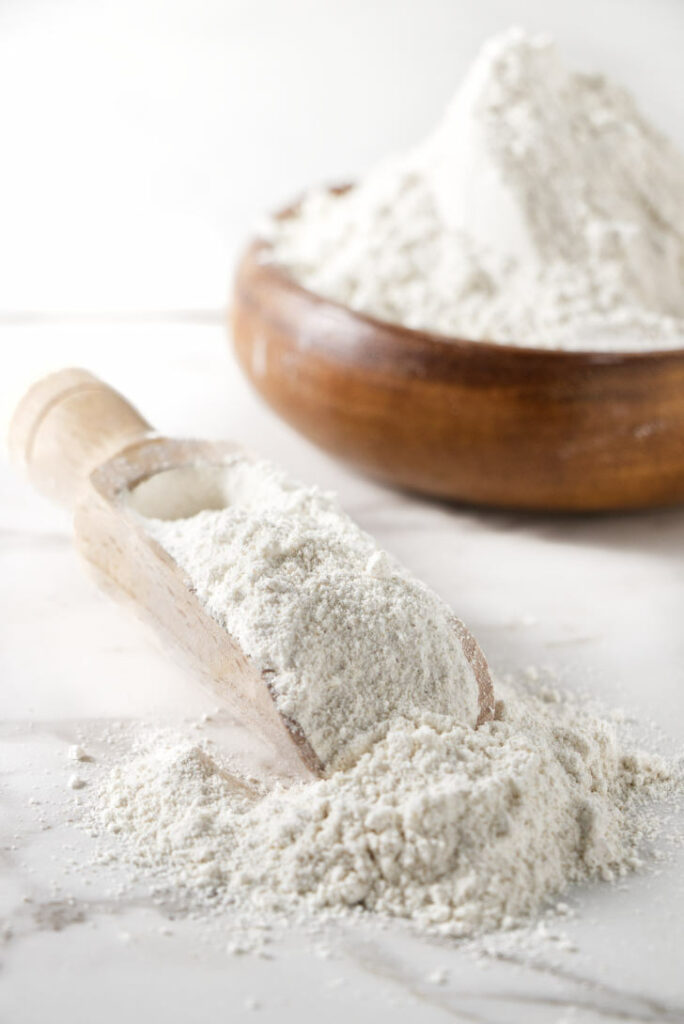 How to Make Buttermilk Barley Biscuits
This easy buttermilk barley biscuit recipe calls for simple ingredients and just a few basic steps. In hardly any time at all, you'll have these little beauties in the oven and the irresistible scent of fresh barley biscuits wafting through your kitchen.
Here's a quick look at how to make them but be sure to scroll to the bottom of the page to view the full printable recipe card.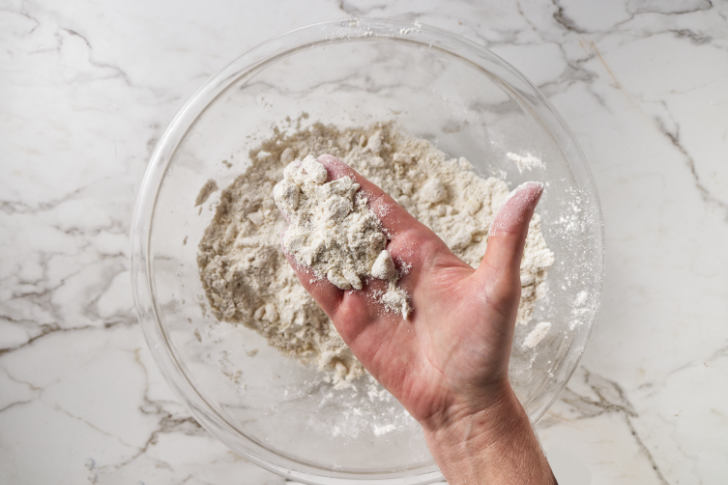 Work the butter into the flour. Make sure you use cold butter.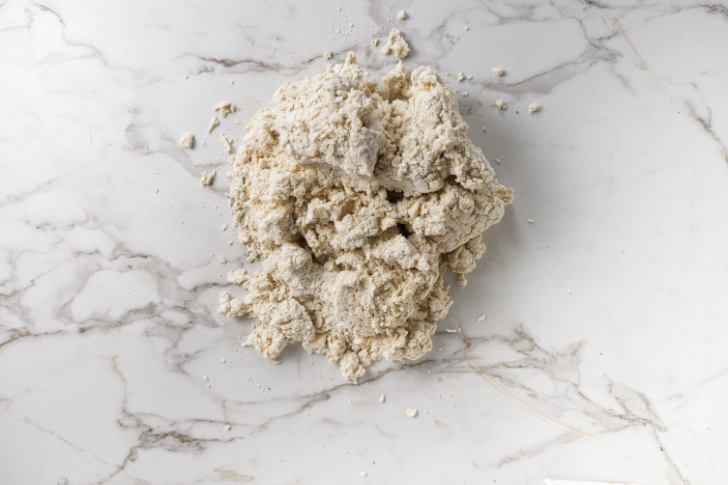 Mix the dough then transfer it to the counter and push it into a ball.
Tip: The dough will appear slightly dry and crumbly until you dump it on the counter and push it together. After you push it together on the counter, it will start to 'cling' to itself.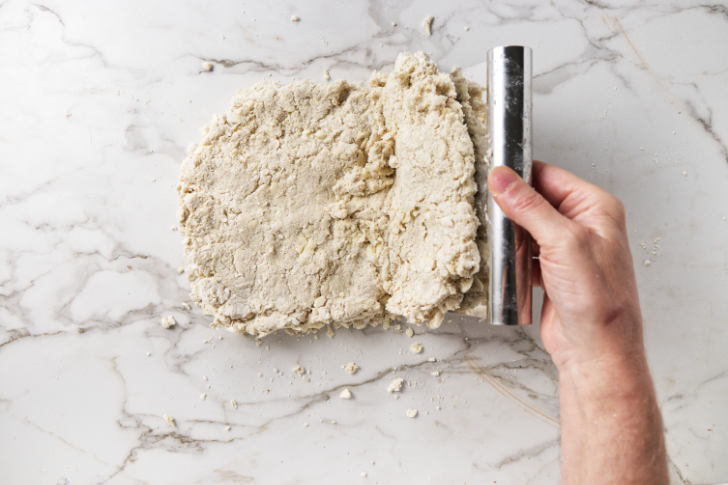 Shape the dough into a rectangle and fold it into thirds.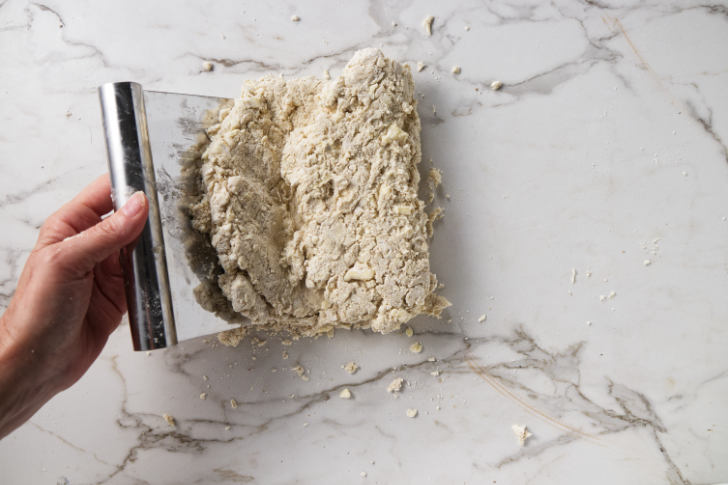 Continue folding the dough to create more layers. Repeat the step if desired.
Tip: Using a bench scraper makes it easy to work with the dough. It lets you scrape the dough and fold it without handling the dough with warm hands (because warm hands will melt the butter and make the biscuits less flaky).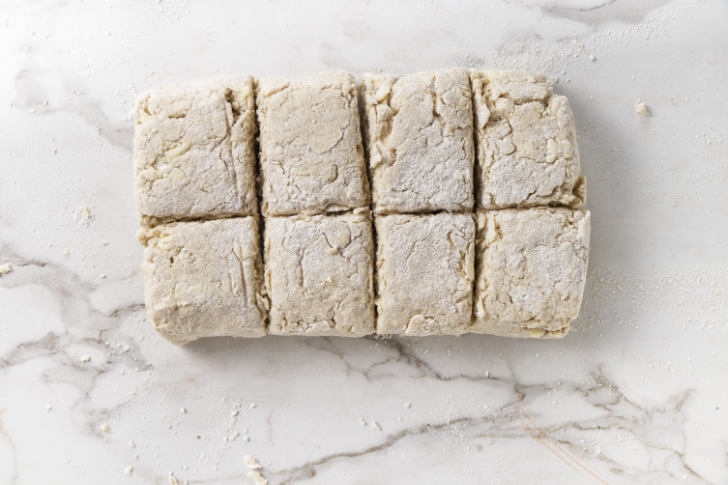 Shape the dough into a 4 by 8-inch rectangle. Cut into eight biscuits.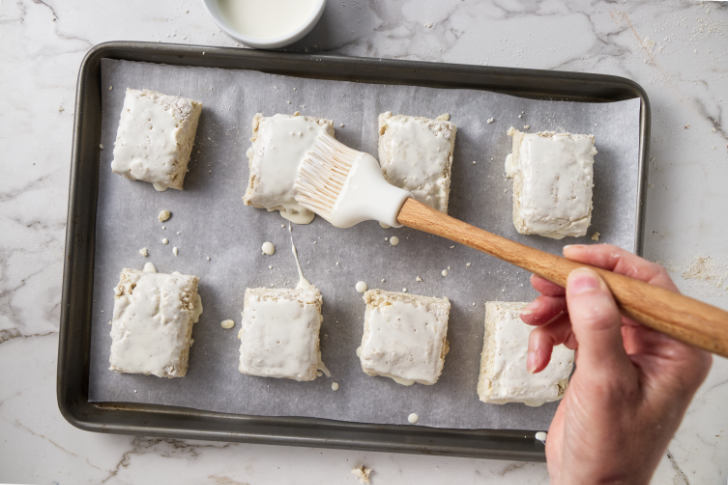 Coat the top of the biscuits with cream or melted butter.
Tip: If you want more biscuits, just slice them smaller. Alternatively, you can shape the dough into a larger rectangle and make thinner biscuits. Keep in mind that thinner smaller biscuits will need less baking time.
Recipe Tips for the Best Results
Make sure to use cold butter and buttermilk.

The dough will seem a bit lose and dry initially but don't worry! The dough will come together beautifully when you press it into a ball and proceed with the folding process.

If you don't have a bench scraper, you can use a large metal spatula to scrape and fold the dough. We really recommend using either of those kitchen tools instead of your hands since it will help keep the dough colder.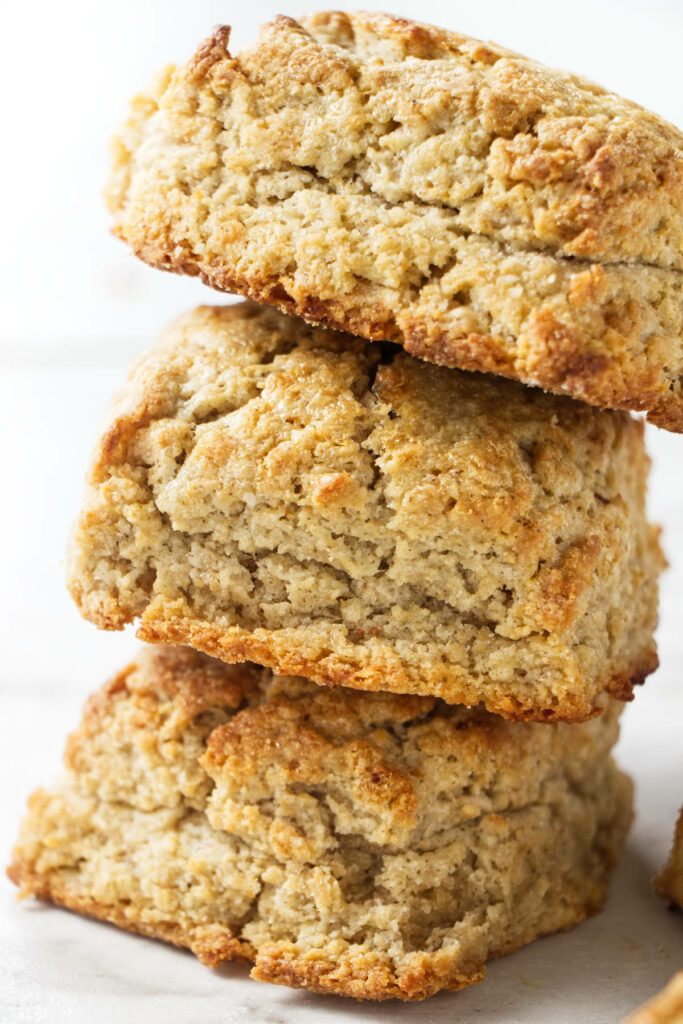 Frequently Asked Questions
What does barley flour taste like?
Barley flour adds a rich and hearty, whole-grain flavor to baked goods. It has a slightly sweet nuttiness and wholesome taste.
Which liquid makes the best biscuits?
Buttermilk is wonderful in this barley biscuit recipe because it results in extra tender biscuits. The tanginess of the buttermilk is also a lovely yet subtle contrast to the wholesome flavor of the barley flour.
What makes a biscuit fluffy?
Similar to making a pie crust, cold butter is crucial to getting perfectly tender and fluffy biscuits! The cold butter along with folding the dough in several layers allows the biscuits to bake nice and tall.
Is barley flour better than wheat?
Barley flour is rich in fiber and a tad lower in carbohydrates than other wheat flours. Nutritionally, it's a better option than traditional wheat flour but it does result in a much different texture.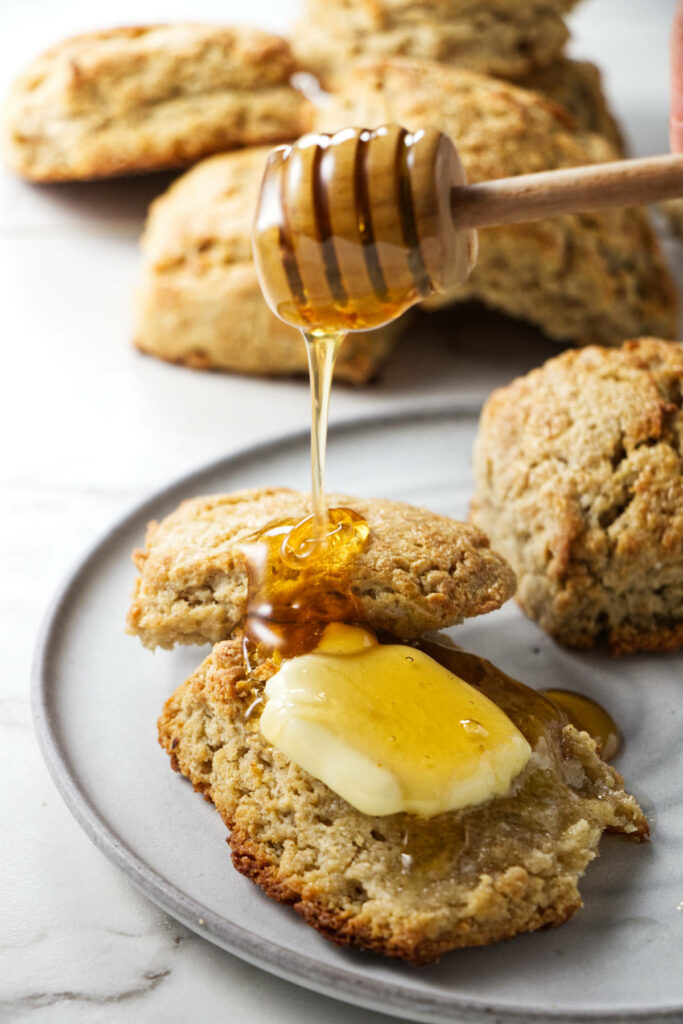 Soft and tender with a slight crumble reminiscent of buttery cornbread, these buttermilk barley biscuits are sure to please. There's something so satisfying about a warm biscuit topped with butter and a drizzle of honey- it's the perfect snack on its own or accompaniment to any meal.
Helpful Tools
Some of the following are affiliate links. If you click on these links and purchase something, we may receive a small commission. You don't pay any extra but it will help us keep the lights on.
Some Other Recipes We Are Sure You Will Love:
This cast iron skillet peach cobbler makes the most of in-season stone fruit! With a delicious, crunchy sugar crust on the biscuit topping and sweet, juicy peaches that bake into syrup-y goodness, you'll love every bite of this old-fashioned recipe.
Sweet strawberries and figs come together in this easy strawberry fig jam that makes the perfect topping for fresh biscuits, toast, scones and more!
Our lemon Buttermilk Scones are perfect for breakfast. Buttermilk makes these scones light and airy, while a subtle hint of lemon and a drizzle of lavender honey are the yummy extras that make these irresistible.
Connect With Savor the Best:
Please follow us on our social media accounts
Facebook * Instagram * Pinterest * Youtube * Twitter
Did you make this recipe? We would love to hear from you. Drop us a comment below.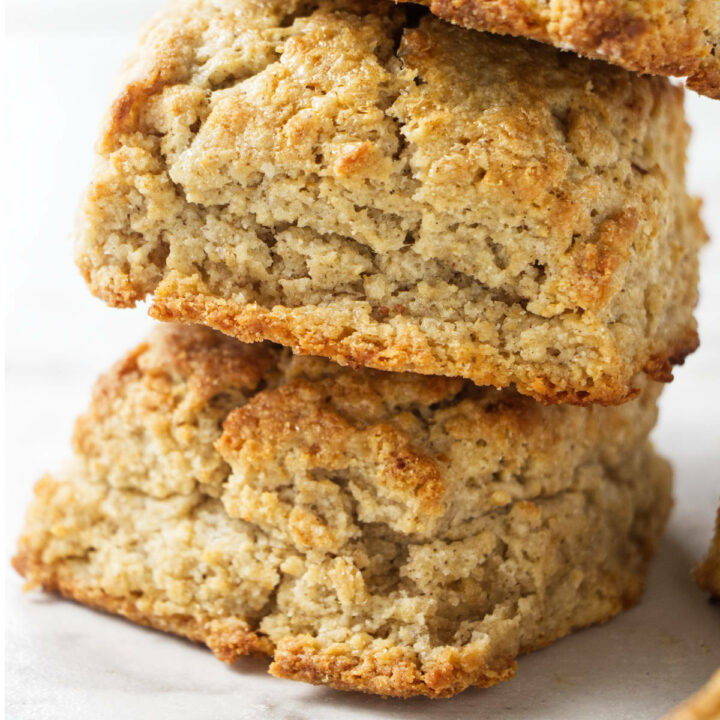 Buttermilk Barley Biscuits
Our barley biscuits are made with 100% barley flour. It makes a rustic, hearty biscuit with a coarse texture yet they are flaky and delicate at the same time. And because they're made with whole-grain barley flour, they have a nutty flavor that is simply delicious.
Ingredients
12 tablespoons butter, cold
3 cups barley flour
1 tablespoon sugar
1 tablespoon baking powder
1/2 teaspoon baking soda
3/4 teaspoon salt
1-1/4 cup buttermilk, cold
2 tablespoons cream or melted butter
Instructions
Preheat the oven to 450°F. Line a baking sheet with parchment paper.
Grate the butter (or cut it in small chunks) and stick it in the freezer for a few minutes to get it extra cold.
Combine the flour, baking powder, baking soda, sugar, and salt in a large bowl. Whisk well to combine.
Add the grated butter to the flour mixture and toss to coat the butter in flour. Use your hands to briefly rub the flour into the butter. Just use a few quick rubs so you don't melt the butter between your hands. Alternatively, you can use a pastry blender to work the butter into the flour.
Add the cold buttermilk and stir just a few times to distribute the buttermilk, don't over mix the dough. It should still seem a bit dry at this point.
Transfer the dough to a lightly floured countertop and gently press into a ball.
Pat the dough into a rectangle (approximately 10 by 6 inches). Fold the rectangle into thirds. You don't have to be precise here. You are simply creating layers of flour and butter that will give the biscuits a flaky texture.
Repeat the folding step one or two more times to create more layers.
Pat the dough into a 8 x 4 inch rectangle. Slice the rectangle in half, lengthwise then cut crosswise to get 8 biscuits.
Transfer the biscuits to the baking sheet. Brush the tops with cream or melted butter. Bake for 17 to 20 minutes or until golden brown.
Notes
Keep the butter and buttermilk cold.
The dough will seem a bit lose and dry initially. It will come together when you press it into a ball and proceed with the folding process.
A bench scraper will make it easy to shape and fold the dough. You can also use a large metal spatula.
Nutrition Information:
Yield:

8
Serving Size:

1
Amount Per Serving:
Calories:

426
Total Fat:

22g
Saturated Fat:

14g
Trans Fat:

1g
Unsaturated Fat:

7g
Cholesterol:

59mg
Sodium:

844mg
Carbohydrates:

49g
Fiber:

6g
Sugar:

8g
Protein:

10g
Nutrition information is a guideline only, is calculated automatically by third-party software, and absolute accuracy is not guaranteed.