Woohoo! Homemade Strawberry Fig Jam! This is a winning flavor combination and a little bit of heaven in a jar. This homemade jam is the real deal, made from fresh strawberries and fresh figs. No Jello added! Sweet! This jam is made with pectin which lets the fresh flavors of strawberry and fig shine.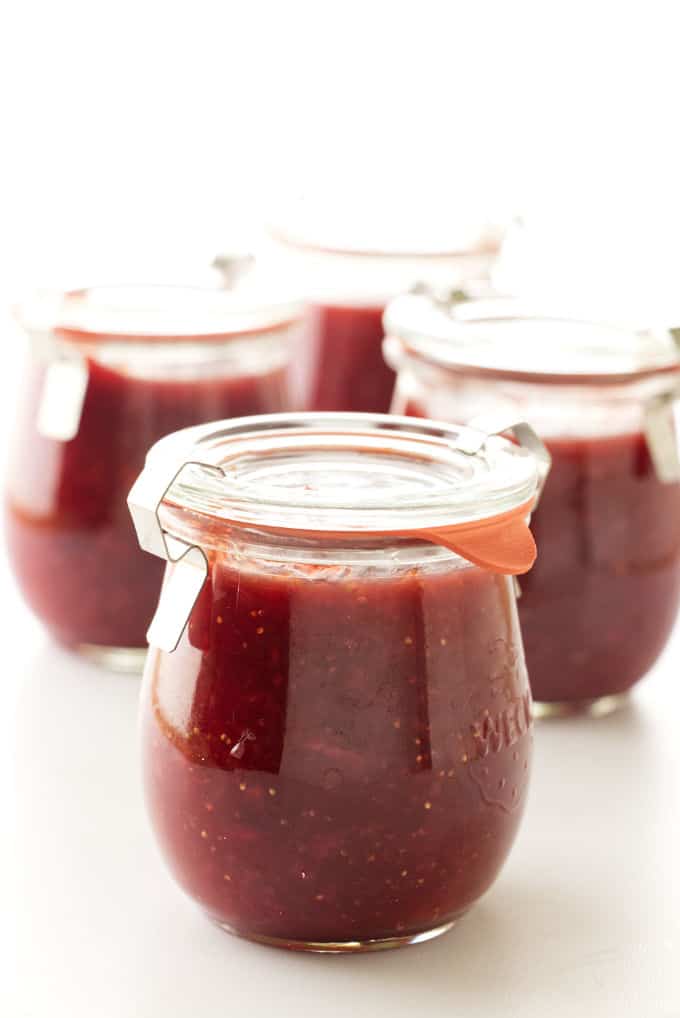 Fresh strawberries are available year-round but those big, beautiful fresh figs have a short season and now is that season!
If you have ever made jam or preserves you know how easy it is and how delicious that jam tastes on your breakfast toast! Check out our recipe for fresh strawberry jam and our fig jam made from dried figs. Homemade jam is so economical too. This batch of strawberry fig jam gave me four, eight-ounce jars of goodness at a very moderate cost.
What You Need to Make strawberry Fig Jam:
I am always amazed that it takes only a small amount of fruit to produce a nice supply of delicious jam. The jam-making process is so easy that you can take advantage of any fresh fruit as it comes to market. Why not get crazy and try different combinations of fruit.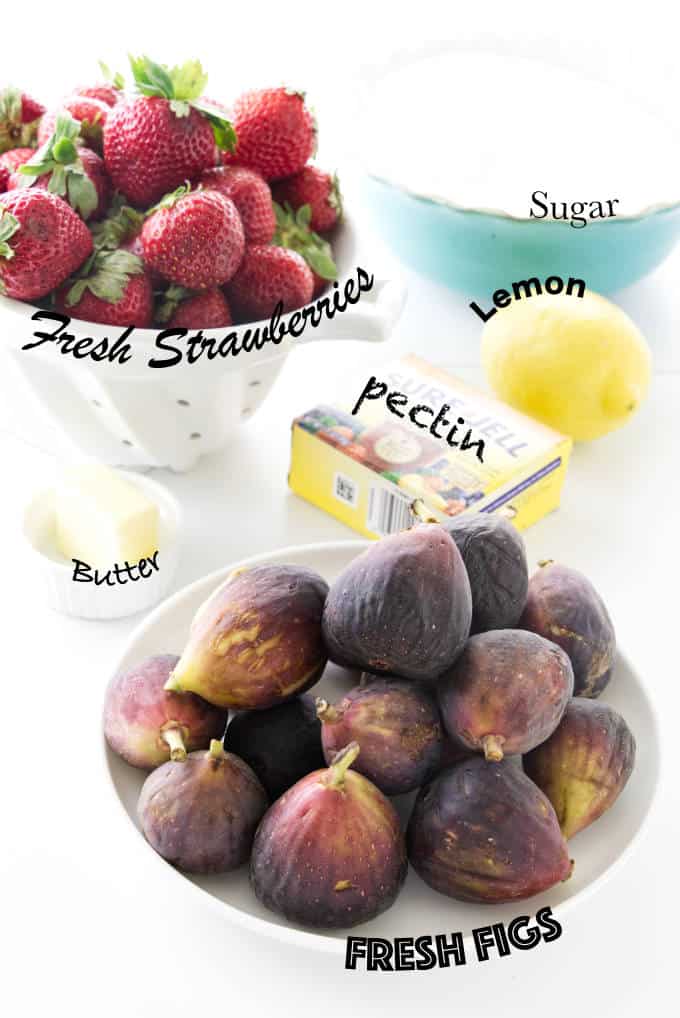 Here is the list of ingredients that you will need.
Strawberries, 1 pound
Figs, any variety, 1 pound
Fresh lemon juice. Lemon juice brightens up the flavors of the fruit.
Natural pectin. Pectin is key to getting that jam-like consistency.
Sugar. Regular granulated sugar.
Butter. Sounds strange but see below for an explanation.
I bet you are wondering why butter is included in that list of ingredients. Well, when everything gets to an aggressive boil it produces a foam on top. But, just a couple tablespoons of butter is like magic in keeping the mixture from foaming.
How to make Strawberry Fig Jam: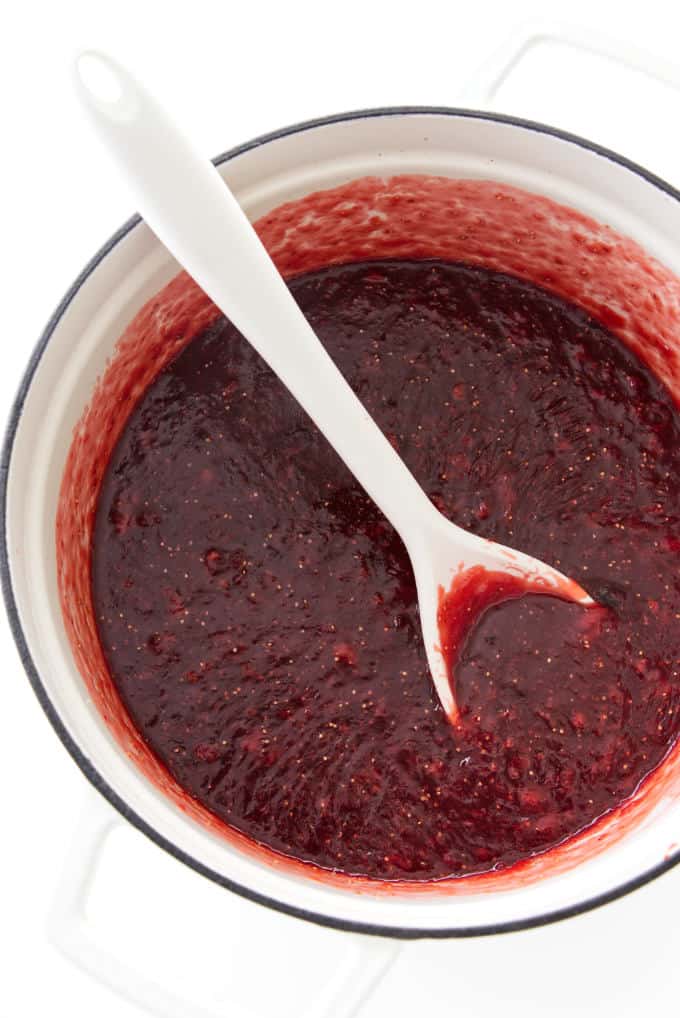 This is so easy and you will be rewarded with a nice supply of jam. I have listed the steps to make the jam but please, scroll to the bottom of the page to the recipe card instructions and the tips in the note section:
Before you begin
First, you need to gather everything together. Choose your jars, either two pints or four half-pints.
Wash the jars and the lids and set them in a 200°F oven to keep warm. It is important that the jars be hot when they are filled with hot jam. Cold jars and hot jam=cracked jars and spilled jam.
Here are the easy steps for making jam
Process the fruit in a food processor to get the consistency you like.
Add the fruit and lemon juice to a saucepan.
Combine some sugar with the pectin and stir it into the fruit.
Bring the mixture to a boil and cook for 10 minutes.
Stir in the rest of the sugar and bring it back to a boil for 1 minute.
Remove the saucepan from the heat and skim off the foam.
Ladle the hot jam into hot jars and cover with lids.
Tips for success.
If you want a chunky jam, do not process the fruit for long in the food processor. You can also use a potato masher.
Mix the pectin with some sugar before you stir it into the fruit. This will help the pectin distribute evenly and prevent it from clumping up.
Use a heavy bottomed pan to prevent burning and promote more even cooking.
Make sure the mixture comes to a full rolling boil. A full, rolling boil is when it doesn't stop boiling while you are stirring.
Stir the mixture constantly to prevent burning.
Keep the jars warm in the oven. Adding the warm jam mixture to the warm jars will prevent the jars from cracking due to a sudden temperature change.
If you plan to freeze the jam, make sure you leave 1/2 inch space at the top of the jar.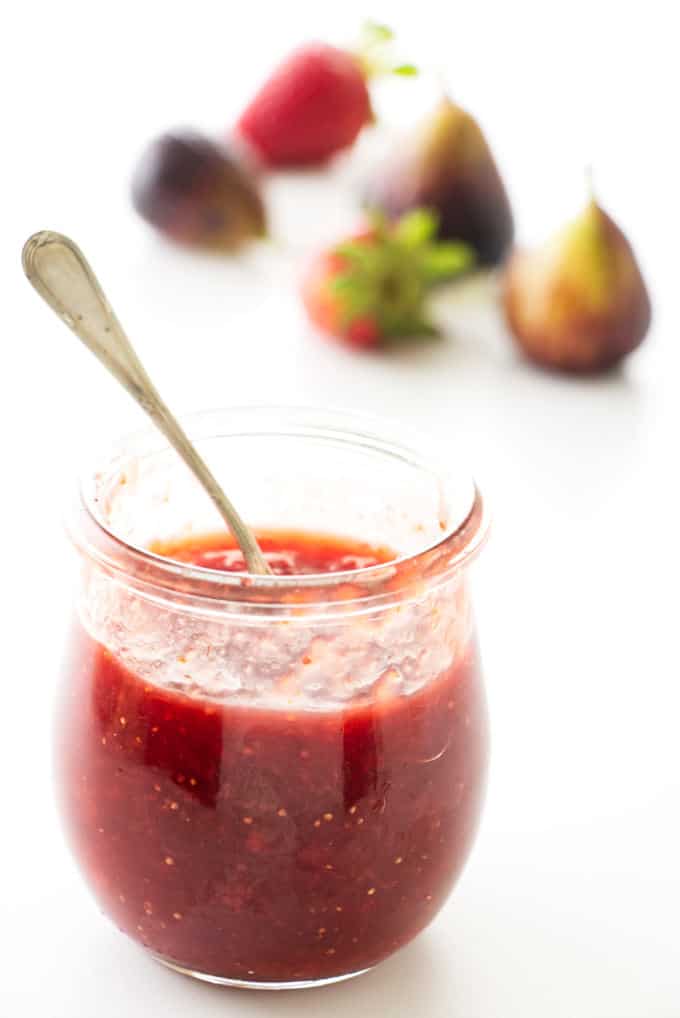 How to Store this Strawberry Fig Jam:
For just a small batch of jam I usually just keep the jars in my refrigerator. To store jam in the pantry for an extended period of time I like to process them in a water bath.
It is an easy method and the fresh preserving site gives complete instructions if you want to go that route. High acid foods like this jam are especially easy to can and you do not need a pressure cooker.
If you process the jars in a hot water bath, you can store them in the pantry for up to 12 months. Once opened, store them in the refrigerator for up to 1 month. If you don't process them in a hot water bath then keep them in the fridge for 3 to 4 weeks.
You can also freeze the jam for up to 1 year. Be sure there is a 1/2-inch headspace at the top of the jam to allow for expansion.
Can I Double the Ingredients for a Larger Batch of Jam?
Oh, that would be nice! Unfortunately, that is not the case. My mom always said, 'don't double the recipe, make one batch at a time.' Naturally, I had to challenge her but found she was right, again!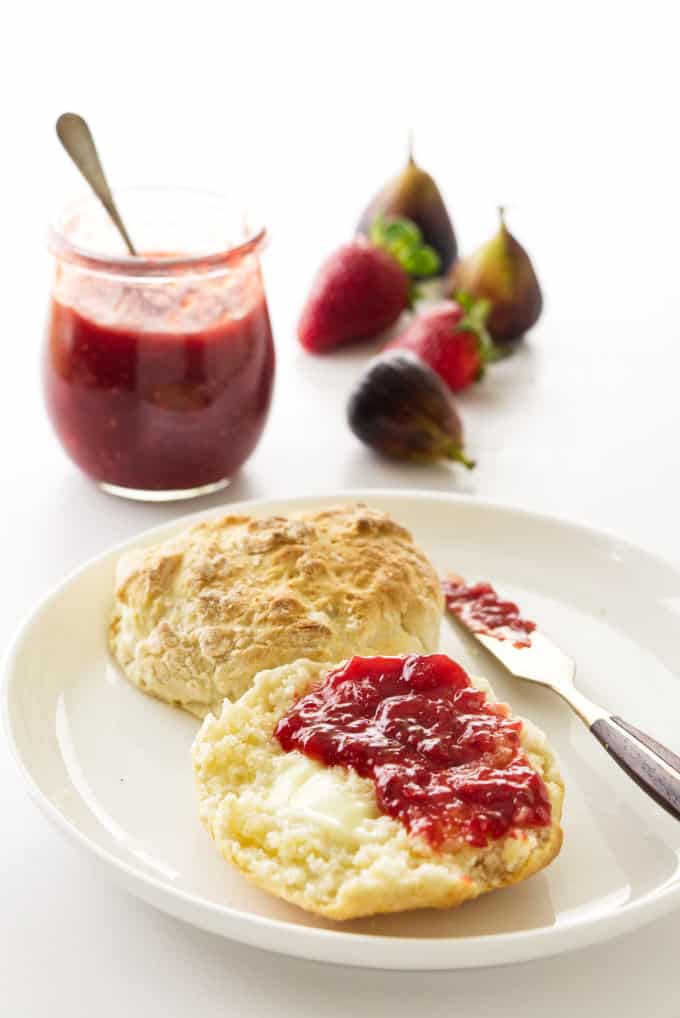 The reason doubling the batch does not work is because the larger volume of jam will take longer to cook and come to a boil. That increased cook time will affect the action of the pectin.
Pectin begins to break down when it is cooked at high temperatures for extended periods, leaving you with a runny jam. With the longer cooking time, you also risk scorching/burning the jam. It's the same reason we don't double the recipe in our pear paste.
This strawberry fig jam tastes marvelous on a hot biscuit or toast. If you make a batch, I would love to hear your thoughts.
SOME OTHER RECIPES WE ARE SURE YOU WILL LOVE:
CONNECT WITH SAVOR THE BEST!
Be sure to follow us on our social media accounts
Facebook * Instagram * Pinterest * Twitter * Youtube
Did you make this recipe? We would love to hear from you. Drop us a comment below.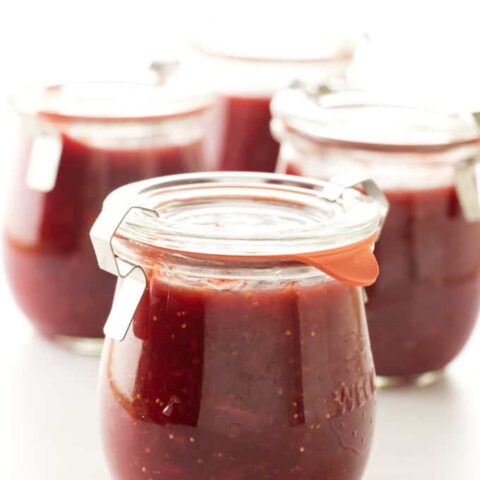 Strawberry Fig Jam
Yield: 2 Pint
Prep Time: 5 minutes
Cook Time: 2 minutes
Total Time: 7 minutes
Homemade Strawberry Fig Jam! This is a wining flavor combination and a little bit of heaven in a jar. This homemade jam is the real deal, made from fresh strawberries and fresh figs. No Jello added! Sweet!
Ingredients
3 cups (1 pound) fresh strawberries, hulled and sliced
3 cups (1 pound) fresh figs, seemed and sliced
1/4 cup fresh lemon juice
1 box (1.75 oz) natural pectin (I used Sure-Jell)
4 cups (800 grams) granulated sugar (divided)
1 tablespoon butter
Instructions
Heat the oven to 200°F. Wash and rinse 4, 1-cup canning jars and their lids. Set the jars and lids on a small paper-towel lined sheet pan and transfer to the oven to stay hot.
Add the sliced fruit to the bowl of a food processor and pulse to chop. Tip the chopped fruit into a 2 or 4 qt saucepan and stir in the lemon juice.
In a small dish, combine the pectin and 1/4 cup of the sugar, mixing well, then stir into the chopped fruit.
Adjust the heat under the saucepan to medium-high and bring the mixture to a full, rolling boil while stirring constantly, about 10 minutes.
Stir in the remaining sugar and the butter. Bring the mixture back to a full, rolling boil for exactly 1 minute while continuing to stir.
Remove the saucepan from the heat and skim off any foam that may have accumulate on top. Ladle the jam into the hot jars, add the lids and screw bands, then set in a draft-free area of the kitchen counter to cool.
Notes
Lemon juice adds additional acid to the fruit as well as flavor.
Adding butter while the fruit is cooking will keep foam from forming on the top. It is possible that some foam may still surface, if so, skim it off with a tablespoon.
Fill the hot jars with the hot jam to prevent the jar from cracking.
If planing to freeze the jam, leave 1/2-inch head room for the jam to expand. I usually do not add the lid until the jam has frozen completely.
Nutrition Information:
Serving Size: 2 Tablespoons
Amount Per Serving:
Calories: 70
Total Fat: 0g
Sugar: 13g
Protein: 17g