Savory, rich, buttery cornbread is a classic side dish that can be enjoyed any time of year. It is old-fashioned comfort food at its finest. This recipe uses simple ingredients you likely already have in your pantry and comes together in just a few minutes.
The result is a moist, delicious cornbread that pairs well with just about anything. Serve it alongside chili beans or beef barley soup for a hearty meal, or enjoy it as a snack with some honey or strawberry fig jam.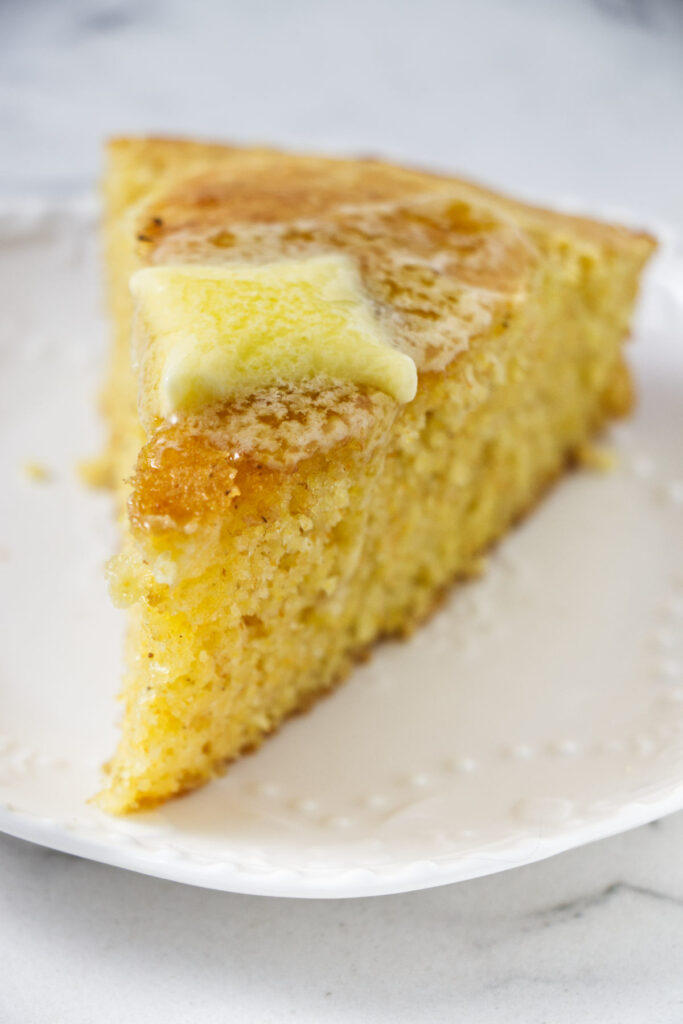 This is an old-fashioned, savory cornbread recipe with butter. It is a quick and easy recipe with classic flavors. If you want to play around with the flavors more, you can brown the butter as we did in our brown butter cornbread or check out our jalapeno cheddar cornbread.
We have adapted other cornbread recipes to fit in casseroles like our Mexican cornbread casserole or our chicken casserole. It is such a versatile recipe.
Here is Why This Recipe Works
Baking the cornbread in an extra hot oven gives the top a nice crunchy crust (just like cornbread should be).

We added just the right amount of butter to give a rich, buttery flavor without weighing down the batter.

A small amount of optional sugar helps bring out the natural sweetness in the corn without making the cornbread taste sweet.

Sour cream enhances the richness of the butter and makes the cornbread moister.

We provide several options for flavor additions so you can customize the recipe to your heart's content.
Cornbread has a rustic, sometimes crumbly texture that is perfect with hearty soups like our lamb soup and our pork chili beans. It is also great crumbled up and tuned into stuffing. If you love this recipe, you will love the flavor and rustic texture of our quick barley bread as well.
The Ingredients
Cornmeal. For best results, use medium to fine ground cornmeal.

All-purpose flour. The flour helps bind the ingredients. If you only use cornmeal, the bread will crumble and fall apart.

Sugar. The sugar is optional. Some people don't think any sugar should be in cornbread but we think a small amount enhances the flavor without making it sweet.

Baking powder and baking soda. Used as leavening. Check the expiration date and make sure they are fresh.

Salt. Enhances the flavor.

Milk. Whole milk will give the cornbread a richer flavor.

Sour cream. Use full-fat sour cream for best results.

Butter. You can use salted or unsalted butter. The small amount of salt in salted butter will not through the recipe off.

Eggs. Eggs give the cornbread structure and bind everything together.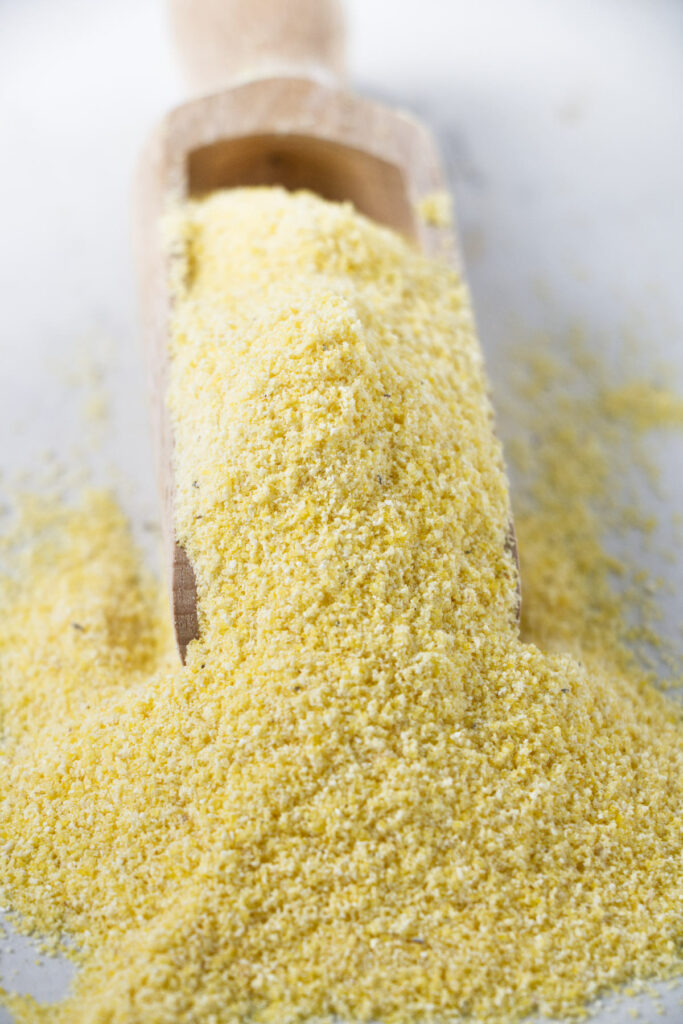 Medium to fine ground corn meal will make the best cornbread. Albers® Corn Meal is a popular brand in the stores near us. It doesn't say anything on the box but their website says it is finely ground cornmeal. If you use coarse ground cornmeal, the cornbread will be more crumbly and have a rougher texture.
How to Make Cornbread with Butter
Here is a brief overview to get an idea of what to expect with this buttery cornbread recipe. Scroll down to the printable recipe card for all the details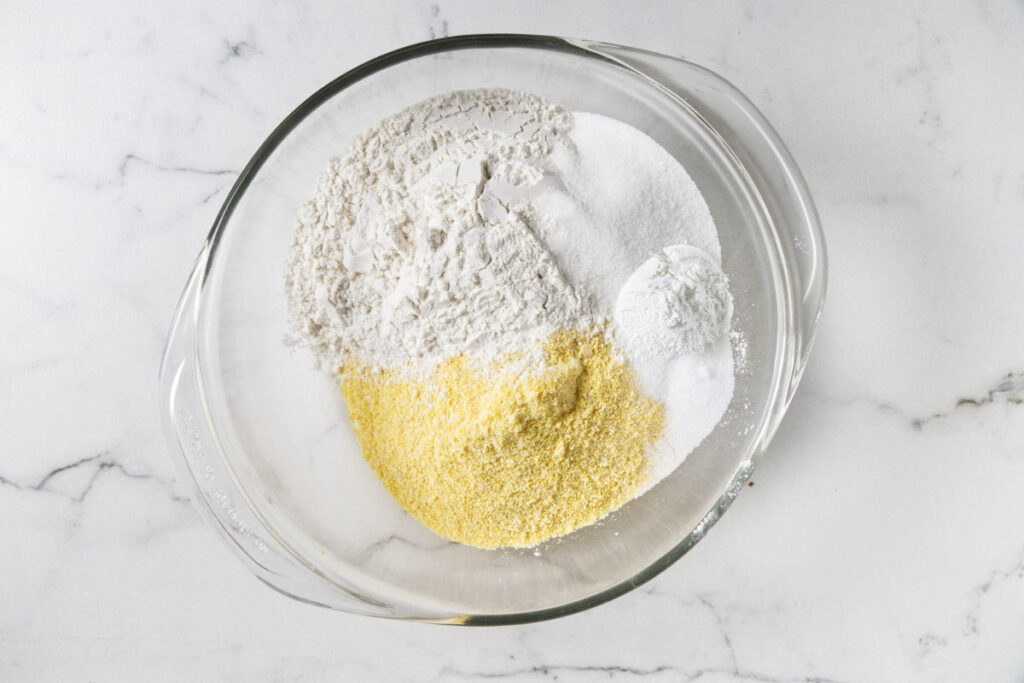 Combine the dry ingredients in a bowl. Whisk to get out any lumps in the flour and baking soda. If you want to add additional herbs and spices, add them here. See the recipe notes for suggestions.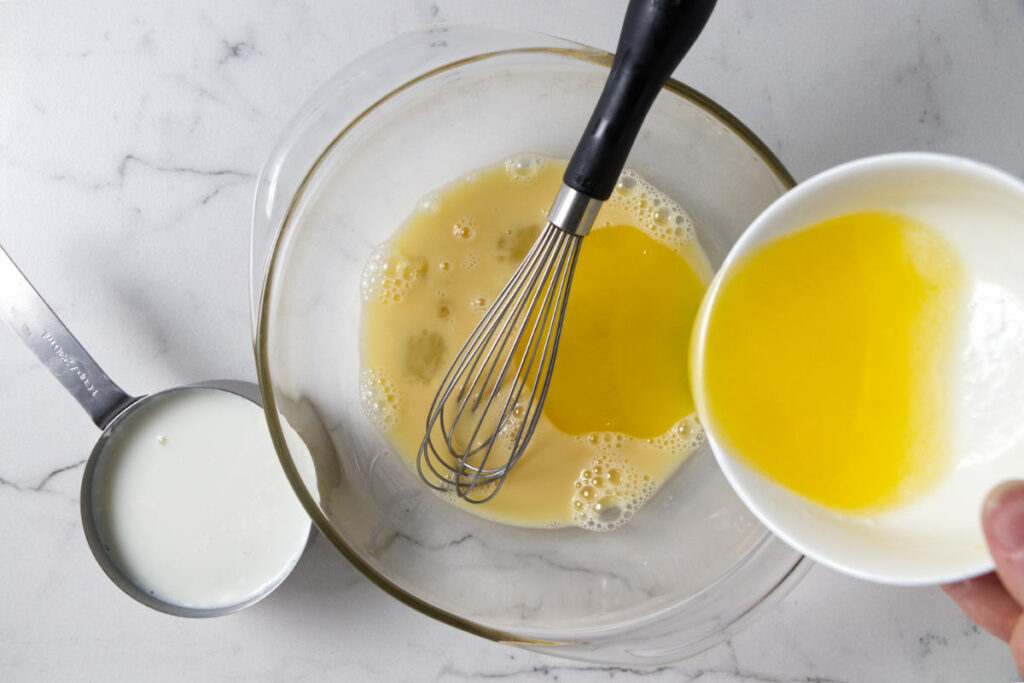 Combine the wet ingredients in a separate bowl.
Tip: Let the milk, eggs, and sour cream sit at room temperature and let the melted butter cool down a bit before combining them. If the butter is too hot, it will scramble the eggs and if the milk and sour cream are too cold, the butter will solidify when you add it to the cold ingredients.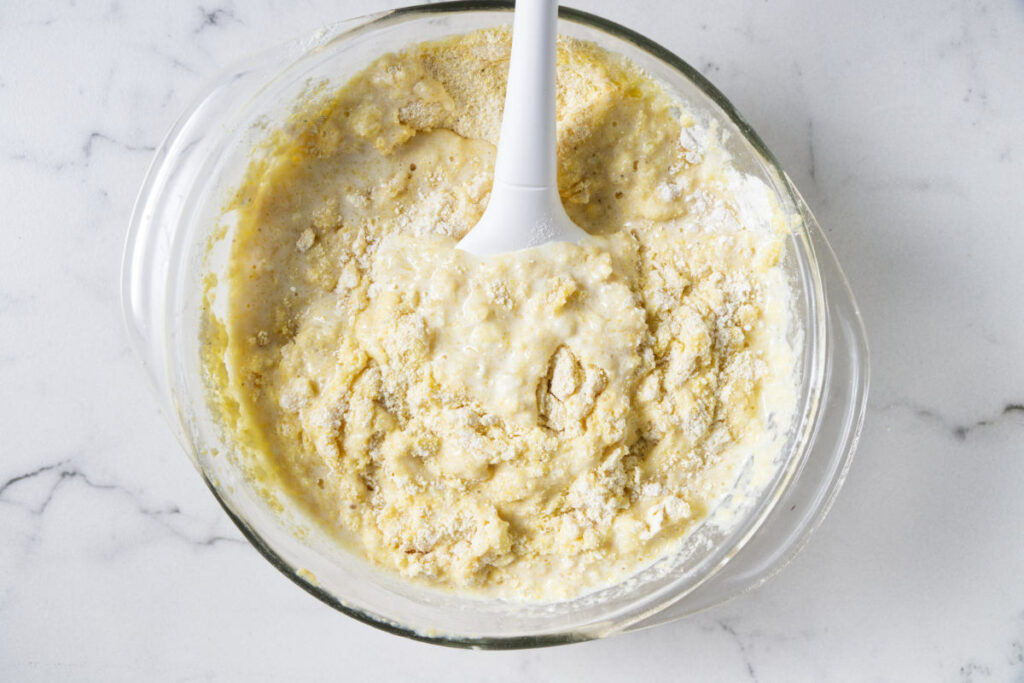 Fold the dry ingredients into the wet ingredients just until combined. It is ok if there are a few lumps. If you want to add cheese, corn kernels, or chopped peppers, add them in this step.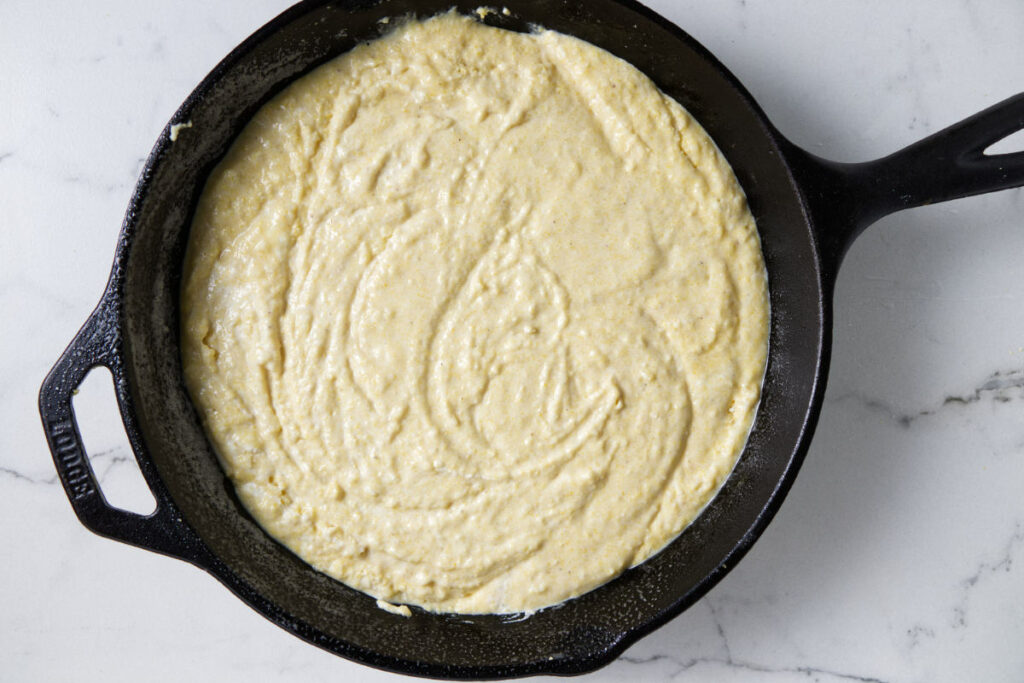 Spread the batter into a 10-inch skillet. You can also use a 9 x 9-inch square pan.
Tips for Success
A cast-iron skillet will create crunchy, golden brown edges with a more crusty texture. If you like the crust softer, use a cake pan.

If you use an 8 x 8-inch square pan, you will have extra batter to make about 3 muffins.

Don't stir the batter too much or the cornbread will get tough. Just fold the ingredients together until they are combined.

If you want sweet buttery cornbread, increase the sugar to 1/3 cup.

For a bit more Southern tang, replace the milk with buttermilk.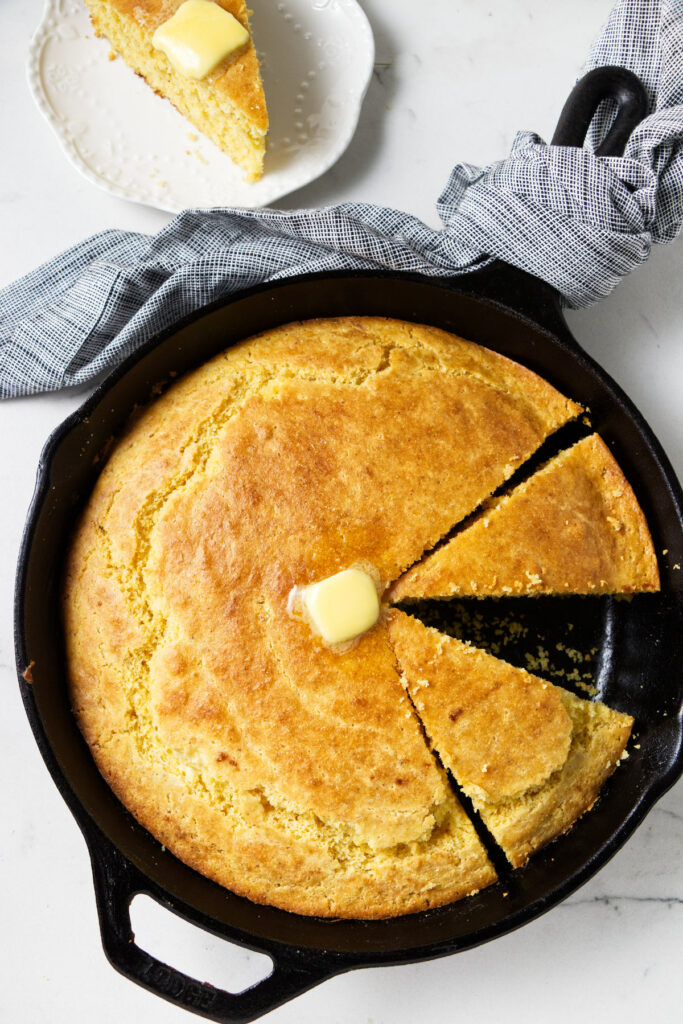 Frequently Asked Questions
Is oil or butter better for cornbread?
This is mostly a personal preference but we like the rich flavor that butter brings to cornbread recipes. Oil will make cornbread slightly more tender and moist while butter makes baked goods more flavorful but dense and firm.

This recipe uses butter and sour cream which gives the cornbread a fantastic flavor while adding tenderness and moisture from the sour cream.
How do you soften hard cornbread?
Cornbread will naturally get firm when it cools down. If you warm the cornbread up slightly, it will get softer and have a more tender texture. If you warm it in the microwave, wrap it in a damp towel and zap it in 10-second increments until slightly warm.

You can also heat it in the oven at 300°F for 10 to 15 minutes. Either way, make sure you don't heat it too much or it will dry out.
What makes cornbread dry and crumbly?
Adding too much flour or cornmeal or baking cornbread too long will make it dry and crumbly. Pull the cornbread out of the oven when a toothpick inserted in the center comes out clean or, preferably, with a few crumbs still clinging to the toothpick.

If you want to be more precise, use an instant read thermometer and bake the cornbread until it reaches 200°F in the center.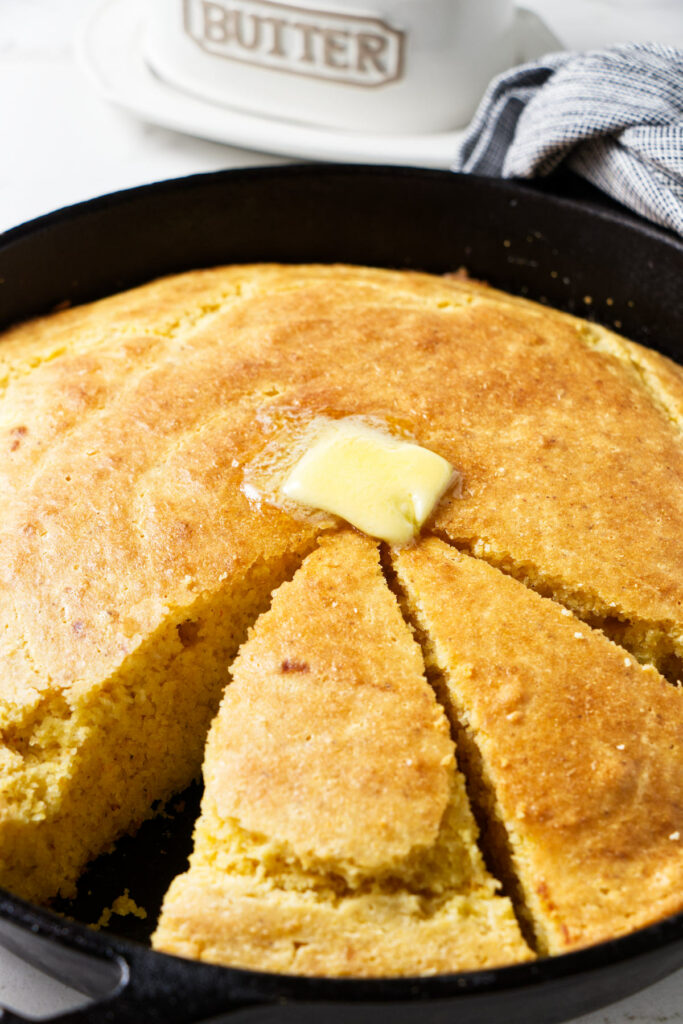 Our cornbread with butter and sour cream delivers on flavor and texture. The base recipe is easy to adapt and we provided several variations in the notes section on the recipe card.
Helpful Tools
Some of the following are affiliate links. We may receive a small commission if you click on these links and purchase something. You don't pay any extra, but it will help us keep the lights on.
More Recipes You Will Love:
This Sweet Potato Flatbread only requires three ingredients! It does not need yeast or kneading and is quite simple to prepare.
Our Kamut® Zucchini Muffins are moist, tender, and lightly spiced with cinnamon and ginger. The Kamut flour gives them a delicious, hearty flavor.
Banana Bread is a perfect for breakfast, dessert or a quick snack. This recipe includes a combination of butter and oil.
Our pulled pork tamale pie is a one dish meal that everyone will love. It is topped with an easy cornbread crust that will have you coming back for seconds.
Connect With Savor the Best:
Please follow us on our social media accounts
Facebook * Instagram * Pinterest * Youtube * Twitter
Did you make this recipe? We would love to hear from you. Drop us a comment below.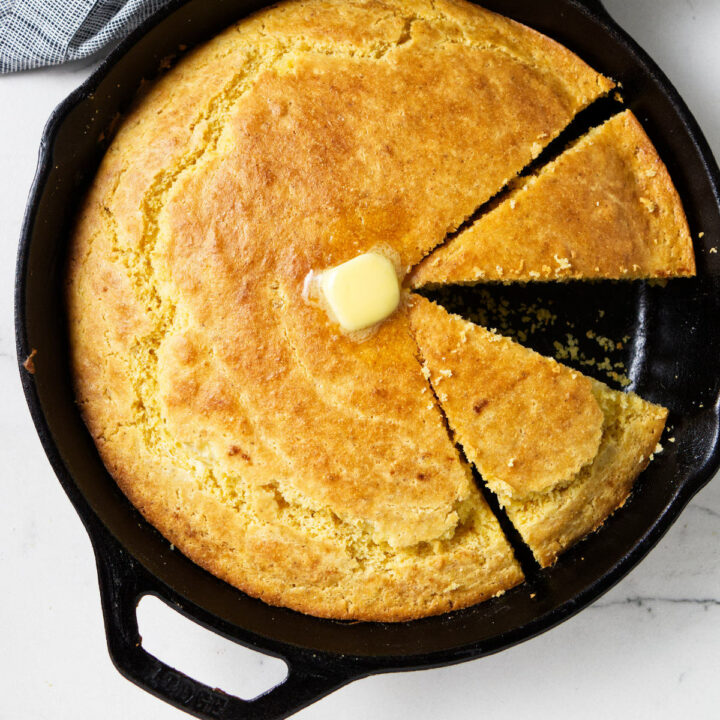 Buttery Cornbread
This classic cornbread recipe is rich, buttery, and tender. It is a great side dish that goes well with any main meal. The recipe is easy to stir together and you can adapt it with a variety of flavorful add-ins. Also, you can bake it in a skillet, square pan, or muffin tins. For best results, use fine-ground cornmeal. See the notes if you want to stir in additional spices and flavorings.
This is a savory cornbread. We added a pinch of sugar to enhance the flavor of the cornmeal and the rich buttery flavor. It is an optional ingredient if you are in the "no sugar" camp but we think it balances the flavors quite well.
Ingredients
1-½ cups fine to medium ground cornmeal (234 grams)
1-¼ cups All-purpose flour (150 grams)
2 tablespoons sugar (optional)
1 tablespoon baking powder
½ teaspoon baking soda
1 teaspoon salt
1 cup whole milk (room temperature) (227 grams)
½ cup sour cream (room temperature) (113 grams)
10 tablespoons butter, melted (141 grams)
2 eggs (room temperature)
Instructions
Preheat the oven to 400°F
Grease a 10-inch cast-iron skillet or a 9 x 9 square baking dish.
Add the cornmeal, flour, sugar, baking powder, baking soda, and salt to a medium-sized bowl and whisk to combine. If you want to add herbs and spices, add them here. See the notes for suggestions.
In a separate dish, combine the milk, sour cream, melted butter, and eggs. Whisk to combine well. Add the dry mixture and fold together until just moistened. It is ok if there are a few lumps. If you want to add cheese, jalapeno peppers, or corn kernels, fold them in at this point.
Pour into the prepared baking skillet or dish and bake for 20 to 25 minutes, or until a toothpick inserted into the center comes out clean.
Notes
This recipe fits a 10-inch round skillet or baking dish or a 9x9-inch square baking dish. If you want to make it in an 8x8-inch baking pan, you will have leftover batter for 3 to 4 muffins.
It is easy to adjust the flavor profile of this savory, buttery cornbread. Here are a few suggestions to play with.
Add herbs and spices to the flour mixture. You can add up to 4 teaspoons of any of the following:
garlic powder
onion powder
cumin
chile powder
taco seasoning

Add veggies or cheese! You can add up to 1-1/4 cups (in any combination) of the following suggestions.
corn kernels (fresh, frozen, or canned)
grated cheese
chopped jalapeno peppers (fresh or pickled)
chopped olives

If you want to bake the cornbread in standard muffin tins, the baking time will be 15 to 22 minutes.
Nutrition Information:
Yield:

12
Serving Size:

1
Amount Per Serving:
Calories:

120
Total Fat:

3g
Saturated Fat:

1g
Trans Fat:

0g
Unsaturated Fat:

2g
Cholesterol:

17mg
Sodium:

325mg
Carbohydrates:

20g
Fiber:

1g
Sugar:

3g
Protein:

3g
Nutrition information is a guideline only, is calculated automatically by third party software, and absolute accuracy is not guaranteed.