These Morning Glory Muffins live up to their name! They are moist and tender, with a delicious flavor of warm spices and tasty add-ins that make a great start to the day.
An ingredient medley of carrots, apples, raisins, dried ginger, and walnuts make this a healthy Morning Glory muffin recipe you'll feel good about. It's a delicious and filling breakfast or mid-day snack that can be easily enjoyed on the go.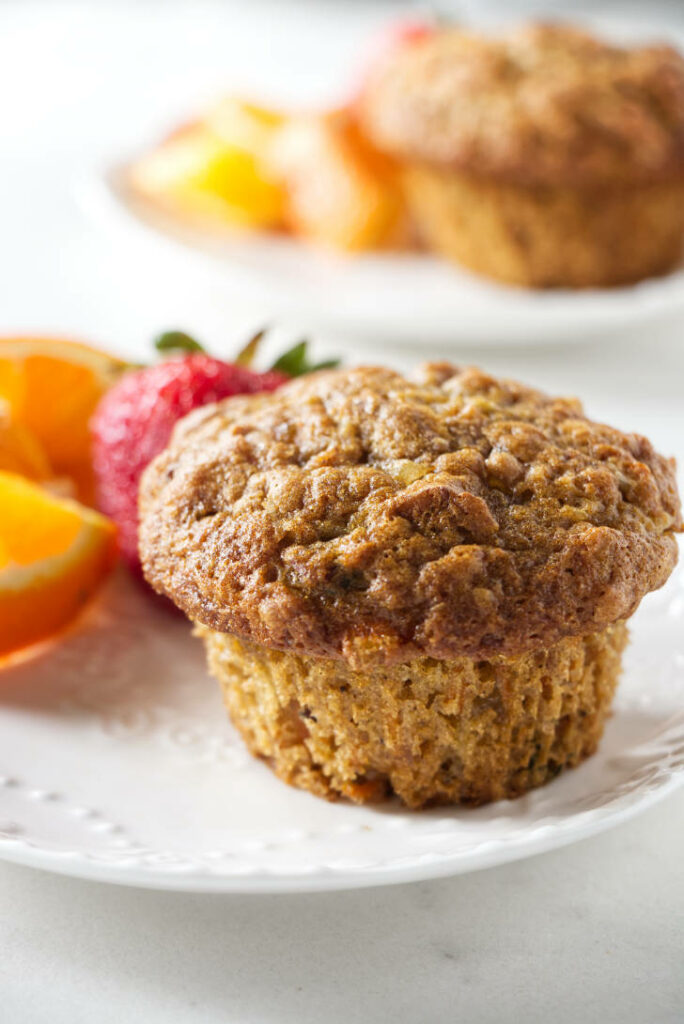 What are Morning Glory Muffins?
Morning Glory muffins are like a combination of our tropical carrot cake , our whole wheat spelt carrot muffins and our apple ginger muffins! Packed with shredded carrots, apples, crunchy walnuts, and raisins, they will give you a glorious morning and a terrific start to your day. We also like to call them sunrise muffins or carrot apple muffins.
Featuring warm spices of cinnamon, clove, and ginger, each bite is heavenly. Our morning glory muffin recipe is extra special because it will leave you full, satisfied, and ready to take on the day. The carrots and apples add natural sweetness and a touch of moisture that keeps the muffins nice and fluffy.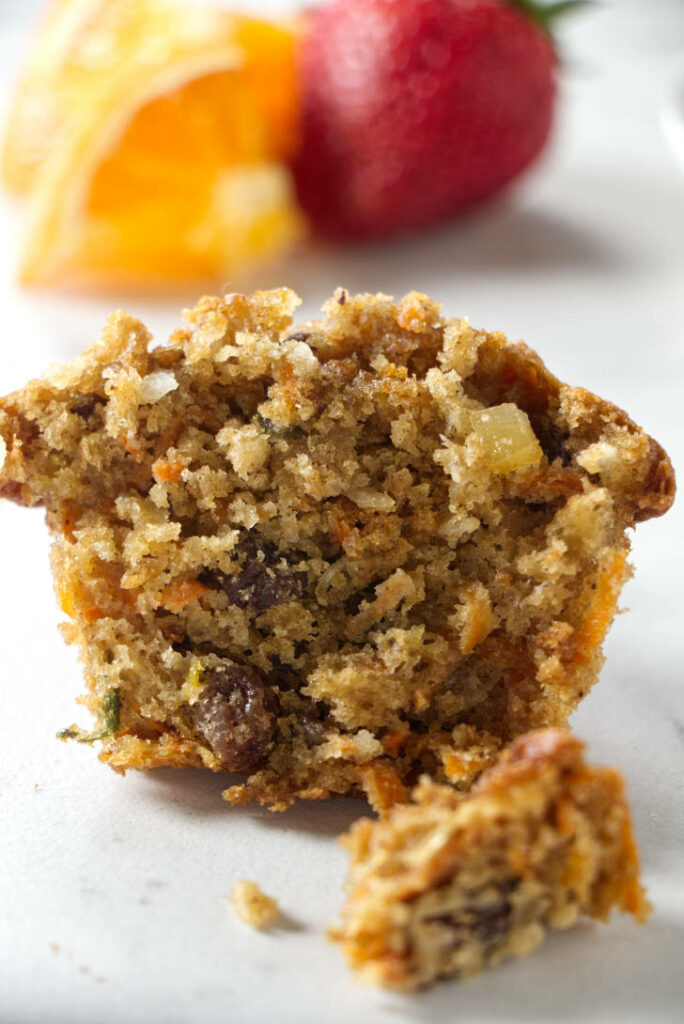 The Ingredients
If you keep a stocked pantry, you likely already have several of the ingredients to make these delicious Morning Glory Muffins.
Here's a quick round-up of what our morning muffin recipe calls for:
Flour– We prefer all-purpose. See our recipe note for the best way to measure your flour.

Baking soda – Make sure your baking soda is fresh.

Spices- A combination of cinnamon, ground ginger, ground cloves and salt.

Eggs– Use fresh, large eggs.

Vanilla– The subtle vanilla flavor goes so well with all of those yummy add-ins.

Buttermilk– The secret to an ultra-moist Morning Glory muffin!

Brown sugar- Either light or dark brown sugar will work for this recipe.

Fresh add-ins- Grated carrots and a tart apple (also grated).

Dry add-ins- Shredded sweetened coconut, raisins, crystalized ginger bits, and chopped walnuts.
How to Make Morning Glory Muffins
This healthy sunrise muffin recipe is quite simple to follow and quick enough to assemble for a weekend morning breakfast.
Here's a quick look at the process! For the full, printable recipe card, scroll to the bottom of the page.
Preheat the oven and prep your pan: Line your muffin pan with the parchment paper liners, then spray them with oil. This helps prevent the muffins from sticking to the paper.

Combine the ingredients: Sift the dry ingredients in one bowl. In a separate bowl, combine the wet ingredients, then stir in the grated apple and carrots. Add the dry mixture to the wet ingredients, stirring gently until just combined.

Fold in the add-ins: Add the coconut, raisins, ginger, and walnuts to the batter and gently fold them in.

Bake the muffins: Scoop the batter into the muffin tin, filling to the top, and bake.

Cool: Remove from the oven and cool the muffins in the pan for 10 minutes before transferring them to a wire cooling rack.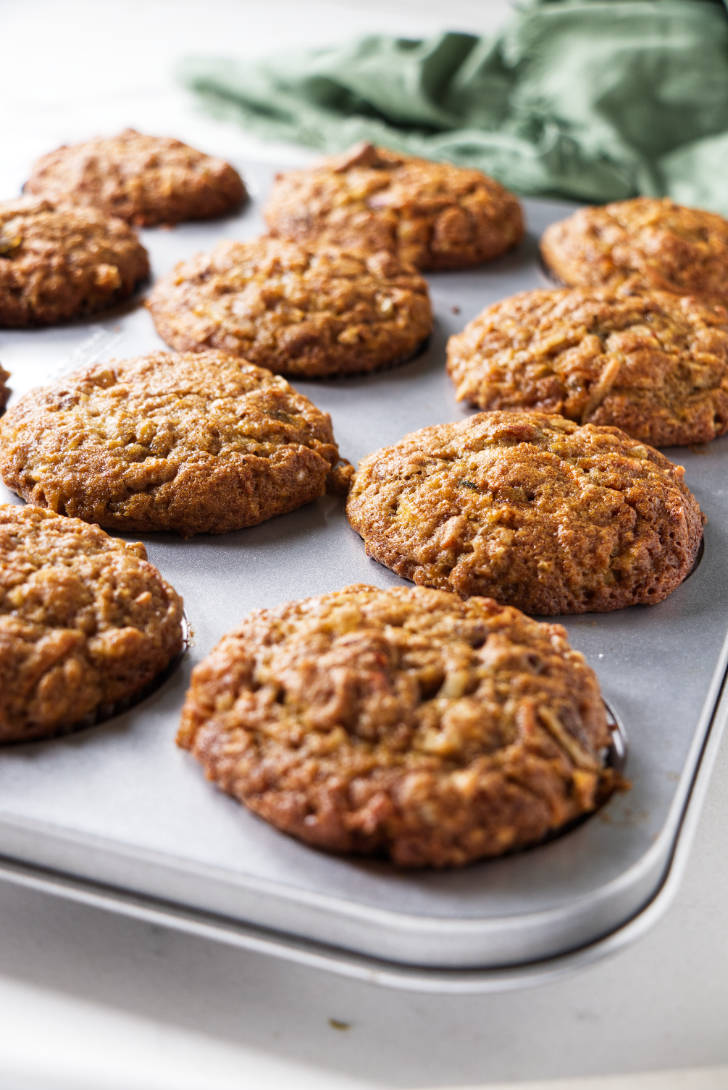 Recipe Notes and Tips for the Best Morning Muffins
After filling your muffin tin, you'll likely end up with a little bit of batter leftover. I lined an 8-ounce soufflé cup with a paper liner and then filled and baked it at the same time as the muffins.

The best way to add the dry add-ins is to first combine them in a small dish and toss them with a couple of tablespoons of the flour mixture. This will prevent them from sinking to the bottom of the muffin tin.

If you're using a standard size muffin tin, this Morning Glory muffin recipe will make 12 muffins.
You can substitute some of the add-ins with these ingredients:

Dried cranberries
Drained, crushed pineapple
Pecans
Sunflower seeds
1/3 cup wheat germ (makes the muffins heavy and dense)
1/3 cup ground flaxseed (makes the muffins heavy and dense)
Use a kitchen scale to ensure you are measuring the exact amount of flour you need. This is the most accurate method.

If you don't have a kitchen scale, stir the flour and then lightly scoop it into a cup and level it off. Do not scoop the measuring cup directly into the flour otherwise, it will pack the flour into the cup and you'll end up with a dense, heavy muffin.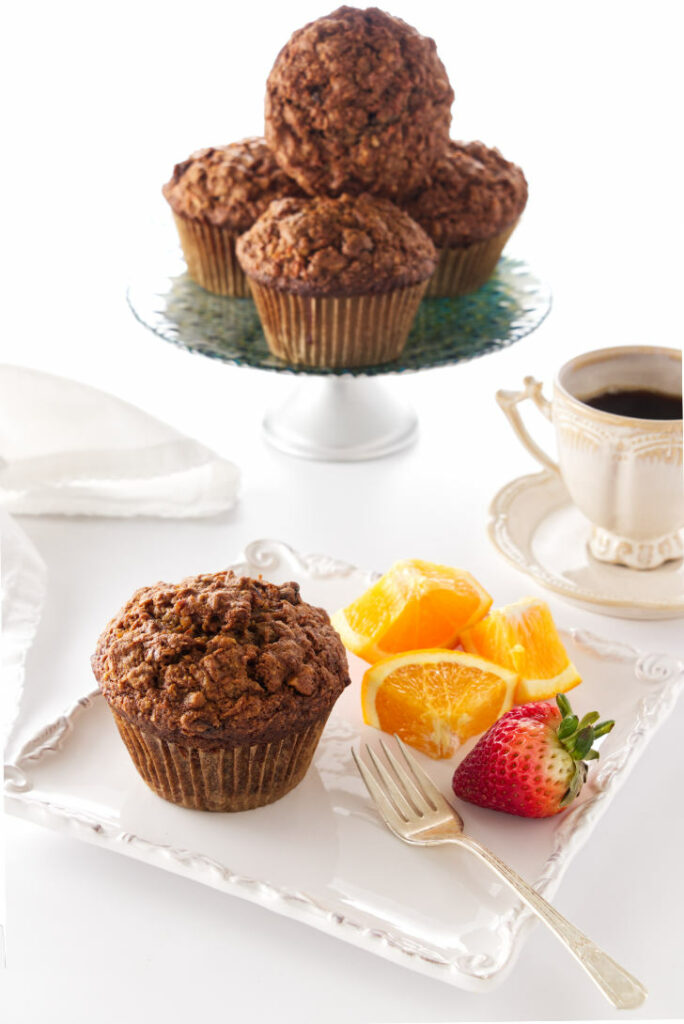 Frequently Asked Questions
Why are they called Morning Glory Muffins?
Morning Glory muffins originated from the Morning Glory Cafe, a bakery/restaurant in Nantucket. The story is that the owner created the original Morning Glory muffin recipe which was then printed in Gourmet magazine and took off from there.
What is a morning glory muffin made of?
A Morning Glory muffin is chock full of fruit, veggies, and delicious add-ins. The main ingredients are apples, carrots, and dried fruit/nuts, but the beauty of this muffin is that you can change up the add-ins to suit your preference!
How many calories are in a morning glory muffin?
One of our jumbo Morning Glory muffins has about 350 calories. It's a snack or breakfast with heartiness to it that is filling and quite substantial.
These Morning Glory muffins are packed with goodness that will brighten up your day! The grated apple and carrots make them hearty, healthy, and filling.
Some Other Recipes We Are Sure You Will Love:
A delicious apple skillet cake jam-packed with fresh apples and sweet-tart flavor! We serve every slice with a drizzle of salted caramel sauce to take this simple, homestyle dessert to the next level.
Our Blueberry Spelt Muffins are perfect for breakfast. This tasty, nutritious spin on the classic blueberry muffin will not disappoint! Bursting with juicy blueberries and made with nutrient-rich spelt flour, you'll savor every bite of these delicious and tender treats.
These kamut zucchini muffins are the perfect treat if you have a bounty of fresh zucchini! They are moist and tender, lightly sweetened with honey and spiced with cinnamon and ginger.
Connect With Savor the Best:
Please follow us on our social media accounts
Facebook * Instagram * Pinterest * Youtube * Twitter
Did you make this recipe? We would love to hear from you. Drop us a comment below.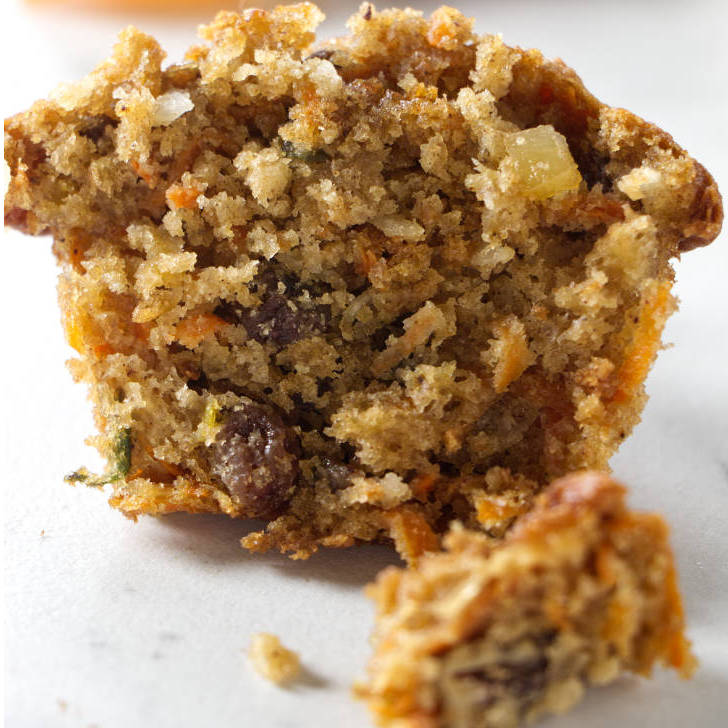 Morning Glory Muffins
Our Morning Glory Muffins are moist, tender, and packed with flavor. We included warm spices of cinnamon, ground ginger, and cloves with healthy carrots, apples, raisins, dried ginger bits, and crunchy nuts. One of these delicious muffins will make the perfect breakfast. or mid-day snack.
This recipe makes 18 standard-sized muffins or 8 jumbo-sized muffins.
Ingredients
3 large eggs
1 cup light or dark brown sugar (200 grams)
2/3 cup vegetable oil (132 grams)
1/4 cup buttermilk (57 grams)
1 teaspoon vanilla
2 cups grated carrots (200 grams)
1 large tart apple, cored and grated (100 grams)
2 cups all-purpose flour (240 grams)
2 teaspoons baking soda
1 teaspoon baking powder
2 teaspoons ground cinnamon
1/2 teaspoon ground ginger
1/4 teaspoon ground cloves
1/2 teaspoon salt
1 cup shredded sweetened coconut (86 grams)
1/2 cup raisins (80 grams)
1/2 cup crystallized ginger bits (90 grams)
1/2 cup walnuts or pecans, chopped (57 grams)
Instructions
Preheat the oven to 425°F and line either a standard-sized muffin tin or a jumbo-size muffin pan with cupcake papers. (See Notes)
In a large bowl, whisk together the eggs, brown sugar, oil, buttermilk, and vanilla until well combined. Stir in the grated carrots and apple.
In a separate bowl, sift the flour, baking soda, baking powder, spices, and salt into a medium bowl.
Add the coconut flakes, raisins, ginger bits, and nuts to a small bowl and toss them with 1 tablespoon of the flour mixture. This is an optional step but it helps prevent the raisins and nuts from sinking to the bottom of the muffins.
Add the flour mixture to the wet ingredients, stirring gently with a wide spatula just until a few streaks of flour are still showing. Gently fold in the nut and raisin mixture.
Scoop the batter into the lined muffin cavities, filling to the top, then transfer to the oven.
Bake at the 425°F temperature for 5 minutes.
Reduce the oven to 350°F and bake an additional 15-20 minutes for standard-sized muffins or an additional 25 to 30 minutes for jumbo muffins. If you insert a toothpick into the center, it should come out clean or with a few crumbs remaining.
Cool in the pan for 10 minutes, then remove from the pan and finish cooling on a wire rack.
Notes
Don't overmix the batter. Use a wide spatula and gently fold the flour and nut mixture into the wet batter. If you overmix the batter you will develop the gluten and make the muffins tough.
You will have enough batter for 16 to 18 standard muffins or 8 jumbo muffins.
If you make jumbo-sized muffins, you will have enough batter to fill a 6-count jumbo muffin pan plus enough leftover batter to fill two 6-ounce souffle cups.
Fill the muffin tins all the way to the top.
Substitution add-ins: Dried cranberries instead of raisins, drained crushed pineapple instead of an apple. Sunflower seeds instead of nuts.
If you add too many additional ingredients like pineapple as well as grated apple, the muffins will become dense and heavy.
You can also add 1/3 cup wheat germ, or 1/3 cup ground flaxseed if you want extra fiber. Adding wheat germ and flaxseed will make the muffins dense and heavy.
We recommend using a kitchen scale, if you do not have a scale and measure the flour, stir the flour then lightly scoop it into a cup and level off. If you scoop the flour directly into the flour container, it will pack the flour down and you will end up with too much flour and a heavy, dense muffin.
You can substitute melted butter for the vegetable oil but the muffins will be firmer in texture.
If you can't find crystallized ginger bits, you can chop up large chunks of crystallized ginger.
Peeling the apple is optional.
Recommended Products
As an Amazon Associate and member of other affiliate programs, I earn from qualifying purchases.
Nutrition Information:
Yield:

18
Serving Size:

1
Amount Per Serving:
Calories:

290
Total Fat:

14g
Saturated Fat:

3g
Trans Fat:

0g
Unsaturated Fat:

11g
Cholesterol:

34mg
Sodium:

279mg
Carbohydrates:

38g
Fiber:

2g
Sugar:

22g
Protein:

4g
Nutrition information is a guideline only, is calculated automatically by third-party software, and absolute accuracy is not guaranteed.