Whether you eat gluten-free or not, this gluten-free zucchini bread is a must-try. Not only does it taste amazing, but it has a tender, moist texture, and it makes a great snack. The best part? No one will know that it's gluten free!
If you're on the lookout for an easy recipe to make with your kids, put down that box of cake mix and turn to this healthy take on one of America's favorite breakfast foods.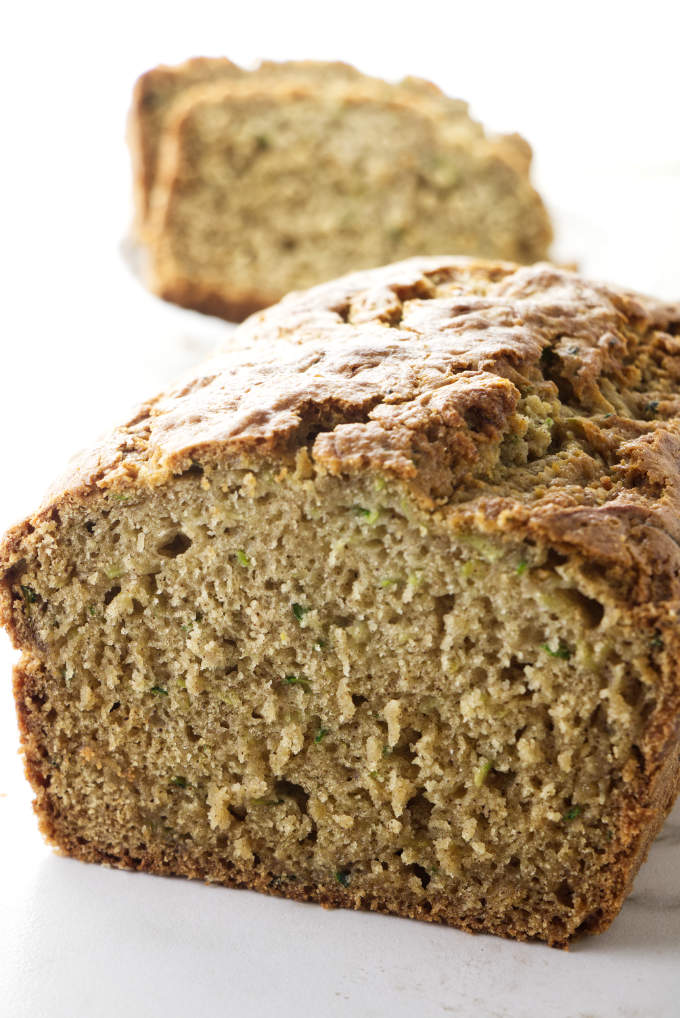 With the zucchini season in full swing, this gluten-free bread is a great way to use up any extra vegetables (or fruit, actually) you have lying around. For more ways to use your zucchini, try our gluten-free zucchini fritters, sauteed zucchini, or zucchini garlic soup.
Here are some highlights of this recipe.
Gluten free bread that's easy to make.
No special equipment is needed.
Moist and tender bread that has a light texture
Easy to adapt with add-ins like chocolate chips or nuts
You can freeze it for several months
You can also use this recipe to make muffins or miniature bread loaves. Just check out the notes at the bottom of the recipe card below.
Have you ever had tough, rubbery bread or muffins? That happens when flour (with gluten) gets stirred into the batter too much and the gluten bonds form a tight and strong network. The more you stir the batter, the tighter those bonds get, creating a tough rubbery bread, muffin, or cake.
The nice thing about working with gluten-free flour is that you don't have to worry about making your bread tough from over-working the batter. If there isn't any gluten then you can't over-work those protein bonds that make baked goods like sweet potato bread and blueberry muffins turn into rubber.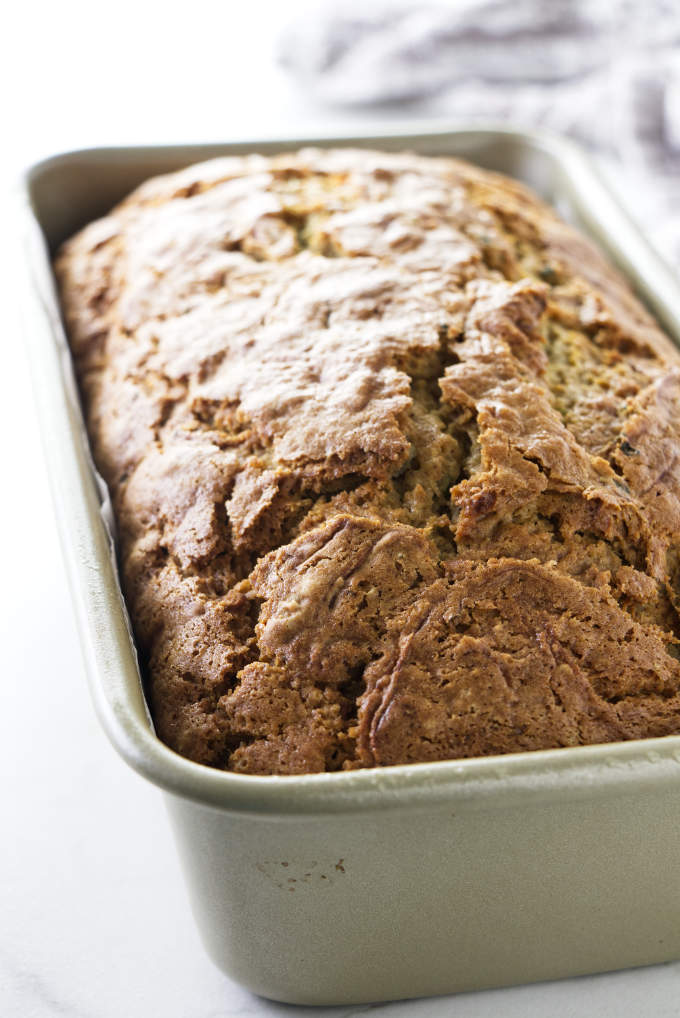 The Ingredients You Need
Gluten-free flour. Check out our notes and tips below about the gluten-free flour in this recipe.
Baking powder and baking soda. Make sure both of these leavenings are not expired.
Salt.
Cinnamon and nutmeg. These spices are a classic combination for zucchini bread and banana bread. You can also use a dash of allspice or a pinch of cloves if you want a more prominent spice flavor.
Xanthan gum. Xanthan gum acts as a binder and improves the texture of the bread. A small amount goes a long way. If your flour blend already has xanthan gum in it, you can omit it in the recipe.
Eggs. The eggs play a key role in the texture and structure of the bread.
Oil. Use a neutral oil like canola oil.
Sour cream or Greek yogurt. If you want to make this zucchini bread dairy-free, you can substitute it for dairy-free sour cream or yogurt.
Sugar. If you want to use less refined sugar, this recipe also works with coconut sugar as well as white sugar.
Vanilla.
Zucchini. You don't need to peel the zucchini! You can grate it by hand with a box grater or use a food processor.
The Easy Process
Here is an overview of how easy it is to make the best gluten free zucchini bread. Please read the tips below and don't forget to scroll down to the printable recipe card for all the details.
Combine the dry ingredients.
Combine the wet ingredients then stir in the zucchini.
Fold the wet ingredients into the dry ingredients (fold in any add-ins like chocolate chips if desired).
Pour the batter into the baking pan and bake until a toothpick inserted in the middle comes out clean.
That's all there is to it. It's the same process as making regular zucchini bread with a few small but important changes. The nice thing about working with gluten-free flour is that you don't have to worry about making your bread tough from over-working the batter.
Tips for Success
Gluten-free baking doesn't have to be difficult. If you know some essential tips, you can make soft, tender, healthy zucchini bread to share with friends and family.
Choose the right gluten-free flour blend
Not all gluten-free flours are the same. Your best bet is to use a flour blend that has several different types of flour. We tested this recipe with the following different flour blends.
There are definitely other flour blends that make great baked goods but we have to put a limit to our testing process. If you find other flour blends that work with this recipe please leave a comment below.
If you can't find one of the flour blends that we mentioned above then read the ingredient label on the package. Ideally, you want to see 4 or 5 different types of flour in the ingredient list.
We avoid flour blends that contain nut flours because they can create dense, heavy bread. We also avoid flour blends that contain coconut flour because it creates a very dry, hard bread (like a hockey puck).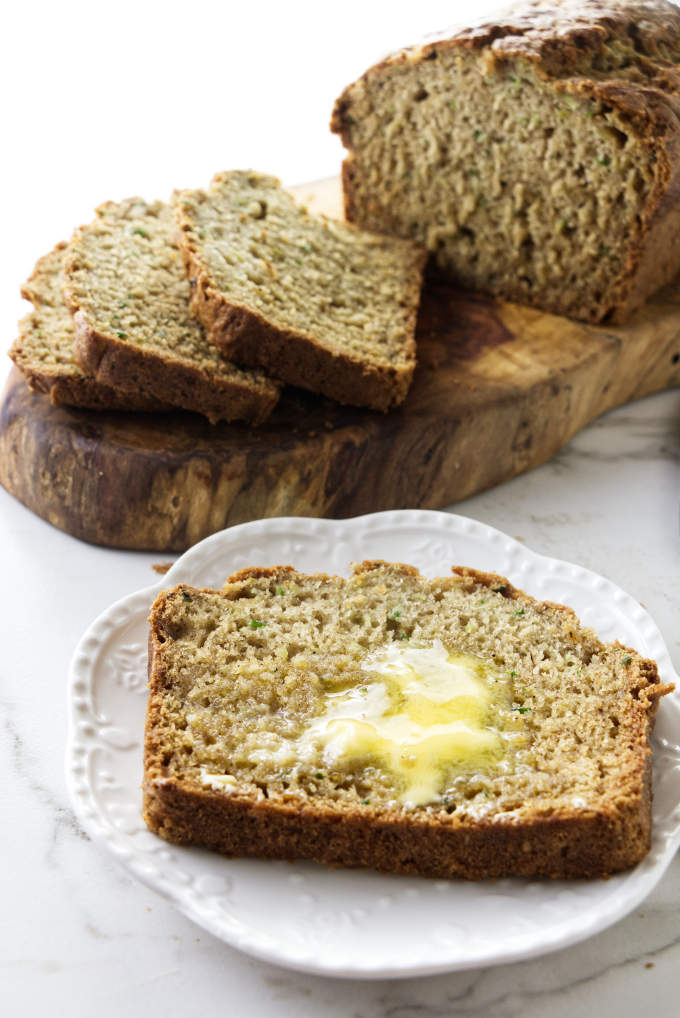 Measuring Gluten Free Flour
It's important to measure your flour correctly. If you don't have a scale then use a spoon to lightly fill a measuring cup. Dipping your measuring cup into the flour to scoop some out will pack the flour down and you will end up with 50% more flour than you need.
Using Xanthan Gum
When you remove gluten from the game, baking can get pretty challenging. Gluten provides strength and binding power, locks in moisture, and gives the bread a soft texture (if you don't over-work the dough). The leavening agents function better when gluten is present and the bread rises taller due to its binding strength.
This is where xanthan gum comes into play. Xanthan gum fills in for some of the missing properties of gluten. It helps bind and strengthen the gluten free bread. It also helps lock in moisture so you don't end up with a hockey puck.
You only need a very small amount or you can actually ruin the texture of the bread. Too much xanthan gum will make the zucchini bread seem sticky and gummy. If your gluten-free flour already has xanthan gum in the ingredients then you should not need to add any additional xanthan gum.
It is a tasteless ingredient so don't worry about it affecting the flavor. It is also very inexpensive, usually found in the baking section of the grocery store or online.
Storing the Bread
Gluten-free bread will dry out quicker than traditional bread. Once the bread is completely cool, store it in an airtight bread container or wrap it tightly in plastic wrap. It will last for 3 to 5 days in the fridge or up to 6 months in the freezer.
Helpful Tools
Some of the following are affiliate links. If you click on these links and purchase something, we may receive a small commission. You don't pay any extra but it will help us keep the lights on.
Some Other Recipes We Are Sure You Will Love:
Our Gluten Free Chocolate Cake is moist, tender, and perfectly delicious. Mixing all the ingredients in one bowl makes for an easy clean up too!
These gluten-free banana cookies are soft and delicate, with a cake-like texture. They're simple to make and really delicious.
We used oat flour in our Butterscotch Pumpkin Oatmeal cookies, which makes them gluten-free and extra soft and chewy.
Connect With Savor the Best:
Please follow us on our social media accounts
Facebook * Instagram * Pinterest * Youtube * Twitter
Did you make this recipe? We would love to hear from you. Drop us a comment below.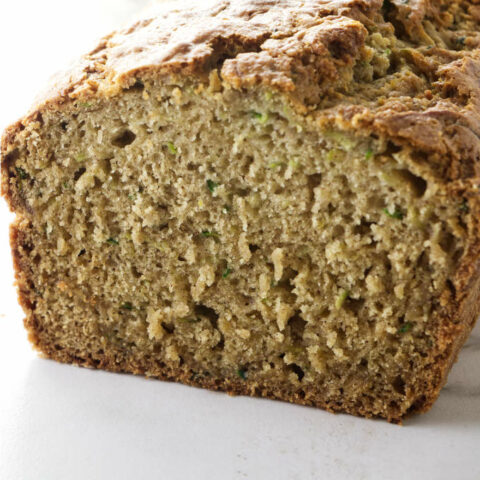 Gluten Free Zucchini Bread
Cook Time:
1 hour
5 minutes
Total Time:
1 hour
20 minutes
Gluten free zucchini bread really can be tender, light, moist, and delightfully delicious. This recipe knocks it out of the park. No one will guess that this is gluten free.
This recipe makes 1 large loaf. Check the notes below if you don't have a 9x5 inch pan (you have options).
Ingredients
Dry Ingredients
2-1/2 cups (312 grams) all-purpose gluten free flour
2 teaspoons baking powder
1 teaspoon baking soda
3/4 teaspoon salt
2 teaspoons cinnamon
1/2 teaspoon freshly ground nutmeg
1/4 teaspoon xanthan gum (if not already in the flour)
Wet Ingredients
3 large eggs
1/3 cup canola oil
1/3 cup sour cream or Greek yogurt*
1-1/4 cups (250 grams) granulated sugar or coconut sugar
2 teaspoons vanilla extract
3 cups grated zucchini
Instructions
Preheat the oven to 350° and grease a 9 by 5-inch loaf pan (see the notes if you have a different size pan).
Whisk the dry ingredients together in a large bowl.
In a separate bowl, whisk the wet ingredients together except for the zucchini. When the mixture looks well-blended, stir in the zucchini.
Fold the wet mixture into the dry ingredients.
The batter will be thick. Spread the batter into the prepared loaf pan and bake for about 60 to 75 minutes, or until a toothpick inserted into the center comes out clean. Place a sheet of aluminum foil over the bread after 45 minutes to prevent the top from getting too brown.
Let the zucchini bread cool in the pan for 20 minutes, then remove it from the pan and cool completely on a wire rack.
Notes
All-purpose gluten-free flour works best in this recipe. We tested this recipe with Cup4Cup Multipurpose blend, Pamela's Gluten-Free All-Purpose Blend, King Arthur All Purpose Gluten Free Flour, and our own Ancient Grains Gluten-Free Flour.
We don't recommend using a gluten-free flour that only has 1 or 2 types of flour in the ingredient list. Check the ingredient label and look for flour blends that have several different types of flour.
We avoid flour blends that contain coconut flour because we find that coconut flour absorbs too much liquid and makes bread heavy, dry, and tough. We also stay away from flour blends that contain large amounts of almond flour which can create a heavy, dense texture.
If you have xanthan gum in your flour blend already, you can omit this ingredient. If you can't have xanthan gum, you can use ground psyllium husk however the texture of the bread holds up better with xanthan. Some gluten-free flour blends contain guar gum which also works well however we found that xanthan gum works better for baked goods.
Full fat sour cream will give this bread the best texture, however you can substitute dairy-free sour cream or yogurt if desired.
Squeeze extra moisture out of the zucchini after you grate it. You can wrap it in a dishtowel and squeeze it over the sink or let it sit for a while in a colander. If you don't get excess moisture out of the zucchini then the bread will not bake correctly and it will sink in the middle.
The fresher your zucchini is, the more moisture it will contain. If you have large zucchini, remove the center that contains all the pulpy seeds.
If you have an 8 x 4-inch pan you will have enough batter left over for 5 to 6 standard size muffins. Bake the muffins for 22 to 25 minutes. Bake the 8 x 4-inch pan of zucchini bread for 55 to 65 minutes.
You can also bake this zucchini bread recipe in 6 mini loaf pans for 35 to 45 minutes.
Gluten free baked goods tend to dry out quickly. This bread will last longer if you wrap it tightly in plastic wrap and keep it in the fridge. It will last in the fridge for 3 to 5 days or in the freezer for 3 to 6 months.
Recommended Products
As an Amazon Associate and member of other affiliate programs, I earn from qualifying purchases.
Nutrition Information:
Yield:

24
Serving Size:

1 slice
Amount Per Serving:
Calories:

220
Total Fat:

4g
Saturated Fat:

1g
Trans Fat:

0g
Unsaturated Fat:

3g
Cholesterol:

25mg
Sodium:

173mg
Carbohydrates:

43g
Fiber:

1g
Sugar:

34g
Protein:

3g
Nutrition information is a guideline only, is calculated automatically by third-party software, and absolute accuracy is not guaranteed.