A truly incredible gluten free chocolate cake that is soft, tender and moist. You can mix the batter in one bowl and get perfect results every time.
You guys, this is the one! This is the cake you dreamed about. The one you knew was too good to be true but you couldn't stop wishing it existed.
This is THE Gluten free chocolate cake you need in your life. This cake will take care of all your chocolate needs. All your cake needs. It is everything you want in a chocolate cake and more. And it is gluten-free.
Yes, a gluten free chocolate cake that is tender, light, soft, and moist. It is not just the best gluten free chocolate cake you will ever have, it is the best CHOCOLATE CAKE you will ever have.
You can serve this to all your friends that are gluten-free haters but they won't be hatin'. Not with this cake. As a matter of fact, they won't believe that it is gluten-free.
I don't have celiac disease and I am not gluten intolerant but I bake for people who do have these issues.
If you're living a gluten-free life, you know how hard it is to find baked goods that are good.
You either just go without or regret you ever tried. But you won't regret this cake.
I want you to taste chocolate cake the way a chocolate cake is supposed to taste. You have to make this gluten free chocolate cake so you can see and taste how good gluten-free can be.
HOW TO MAKE THIS GLUTEN FREE CHOCOLATE CAKE
I want to help you succeed at baking. Especially succeed at baking this gluten-free chocolate cake.
Let me help you bake this cake. Read on for all the helpful tips you need to make this cake turn out right every time. And don't worry, it is easy. You can do this!
YOU ONLY NEED ONE BOWL
Usually, baking a cake calls for fussy steps like sifting the flour and creaming the butter. Keeping dry ingredients separate… and on and on.
Not this cake! I adapted this cake from my Intense chocolate cake recipe and it is the easiest cake I have ever made. Same goes for this gluten-free version.
You don't need an electric mixer but you can use one if you want.
All you have to do is put everything in one bowl and stir it together.
The one exception is to add some hot water or coffee to the cocoa powder before mixing it into the cake batter.
When you add hot liquid to the cocoa powder, the cocoa solids will melt. That will intensify the chocolate flavor. You can step it up a notch by replacing hot water with hot coffee. Hot coffee will bring out even more chocolate flavor. That's what we are going for.
WHISK THE DRY INGREDIENTS
After you add the dry ingredients to the bowl, give them a quick stir with a whisk. If you whisk the dry ingredients together you will make sure that the salt, baking soda, and baking powder get evenly distributed.
This step will help you avoid having a clump of salt or baking soda in the cake.
WHISK IN THE WET INGREDIENTS
After the dry ingredients are stirred together, just add all the wet ingredients, including the cocoa mixture. You can whisk the eggs first if you want but honestly, I hardly ever do that.
As long as you give the batter a good whisk, everything gets mixed in well. Since there is no gluten in this cake, you can't over-mix the batter. So whisk it really well until the batter is smooth. If you want to use a hand mixer you can do that, but it isn't necessary.
USE THE RIGHT GLUTEN-FREE FLOUR
This is a really important tip! As a matter of fact, it is the most important tip I can give you. You have to use the right kind of gluten-free flour. I have made this cake several times with different kinds of gluten-free flour. And let me tell you, not all gluten-free flours are the same.
You really need to use a blend of several gluten-free flours. Just using one type of gluten-free flour will lead to a big fail. For instance, if you only use rice flour this cake will not turn out fluffy, light and moist. However, you can use a BLEND that HAS rice flour in it and get perfect results.
WHAT FLOUR BLENDS WORK FOR THIS CAKE?
Our ancient grains gluten free flour blend works really well with this recipe. But you don't need to make a flour blend. There are several good gluten-free flour blends on the market.
We didn't test out all the different flour blends but we did test a few popular brands that work well. Here are the four store-bought gluten-free flour blends that we tested and know work well with this recipe.
There are definitely other brands and blends that work but we didn't test all of them.
If you don't want to use any of the gluten-free flour blends that I mentioned above then let me help you know what to look for. Look at the ingredient list on the back of the package.
If the flour blend has more than four different types of flour, it will most likely work. However, we found that flour blends that contain coconut flour or almond flour do not work as well. They lead to a dry dense cake.
So here is a break down of the helpful tips for flour blends!
Look for:
A blend of different types of flour

An ingredient list with more than 4 types of flour

Avoid flour blends with coconut flour

Avoid flour blends with almond flour
One more tip about gluten-free flour blends:
If the gluten-free blend you get does not have xanthan gum in it then add about a 1/4 teaspoon of xanthan gum to the flour blend. It will help bind all the starches and give you a light fluffy texture.
WE WOULD LOVE YOUR FEEDBACK
Hey, if you try some gluten free flour blends that we did not list, we would love to hear your experience with that blend. If it worked let us know what blend you used. If you leave a comment right here at the bottom of the post it would be super helpful for other readers.
We all want to know what works and what your favorite tips are. Gluten-free baking is challenging so let's help each other out.
USE THE RIGHT SIZE PAN
Ok, this tip may seem a bit obvious but I have seen and heard enough from others that this step is overlooked. Even though the recipe calls for 8-inch pans, you need to make sure the pans are at least 2-inches deep.
Most cake pans will be at least 2-inches deep but I have bought some pans at the dollar store that are only 1-1/2 inches deep. If you use shallower cake pans, the batter will flow over the edge and mess up your oven…. ugh!
KEEP LEFTOVER CAKE IN AN AIRTIGHT CONTAINER
Even though this is a super moist cake, gluten-free flour will make your cake dry out faster. That is just the nature of the flour. If you don't plan on eating this cake right away, seal it in an airtight container.
CAN I FREEZE THIS CAKE?
You definitely can freeze this gluten free chocolate cake. As a matter of fact, if you're not going to eat it within two days of baking it, you really should freeze it. That will help prevent it from drying out. You can freeze the cake for up to four months if you keep it well sealed.
We frosted the cake with this amazing double chocolate cream cheese frosting which also freezes well. The recipe card for double chocolate cream cheese frosting is right below the cake recipe.
Now I can't talk about gluten-free chocolate cakes without mentioning this flourless chocolate cake. It is rich, smooth, creamy, and dreamy! When it is at room temperature it just melts in your mouth and when it is cold because you just took it out of the fridge, it tastes like fudge. I mean the best fudge you ever had. Yep! you gotta try that cake too. 🙂
CONNECT WITH SAVOR THE BEST!
Be sure to follow us on our social media accounts
Facebook * Instagram * Pinterest * Twitter * Youtube
Did you make this recipe? We would love to hear from you. Drop us a comment below.
Watch our video and see how easy it is to make this gluten free chocolate cake. Your gonna love this cake!!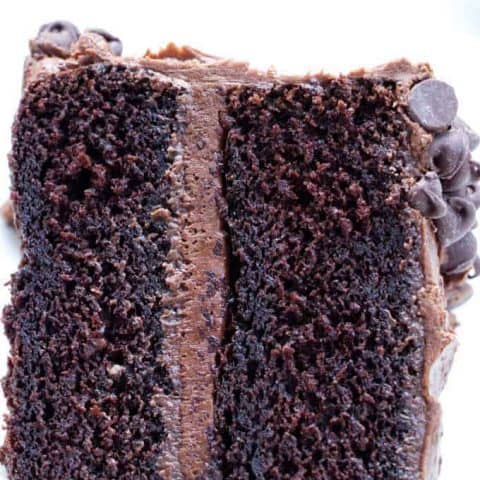 Gluten Free Chocolate Cake
A truly incredible gluten free chocolate cake that is soft, tender and moist. You can mix the batter in one bowl and get perfect results every time.
Ingredients
1 cup (80g) unsweetened cocoa powder
1 cup hot water or coffee (240 ml)
2 cups sugar (400g)
1 ¾ cup (210g) all-purpose gluten-free flour blend (see notes)
1-3/4 teaspoon baking powder
1-1/2 teaspoon baking soda
1 teaspoon salt
2 eggs
1 cup plain Greek yogurt (240 ml)
½ cup vegetable oil (120 ml)
2 tsp vanilla extract
Double Chocolate Cream Cheese Frosting:
Instructions
Preheat the oven to 350°. Line the bottom of two 8-inch cake pans with parchment paper, then grease the sides.
In a medium bowl, whisk the hot water (or coffee) and cocoa together until smooth. Set aside.
In a large mixing bowl, add the sugar, gluten-free flour blend, baking powder, baking soda, and salt. Using a whisk, blend and sift the ingredients together.
Add the eggs, yogurt, oil, vanilla, and the cocoa mixture to the dry ingredients. Mix with a whisk or an electric mixer until all the ingredients are very well blended and look smooth.
Pour the batter into the two prepared pans and place in the center of the preheated oven. Bake for 33 to 37 minutes or until a toothpick inserted in the center of the cakes comes out clean.
Let cool in the cake pans for 5 to 10 minutes then run a knife around the edge of the pans to loosen the cake from the pans. Invert the cakes onto a cooling rack and remove the parchment paper.
While the cakes are cooling, make the frosting (see the recipe below). Make sure the cakes are completely cooled before covering them with frosting. Warm cakes will melt the frosting. Partially freezing the cakes will make it easier to frost them.
Notes
Not all gluten free flours work the same. We tested this recipe with the following gluten free flour blends that gave us perfect results.
Our own Ancient Grains Gluten Free Flour Blend
Cup4Cup Gluten Free Flour (multipurpose blend)
Pamela's Gluten Free All-Purpose Flour Blend
Bob's Red Mill Gluten Free 1 to 1 Baking Flour
If you don't use any of these flour blends, look for flour blends that have more than four different types of gluten free flours. However, stay away from blends that have coconut flour or almond flour. Gluten free blends with coconut flour or almond flour resulted in dense, heavy, and dry cakes.
Cocoa powder is naturally gluten free but not all cocoa powder is packaged in gluten free facilities. If you need to be certain that there is no trace of gluten then buy cocoa powder that is certified gluten-free.
Nutrition Information:
Yield:

10
Serving Size:

1
Amount Per Serving:
Calories:

371
Total Fat:

13g
Cholesterol:

34mg
Sodium:

380mg
Carbohydrates:

61g
Fiber:

5g
Sugar:

41g
Protein:

7g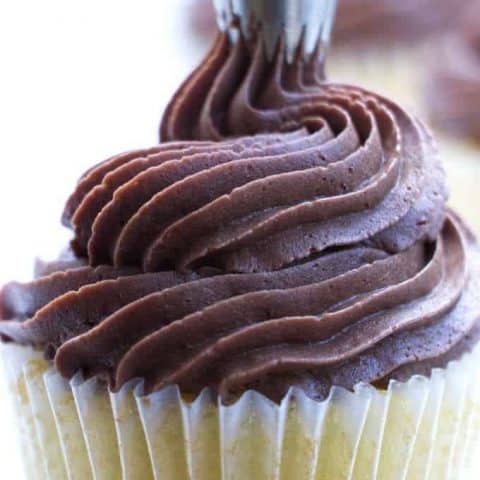 Double Chocolate Cream Cheese Frosting
Yield:
3 cups of frosting
A creamy, smooth chocolate cream cheese frosting with a double dose of chocolate. This frosting pipes well and tastes delicious.
Ingredients
3 ounces dark chocolate, chopped (or 1/2 cup chocolate chips) (87 grams)
1/2 cup butter, room temperature (113 grams)
8 ounces cream cheese, room temperature (226 grams)
4 cups powdered sugar (452 grams)
3/4 cup unsweetened cocoa powder (63 grams)
1 tablespoon vanilla extract
1/2 teaspoon salt
Instructions
Melt the chopped chocolate (or chocolate chips) in a microwave or a double boiler and set aside to come to room temperature while you mix the rest of the ingredients.
Place the butter and cream cheese in a medium mixing bowl and beat on medium high speed (with an electric mixer) until it is smooth and creamy. About 2 to 3 minutes.
Add the powdered sugar, cocoa powder, vanilla and salt. Stir them in a bit by hand then use the electric mixer to whip it up until it is smooth and creamy. Start on low speed so the dry ingredients don't fly out of the bowl, then slowly increase the speed. Stop the mixer intermittently to scrape down the sides of the bowl.
Pour the melted chocolate into the mixing bowl and beat until it is all blended in and smooth.
Notes
The butter and cream cheese should be at room temperature and soft to touch. If you use them while they are still cold you will get a lumpy frosting and the melted chocolate will clump up and it will not blend in smoothly.
Creaming the butter and cream cheese before adding the rest of the ingredients will also ensure you get a smooth frosting.
For best results, you may want to sift the powdered sugar to remove any lumps.
Make sure the melted chocolate has come to room temperature before adding it to the frosting. If it is too warm, it will melt the frosting.
If you're not a fan of dark chocolate, don't worry, the rest of the ingredients "tone down" the dark chocolate flavor and make it taste like smooth milk chocolate.
You can freeze this frosting for up to 6 months in a well sealed container. I use a re-sealable freezer friendly plastic bag and press the frosting out flat so it stacks well and thaws faster. Let it thaw in the refrigerator overnight, then let it come to room temperature before using it. Room temperature frosting will spread easier.
If you want thinner frosting, beat in some water or milk a couple of teaspoons at a time until you get the consistency you want.
This recipe makes 3 cups of frosting which is enough to generously cover an 8-inch, double layer cake or a 9-inch double layer cake.
Recommended Products
As an Amazon Associate and member of other affiliate programs, I earn from qualifying purchases.
Nutrition Information:
Yield:

48
Serving Size:

1 tablespoon
Amount Per Serving:
Calories:

86
Total Fat:

4.3g
Cholesterol:

11mg
Sodium:

53mg
Carbohydrates:

12g
Sugar:

11g
Protein:

0.8g