These sour cream blueberry muffins are light, fluffy, and bursting with juicy blueberries. The crunchy streusel topping makes them taste like coffee cake muffins. They're perfect for a grab-and-go breakfast or snack. Serve them warm with a dollop of butter or cream cheese for an extra decadent treat!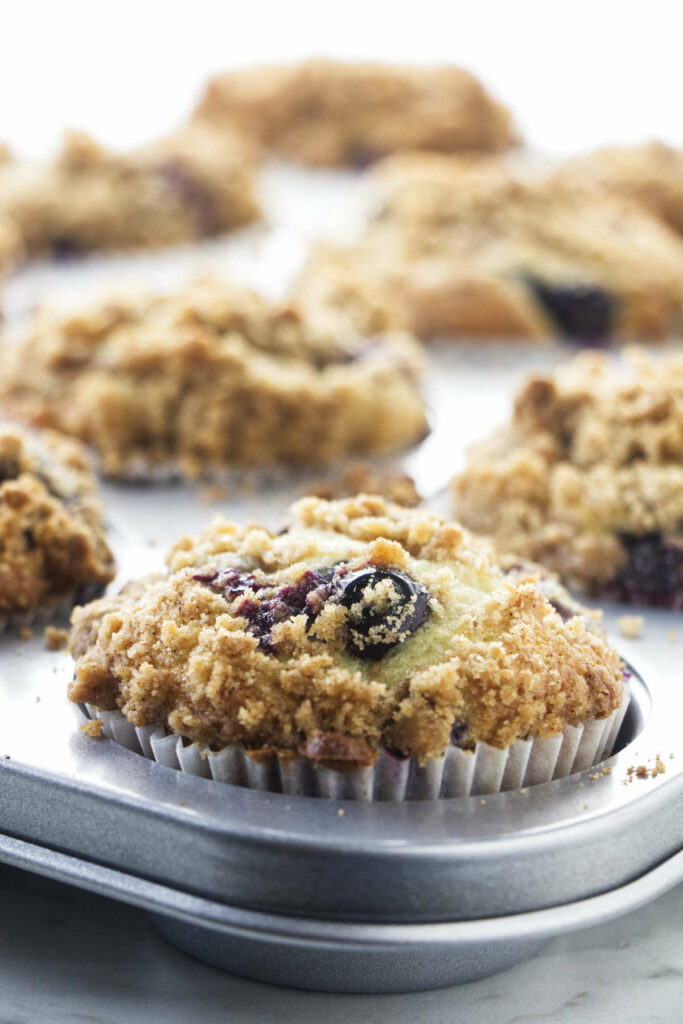 These muffins have a light, tender texture, and each bite is filled with plump blueberries and sweet cinnamon streusel. A bit of lemon zest in the batter gives these muffins a bright, zesty flavor that compliments the blueberries perfectly.
The key to the perfect rise and unbeatable texture in these blueberry muffins is using sour cream and buttermilk in the batter.
We use buttermilk and sour cream in a lot of our baking. Our Buttermilk barley pancakes and kamut waffles use buttermilk. And our sour cream biscuits and banana layer cake use sour cream.
Sour cream and buttermilk are also great for savory foods, including our Buttermilk ranch dressing and ranch mashed potatoes.
Using buttermilk and sour cream instead of regular milk makes them lighter, fluffier, and super tender, thanks to the extra acidity in these ingredients.
You'll love these blueberry muffins with coffee in the morning, brunch with friends, or anytime you need a sweet, fruit-filled treat!
Why This Recipe Works
These muffins are bakery-quality with a high-rise and beautiful cinnamon streusel topping. They're just as pretty as they are sweet, making them the perfect treat to share with friends.
They're simple to make using basic ingredients and a simple baking technique called the muffin method.
Buttermilk and sour cream add the perfect tang and acidity for a moist and tender muffin.
You can use frozen or fresh blueberries in these muffins.
The sweet, crunchy streusel topping is optional, but it really elevates the muffins.
Freezer friendly! You can store these muffins in the freezer, then take out a few at a time for a quick and easy breakfast or snack with a cup of coffee.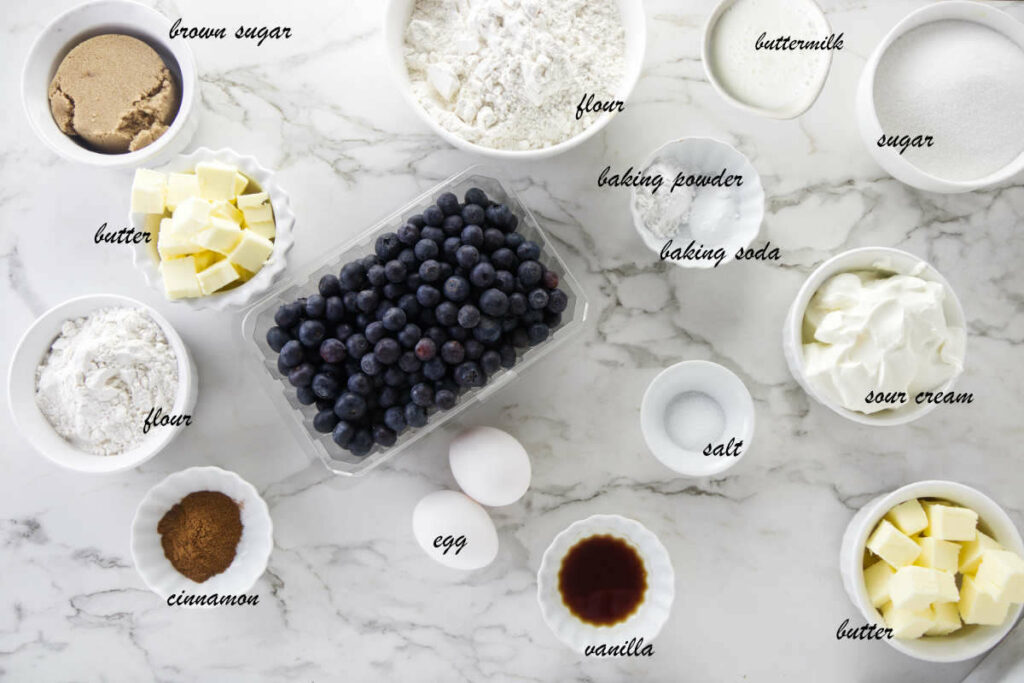 Ingredients Needed
Here is a list of the ingredients you will need for these sour cream blueberry muffins. Scroll down to the printable recipe card for all the details.
Flour. All-purpose flour. You don't need to purchase cake flour for this recipe.
Butter. Let the butter soften to room temperature. You can use salted or unsalted butter.
Sugar. Regular granulated sugar.
Buttermilk. If you don't have buttermilk, you can make a substitute by adding a splash of vinegar or lemon juice to some milk.
Sour cream. Full-fat sour cream will give the muffins the most tender texture, but reduced-fat sour cream will also work.
Blueberries. Fresh or frozen.
Cinnamon. Add a touch of cinnamon to the streusel topping.
Eggs. Make sure the eggs are at room temperature for best results.
Vanilla extract.
Baking powder and baking soda.
Salt
Recipe Highlights
Here's a quick overview of the process for making these buttermilk blueberry muffins at home! Make sure to scroll down to the printable recipe card for all the details.
Make the Streusel by blending flour, brown sugar, butter, and cinnamon together in a bowl with a fork or pastry cutter until the mixture looks like coarse sand.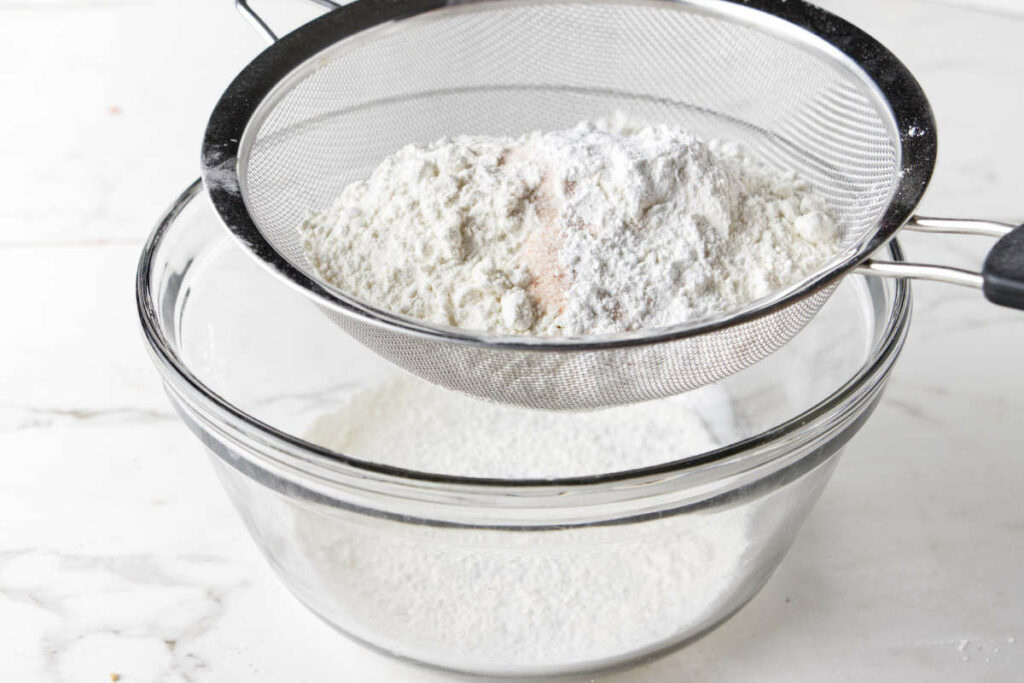 Sift the flour, baking powder, baking soda, and salt together in a small bowl and set aside.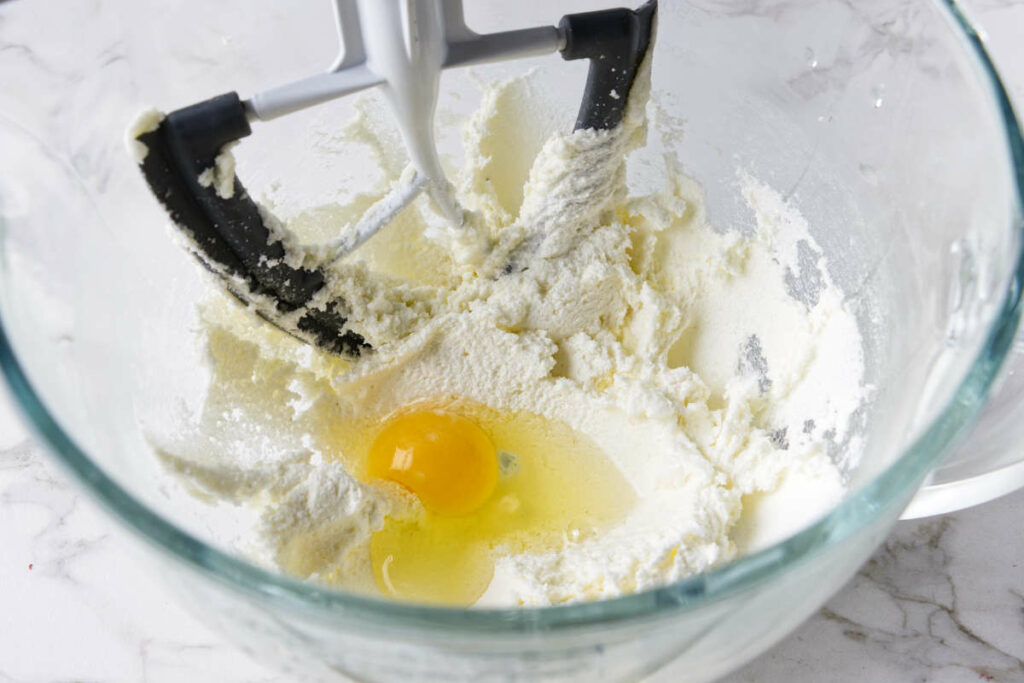 Cream the butter and sugar together. Let the mixture get light and fluffy, then add the eggs, one at a time. Beat the eggs in thoroughly.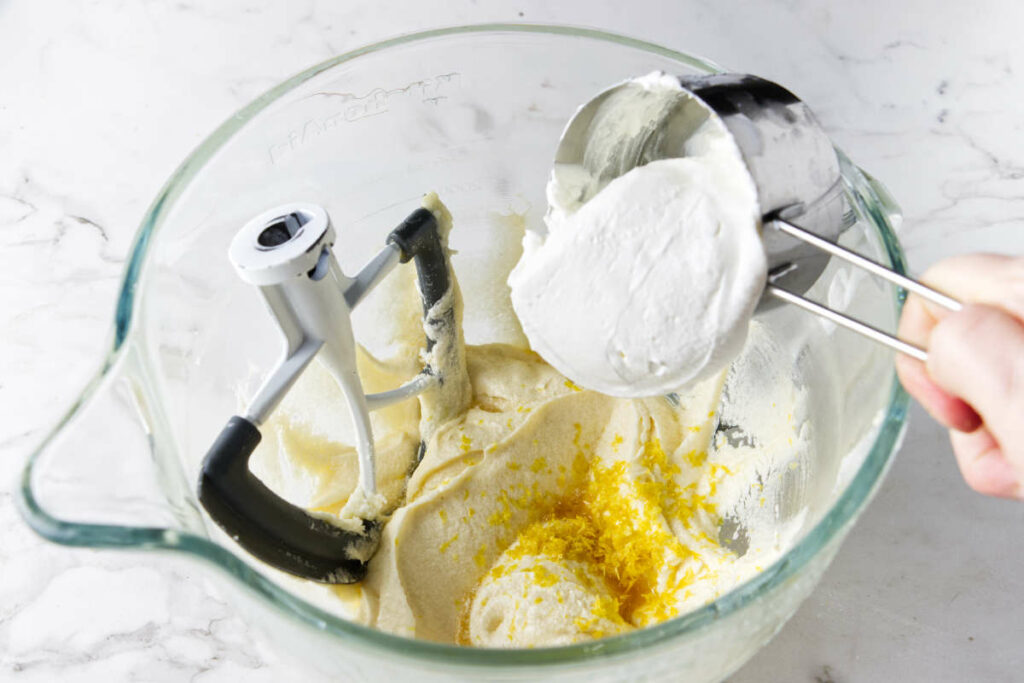 Add the sour cream, buttermilk, lemon zest, and vanilla, and mix well.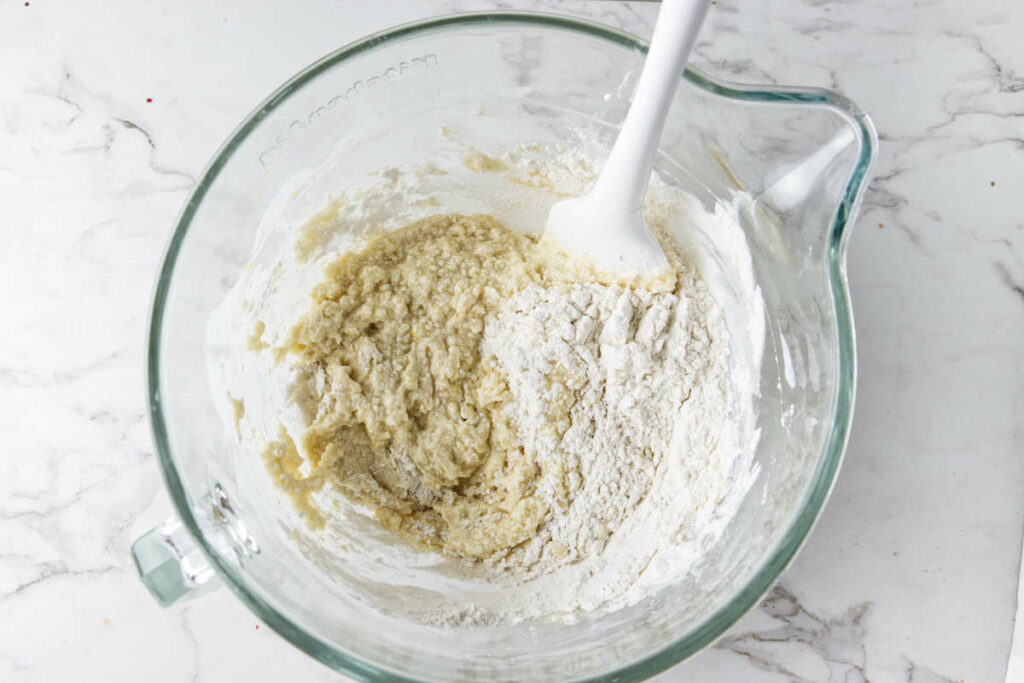 Add the dry ingredients to the wet ingredients and fold the flour mixture by hand. The batter will be thick.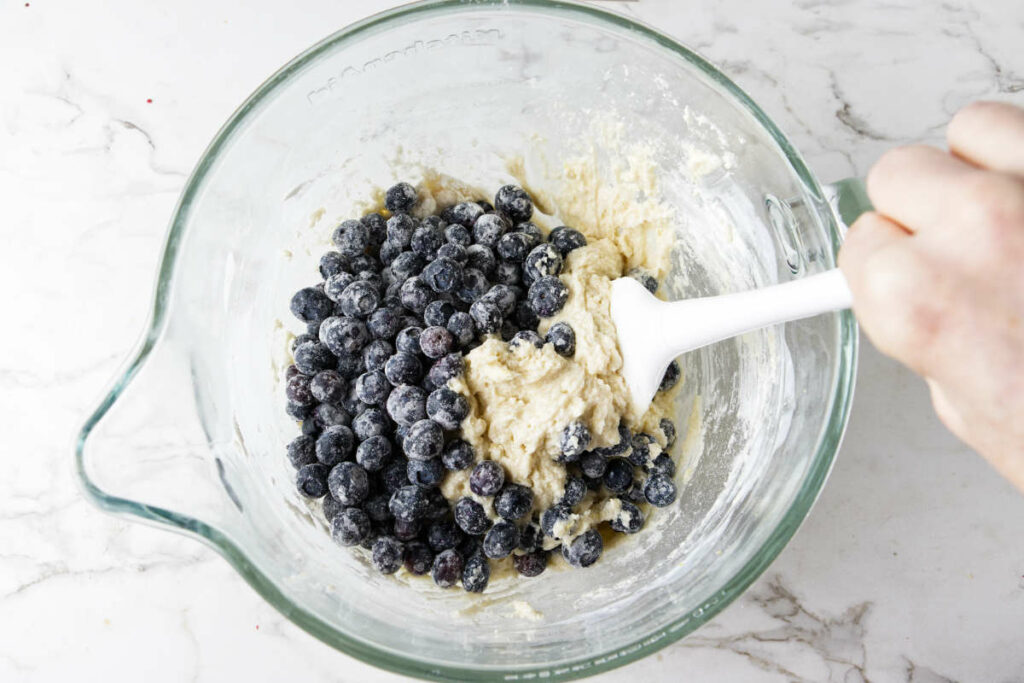 Use a wide spatula to gently fold in the blueberries.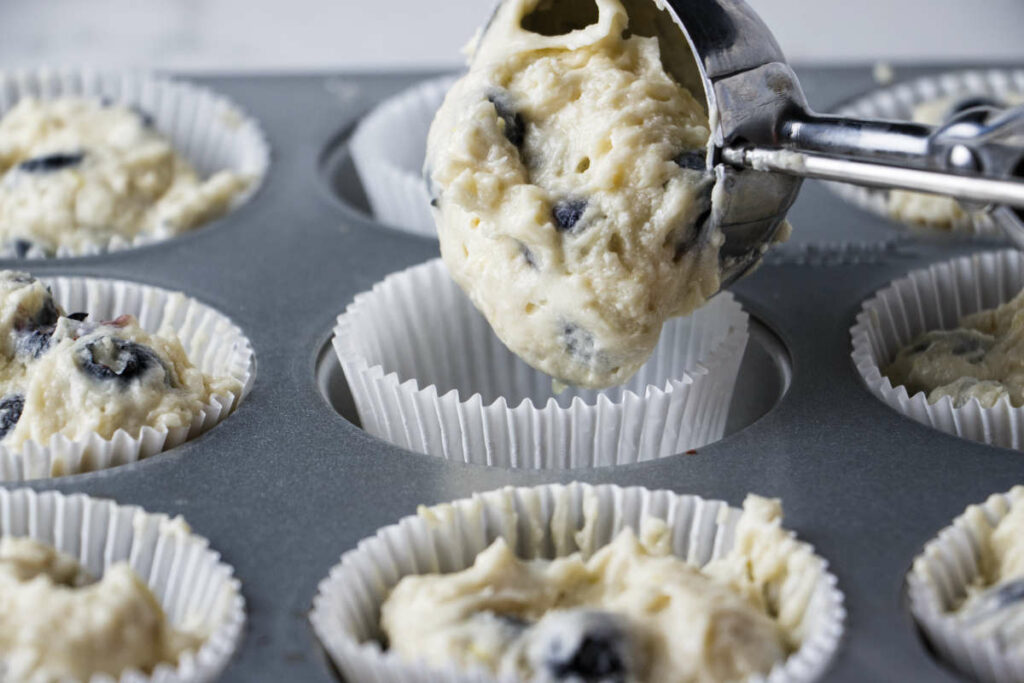 Scoop the batter into the muffin pans and top each muffin with streusel crumble. Bake until you can stick a toothpick in the middle of the muffin, and it comes out clean, then cool on a wire rack.
The tangy taste of buttermilk and sour cream creates a complex flavor and helps make these blueberry sour cream muffins light and tender.
How to Make Your Own Buttermilk
Ready to make these muffins but don't keep buttermilk on hand? Not to worry, you can easily make a substitute.
All you need is regular milk (2% or whole milk work best) and lemon juice or white vinegar.
For every cup of milk, remove a tablespoon of milk and replace it with a tablespoon of lemon juice or white vinegar. Whisk it into the milk and let the mixture sit for 10 minutes. Then use it as you would buttermilk! It isn't exactly the same as the real thing, but it is a decent substitute.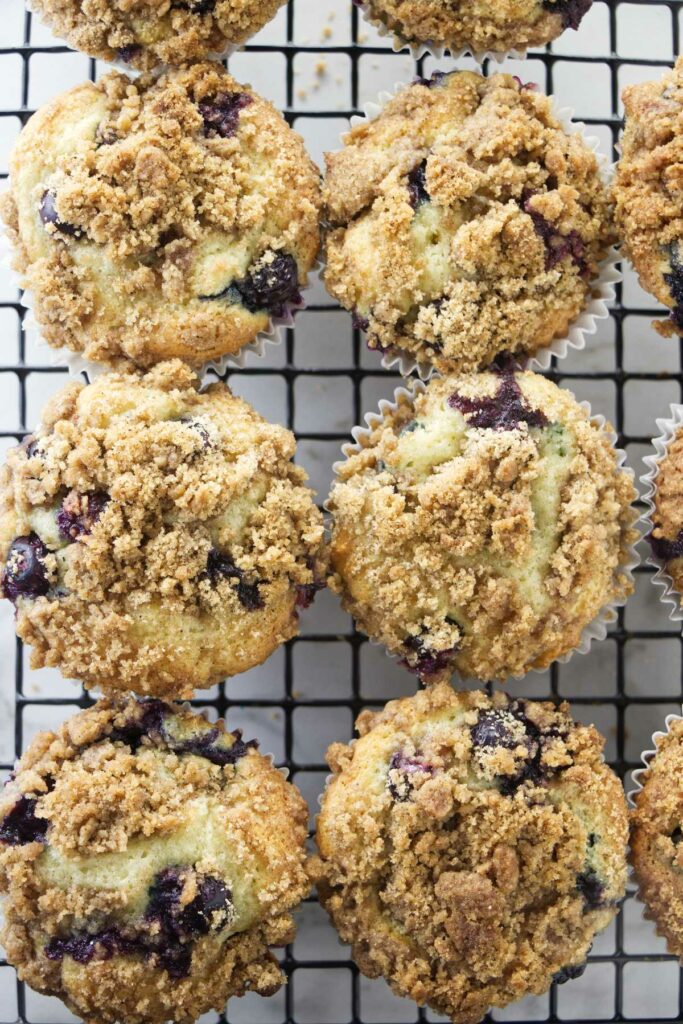 Tips for Success
Make sure you cream the butter and sugar until it gets light and fluffy.

Avoid overmixing the batter when you add the flour to the wet ingredients. It is ok if the batter is lumpy and has a few streaks of flour. If you mix it until it is smooth the muffins won't be as tender.

If you use frozen blueberries, keep them in the freezer until you are ready to add them to the batter. If you let them thaw first, they will release their juices and make the batter purple.

Let the eggs, butter, sour cream, and buttermilk come to room temperature. Room temperature ingredients will emulsify in the batter easier and hold the structure of the muffins. The muffins will have a slightly higher rise and more tender texture.

Fill the muffin tins to the top for tall muffins.

If you don't have paper liners, make sure to spray the muffin cups with non-stick spray.

Toss the blueberries with a tablespoon of flour to help prevent them from sinking to the bottom of the muffins.

As tempting as it may be, don't add extra blueberries. Too many blueberries in the batter will weigh it down, add too much moisture from the juices, and make the muffins soggy. If you want more blueberries, you can add extra dried blueberries
Storing Blueberry Muffins
Once your muffins are completely cooled, line an airtight container with a paper towel and store the muffins for up to 3 days at room temperature.
If you want to store them for longer than a couple of days, you can easily freeze these lemon blueberry muffins! Place the muffins in an airtight container or freezer bag. Store in the freezer for up to 6 months.
To thaw, remove the muffin from the freezer and let it sit on the counter for a couple of hours. Optionally, you can wrap it in a paper towel and microwave it for about 30 seconds, checking every 10-15 seconds.
Frequently Asked Questions
What can I substitute for sour cream in blueberry muffins?
If you don't have sour cream, you can use plain yogurt, but you will get better results with full-fat sour cream.
How can I make my muffins moister?
Use full-fat sour cream, and don't skimp on the butter or sugar. The ratio of fat and sugar contributes to a moist, light muffin.
Is it better to use fresh or frozen blueberries in muffins?
You can use fresh berries or frozen blueberries when making these muffins. Both taste amazing. The chances of your berries bleeding into the batter are higher if you use frozen blueberries.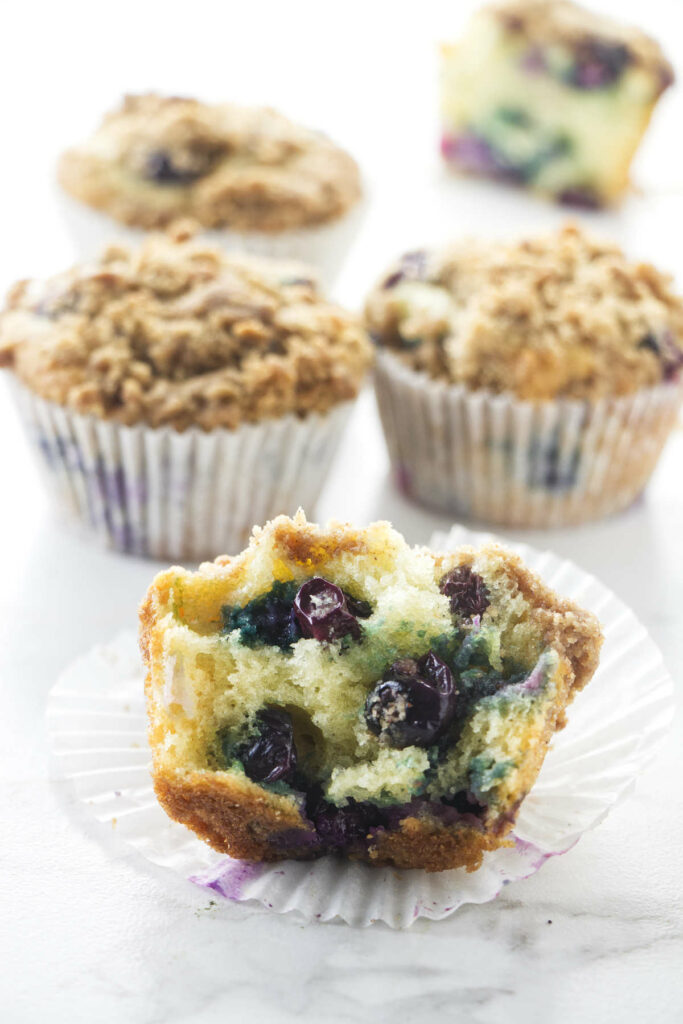 Helpful Tools
Some of the following are affiliate links. We may receive a small commission if you click on these links and purchase something. You don't pay any extra, but it will help us keep the lights on.
More Muffin Recipes You'll Love
The strawberry rhubarb jam filling in these strawberry rhubarb muffins makes them an extra special treat to make every spring. They are also quite tasty with strawberry fig jam.
If you can't tell, we love packing fruit into muffins, and you can't beat the flavor in our blueberry banana muffins, apple muffins, cranberry muffins, or blueberry spelt muffins.
These morning glory muffins are hearty and packed with healthful ingredients like carrots, walnuts, apples, and raisins to start your day with! More nutrient-packed muffins include our kamut zucchini muffins, bran muffins, pumpkin chocolate chip muffins, and spelt carrot muffins.
Connect With Savor the Best:
Please follow us on our social media accounts
Facebook * Instagram * Pinterest * Youtube * Twitter
Did you make this recipe? We would love to hear from you. Drop us a comment below.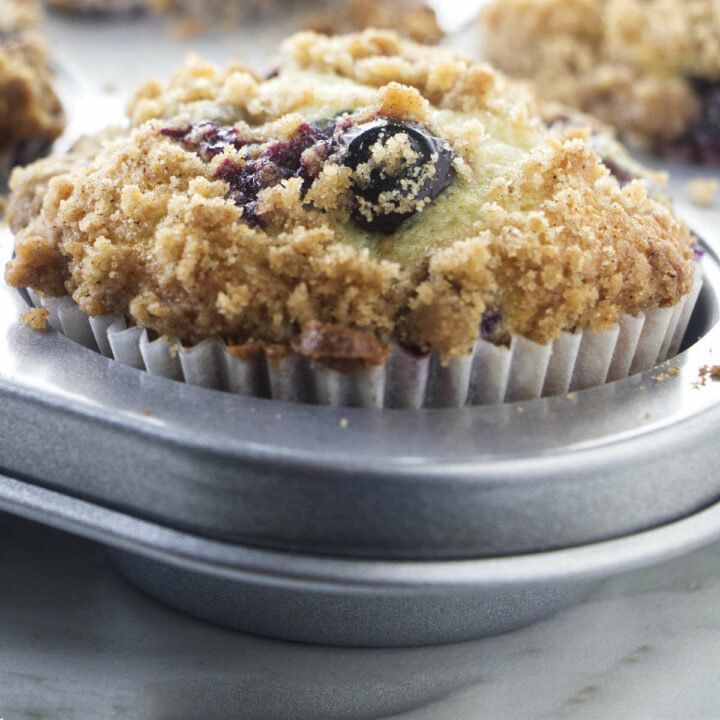 Sour Cream Blueberry Muffins
Bursting with juicy blueberries and topped with a crumbly streusel topping, these sour cream blueberry muffins are incredibly soft, tender, and fluffy. The addition of sour cream gives them a light, creamy texture and a little bit of tang that compliments the sweet blueberries perfectly.
Ingredients
Streusel topping
½ cup brown sugar (105 grams)
¾ cup all-purpose flour (120 grams)
6 tablespoons butter, softened
2 teaspoons cinnamon
Muffin Batter
2 cups all-purpose flour (240 grams)
1-½ teaspoons baking powder
1 teaspoon baking soda
¾ teaspoon salt
8 tablespoons (1 stick) butter, softened
1 cup sugar (200 grams)
2 eggs, room temperature
½ cup sour cream (120 grams)
¼ cup buttermilk (60 grams)
zest of 1 lemon
1-½ teaspoons vanilla extract
1-½ cups fresh or frozen blueberries
Instructions
Preheat the oven to 375°. Place 15 cupcake liners into muffin pans.
Streusel topping
Combine the streusel-topping ingredients in a bowl and blend with a fork or pastry cutter until the mixture looks like coarse sand. Set aside.
Muffin Batter
In a small bowl, sift together the flour, baking powder, baking soda, and salt. Set aside.
In a mixing bowl, combine the butter and sugar. Using an electric mixer, mix on medium-high speed until the mixture turns a pale yellow, about 4 to 5 minutes.
Add the eggs one at a time, blending each egg in and scraping the bowl down after each addition. Add the sour cream, buttermilk, lemon zest, and vanilla, and mix well.
Add the flour mixture and fold by hand just until the flour is moistened. Using a spatula, gently fold in the blueberries. The batter will be thick.
Scoop the batter into the muffin pans (I used an ice-cream scooper) and top each muffin with the streusel topping. Bake for 24-28 minutes or until you can stick a toothpick in the middle of the muffin and it comes out clean.
Cool on a wire rack.
Notes
Make sure the baking powder and baking soda are not expired.
Start with room temperature ingredients for best results. If the eggs are straight out of the fridge, place them in a bowl of warm water for about 5 minutes. That will get them close to room temperature pretty quickly.
Full-fat sour cream will make the muffins more tender than reduced-fat sour cream.
For a less sweet muffin, you can reduce the sugar to 3/4 cups without adversely affecting the texture of the muffins.
When you combine the flour with the butter and egg mixture, make sure you fold the ingredients gently with a wide spatula. Don't stir the batter too much, or you will develop the gluten and end up with tough muffins.
Sometimes it helps to toss the blueberries in a little flour before adding them to the batter. When they are coated in flour, they suspend in the batter and don't sink to the bottom of the muffin as easily. This batter is pretty thick, and coating the blueberries in flour isn't really necessary. However, extremely large blueberries will tend to sink to the bottom.
Recommended Products
As an Amazon Associate and member of other affiliate programs, I earn from qualifying purchases.
Nutrition Information:
Yield:

24
Serving Size:

1
Amount Per Serving:
Calories:

177
Total Fat:

9g
Sodium:

137mg
Carbohydrates:

22g
Sugar:

11g
Protein:

2g
Frequently asked questions.
Do I need an electric mixer?
You will get better results if you cream the butter and sugar with an electric mixer. You can use a hand mixer or an electric mixer but if you try to do it by hand then the butter won't get as light and fluffy.
Do I need to use paper liners?
No, you can skip the liners if you want. You can use non-stick cooking spray to grease the muffin tins but make sure you get each of the muffin cups well greased.
How long can I store these muffins?
They keep well for 3 days at room temperature. You can store muffins longer (up to 6 months) in the freezer. Make sure you keep them in an airtight container.
Can I use self-rising flour?
This recipe was not developed using self-rising flour. Since self-rising flour has baking powder and salt mixed into the flour, it will change the recipe if you substitute the flour.