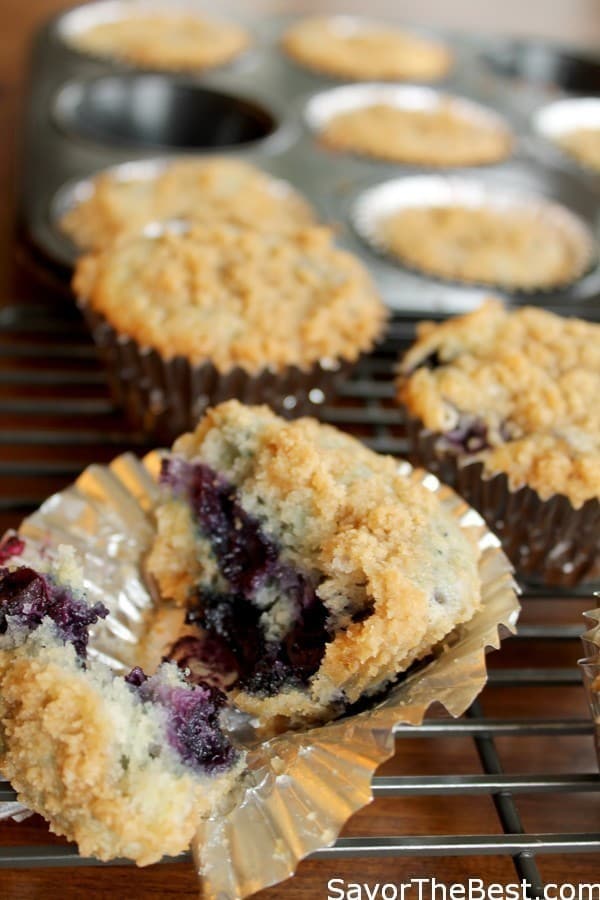 This is a moist, tender coffee cake in a grab-and-go muffin. I will make a batch of these and freeze them for a quick and easy breakfast with yogurt. Using cake flour creates a delicate, tender crumb but if you don't have cake flour on hand you can substitute all-purpose flour. If you choose to use all-purpose flour just subtract about 2 tablespoons of flour from the recipe, however, the results really will be much better with cake flour.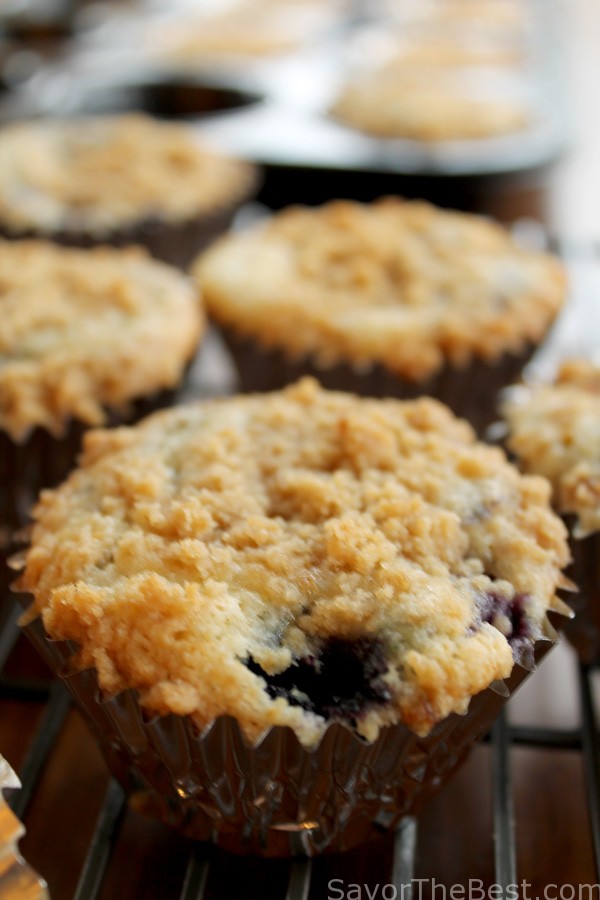 Use a light hand when folding the dry ingredients and blueberries into the batter. You can use frozen blueberries in place of fresh but be sure to keep them frozen when you fold them into the batter or you will have purple muffins.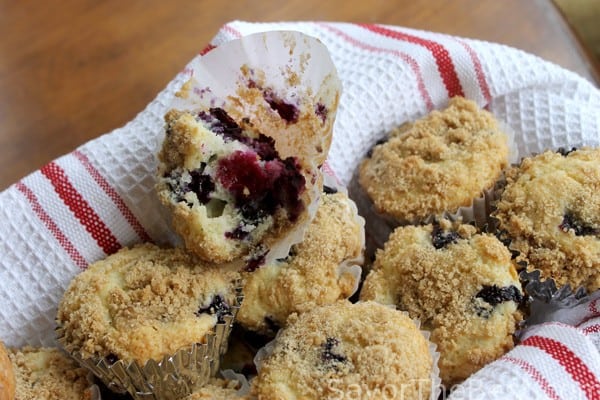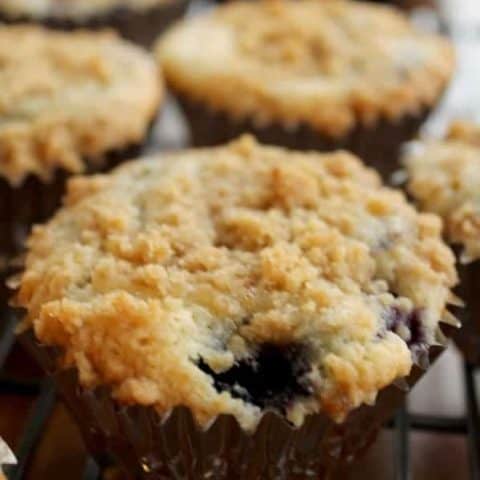 Blueberry Coffee Cake Muffins
Yield: 24 servings
Prep Time: 10 minutes
Cook Time: 25 minutes
Total Time: 35 minutes
A moist, tender coffee cake muffin loaded with blueberries and topped with a crumbly streusel
Ingredients
Streusel topping
½ cup brown sugar
¾ cup all purpose flour
6 tablespoons (3 ounces) butter, softened
2 teaspoons cinnamon
Muffin Batter
1 ¾ cup (245 grams) cake flour
1 teaspoon baking powder
½ teaspoon baking soda
½ teaspoon salt
8 tablespoons (4 ounces) butter, softened
1 cup sugar
2 eggs
1 ½ teaspoons vanilla extract
1 cup sour cream
1 pint (2 cups) fresh blueberries
Instructions
Pre-heat the oven to 350°. Place 24 cupcake liners into muffin pans.
Streusel topping
Combine streusel-topping ingredients in a bowl and blend with a fork or pastry cutter until the mixture looks like coarse sand. Set aside.
Muffin batter
In a small bowl, sift together the flour, baking powder, baking soda, and salt. Set aside.
In a mixing bowl, combine the butter and sugar. Using an electric mixer, mix on medium high speed until the mixture turns a pale yellow, about 4 to 5 minutes.
Add the eggs one at a time, blending each egg in and scraping the bowl down after each addition. Add the sour cream and vanilla and mix well.
Add the flour mixture and fold by hand just until the flour is moistened then using a spatula, gently fold in the blueberries. Batter will be thick.
Scoop the batter into the muffin pans (I used an ice-cream scooper) and top each muffin with 1 tablespoon of streusel topping. Bake for 25-30 minutes or until you can stick a toothpick in the middle of the muffin and it comes out clean.
Cool on a wire rack.
Nutrition Information:
Yield: 24
Serving Size: 1
Amount Per Serving:
Calories: 177
Total Fat: 9g
Sodium: 137mg
Carbohydrates: 22g
Sugar: 11g
Protein: 2g