I have had this muffin recipe in my "treasure" recipe box for just years and years.  It is a mystery to me why they are called "Nebraska" bran muffins.  I have no idea or memory of who gave this recipe to me but there is a note that says….from the book, "Diet for a Small Planet."   I also have not made these muffins in a very long time but I do remember how delicious they are.  It is nice to re-visit these oldies occasionally.
I know for sure that I have had this recipe since the early 1980's as I would bake and take them as a snack when my friend, Wanda, and I went on our weekly skiing classes.  They made a great snack for two hungry ladies coming off the slopes half frozen.  That was also the time when "Fiber" was the new word in dieting and each one of these little goodies are filled with a lot of fiber.
The muffins also freeze well so you can bake a batch to serve hot from the oven and freeze the rest to have on hand for a quick morning breakfast.  This makes a great breakfast with a dish of yogurt and berries or sliced fruit.
There is still one of my yellow stickies on the card that shows where I substituted one-half cup of applesauce for half of the oil requirement but no indication of how it tasted so I will leave any experimenting to your discretion.  The original recipe listed corn oil and I swapped it for coconut oil, the honey for molasses and the whole wheat flour for white bread flour.  If you really want to add some pizzaz to them, one-half cup of chopped nuts or raisins will do it, however, it also bumps up those calories.   This will make 12 large Texas size muffins.  Enjoy!
Yield: 12
Nebraska Bran Muffins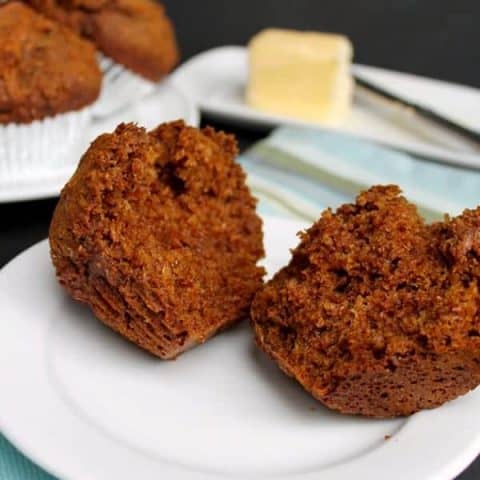 A nice morning muffin that wonderful with yogurt and fruit.
Prep Time 20 minutes
Cook Time 30 minutes
Total Time 50 minutes
Ingredients
3 cups bran
1-1/2 cups boiling water
2 eggs
1 cup molasses
2 cups buttermilk
1/2 cup coconut oil, melted
3 cups bread flour
2-1/2 teaspoons baking soda
1/2 teaspoon salt
Instructions
Preheat the oven to 375°F
Line a 12 cup Texas size muffin tin with paper liners and spray with non-stick
In a large bowl, using a fork, mix the bran and boiling water until well combined, reserve until needed.
In a mixing bowl on medium speed, beat the eggs, honey, buttermilk and oil. Add the reserved bran mixture.
In another bowl add the bread flour, soda and salt. Whisk together and fold into the wet bran mixture.
Fill each muffin liner 3/4 full and bake in the middle of the oven for 30 minutes or until a toothpick comes out clean when testing.
Notes
If you choose to bake these muffins in a regular size muffin pan, reduce the bake time to 25 minutes. Optional: Add 1/2 cup of chopped walnuts or raisins after folding in the flour mixture.