If you're looking for a healthy breakfast option, try these refrigerator bran muffins. Are you wondering why we call them refrigerator bran muffins? It's because you can store the batter in the fridge for several days. All you have to do is scoop some batter into a few muffin tins each morning and bake them—fresh, hot bran muffins in a flash.
You can also customize your own flavors with raisins, shredded coconut, or nuts. All of that makes this a perfect way to start your day off feeling energized and ready to take on whatever life throws at you!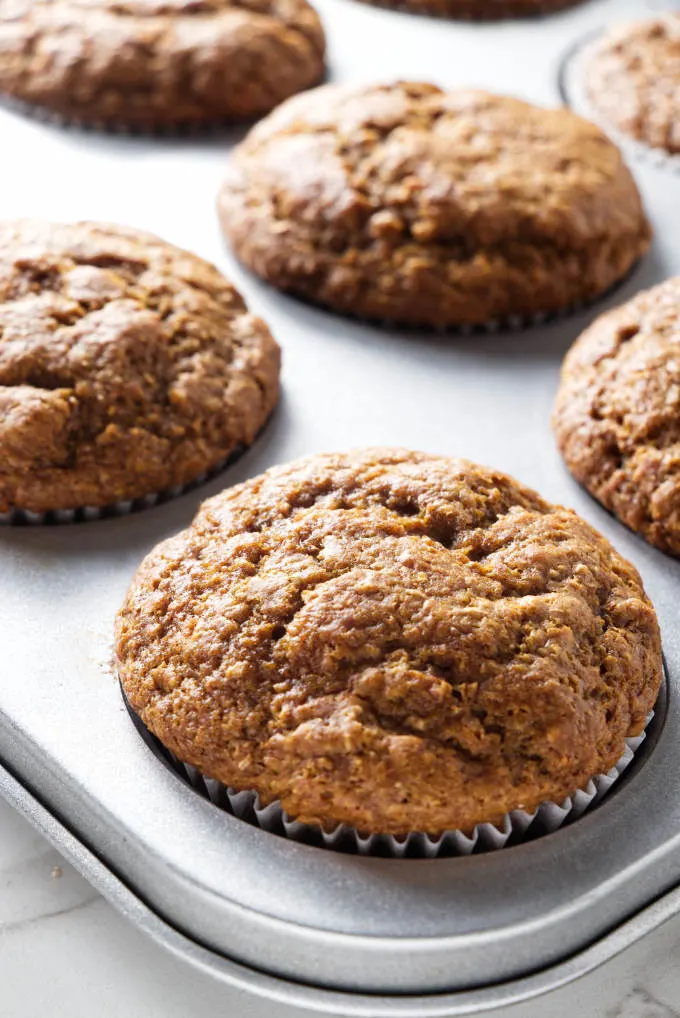 I have had this muffin recipe in my "treasure" recipe box for years. They were titled Nebraska bran muffins and the notes said that they came from a book titled Diet for a Small Planet. The recipe also said you can keep the muffin batter in the refrigerator for 3 weeks.
I'm not comfortable recommending that you store the muffin batter for that long since it has dairy and raw eggs. This isn't a sourdough starter that you can safely keep indefinitely.
Can You Store Muffin Batter in the Refrigerator?
You can safely store muffin batter and cookie dough in the refrigerator for up to four days. I have heard some bakers mention that they let muffin batter sit for as long as six weeks in the fridge. However, that is not advised by the FDA.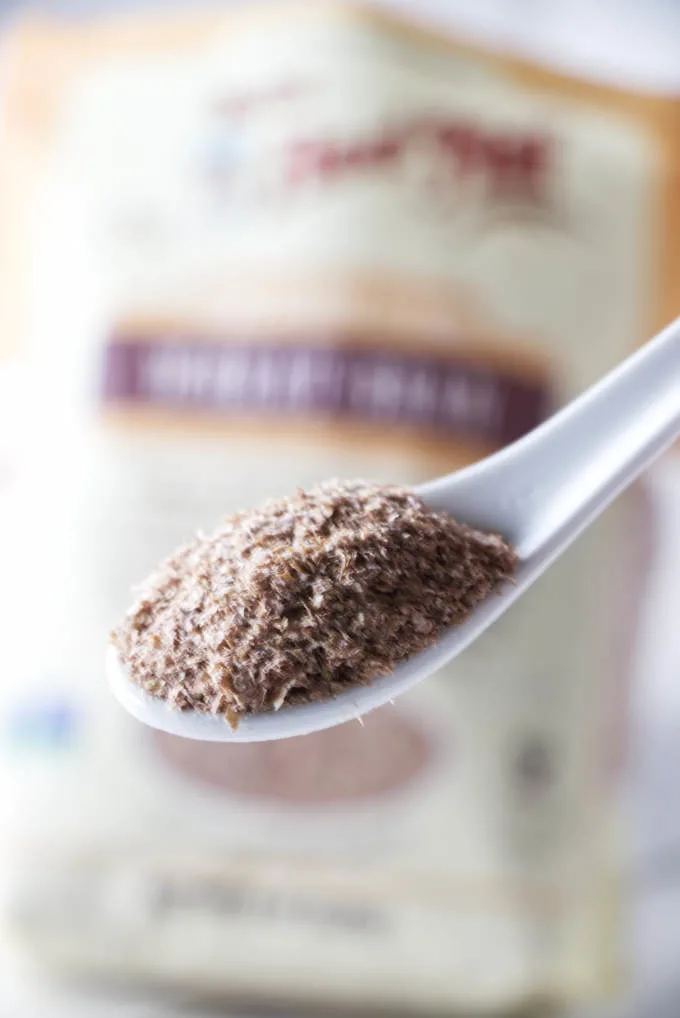 Refrigerated Muffin Batter and Leavening
I did store the batter in the refrigerator for a week and baked a couple of muffins each morning. The muffins baked on subsequent days did not rise as much which is not a surprise. Baking soda and baking powder will lose their effectiveness after they sit for several hours in the batter.
On the second morning, when I baked a few muffins, they still had some rise but on the third morning, they were flat and a bit denser but quite delicious. I would not recommend keeping batter for muffins like blueberry muffins or pumpkin muffins in the fridge because they will not be as tasty when the leavening dissipates.
If you are tempted to add additional leavening to the refrigerated batter, I will warn you that any additional leavening will ruin the flavor and texture of the muffins. Too much baking soda will make the muffins have a 'soapy' flavor and too much baking powder will make the muffins taste bitter and become crumbly.
The Ingredients
Here is a list of the ingredients you will need for this recipe. Scroll down to the printable recipe card for all the details.
Wheat bran. Don't confuse the wheat bran for bran cereal. This recipe uses the wheat bran that gets removed from the outer layer of the wheat kernel.

Boiling water. We soften the bran flakes by adding hot water to them.

Eggs.

Molasses or honey. Honey will give the muffins a light, floral flavor while molasses will give them a deep, robust flavor and darker color.

Buttermilk.

Coconut oil. We love the light coconut flavor that the coconut oil adds to the muffins but you can use melted butter if you like.

All-purpose flour. The original recipe called for 100% whole wheat flour but we substitued most of it with all-purpose flour to get a lighter texture.

Whole wheat flour. A touch of whole wheat flour adds a hearty flavor and extra fiber.

Baking soda and baking powder

Salt

Optional flavor add-ins: Raisins, nuts, and flaked coconut are all delicious in these bran muffins.
How to Make the Muffins
Here is a brief overview so you can get an idea of what to expect with the recipe. Scroll down to the printable recipe card for all the details.
Add the hot water to the wheat bran.
Combine the dry ingredients.
Combine the wet ingredients in a separate bowl and stir in the bran.
Fold the dry ingredients into the wet ingredients.
Fold in coconut, raisins, or nuts if using.
Bake.
My favorite addition to the muffin batter is toasted coconut flakes. Along with the coconut oil, the toasted coconut transforms these muffins into delicious coconut bran muffins.
You could even add some of our coconut granola for more crunch. I have also chopped up candied pecans to fold into the batter. Have fun with the flavors.
If you are looking for more energizing breakfast foods and snacks try our superfood energy bites or our ancient grains breakfast cookies.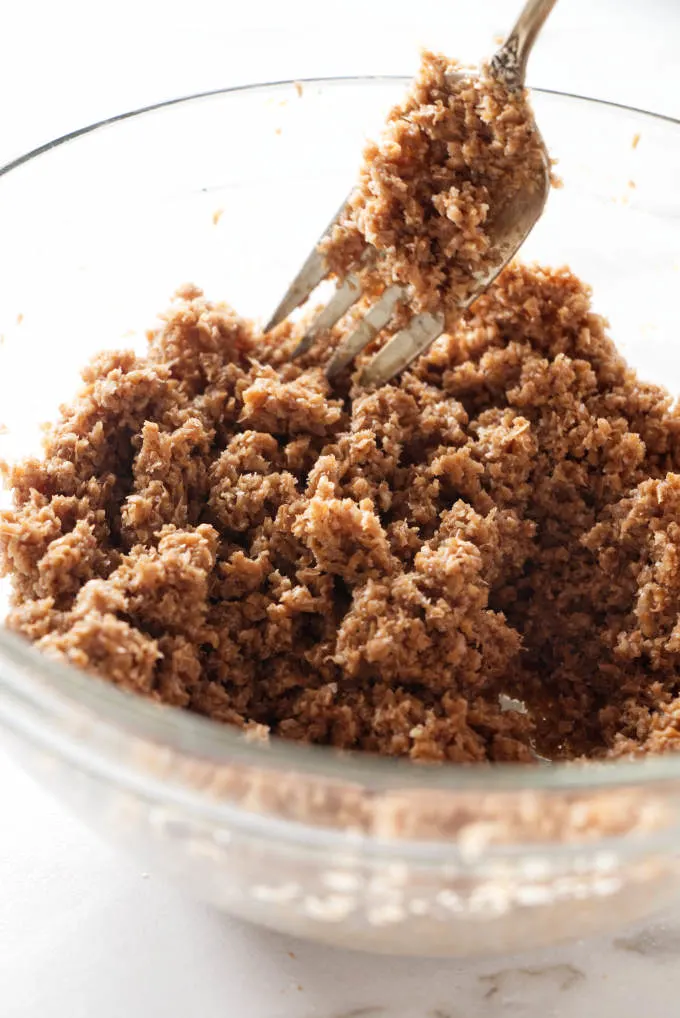 More Easy Quick Bread Recipes
Muffins Instead of Energy Bars
Before energy bars were popular, I used to bake these bran muffins and granola cookies for our weekly ski trips. The fiber from the bran makes them hearty and filling. They also make great snacks for hiking trips or for a quick 'grab and go' breakfast.
The muffins also freeze well so you can bake a batch to serve hot from the oven and freeze the rest to have on hand for a quick morning breakfast. This makes a great breakfast with a dish of yogurt and berries or sliced fruit.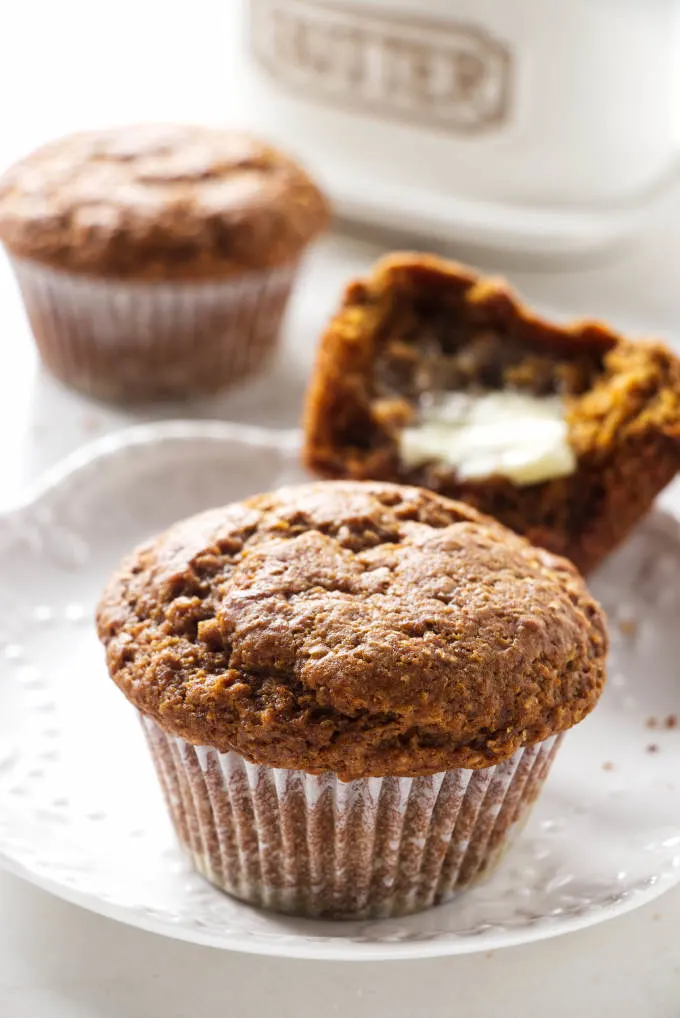 Helpful Tools
Some of the following are affiliate links. If you click on these links and purchase something, we may receive a small commission. You don't pay any extra but it will help us keep the lights on.
Some Other Recipes We Are Sure You Will Love:
Our einkorn chocolate banana muffins are loaded with chocolate chips and bananas. The einkorn flour makes them healthier than traditional muffins and easier to digest.
Start your day with these healthy banana blueberry muffins. The muffins have a lemon oatmeal streusel topping and they are low in fat but they stay tender and moist.
Our ancient grains granola is low in fat and sugar and it is packed with fruit, fiber, and nuts to keep you feeling full and satisfied. It is a great source of energy and perfect for an on-the-go breakfast or snack.
Warm and soft baked pears with granola and ricotta cream makes a delicious breakfast. If you're looking for a change from the usual oatmeal in the morning, try this nutritious combination!
Connect With Savor the Best:
Please follow us on our social media accounts
Facebook * Instagram * Pinterest * Youtube * Twitter
Did you make this recipe? We would love to hear from you. Drop us a comment below.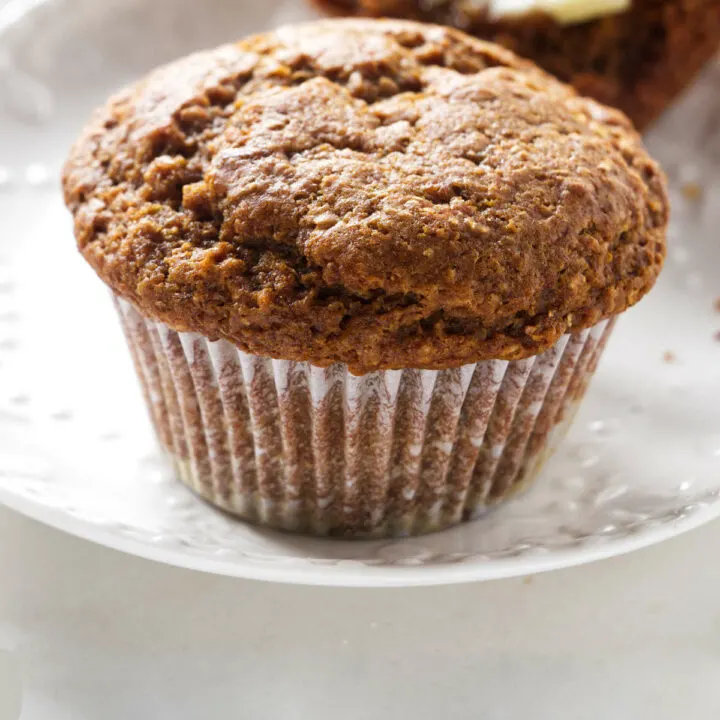 Refrigerator Bran Muffins
These hearty, filling bran muffins are packed with fiber from the bran. This recipe calls for wheat bran flakes that look like this. They are not the same as cereal flakes which are made with bran flakes.
You can keep the batter in the refrigerator for a few days and bake fresh, hot muffins in the morning. Leftover batter will not rise as high as the fresh batter so if that is a concern, bake the whole batch and freeze the muffins. You can warm them up in the microwave.
Ingredients
1-1/4 cups wheat bran (65 grams)
3/4 cups boiling water
2 eggs
1/2 cup molasses or honey (170 grams)
1 cup buttermilk (236 grams)
1/4 cup coconut oil, melted (50 grams)
1-1/4 cups all-purpose flour (150 grams)
1/2 cup whole wheat flour (60 grams)
1 teaspoon baking soda
1 teaspoon baking powder
1/2 teaspoon salt
Optional Add-Ins
1/2 cup raisins
1/3 cup toasted, chopped nuts
1/3 cup toasted coconut
Instructions
Preheat the oven to 375°F
Line a 6 cup Texas-size muffin tin OR a 12 cup standard muffin tin with paper liners or spray the muffin tin with non-stick spray.
In a large bowl, use a fork to mix the bran and boiling water until all the bran is damp. The mixture will look like damp sand. Reserve until needed.
In a mixing bowl, beat the eggs, molasses (or honey), buttermilk, and coconut oil. Stir in the reserved bran flake mixture.
In another bowl add the all-purpose flour, whole wheat flour, baking soda, baking powder, and salt. Whisk together until well sifted then fold into the wet bran mixture. Fold in the optional add-ins if using.
Fill each muffin liner 3/4 full and bake in the middle of the oven. Standard size muffins will need to bake for 17 to 20 minutes and Texas-sized muffins need to bake for 28 to 32 minutes or until a toothpick comes out clean when testing.
Notes
Use wheat bran flakes that look like this. Wheat bran is the outer layer of the wheat kernel and it is not the same as bran cereal.
If you want sweeter muffins, you can add up to 1/3 cup of granulated sugar or brown sugar to the mixture. Do not add additional honey or molasses.
The raisins, nuts, and coconut are optional and have not been calculated in the nutrition information. You will have about 3 to 4 extra muffins if you add all of the add-ins.
If you want to reduce the fat content, you can replace all or part of the coconut oil with applesauce but the muffins will be dryer and a bit crumbly.
You can store the batter in the refrigerator for up to 4 days. However, if you bake the batter while it is still fresh, the muffins will rise higher.
This is an old-fashioned recipe that a friend gave me in 1970. The original recipe stated that you can keep the raw batter in the fridge for up to 3 weeks. However, since the batter has dairy and raw eggs, we are not comfortable storing it for that long.
Recommended Products
As an Amazon Associate and member of other affiliate programs, I earn from qualifying purchases.
Nutrition Information:
Yield:

12
Serving Size:

1
Amount Per Serving:
Calories:

317
Total Fat:

7g
Saturated Fat:

4g
Trans Fat:

0g
Unsaturated Fat:

2g
Cholesterol:

32mg
Sodium:

291mg
Carbohydrates:

61g
Fiber:

10g
Sugar:

13g
Protein:

10g
Nutrition information is a guideline only, is calculated automatically by third-party software, and absolute accuracy is not guaranteed.