These cinnamon sugar candied pecans have a crispy, crunchy coating and a sweet, spicy flavor from cinnamon. They are so addictive you will want to make a few batches. Make sure you make enough for parties and gifts, they disappear quickly and they make perfect host gifts.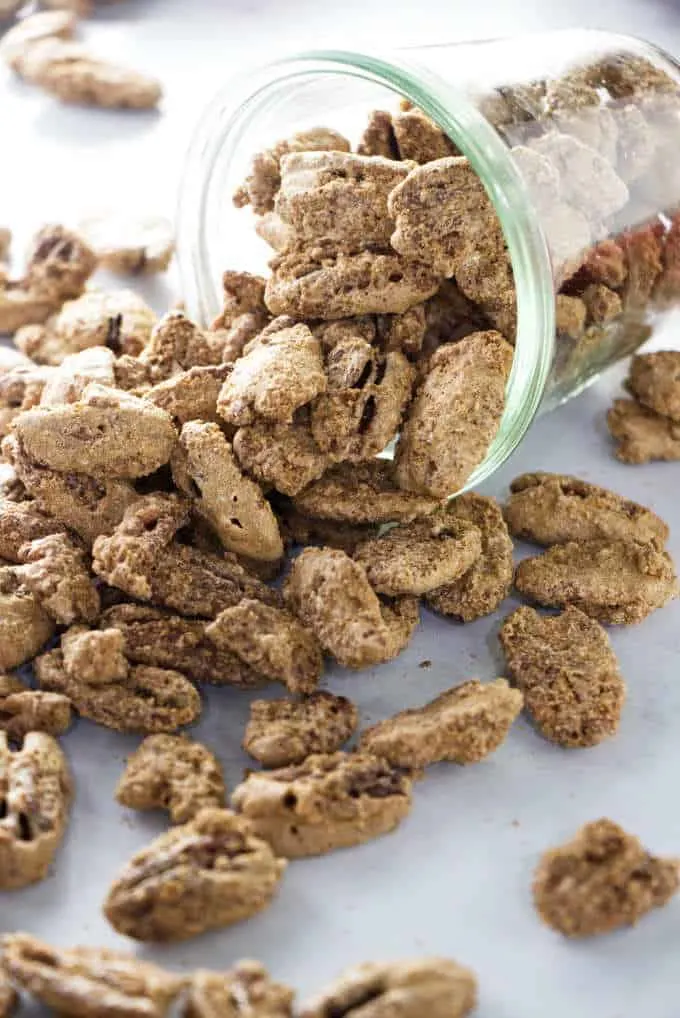 This is the easiest recipe and you get huge returns for minimal work. You can mix everything in one bowl, the house smells fantastic while they bake, and you will put smiles on everyone's faces.
This recipe makes a pretty large batch but to be honest, as fast as they disappear, I can easily double or triple the batch. If you do double up on the batch make sure you spread the pecans out among 2 baking sheets and rotate the sheets.
A note on some of the ingredients.
Pecans. Make sure you use raw pecans.
Egg whites. The egg whites are essential to getting a thick, crunchy coating. They give the sugar coating a crispy, crackling, crumble coat and an amazing texture.
Brown sugar. You can use all white sugar if you want but a bit of brown sugar brings out some extra caramelized, molasses flavor that goes great with the pecans and cinnamon.
Cinnamon. We have a generous amount of cinnamon in this recipe, you can adjust it to your personal taste.
Ginger. Just a pinch of ground ginger. It is not very pronounced and most people don't detect it but it compliments the zesty spice of the cinnamon.
Cayenne. This is completely optional but really makes a big difference. There isn't so much that it is overpowering and too hot but if you like things spicy, add a dash more.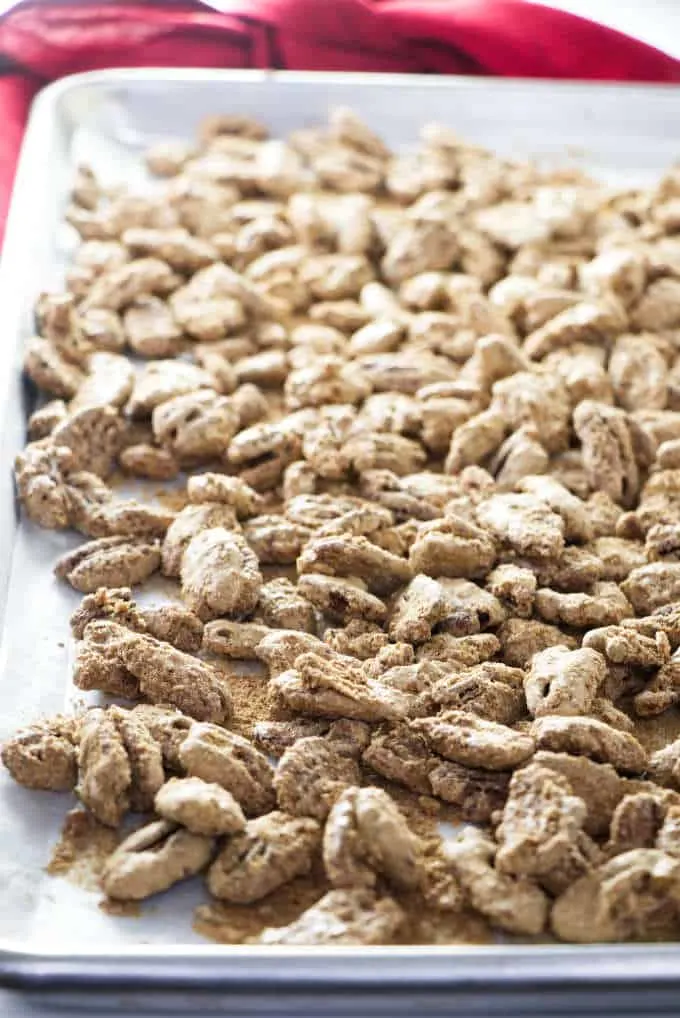 How to make cinnamon sugar candied pecans.
Step 1: Egg whites.
Whisk the egg whites with a splash of water until they are frothy. This step adds some volume to the eggs and loosens the proteins so they combine with the other ingredients easier.
Step 2: Sugar and spice.
Stir in the sugar and spices until everything is well combined. The mixture will be thick and pasty.
Step 3: Add the pecans.
Fold in the raw pecan halves. Make sure the pecans get completely coated. If you're not averse to eating raw egg whites then give the pecans a sample taste and add more salt or spices according to your taste.
Step 4: Bake.
Spread the nuts out on a baking sheet that you lined with either parchment paper or a silicone baking mat. The parchment and silicone will make a world of difference when it is time to clean up. Stick them in the oven and bake them until they are toasted.
It is important that you stir the nuts every 15 minutes while they bake. This will make sure they bake evenly and it will break them up so they don't bake in one giant clump.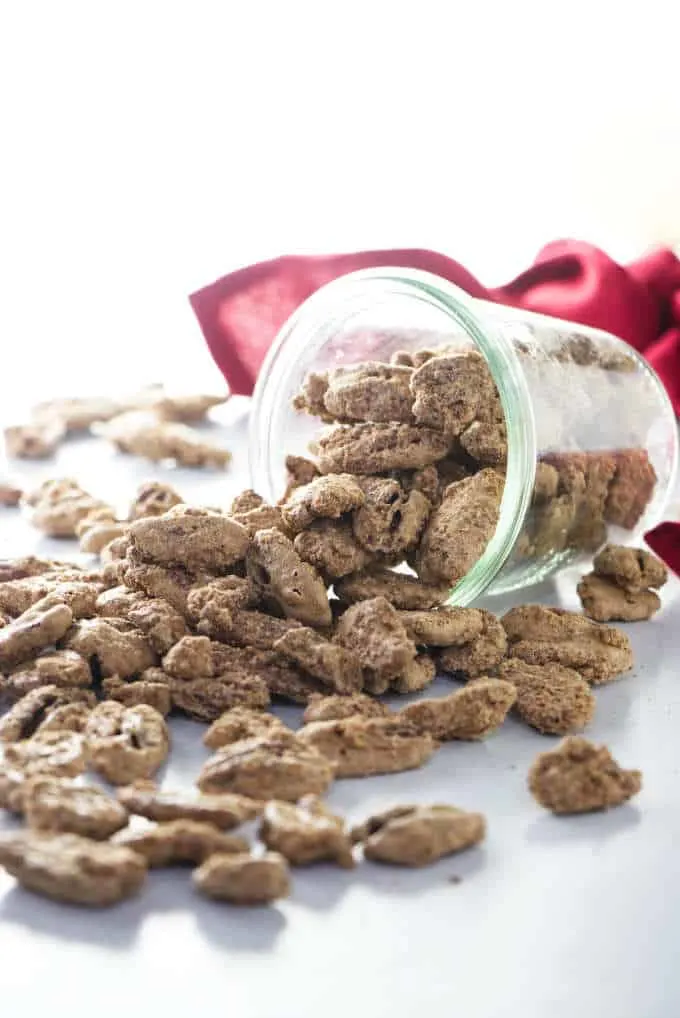 Sugar-pecan dust.
After the nuts cool down and you transfer them to a container there will be a crusty layer of baked-on sugar left on the parchment or silicone mat. Save that stuff, it's like fairy dust in sugar form. You can sprinkle it on ice cream or make some amazing cinnamon toast.
Ideas to use cinnamon sugar candied pecans.
These candied nuts are delicious all by themselves but here are some favorite ways to use them.
Toss them into salads.
Add them to ice cream.

Stir into oatmeal.

They are a perfect addition to cheese and charcuterie boards.

Chop them up and add them to pumpkin muffins or banana bread.

Stir them into yogurt.

Give them as gifts.
How to store cinnamon sugar candied pecans.
You can store these candied nuts at room temperature in an airtight container for up to 3 weeks. If you want to keep them longer then you can freeze them for up to 6 months.
These candied pecans are:
Gluten-free.

Highly addictive.

Perfect for parties.

Calling your name.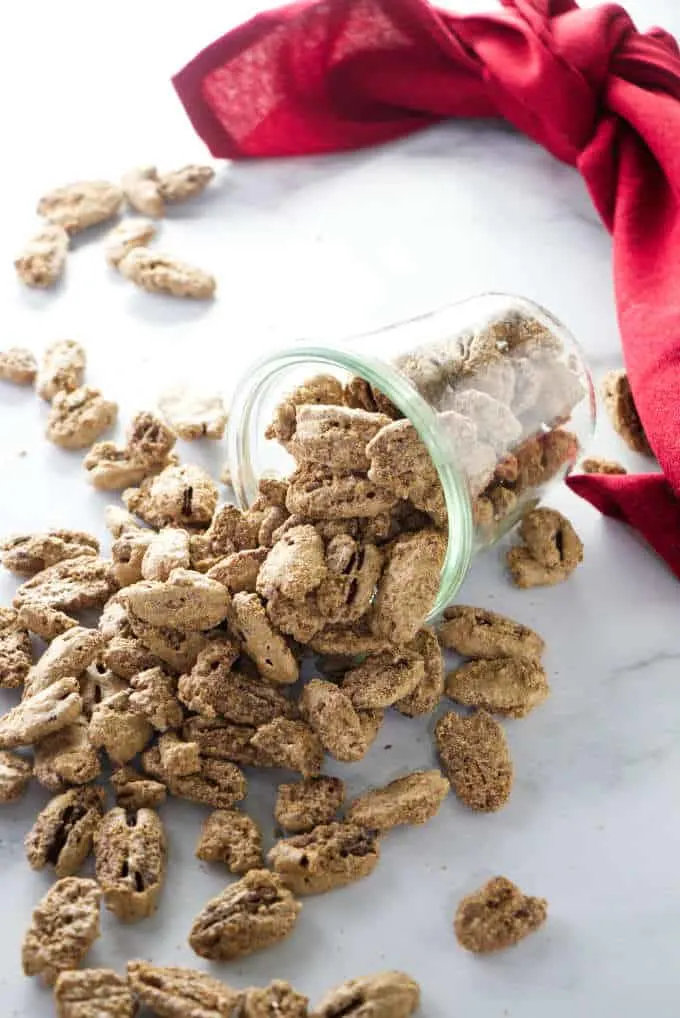 SOME OTHER RECIPES WE ARE SURE YOU WILL LOVE:
Our blueberry granola cookies are LOADED with all the things you would find in granola. Pecans, dried blueberries, coconut, white chocolate and oatmeal. They are a reader favorite.
Pecan pie always makes its appearance around the holidays but chocolate pecan pie is meant to be eaten ALL YEAR LONG. Our recipe has a flaky butter crust and a ton of dark chocolate.
Our brown sugar pecan pie crust is an easy, press-in crumb that can be baked in a pie pan or a tart pan. It makes a rich nutty crust that goes perfectly with pumpkin pie or sweet potato pie.
CONNECT WITH SAVOR THE BEST!
Be sure to follow us on our social media accounts
Facebook * Instagram * Pinterest * Twitter * Youtube
Was this recipe for how to make candied pecans helpful? We would love to hear from you. Drop us a comment below.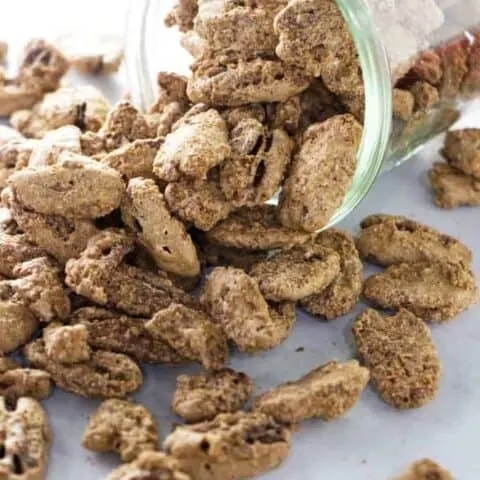 Cinnamon Sugar Candied Pecans
These cinnamon sugar pecans have a crispy, crunchy coating and a sweet, spicy flavor. Stir them into oatmeal, scatter them on salads, use them in baked goods and give them as gifts. Save this recipe, you will want to make these all year long.
Ingredients
2 egg whites
1-1/2 tablespoon water
3/4 cup granulated sugar
1/2 cup brown sugar
2 tablespoons cinnamon
1 teaspoon salt
1/4 teaspoon ground ginger powder (optional)
pinch of cayenne pepper (optional)
4 1/2 cups pecan halves (1 pound)
Instructions
Line a baking sheet with parchment paper or a silicone baking mat.
Preheat oven to 325°F. Line a large baking sheet with parchment paper and set aside.
Place the pecans in a large mixing bowl.
Add the egg whites and water to a mixing bowl and whisk together until frothy.
Add both of the sugars, the cinnamon, ginger, salt and cayenne if using. Whisk until thick and pasty.
Stir in the pecans until they are completely coated in the sugar mixture.
Spread the pecans onto the prepared baking sheet in a single layer.
Bake at 325°F for 40 to 45 minutes, stirring the pecans every 15 minutes.
Remove from the oven and allow to cool completely on the baking sheet.
Notes
Store at room temperature in an airtight container for 3 weeks.
Store in the freezer for 6 months.
Recommended Products
As an Amazon Associate and member of other affiliate programs, I earn from qualifying purchases.