This brown sugar pecan pie crust is fast and easy to make. No need for a rolling pin with this recipe, just press it in a pie plate or tart pan. It is just as easy as making a graham cracker crust and it has a rich, nutty, molasses-like flavor that is perfect for all your fall baking. You can even make it gluten-free with a simple substitution.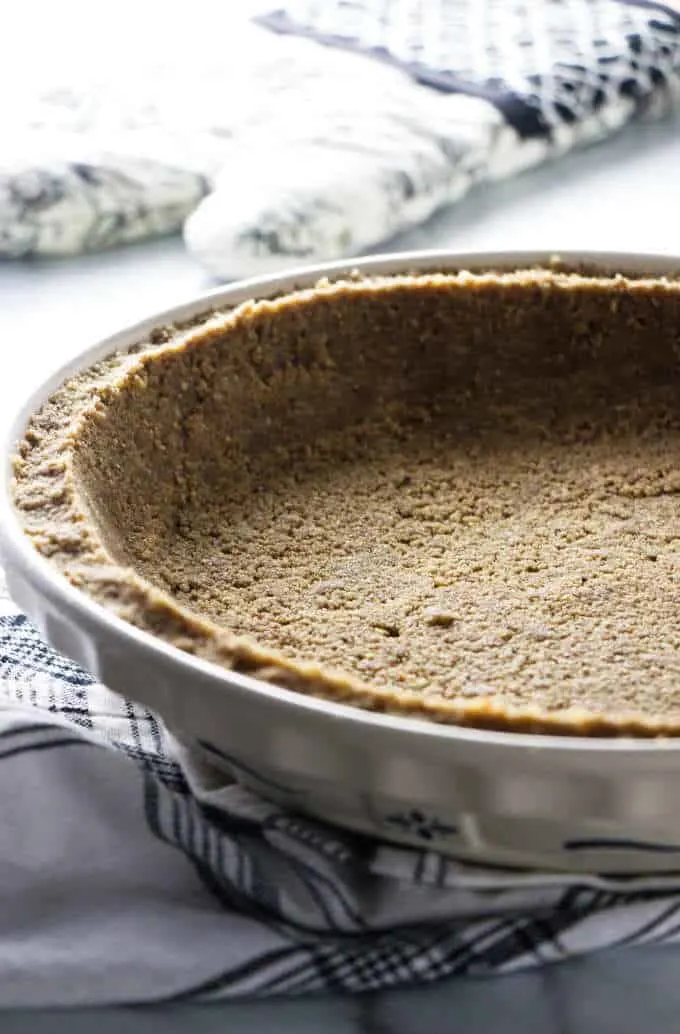 We recently pared this brown sugar pecan pie crust with our cranberry curd tart and our Southern sweet potato pie but it goes great with pumpkin pie, apple pie, chocolate pie… well the list is endless.
Tips for making a pecan pie crust:
The best way to grind the pecans:
This pie crust comes together extremely easy if you have a food processor. Honestly, in my opinion, it is the ONLY way to make this pie crust. You could grind the pecans in a blender but you will be more likely to make nut butter if you do it that way.
So, tip number 1 is to pull out your food processor. Tip number 1.5 is to buy a food processor if you don't already have one 🙂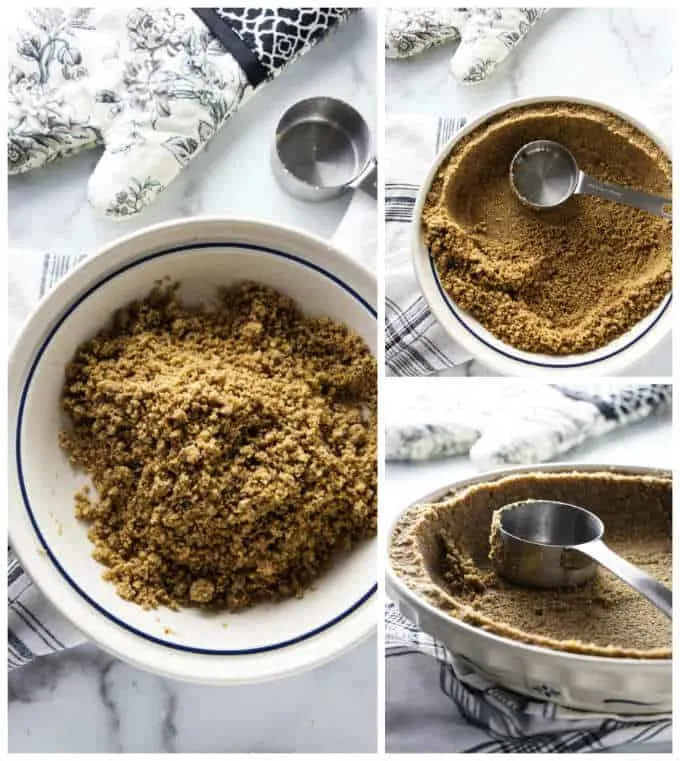 Get the right consistency:
After you add the pecans, sugar, and salt to the food processor hit the pulse button until you get a consistency that looks like sand. Don't hit the process button and walk away because the nuts can get ground up too much. If that happens they will either turn into pecan butter or get too wet and sticky which will make a soggy crust.
One of the great features of a food processor is the 'pulse' button. When you repeatedly hit the pulse button, the nuts fly up, land and settle, then fly up again. It is perfect for chopping nuts.
Once the nuts are finely ground add the flour and give it a quick blitz.
When it is time to add the butter, keep the processor on while you drizzle the butter into the spout of the food processor.
Only process the mixture until it looks like loose, damp, sand. If you process it for too long the mixture will start to bind up in a ball. If that happens, add a couple of tablespoons of flour to loosen it up again.
Press the crumbs down firmly:
The mixture might seem loose but as soon as you press it down into a pie plate it will cling to the edges and bottom of the dish. Use your fingers or the bottom of a measuring cup to press the mixture down. Make sure you press it down firmly. That is key to preventing a crumbly crust.
The crumbs for the pecan pie crust are easy to press and shape into the pie or tart pan. It presses down just like our shortbread pastry crust.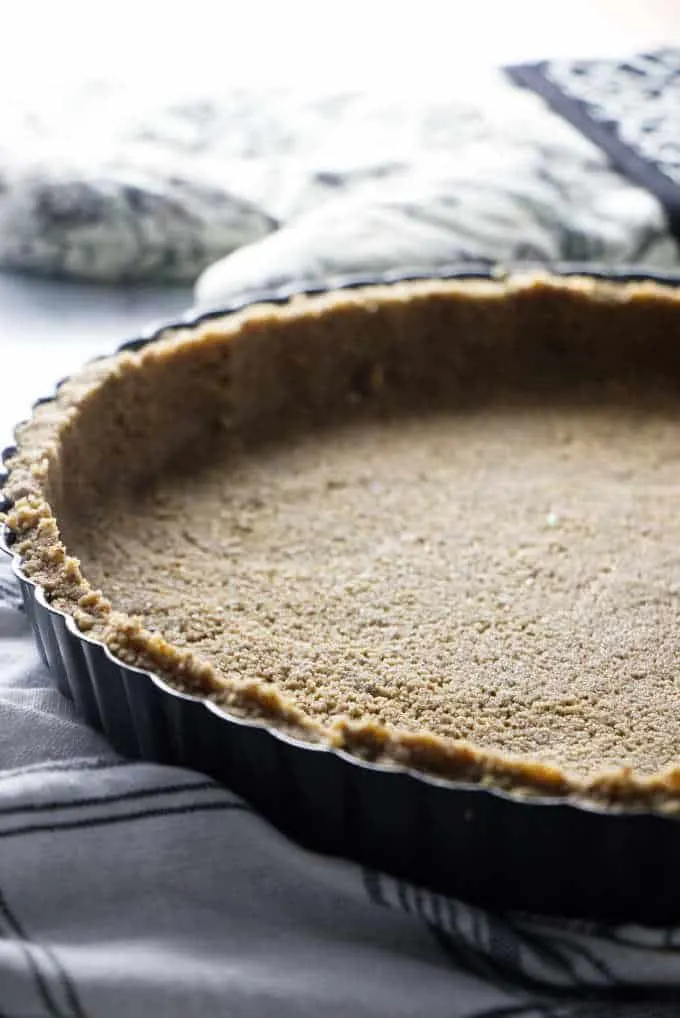 Freeze the crust:
Prick the bottom of the crust with a fork then stick it in the freezer for 30 minutes. Freezing the crust will help it keep its shape when it is time to bake.
Pre-bake the crust for the best results:
Pre-baking the crust will give it a better texture and flavor. It only takes 10 minutes and you don't even need to use pie weights for this crust.
As long as you freeze the shell first and you didn't make nut butter out of the pecans, the crust will not sag down the edges while it cooks.
Don't bake the crust too long or it will burn. As a matter of fact, nuts tend to burn pretty quickly.
If you have to bake the pie or tart:
If you fill the pie crust with a filling that needs to be baked then you should protect the edges of the pie crust so it doesn't burn. You can either fold strips of tin foil and mold them around the edge or you can use a pie crust shield which makes it really easy.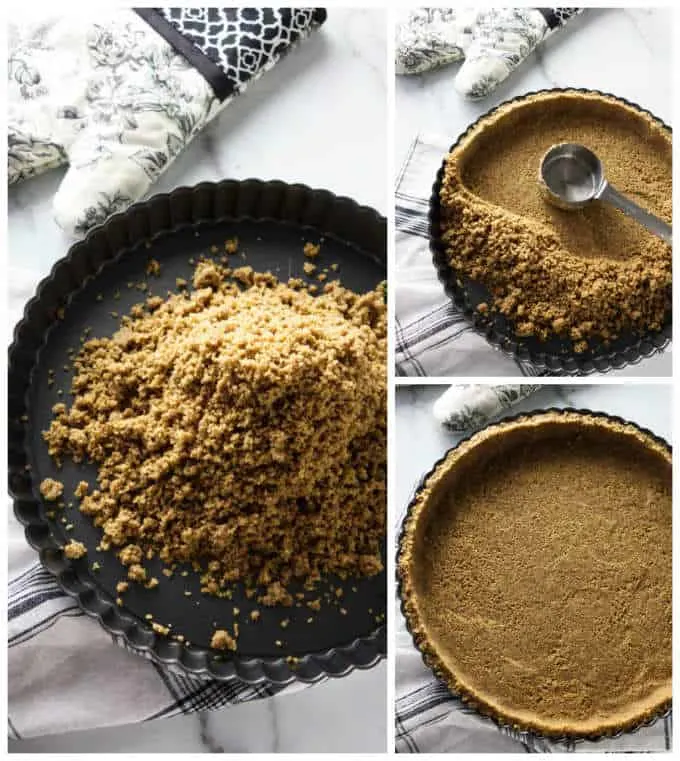 Do you grease the pan before adding the crust?
Since there is plenty of oil in the pecans, you do not need to grease the pie plate or the tart pan first. The baked crust comes out quite nicely. Of course, it doesn't hurt if your grease it first.
Freezable brown sugar pecan pie crust.
You can make this pie crust in advance and freeze it for up to 3 months. To freeze the pie crust after it is pressed into the pie plate, place it in a 2.5-gallon resealable bag. Press as much air out of the bag as possible before sticking it in the freezer. If you want to store it for longer than 3 months, you can use a food saver vacuum sealer.
SOME OTHER RECIPES WE ARE SURE YOU WILL LOVE:
Connect With Savor the Best:
Please follow us on our social media accounts
Facebook * Instagram * Pinterest * Youtube * Twitter
Did you make this recipe? We would love to hear from you. Drop us a comment below.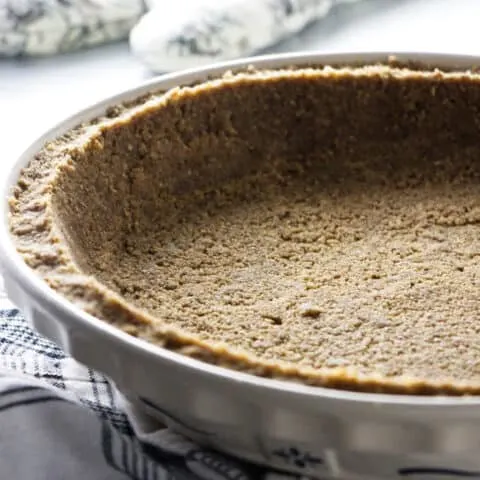 Brown Sugar Pecan Pie Crust
Yield:
1 pie crust or tart shell crust
This easy pie crust can be used in a traditional pie dish or you can put it in tart pans, square baking dishes, or muffin tins. No rolling required for this pie crust. Just press it down directly into the dish. The brown sugar and toasted pecans make this a favorite crust for any dessert.
Ingredients
1-1/4 cups raw pecan halves (180 grams)
1 cup all-purpose flour (120 grams)
1/4 teaspoon salt
1/2 cup brown sugar (105 grams)
6 tablespoons butter, softened (100 grams)
Instructions
Preheat the oven to 350°F.
Spread the pecans out on a baking sheet and roast until lightly toasted, about 10 to 12 minutes. Stir the pecans halfway through the roasting time to make sure they toast evenly.
Let the pecans cool down then place them in a food processor. Add the flour and salt. Process until the mixture looks like sand. Add the sugar and butter to the food processor. Pulse until the mixture clumps together in a ball.
Press the dough into a pie dish or 10-inch tart pan. Use a fork to prick the bottom of the crust then stick it in the freezer for 30 minutes.
Preheat the oven to 350°F. Place some parchment paper over the crust and fill it with some pie weights or raw pinto beans and bake until slightly toasted, about 15 minutes.
Notes
You can make the crust 2 to 3 days in advance or make it several months in advance and freeze it until you are ready to make your pie or tart.
Recommended Products
As an Amazon Associate and member of other affiliate programs, I earn from qualifying purchases.
Nutrition Information:
Yield:

12
Serving Size:

1
Amount Per Serving:
Calories:

357
Total Fat:

31g
Saturated Fat:

6g
Trans Fat:

0g
Unsaturated Fat:

23g
Cholesterol:

15mg
Sodium:

92mg
Carbohydrates:

20g
Fiber:

4g
Sugar:

9g
Protein:

4g
Nutrition information is a guideline only. It is calculated automatically by third-party software, and absolute accuracy is not guaranteed.