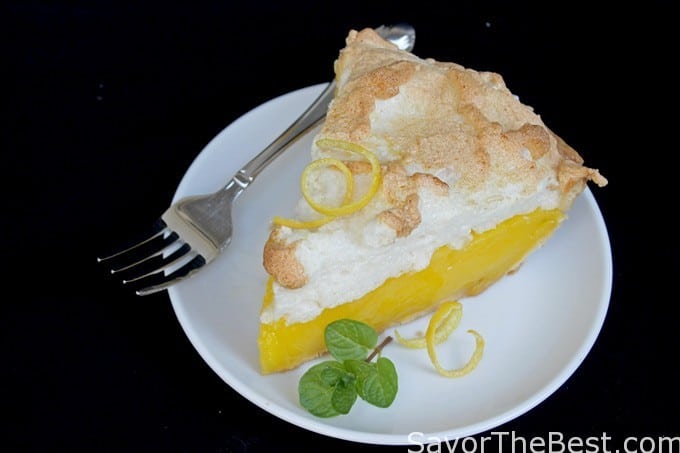 I don't know what it is about me and lemon meringue pies. Maybe I'm jinxed. Whenever I have made a lemon meringue pie it always looked beautiful and tasted great but the next day the remainder had a syrupy substance at the bottom creating a soggy crust.
Sometimes there are droplets of syrup on the top of the meringue. I have used all the tips and advice from the famous Weep-no-more, Sunset May, 1997 recipe for Foolproof Lemon Meringue Pie that promised to be "no-fail". It still became syrupy and soggy.
The meringue recipe from Sunset called for cornstarch mixed with sugar and whipping it into the egg whites. That sounded like a good idea but I could definitely taste the powdery, uncooked cornstarch and didn't make that recipe again.
Then I tried a meringue recipe from All Recipes Never-Ever-Fail Meringue which called for cornstarch mixed with water, cooked, cooled then whipped into partially whipped egg whites. We ate two pieces of pie and the next day…..syrup on the bottom. I have even tried using the Italian meringue but the result was the same.
It is my opinion that a regular old fashioned meringue works just as well as the Italian or cornstarch meringues and with less time and effort involved.
The recipe below uses a regular meringue over the lemon filling. You have the option of preparing your favorite pastry crust or purchasing a pre-made crust but Dahn has a great recipe for pastry in her turkey pot-pie.
One of my flops was when I made a lemon meringue pie and just before I was ready to pour the filling into the prepared pie crust I thought it seemed a little pale in color and a couple drops of yellow food color would be nice.
I had the coloring in one hand and was stirring with the other as I squeezed several drops into the pretty filling only to see it turn pink as I had inadvertently picked up the red squeeze bottle. I guess I could have called it a pink lemonade meringue pie but I was so disgusted I trashed it.
I am going to tell you of one of the most memorable kitchen disasters of my time. It was in September of 1959 and I was 18 years old, a new bride and a few months pregnant with my first child, Kelly. I thought it would be nice to surprise my husband with a birthday pie instead of a cake and he really liked lemon meringue pie.
So, early in the afternoon I started the project. I baked up a nice golden-brown pie crust just like my mom showed me how. I made the filling following the directions exactly on the Argo cornstarch box. Then the meringue was whipped up and spread on top with all the nice peaks and swirls and it looked just beautiful.
Next, I pulled out the oven rack and put the pie in the middle of the rack intending to brown up the meringue. I was totally unaware of the rack being in upside down. Oh, my….when I pushed the rack back in place it tipped backward and dumped my beautiful pie over on the back wall of the oven and upside down. What a mess!
I was devastated! I turned off the oven, went into the bedroom and had a good cry and a nice nap. When my husband came home I was on my knees in front of the oven cleaning up the mess. I still love lemon meringue pie though!
I have now decided that it is useless to expect a better behavior from the meringue as it is the air in the meringue that makes it fluffy and light, so when the air eventually escapes it becomes liquid and we get the sloppy mess. My new agenda is to totally consume the pie the day it is made. I can do that!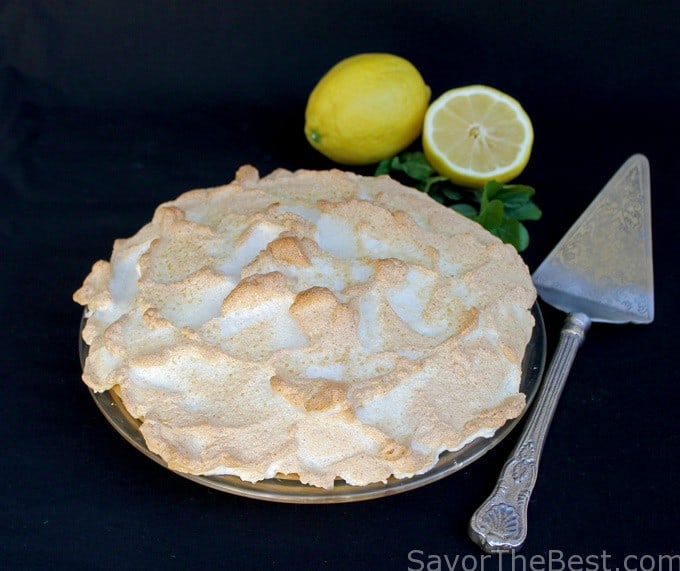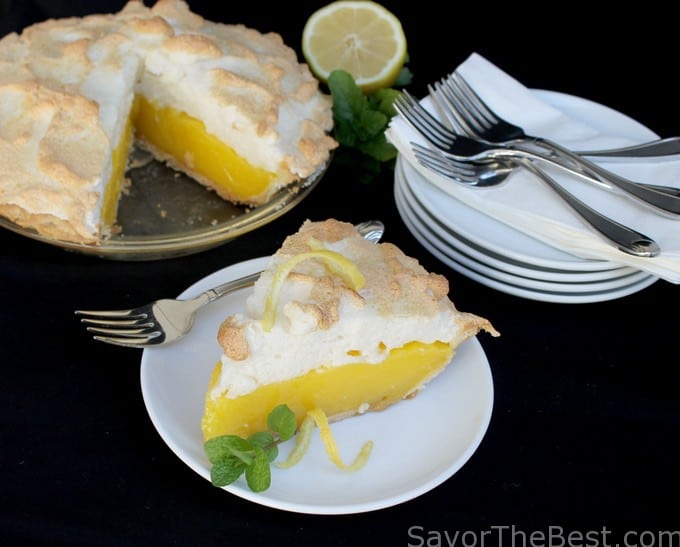 Lemon Filling adapted from: May 1997 Sunset Magazine
CONNECT WITH SAVOR THE BEST!
Be sure to follow us on our social media accounts
Facebook * Instagram * Pinterest * Twitter * Youtube
Did you make this recipe? We would love to hear from you. Drop us a comment below.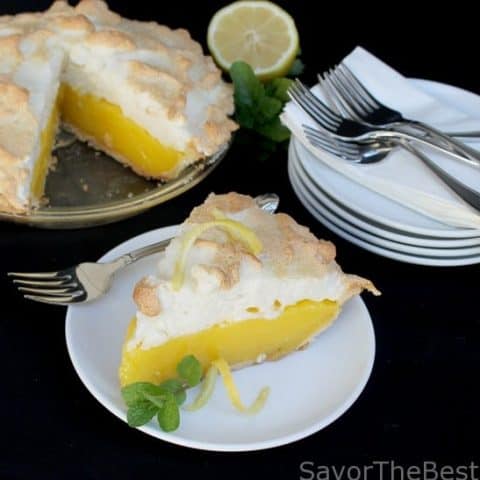 Lemon Meringue Pie
Yield: 8 servings
Prep Time: 15 minutes
Cook Time: 8 minutes
Total Time: 23 minutes
A timeless classic lemon meringue pie in a tender pastry crust. The pie filling is sweet and tart with a fluffy golden brown meringue top.
Ingredients
For the Meringue:
4 egg whites
1/4 teaspoon cream of tartar
6 tablespoons sugar
1/2 teaspoon vanilla
pinch of salt
For the Lemon Filling:
1 -1/2 cups sugar
6 tablespoons plus 2 teaspoons cornstarch
1/2 cup cold water
1/8 teaspoon salt
1 tablespoon grated lemon peel
1/2 cup lemon juice
4 large eggs, separated
1-1/2 cups boiling water
1 tablespoon butter
1 Baked 9-inch pie crust
Instructions
For the Meringue:
In a medium size bowl, whip egg whites and cream of tartar until foamy. Add the sugar, 1 tablespoon at a time and continue whipping until stiff and glossy. Add vanilla and whip to combine.
Reserve the meringue while making the lemon filling.
For the Lemon Filling:
In a 2- to 3-quart pan, mix 1 1/4 cups sugar with 6 tablespoons cornstarch and salt. Whisk in 1/2 cup cold water, lemon peel, and lemon juice, blending thoroughly. Whisk in the egg yolks. Add the butter and whisk in 1 1/2 cups boiling water.
Set pan over medium-high heat and stir with a flexible spatula until mixture boils, about 7 minutes. Reduce heat to medium and stir filling 1 minute more. Pour filling into pie crust. Spread prepared meringue over the top of the hot pie filling. Bake pie at 375° F for 10-12 minutes until tips of meringue begin to brown.
Notes
The meringue should be whipped up first so it will be ready to spread as soon as the pastry shell is filled with the hot pie filling.
Nutrition Information:
Yield: 8
Serving Size: 1
Amount Per Serving:
Calories: 343
Total Fat: 9g
Saturated Fat: 3g
Trans Fat: 0g
Unsaturated Fat: 5g
Cholesterol: 97mg
Sodium: 219mg
Carbohydrates: 60g
Fiber: 1g
Sugar: 48g
Protein: 6g
Nutrition information is a guideline only, is calculated automatically by third party software, and absolute accuracy is not guaranteed.