These blueberry granola cookies are everything a cookie should be. They are thick and soft with crispy edges and a chewy center. The cookies are LOADED with all the good things you could ever find in the best granola. I'm talking the best blueberry coconut granola.
I wish I could send these cookies to YOU right now. Words and pictures could never tell you how good these cookies taste. Take my word for it. You really have to make these cookies. You NEED these cookies in your life. No regrets.
These cookies are making a repeat on the blog with updated photos.
The title of the cookies is a mouthful. Blueberry, pecan, coconut, white chocolate, oatmeal cookies is really too much to say and hard to remember. So I am calling them Blueberry Granola Cookies. Simple and memorable. And it really describes what these cookies are all about.
They have all the fixings that are in a granola recipe and they taste like the most amazing granola cookie you can ever find. The granola-to-cookie ratio is HEAVY on the granola. As a matter of fact, there are so many granola add-ins that the cookie batter gets so thick you really have to 'work it' to stir it well.
When you are finished, you have some delicious nutritious granola cookies that are perfect for hiking and biking.
Tips for making amazing blueberry granola cookies.
It's hard to mess up these cookies. I mean really, how can so many good things go wrong? It just can't, but I have some tips that are going to help you make these cookies go straight to AMAZING.
1. Use bread flour.
First, the recipe calls for bread flour. No, we are not making bread. We are making chewilishis granola cookies. If you use bread flour instead of all-purpose flour you will get more chew factor. Bread flour has more gluten and the higher ratio of gluten equals a chewier cookie.
And because I know there is someone asking "I don't have bread flour, can I make these cookies with all-purpose flour?" So to that, I say yes. You certainly can make these with regular all-purpose flour and they will still taste great. They will taste so amazing you will want to make them again so the second time around go buy some bread flour and make them more amazing.
2. Use real butter.
By real butter I mean don't use margarine or shortening (unless you have a dairy allergy) But PLEASE don't use shortening! Butter is where it is at in my book! Go to the store, buy butter, then come home and make these cookies. While you're at the store for butter, pick up some bread flour 😉
3. Toast the pecans.
Nuts taste so much better when you toast them first. It really does make a HUGE difference to toast the pecans and it only takes 7 to 10 minutes tops. An extra ten minutes for the most amazing blueberry granola cookie you will ever have in your life! It's worth it!
4. Don't skimp on the blueberries.
Don't substitute the blueberries for raisins either. The dried blueberries are so good. These really can't be blueberry granola cookies if you don't use the blueberries. So go big on the blueberries.
These cookies are begging to be made repeatedly and eaten immediately.
Blueberry Granola Cookies are Perfect for a Hiking Trip.
These cookies are packed with so many good things that they make the perfect hiking cookie. They are better than taking a bag of loose granola on a hike because they are easier to hold and eat. Make sure you make enough for your next hiking trip.
SOME OTHER RECIPES WE ARE SURE YOU WILL LOVE:
Crispy Double Chocolate Cookies
CONNECT WITH SAVOR THE BEST!
Be sure to follow us on our social media accounts
Facebook * Instagram * Pinterest * Twitter * Youtube
Did you make this recipe? We would love to hear from you. Drop us a comment below.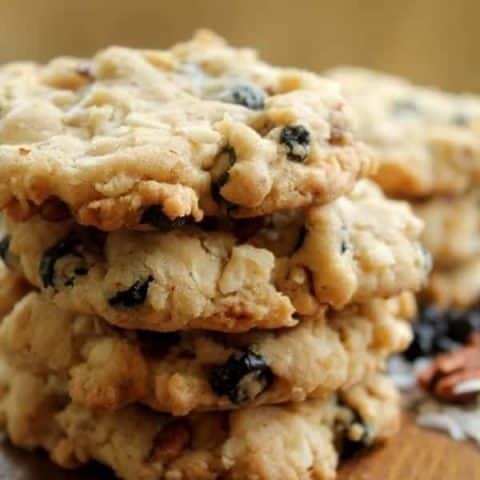 Blueberry, Pecan, Coconut, White Chocolate, Oatmeal Cookies
Yield: 3-4 dozen
Prep Time: 10 minutes
Cook Time: 30 minutes
Total Time: 40 minutes
Packed with dried blueberries, coconut, pecans, white chocolate and oatmeal, these cookies are absolutely amazing.
Ingredients
3 cups (420 grams) bread flour
1 ¼ teaspoons baking soda
1 ½ teaspoons baking powder
1 1/2 teaspoons salt
1 ¼ cups unsalted butter, softened (10oz or 284 grams)
1 ¼ cups (284 grams) light brown sugar
1 cup granulated sugar
2 large eggs
2 teaspoons vanilla extract
1 ½ cups (150 grams) old fashioned oats
2 cups (310 grams) white chocolate chips
1 ½ cups (150 grams) pecans, toasted and coarsely chopped
2 cups (345 grams) dried blueberries
1 ½ cups (140 grams) dried, sweetened coconut flakes
Instructions
Pre-heat oven to 350° and line a baking sheet with parchment paper or spray with non-stick cooking spray.
Sift flour, baking soda, baking powder and salt into a bowl. Set aside.
Using a mixer fitted with paddle attachment, cream butter and sugars together until very light, about 5 minutes. Add eggs, one at a time, mixing well after each addition. Stir in the vanilla. Reduce speed to low, add flour mixture and old fashioned oats, mix until just combined. Stir in white chocolate chips, pecans, blueberries and coconut.
Using an ice-cream scooper, scoop 9 mounds of dough (the size of a scant ¼ cup) onto a baking sheet. Using the bottom of a glass, press the mound down slightly as these cookies do not spread very much. Bake for 14 to 16 minutes. Transfer cookies to a wire rack to cool. Repeat with remaining dough.
Notes
You can keep the dough in the refrigerator or freezer (already formed in mounds) for baking another day (sometimes I will bake just 1 or 2 cookies when a sweet tooth strikes me).
Nutrition Information:
Yield: 48
Serving Size: 1 cookie
Amount Per Serving:
Calories: 192
Total Fat: 10g
Saturated Fat: 5g
Trans Fat: 0g
Unsaturated Fat: 5g
Cholesterol: 22mg
Sodium: 131mg
Carbohydrates: 23g
Fiber: 1g
Sugar: 14g
Protein: 3g
Nutrition information is a guideline only, is calculated automatically by third party software, and absolute accuracy is not guaranteed.