The title of these cookies is a mouthful and I thought about shortening it and naming it something cute like "Blueberry Fields Cookies" or maybe even "Kitchen Sink Cookies" because just about everything but the kitchen sink is in them, but I decided to stick with an obvious description of what is in the cookies. What these cookies really should be called are AMAZING.
I made several batches of similar cookies over the past several months, I added a little of 'this' and a little of 'that' until I baked a cookie that is simply out of bounds. You must use the dried blueberries in this recipe, they just make a difference and are a delightful surprise. Actually, the coconut, white chocolate, pecans and oatmeal are a must too. These cookies are begging to be made repeatedly and eaten immediately.
Yield: 3-4 dozen
Blueberry, Pecan, Coconut, White Chocolate, Oatmeal Cookies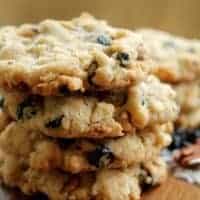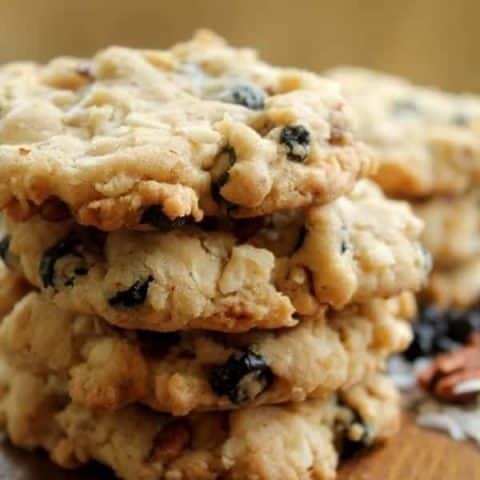 Packed with dried blueberries, coconut, pecans, white chocolate and oatmeal, these cookies are absolutely amazing.
Prep Time 10 minutes
Cook Time 30 minutes
Total Time 40 minutes
Ingredients
3 cups (420 grams) bread flour
1 ¼ teaspoons baking soda
1 ½ teaspoons baking powder
1 1/2 teaspoons salt
1 ¼ cups unsalted butter, softened (10oz or 284 grams)
1 ¼ cups (284 grams) light brown sugar
1 cup granulated sugar
2 large eggs
2 teaspoons vanilla extract
1 ½ cups (150 grams) old fashioned oats
2 cups (310 grams) white chocolate chips
1 ½ cups (150 grams) pecans, toasted and coarsely chopped
2 cups (345 grams) dried blueberries
1 ½ cups (140 grams) dried, sweetened coconut flakes
Instructions
Pre-heat oven to 350° and line a baking sheet with parchment paper or spray with non-stick cooking spray.
Sift flour, baking soda, baking powder and salt into a bowl. Set aside.
Using a mixer fitted with paddle attachment, cream butter and sugars together until very light, about 5 minutes. Add eggs, one at a time, mixing well after each addition. Stir in the vanilla. Reduce speed to low, add flour mixture and old fashioned oats, mix until just combined. Stir in white chocolate chips, pecans, blueberries and coconut.
Using an ice-cream scooper, scoop 9 mounds of dough (the size of a scant ¼ cup) onto a baking sheet. Using the bottom of a glass, press the mound down slightly as these cookies do not spread very much. Bake for 14 to 16 minutes. Transfer cookies to a wire rack to cool. Repeat with remaining dough, or reserve dough in the refrigerator or freezer (already formed in mounds) for baking another day (sometimes I will bake just 1 or 2 cookies when a sweet tooth strikes me).