This is a moist, tender cake with a delightful and delicious lavender flavor in both the cake and the cream cheese icing.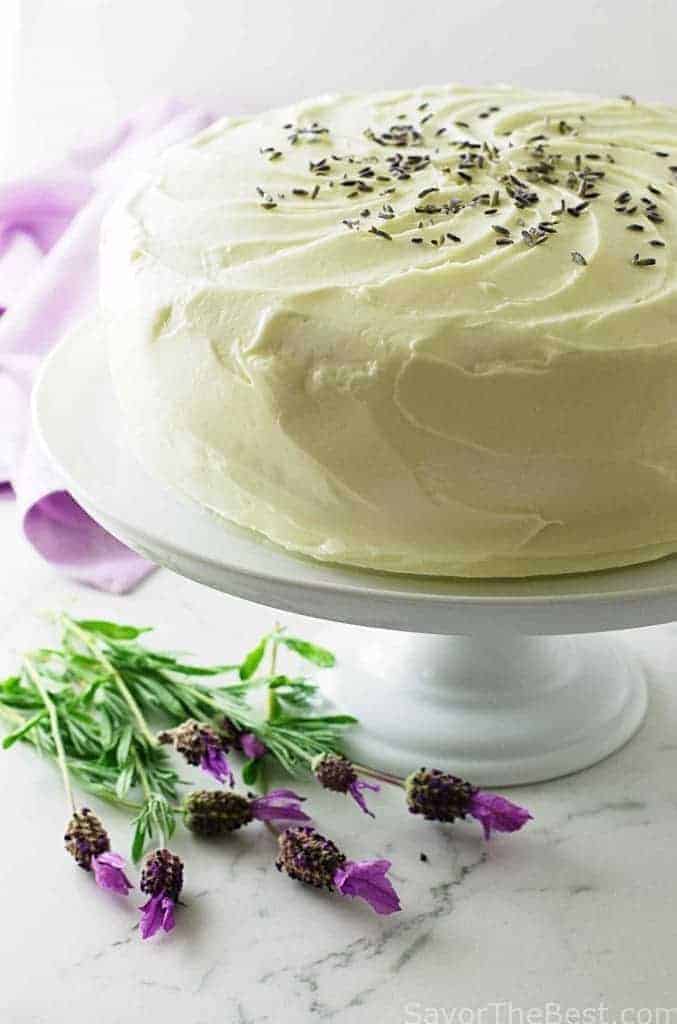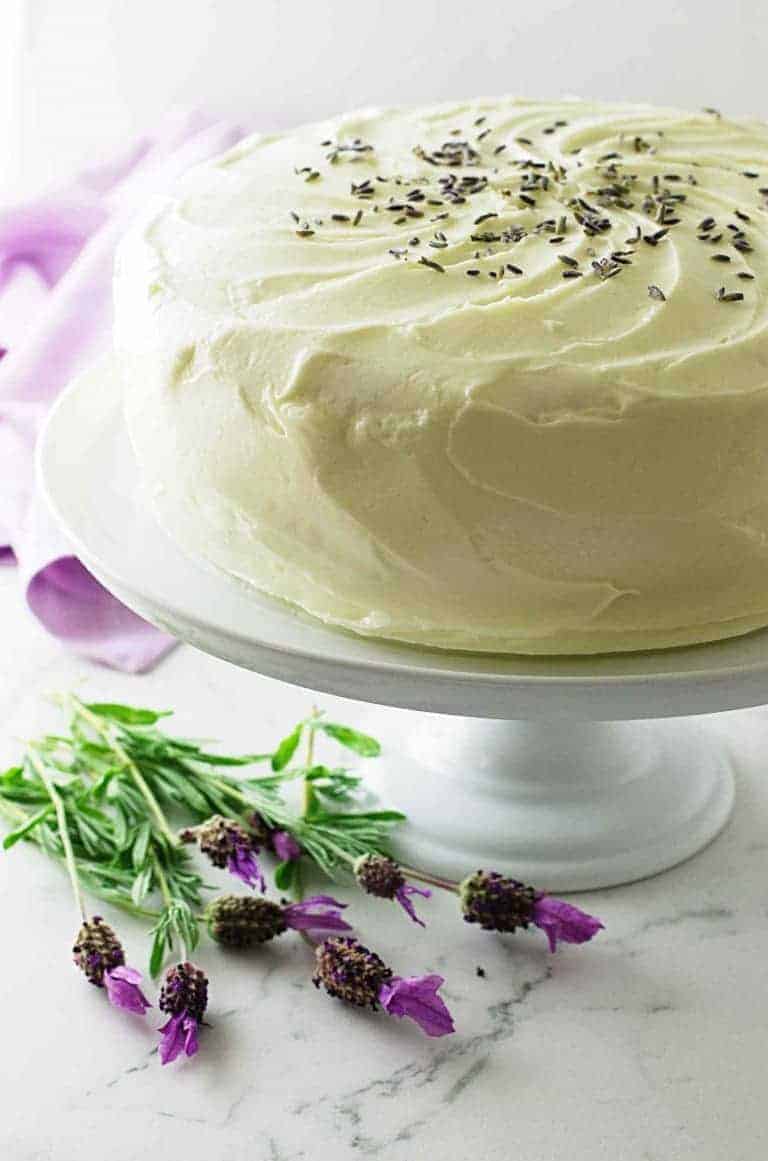 When I first saw this plant at Costco I began thinking scones with lavender, shortbread cookies with lavender, lavender cake…. and that was enough of an incentive to convince me to buy it. After toting it to my car and spilling dirt on the back seat floorboard carpeting, I managed to get it home without any damage and planted it in a large pot just where I had imagined it to be. Perfect!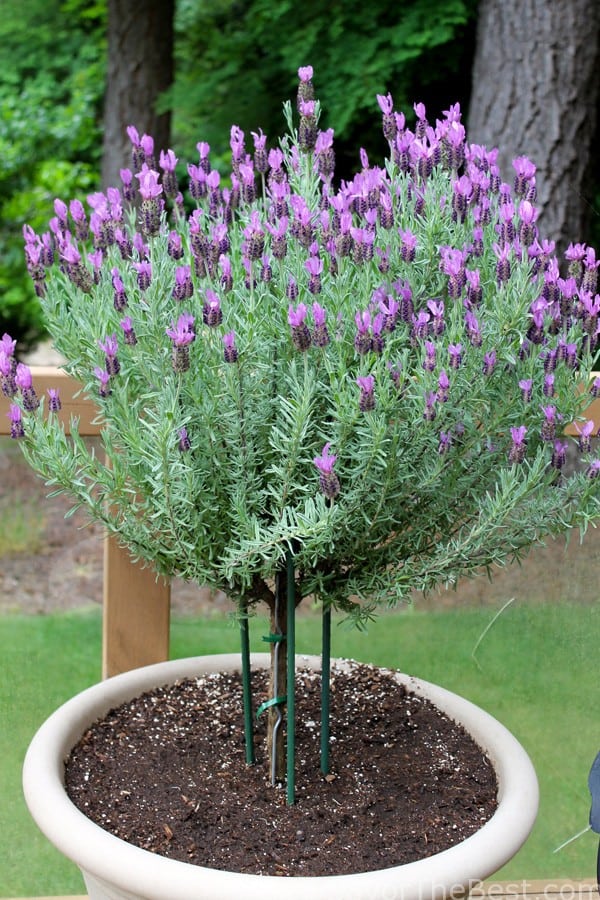 Later, when reading the instructions and care label on the plant, I saw in very tiny print at the bottom was the notation: "Not for culinary use".
Bummer! Now my head was all geared up to use the dried lavender buds in something delicious. So I went online and ordered some organic culinary lavender buds and organic culinary lavender oil from Amazon to assuage my disappointment.
About culinary lavender:
Lavender is an evergreen, perennial plant that is grown for both ornamental and culinary uses. It has fragrant flowers in varying shades of lavender from light pinkish lavender to beautiful deep purple.
Did you know that lavender is an herb and a member of the mint family? And just like the many varieties of mint, so goes lavender.
Although most varieties of lavender can be used in cooking there are a couple species that create more flavor in foods. Specifically, the Lavandula anguvstifolia and Munstead have the sweetest fragrance in their flowers which contribute to the flavor in foods.
My lavender plant has the label "Not for culinary use" and is an ornamental lavender. For this recipe, we used the dried lavender buds shown in the can in the photo below.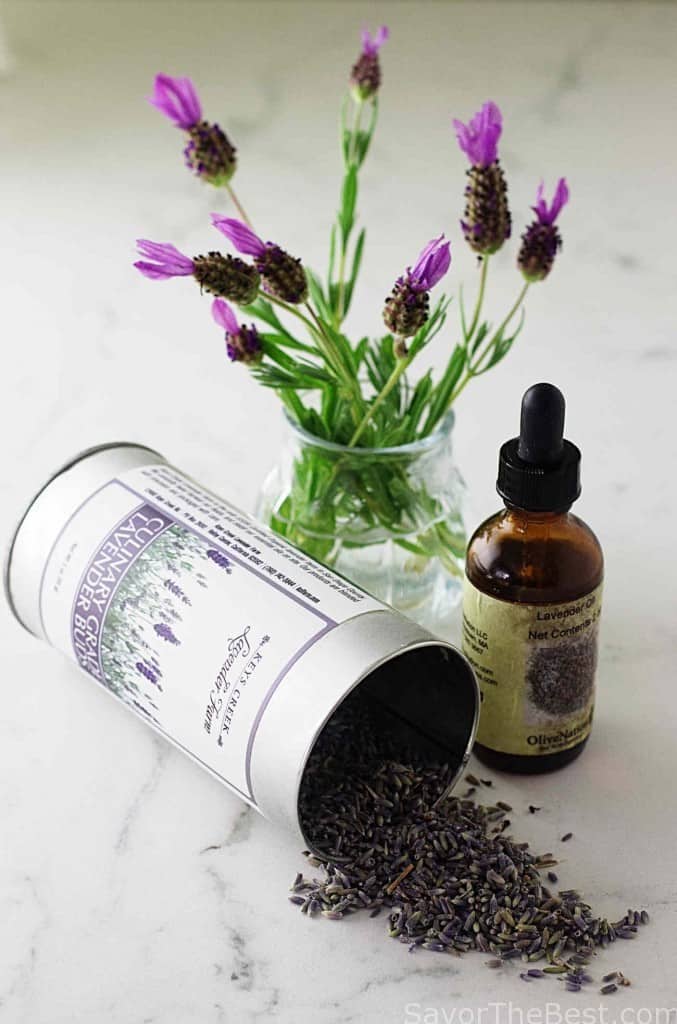 I am not the cake baker in the family as that award goes to Dahn but every now and then I will do my bit with a cake made from scratch. This particular recipe, tender white cake, is from the King Arthur Flour website with my adaptation of the lavender buds and lavender oil.
To bake this cake:
When preparing this cake, I used a recipe that has a slightly different method of mixing. It uses a paste method (also known as a reverse creaming method) instead of the traditional creaming method.
Most recipes for butter cakes start out with creaming the butter and sugar which creates tiny air bubbles in the butter which will later expand in the oven and contribute to the rise of the cake. It also helps contribute to a light and fluffy texture.
Our recipe uses the paste/reverse creaming method. I first learned this method of baking from The Cake Bible by Rose Levy Beranbaum. The paste method starts by mixing the flour with the butter.
This paste coats the flour particles with fat and minimizes gluten formation. It also minimizes the air particles that are formed while baking which results in a finer crumb with a slightly denser but very velvety texture.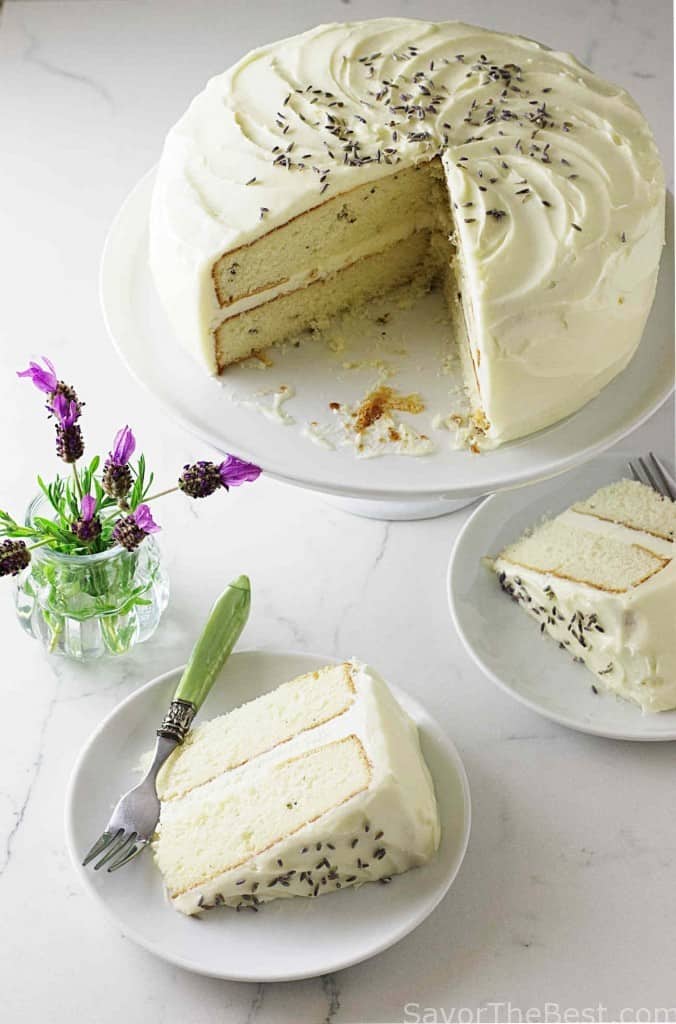 I have to tell you, though, that using the lavender flavor was a total experiment as I had to determine how much lavender would be enough but not too much.
I have had lavender cookies where the lavender was so faint that I wondered why they bothered, but too much and it can be overpowering. So, it took a couple attempts for me to discover the amount of flavoring I wanted.
Using culinary lavender oil:
One word of caution, the lavender oil is very powerful and my first attempt I thought I was being pretty conservative…. it was a total failure. I was determined to get this right though and as the oil was not equipped with a dropper I purchased one from the pharmacy and this is the result of my third cake. It is perfect!
I enjoyed this cake so much, I asked Dahn to use this recipe for the cake at my 50th anniversary party. She filled the cake layers with lemon curd and covered it with fondant. It was absolutely beautiful.
If you haven't seen our anniversary cake yet, click here to take a look. While your at it, you should check out the wine barrel cake she made for Don's 80th birthday party or any of her other cake designs.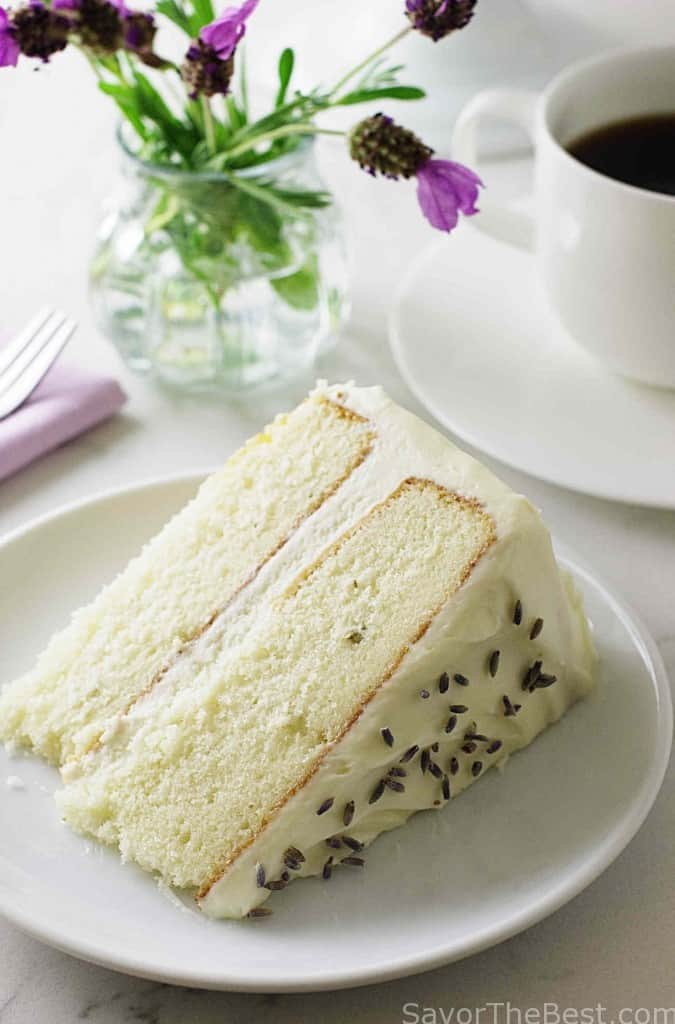 This cake makes me happy and I love the light floral flavor and the cream cheese icing has just enough lavender oil for a light flavoring and compliments the cake deliciously. It would be fun to get my lady friends together and do a little English Tea party with some fancy sandwiches, tea/coffee and serve this cake for dessert. Just thinking…:)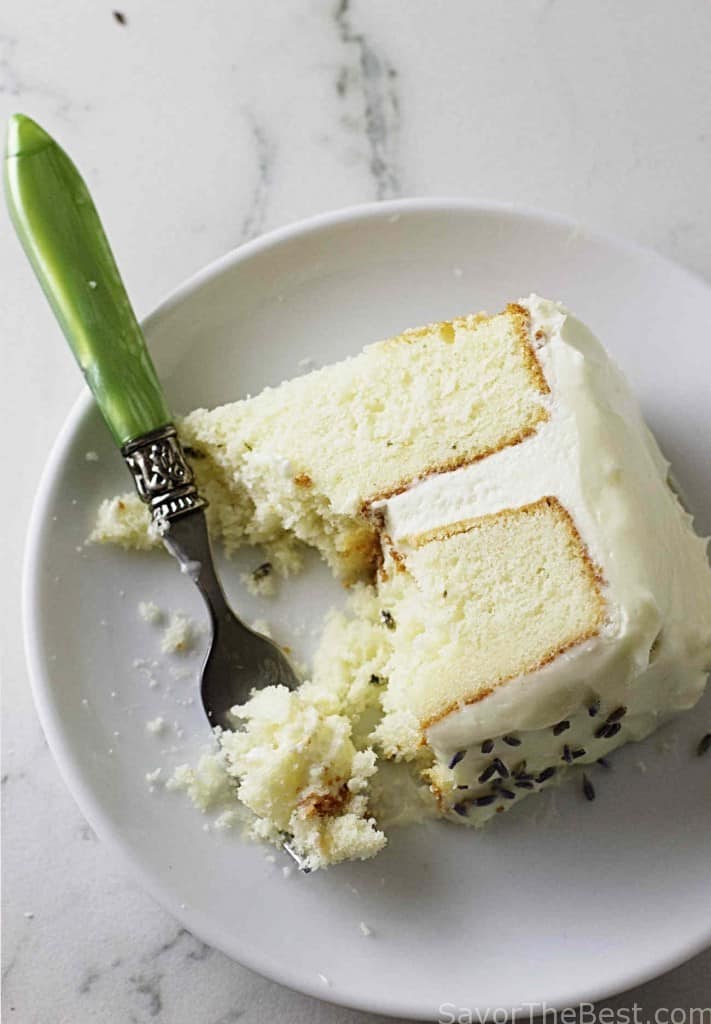 When does lavender bloom:
Lavender typically blooms June through August but it is usually at its peak in July. This July there will be a Lavender Festival in Sequim, Washington, which is about one and one-half hours from our house and I am looking forward to going to see the lavender fields.
If you're in the area in July, check out the festival. It is a fun event for couples as well as families. There are food booths, arts and crafts and live entertainment. There is also entertainment for children and of course plenty of lavender plants.
To avoid any pesticides of commercially grown lavender, make certain you use culinary lavender with this recipe. Culinary lavender is meant for consumption and is the safest choice when used in baking and cooking.
Check out these recipes:
Connect With Savor the Best:
Please follow us on our social media accounts
Facebook * Instagram * Pinterest * Youtube * Twitter
Did you make this recipe? We would love to hear from you. Drop us a comment below.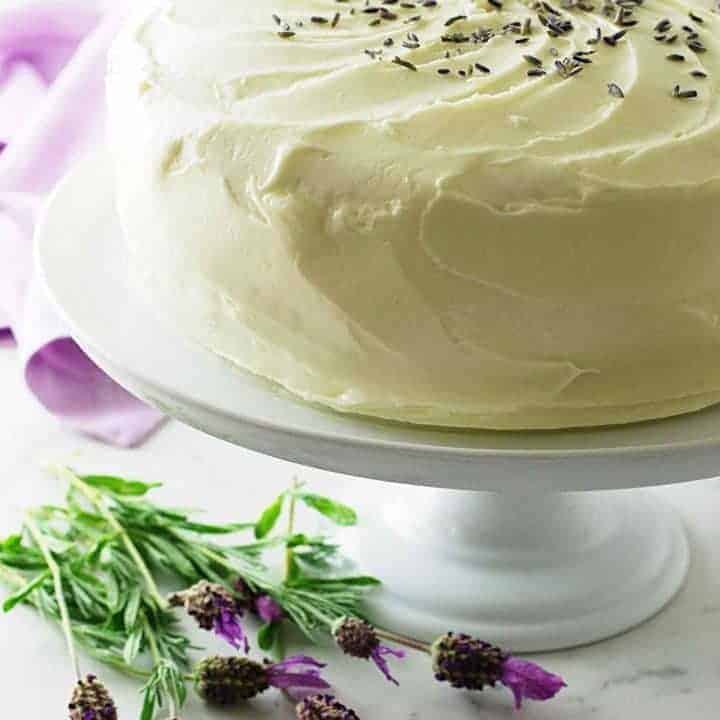 Lavender Cake with Lavender Cream Cheese Icing
A light and airy white cake flavored with lavender and topped with a lavender cream cheese icing.
Ingredients
Lavender Cake
2-3/4 cups cake flour (300 grams)
1-2/3 cups sugar, superfine is best (330 grams)
1 Tablespoon baking powder
¾ teaspoon sea salt
¾ cup butter, (12 tablespoons) softened and room temperature
4 large egg whites (room temperature)
1 whole large egg (room temperature)
1 cup whole milk (room temperature)
2 teaspoons vanilla extract
8-10 drops lavender oil, about ⅛ teaspoon (see Notes)
2 teaspoon, dried, culinary lavender buds, pulverized in a pestle or ground in a spice mill
Lavender Cream Cheese Icing:
1 cup of butter (2 sticks), room temperature
16 oz of cream cheese (2 packages), room temperature
5 - 6 cups of powdered sugar (565 to 678 grams)
1 teaspoon of vanilla extract
2-5 drops of culinary lavender oil (or to preferred taste-see Notes)
Instructions
For the Cake
Preheat the oven to 350°F
Prepare two 9"x2" round pans by lining them with parchment paper and then spray the paper with non-stick spray.
Mix the dry ingredients on slow speed for 2 minutes to blend. Add the soft butter and mix until evenly crumbly, it should resemble damp sand.
Add the egg whites one at a time, then add the whole egg, beating well after each addition to begin building the structure of the cake. Scrape down the sides of the bowl with each egg addition.
In a small bowl, whisk the milk with the vanilla and the lavender oil (see Notes). Add this mix ⅓ at a time, to the batter. Beat just until combined. Scrape down the sides and bottom of the bowl. Fold the crushed lavender buds into the batter.
Pour the batter into the prepared pans and bake for 25 to 30 minutes or until a toothpick inserted into the center comes out with just a few crumbs stuck to the toothpick. Remove from the oven and cool completely on a wire rack.
For the Lavender Cream Cheese Icing:
With an electric mixer, and using the paddle attachment, not the whisk, mix the butter and cream cheese together, about 3 minutes on medium speed until very smooth. Scrape down the sides and bottom of the bowl to ensure even mixing.
Add the vanilla extract and mix. Slowly add the powdered sugar. Keep adding until you get to desired sweetness and thickness. With the mixer on the slow speed, carefully add one drop of the oil at a time and mix well. Taste for flavor and add more oil a drop at a time to get the desired taste.
Spread icing on the cooled cake and refrigerate until serving.
Notes
Lavender oil is super powerful and you will need to drop in a couple drops at a time, mix it well and then taste it to determine if you need more. I used 10 drops and was delighted with the results.
If you do not have lavender oil you could substitute by heating the milk that is listed in the ingredients with 2 or 3 teaspoons of dried culinary lavender. Bring the milk to a boil, remove from the heat and let it steep until it is room temperature, then strain it through a sieve before adding to the cake batter.
Recommended Products
As an Amazon Associate and member of other affiliate programs, I earn from qualifying purchases.
Nutrition Information:
Yield:

12
Serving Size:

1
Amount Per Serving:
Calories:

723
Total Fat:

41g
Saturated Fat:

25g
Cholesterol:

115mg
Sodium:

254mg
Carbohydrates:

85g
Fiber:

0.6g
Sugar:

67g
Protein:

7g