This hot milk sponge cake is simply amazing. It is light, velvety, tender, and springy. If you're looking for that light springy texture like you get from a box cake mix, but without the strange chemical flavors, you have to try this cake. I have adapted the instructions to make this an easy sponge cake even for beginners.
There is nothing better than a from-scratch cake. If you like the texture of a box-mix cake, you are going to like this cake much more. Not only does it rival the texture that so many people want from a box cake, but it also tastes far better.
Most sponge cakes tend to be dry and require a simple syrup to add moisture to the cake. This hot milk vanilla sponge cake, however, bakes up moister, richer, and softer than most sponge cakes, thanks to the hot milk and butter.
THE TEXTURE OF A BOX MIX BUT THE FLAVOR OF A FROM- SCRATCH CAKE
I have made a lot of wedding cakes for people in the past and every once in a while I would have a bride request a cake from a box mix. They would explain that they don't like butter cakes because they are dense and dry.
They grew up on home-baked cakes that came from a box mix and that is the flavor and texture they like. It always seemed strange to me because I think box cake mixes have a chemical flavor that almost coats your mouth.
I think it comes down to what a person is exposed to. If the only cakes you ever eat come from a box mix, that is what your taste buds will learn to love.
The thing that people seem to favor with the box mixes is the texture. They are light, fluffy, tender and moist. That texture is pretty easy to get in a from-scratch chocolate cake but much more difficult to achieve in an old fashioned vanilla butter cake.
Sponge cakes are different though. Sponge cakes are light, fluffy, and tender. They are not dense and heavy like a pound cake or other all-butter cakes. They tend to be a little dry since there is little or no fat but the texture is soft.
How to make a sponge cake moist.
Since sponge cakes have very little or no fat in them, they can often seem dry. Especially sponge cakes that do not have any fat, like a classic genoise. However, the great thing about a sponge cake is they can soak up a fair amount of syrup without getting soggy.
Syrup will make a dry sponge cake moist and it can even add some extra flavor if you use a flavored syrup.
How much syrup can a sponge cake hold?
As a general rule, sponge cakes can hold 3 to 4 tablespoons of syrup for every egg used in the cake recipe. The less oil and butter in a recipe, the more syrup the cake will hold without getting soggy.
This hot milk sponge cake has butter and milk which makes it a pretty moist sponge cake already. However, even though it has fat added to it, it will hold almost a full cup of syrup without getting soggy.
If you want to use syrup in this cake, drizzle about 1/2 cup of syrup on each layer.
THIS IS AN EASY VANILLA SPONGE CAKE
Of all the sponge cakes I have made, this one is the easiest and least fussy. Instead of separating the eggs, you beat whole eggs to a thick ribbon stage. I will explain what that means in a minute but basically, you just beat the heck out of the eggs.
Beating whole eggs to their ribbon stage is much more forgiving than beating egg whites to stiff peaks.
For example, if you beat egg whites, you simply can not have any of the yolks get into the whites. Even a small fleck of egg yolk will sabotage the process. Heck, even a greasy bowl or spoon will contaminate the egg whites and prevent them from whipping into lovely peaks.
You can also over beat egg whites and they will collapse and get watery. But not this technique. Beating whole eggs to the ribbon stage takes longer but it is harder to mess up.
WHAT IS THE RIBBON STAGE?
The ribbon stage is when the eggs become so thick and fluffy that the batter will fall off the beaters and form a ribbon pattern on top of the mixture.
The eggs will get so much air in them that they will actually triple in volume and become very pale yellow. Then when you lift the beaters and let the mixture fall back into the bowl they fall in a ribbon-like pattern. They will keep the ribbon pattern for only a second or two and then dissolve back into the mixture.
For the best success at getting the eggs to a ribbon stage, the mixture needs to be warm. Most recipes will instruct you to place the eggs and sugar in a bowl, then set that bowl over a pot of simmering water.
You will usually spend the first several minutes beating the eggs over simmering water until the mixture is warm. After the eggs get warm, you take them off the heat and continue beating them until they get to the ribbon stage.
An easier technique for beginners.
I have made the technique a little easier for beginner bakers by eliminating the step with simmering water. Instead of whisking the eggs over simmering water to warm them, I use eggs that have already been warmed up.
In order to warm the eggs, place the eggs (while still in their shell) into a bowl of very warm water. The water should be about 110°F.
Let the eggs sit in the warm water for several minutes so they are completely warm all the way through. The warm eggs will hold more air when you whisk them.
Of course, if you want to whisk the eggs over simmering water then you can use that technique instead and you will get a slightly thicker batter.
WHAT MAKES SPONGE CAKES LIGHT AND FLUFFY?
Sponge cakes depend on well-beaten eggs for a light and fluffy texture. The ribbon stage that I mentioned above is key to success with this hot milk sponge cake.
If the eggs do not beat to a thick ribbon stage, your cake will be flat, dense, eggy, and rubbery. Make sure you whip the eggs and sugar very well before you start adding the other ingredients.
How to make this hot milk sponge cake
Beat the eggs:
The most important part of this recipe is often viewed as the most challenging. It will take a good 10 to 15 minutes of beating for the eggs to reach the ribbon stage. A stand mixer with the whisk attachment is a life saver as it can be running while you are busy with other elements of the recipe. If all you have is an electric hand mixer this is still doable, you will just have to hold the mixer and be patient. Beating the eggs to a ribbon stage is essential to a light and airy sponge cake. Normally you need to beat the eggs over a pan of simmering water.
The problem with this technique is that people can end up with scrambled eggs if it is not done correctly. This recipe modifies the technique by having you warm the eggs up while they are still in their shell.
Once the eggs get warm, you are able to beat them to the ribbon stage without placing the bowl over simmering water. The technique is a bit unconventional but it works.
I will admit though, that you will get a slightly thicker ribbon stage if you beat the eggs over simmering water. It is much easier to heat the eggs to 110°F if you beat them over simmering water but it is also a lot easier to cook the eggs, which you don't want to do.
This recipe simplifies the process and still turns out a very light, moist, and airy sponge cake.
Add the flour mixture:
When you add the flour mixture, you can either fold it in with a spatula or use a whisk at low speed. Make sure you sift the flour so all the lumps are removed.
Add the hot milk:
Before you start, heat the milk and butter over medium heat and keep it warm while you work on the rest of the cake. After you mix the flour into the egg mixture, pour the hot milk in and stir it well.
Bake the cakes:
As soon as the cake batter is blended together, you want to cook the cakes right away. This isn't a batter that you can sit aside for 30 or 40 minutes before baking it or it will start to deflate.
Just make sure you pre-heat the oven before you start.
Make the frosting:
The frosting for this cake tastes like a cheesecake mousse. It is as light as a cloud and as sweet as heaven. It is also super simple to make.
The key to success is to whip the cream cheese and sugar very well before you add the heavy cream. You want to make sure there are not any lumps in the cream cheese when you add the heavy cream. That will ensure you don't have any lumps in the frosting.
Assemble the cake:
Once the cakes cool down, drizzle them with some simple syrup. You can either make the syrup by bringing a cup of water and a cup of sugar to a boil (super simple) or you can purchase the syrup. It is easy to find and usually in the coffee aisle of the grocery store.
Next spread some berry jam over the top of the cake and then spread some frosting over that. Cover that first layer of frosting with some fresh berries then spread some more frosting over the berries to hold them in.
Repeat the process with the next cake and decorate the cake with mint leaves and babies breath or some other flowers.
I just spread a very thin film of frosting on the sides of the cake so it looks more like a naked cake. That way the berries in the middle of the cake can peak out.
SOME OTHER RECIPES WE ARE SURE YOU WILL LOVE:
Double Chocolate Cream Cheese Frosting
CONNECT WITH SAVOR THE BEST!
Be sure to follow us on our social media accounts
Facebook * Instagram * Pinterest * Twitter * Youtube
Did you make this recipe? We would love to hear from you. Drop us a comment below.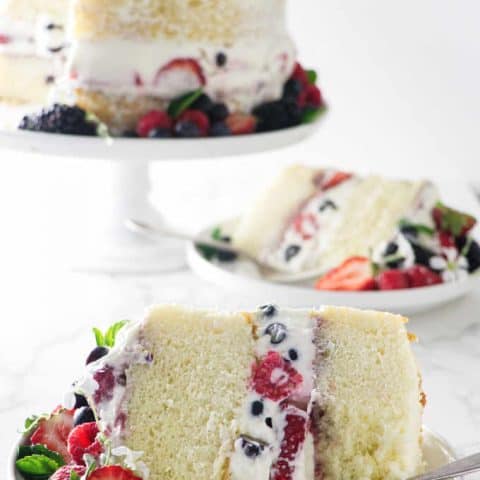 Hot Milk Sponge Cake with Berries
Yield: 12 servings
Prep Time: 20 minutes
Cook Time: 22 minutes
Total Time: 42 minutes
A light and airy vanilla sponge cake. The sponge cake is moister than typical sponge cakes because of the addition of butter and hot milk. It gets even better with vanilla syrup, berry jam and a cheesecake mousse frosting.
Ingredients
FOR THE HOT MILK SPONGE CAKE:
5 eggs
1 cup whole milk
6 tablespoons butter
2 cups sugar (400 grams)
2 cups cake flour (220 grams)
2 teaspoons baking powder
1/2 teaspoon salt
1 tablespoon vanilla extract
CHEESECAKE MOUSSE FROSTING
12 ounces cream cheese (room temperature)
1-1/3 cups powdered sugar
1 teaspoon vanilla extract
2-1/2 cups heavy whipping cream
FOR ASSEMBLY:
1/2 cup berry jam
4 to 5 cups fresh berries
baby's breath and mint leaves for decorations
Instructions
FOR THE HOT MILK SPONGE CAKE:
Place the eggs (while still in the shell) in a bowl of warm water. This will warm them up and help them whip to a higher volume. Let them sit while you prep the cake pans and the ingredients.
Preheat the oven to 350°F
Grease and flour two 8-inch cake pans and place some parchment paper in the bottom of the pans.
Place the milk and butter in a saucepan and warm it over low heat until the butter melts. Keep the pan on the lowest heat setting to stay warm while you beat the eggs.
A stand mixer with the whisk attachment is recommended but an electric hand mixer will do the job.
Crack the eggs in a large mixing bowl and add the sugar. Beat on high speed for about 8 to 15 minutes. The eggs should triple in volume and become pale yellow in color. (see notes)
Sift the flour, baking powder, and salt over the egg mixture and fold in with a spatula until it is just barely combined, you will still see some flour streaks.
Add the vanilla to the warm milk mixture and pour the milk in the batter. Stir the mixture by hand or on low speed. Scrape the sides and bottom of the mixing bowl with a spatula to make sure all the flour is incorporated.
Divide the batter into the cake pans.
Bake for 22 to 28 minutes or until a toothpick comes out clean.
When the cakes are finished baking, set the pans on a wire rack on the counter and let them cool in the pans.
CHEESECAKE MOUSSE FROSTING
Place the cream cheese, sugar, and vanilla in a mixing bowl and beat on hight speed until smooth.
Slow the mixer to low speed and slowly pour the heavy cream into the bowl, gradually increase the speed of the mixer to high speed. Beat on high speed until stiff peaks form.
ASSEMBLE THE CAKE
Brush or drizzle the simple syrup on each cake layer.
Place one layer of cake on a cake stand, spread with a thin layer of the strawberry jam then a thin layer of the frosting. Top with berries and spread or pipe a layer of frosting over the berries.
Place the other cake layer on top and spread or pipe the rest of the frosting on the top. Decorate with the remaining berries, some mint leaves and babies breath.
Notes
If you are using a stand mixer be sure to use the whisk attachment.
Warmer eggs will whip up to higher volumes than cold eggs. Place the eggs (while still in their shells) in warm water for about 5 minutes to get them slightly warmer than room temperature. The goal is to just warm them up, not cook them. The water should feel like hot bath water. 
Beat the eggs and sugar until they triple in volume. The mixture will become pale yellow and when you stop the mixer and raise the whisk, the mixture will fall back in a ribbon-like patternThis process takes about 8 to 10 minutes in a stand mixer and about 15 minutes with a hand held electric mixer. It will take all day if you whisk it by hand so get out an electric appliance for this step. 
You can purchase vanilla syrup in the coffee aisle of most grocery stores or you can make you own very easily. To make your own simple syrup, combine 1/2 cup sugar with 1/2 cup water in a saucepan and bring to a boil. Boil for about 30 to 60 seconds then remove from heat and let cool before using. 
Recommended Products
As an Amazon Associate and member of other affiliate programs, I earn from qualifying purchases.
Nutrition Information:
Yield: 12
Serving Size: 1
Amount Per Serving:
Calories: 570
Total Fat: 25g
Saturated Fat: 15g
Cholesterol: 144mg
Sodium: 265mg
Carbohydrates: 79g
Fiber: 2g
Sugar: 47g
Protein: 8g