You will love these Lavender Madeleine Tea Cakes! They are light, moist and sweet little dream treats flavored with lavender buds. They have a lovely lavender glaze on top with a sprinkling of dried lavender buds. They are perfect served warm with a hot cup of tea.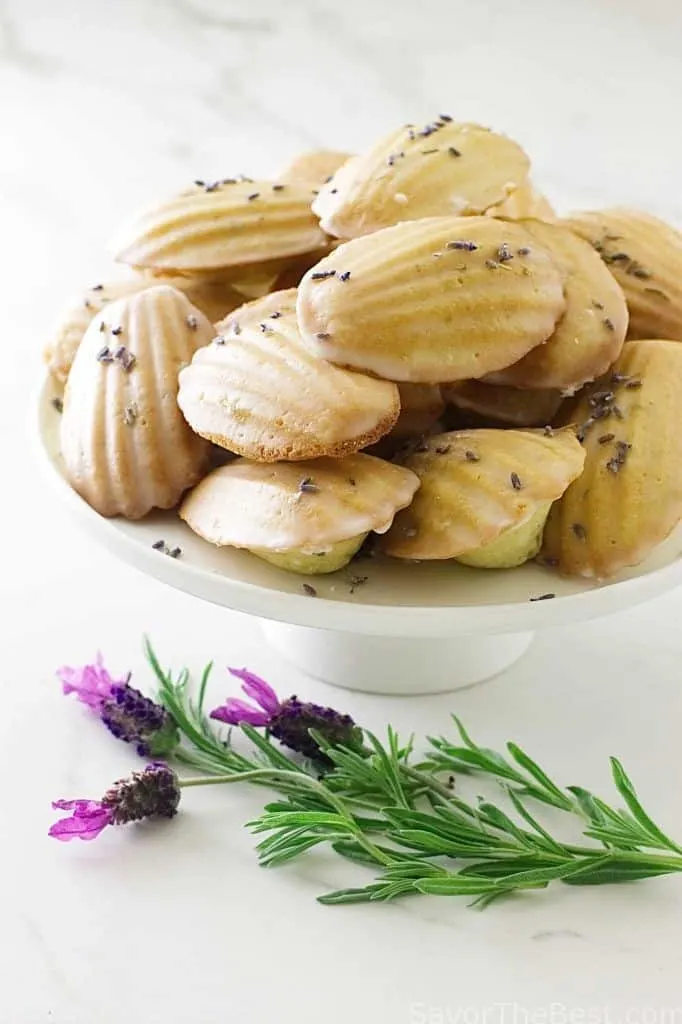 Madeleines are rich, buttery little sponge cakes baked in the shape of shells with ribs on the underside and a distinctive hump on the top and crisp golden edges all around.
Madeleine's originated in France in the 1800s and the recipe migrated to America where they are often referred to as a cookie. If you have ever tasted a homemade Madeline you will know with first-bite that it is a tiny cake and not a cookie.
Traditional French tea cakes are made from a genoise sponge cake which does not use any leaveners. It is all the beating of the eggs that causes the cakes to rise. Our Madeleine recipe is not a true genoise sponge cake as we add baking powder which increases the 'hump'.
Madeleines taste wonderful just flavored with vanilla to bring out the buttery richness but are often flavored with lemon or almond. Chocolate madeleines are another popular flavor. We chose to flavor our madeleines with culinary lavender oil, and bits of culinary lavender buds.
Serve these delightful little cakes plain or with just a dusting of confectioners' sugar. Madeleines are often dipped half-way with chocolate ganache or glazed lightly with icing. We drizzled a thin lavender-flavored glaze over the top and while the glaze was still wet we sprinkled dried lavender buds on top.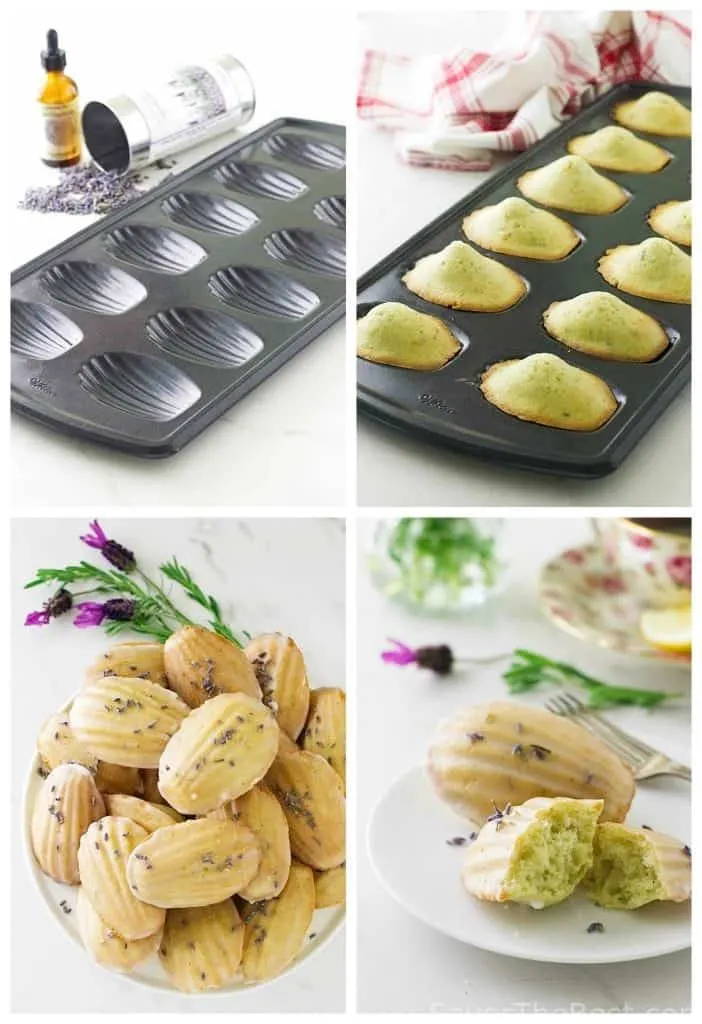 Lavender buds tend to be a little chewy but a quick grind in a spice mill or pesto breaks them up and distributes the flavor evenly throughout the batter. Lavender buds and oil should be added by using the 'taste test' method as it is easy to overdue the flavor. We used one teaspoon of ground buds and ten drops of the lavender oil (divided between the cookie batter and the icing) which gave a light lavender flavor to the baked tea cakes.
After we mixed the madeleine batter together we covered it with plastic wrap, pushing the plastic wrap right down on top of the batter, then refrigerated it overnight. This allows the gluten in the flour to absorb the liquids, the batter becomes much thicker and after baking the tea cakes will have a delicate texture. It is surprising how much thicker the batter will be after resting. You can actually let the batter 'rest' in the refrigerator for a couple of days and bake them off at your convenience.
To bake these dainty little tea cakes so they resemble the shells requires a special molded pan. If you see one on a close-out sale or at a thrift shop, grab it and bake up a batch of these babies! However, you don't need to invest in a specialty pan to bake Madeleines as they can also be baked in mini-muffin pans or even those tiny paper candy liners. But…. are they really 'Madeleines' if they aren't shell-shaped?
There is a tendency for the batter to want to stick to those ridges even if you have a non-stick pan, so a little greasing and flour dusting will be required. We used melted vegetable shortening and a silicone pastry brush to get into all the ridges then dusted them lightly with flour.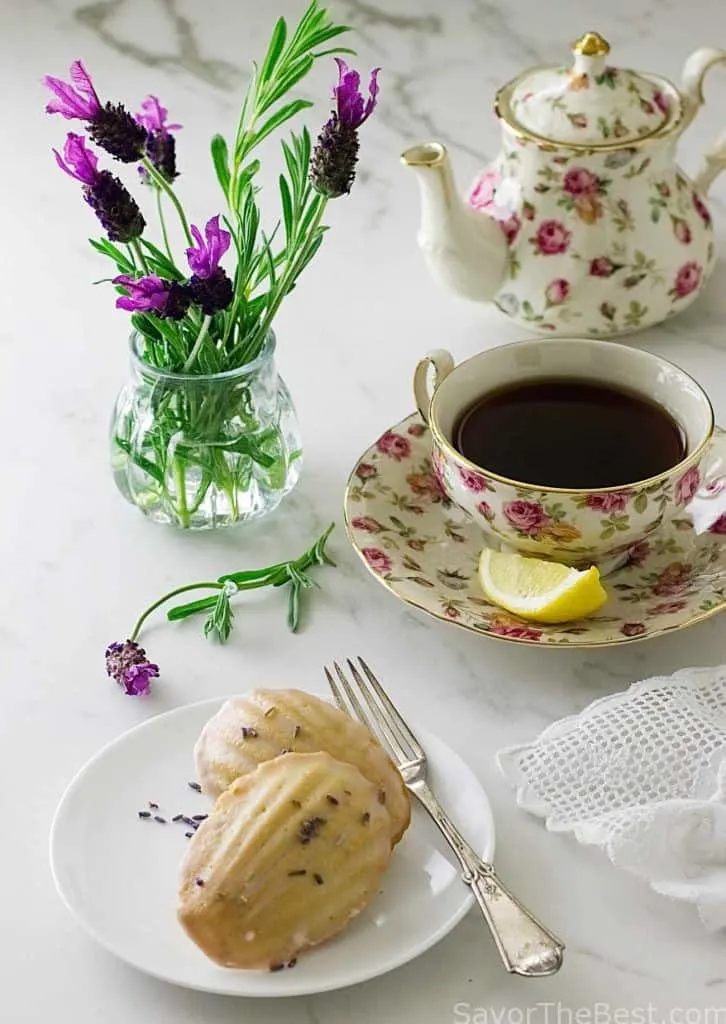 We used a small-size ice cream-type scoop to drop walnut-sized portions of the batter into the rounded section of the prepared pan. The madeleines will bake quickly in a 375°F oven for about eight minutes. They are done when the top springs back when lightly pressed, do not overbake or they will be a little dry. Flip them out of the pan as soon as you remove them from the oven and let them cool on a wire rack before adding confectioners' sugar or a glaze.
Oh, these tea cakes are just too delicious not to share with you. A word of warning, they are addictive so bake them at your own risk.
You might also like these treats: Meyer Lemon-Rosemary Loaf Cake Einkorn Brownies with Cocoa Nibs Triple Ginger-Almond Cookies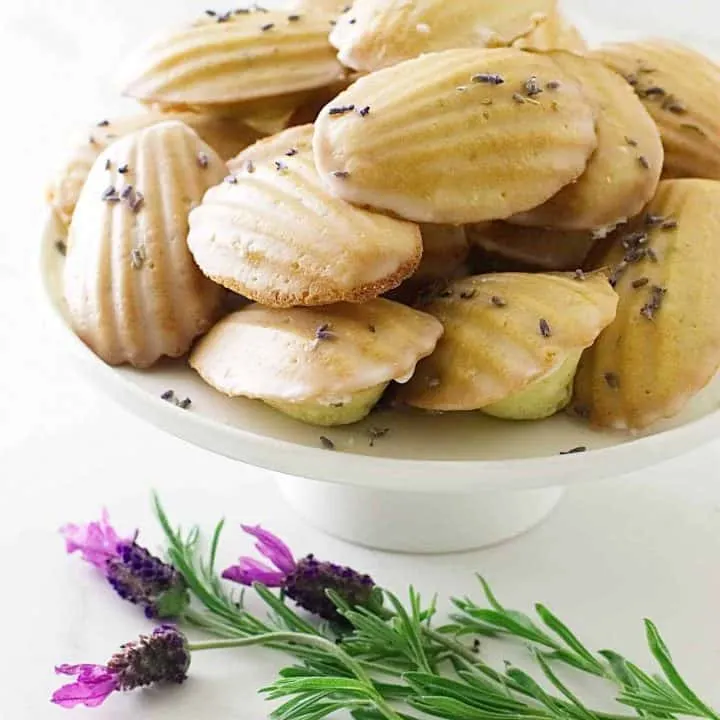 Lavender Madeleine Tea Cakes
Total Time:
2 hours
20 minutes
These Lavender Madeleine Tea Cakes are light, moist and sweet little dream treats flavored with lavender buds. They have a lovely lavender glaze on top with a sprinkling of dried lavender buds. They are perfect served warm with a hot cup of tea.
Ingredients
10 tablespoons butter, melted and cooled to room temperature
1-1/4 cup flour (150 grams)
1/2 teaspoon baking powder
1/4 teaspoon sea salt
3 large eggs, room temperature
2/3 cup (130g) granulated sugar
1 tablespoon culinary dried lavender buds, finely ground in a spice mill
zest of one lemon
2 to 3 drops of lavender oil
For the Icing
1 cup (200g) confectioners' sugar, sifted
4-5 tablespoons water
2-8 drops lavender oil (adjust to taste)
Instructions
In a small saucepan, melt the butter then set aside to cool to room temperature while preparing the madeleine cookie batter.
In a small bowl, add the flour, baking powder, and salt and whisk to combine.
Add the eggs and sugar to the bowl of an electric mixer. Beat on high speed for 5 to 8 minutes or until thick and pale in color. Add the ground lavender buds and the lemon zest, mix until combined.
Sift 1/3 of the flour mixture over the top of the egg mixture and gently fold it together. Repeat with the remaining flour in increments of 1/3 each time.
Scoop out about one cup of the batter and fold into the melted butter, (this lightens the butter and will make it easier to fold into the whole batch). Then add the mixture to the batter and fold together gently. Fold in a few drops of lavender oil (add 1 to 2 drops for a light lavender favor then taste the batter to see if you want more).
Cover the batter with plastic wrap, pressing right down onto the batter, then transfer to the refrigerator. The batter should rest for at least one hour but overnight if possible. The batter can be refrigerated for up to 3 days before baking.
When ready to bake the madeleines:
Preheat the oven to 375°F and grease and flour the madeleine pan.
Remove the batter from the refrigerator and using a small ice cream scoop or a tablespoon, drop a small portion about the size of a walnut into each shell-shape indentation of the pan.
Transfer the madeleine pan to the center rack of the oven and bake for 7-8 minutes, until the edges look golden and crisp and the cakes spring back when lightly touched. If using baking powder it may take another 30 seconds to 1 minute longer. Remove from the oven and immediately flip them onto a kitchen towel then place on a wire rack to cool.
To Make the Lavender Glaze:
Mix the confectioners' sugar with 3 tablespoons of water. Stir until smooth and add additional water a tablespoon at a time until you have a thin mixture.
Add several drops of lavender oil, tasting the glaze before adding additional drops. Be cautious as it is easy to over flavor.
Nutrition Information:
Yield:

24
Serving Size:

1
Amount Per Serving:
Calories:

131
Total Fat:

7g
Saturated Fat:

3g
Trans Fat:

0g
Unsaturated Fat:

3g
Cholesterol:

36mg
Sodium:

80mg
Carbohydrates:

16g
Fiber:

0g
Sugar:

10g
Protein:

2g
Nutrition information is a guideline only, is calculated automatically by third party software, and absolute accuracy is not guaranteed.