Our einkorn almond cake is a dense, moist cake with pronounced flavors of honey and almonds and topped with a heavenly mascarpone honey frosting.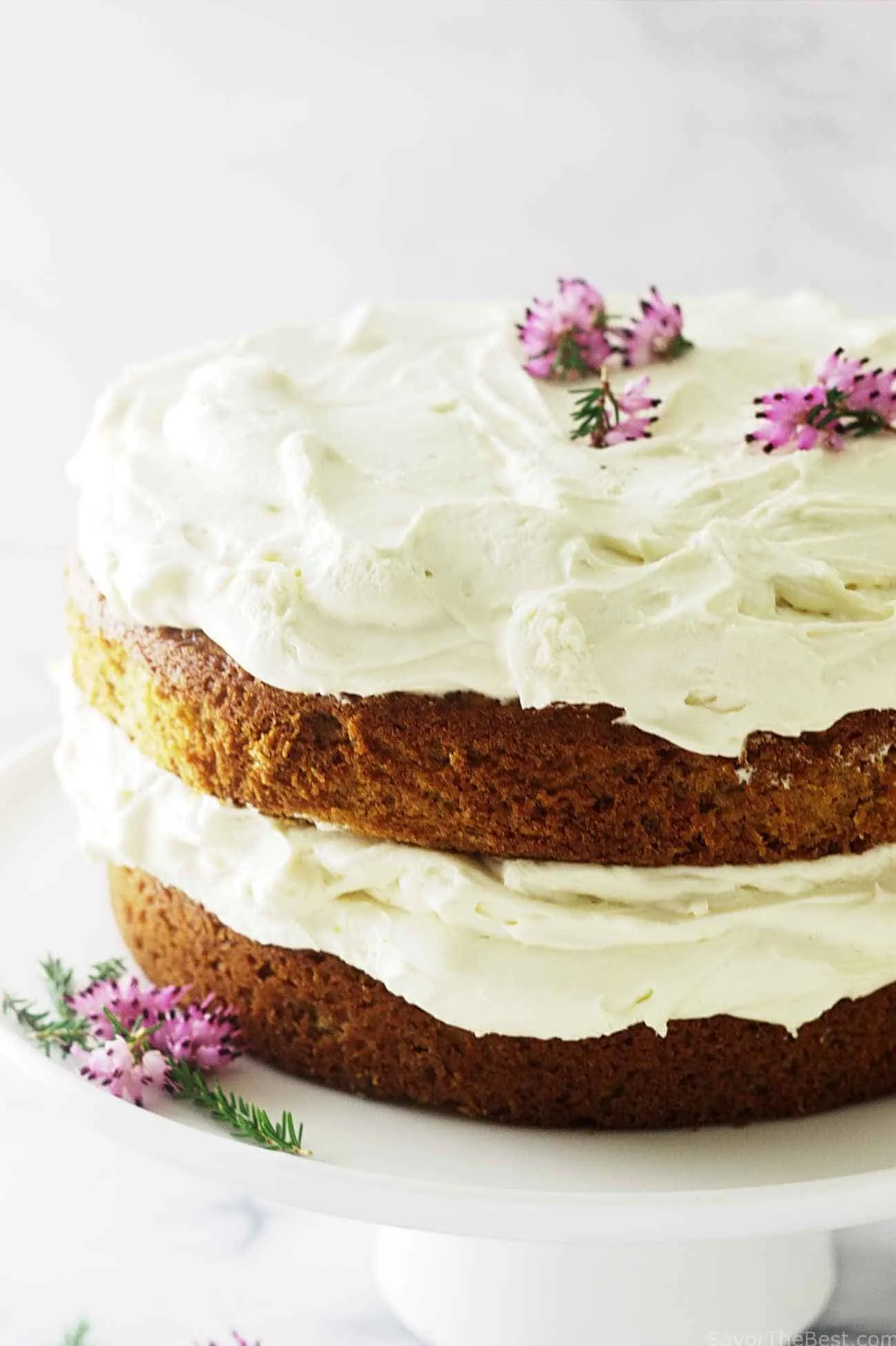 This is a delicious honey almond cake made a little more healthy with Einkorn flour and zero processed sugar. Einkorn flour has a lower gluten proportion than regular flour and is very easy to digest. Although it is not recommended for people with Celiac disease, many people that are sensitive to gluten are able to tolerate the gluten in Einkorn.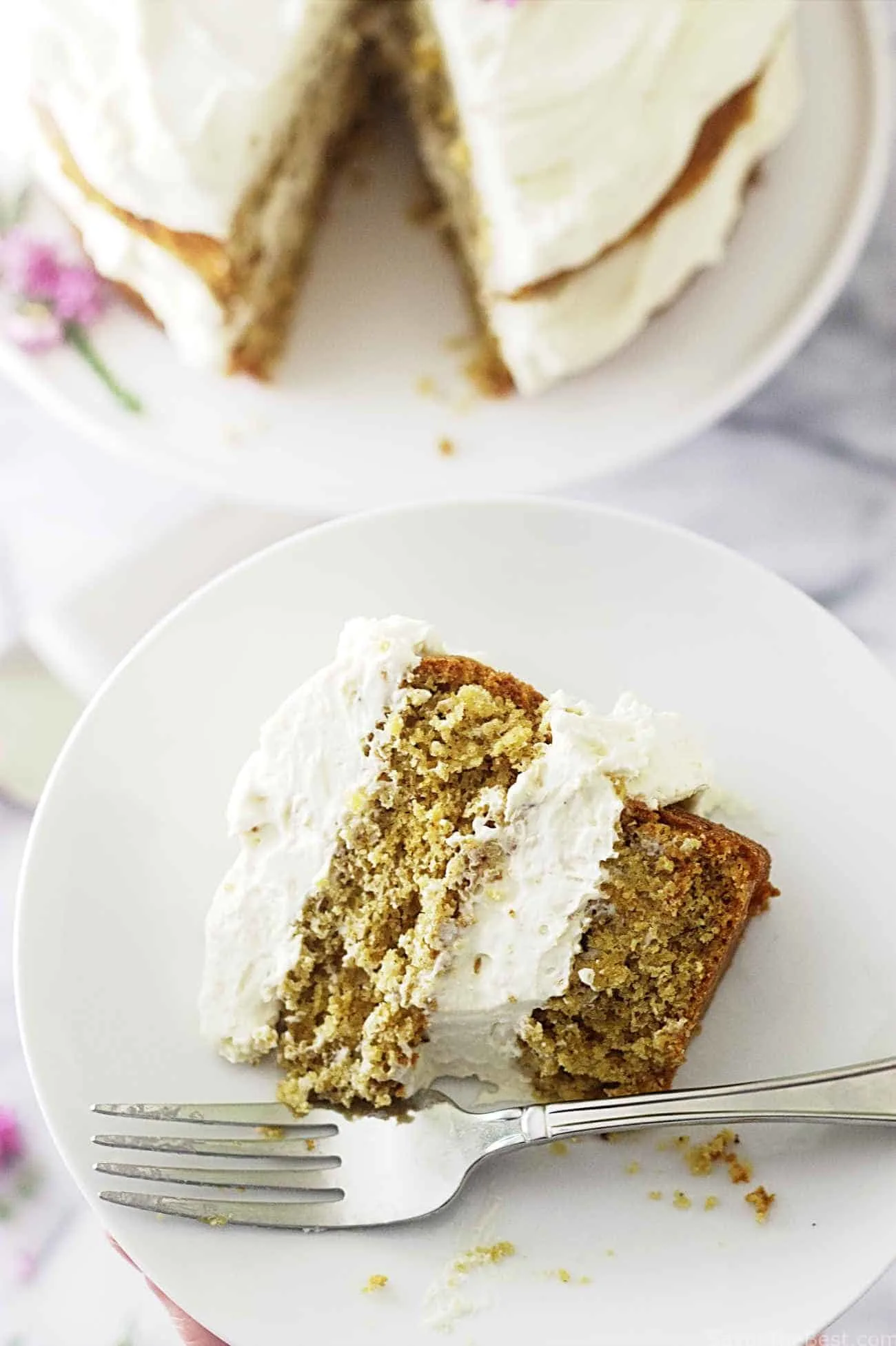 If for anything else, I use Einkorn because it has FLAVOR. It really tastes good and adds to the incredible flavors in this cake. And these flavors? You just can't go wrong. The honey is definitely pronounced in this cake. I used a clover honey which has a mild, delicate flavor but you could certainly go with a bold, strong flavored honey.
The ground almond meal adds texture, flavor and moisture. This is a dense, rich cake that would be perfect for an afternoon tea or with a cup of coffee. If I'm being perfectly honest with you, it went well with my morning coffee yesterday at breakfast… true confessions.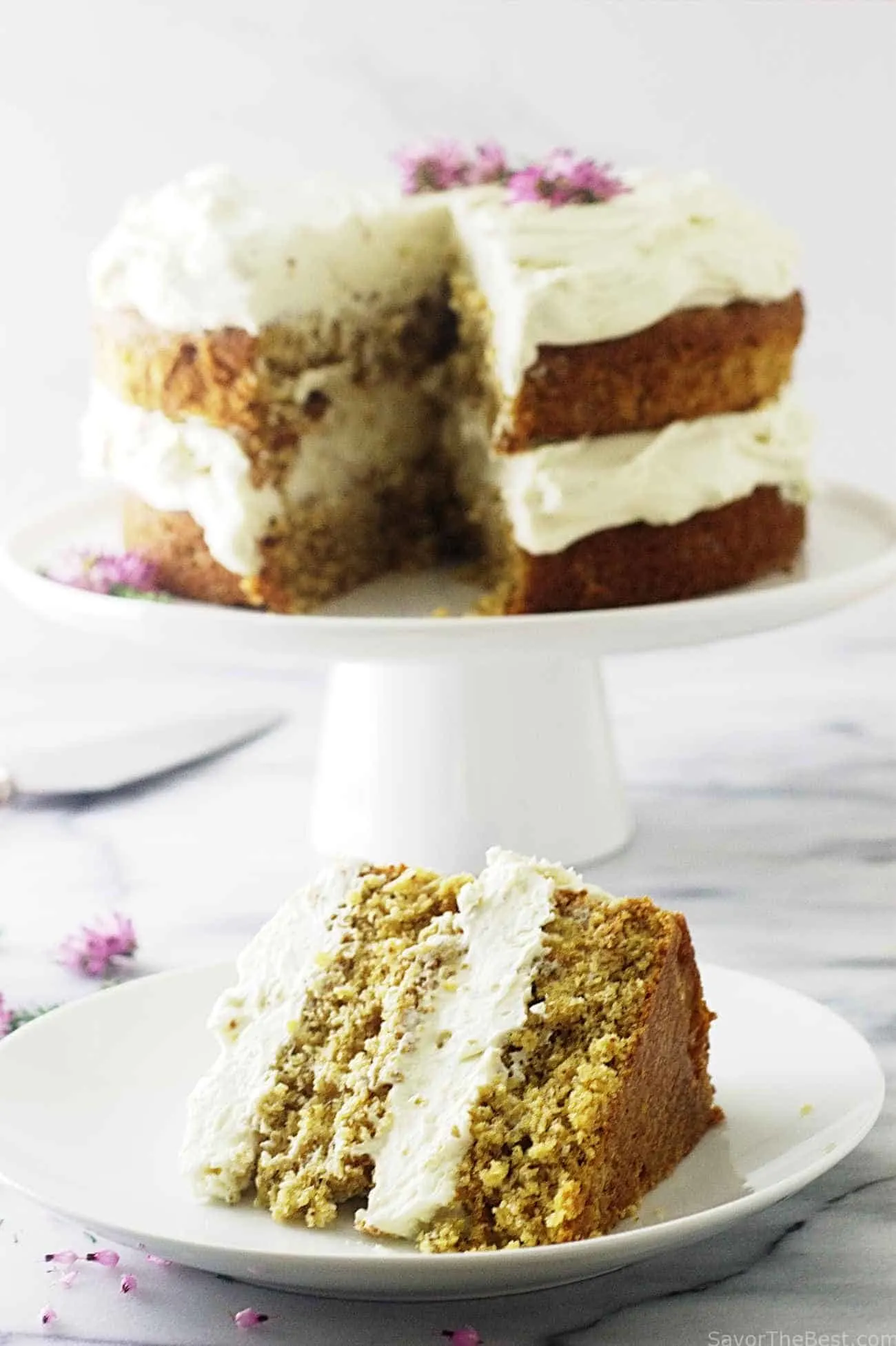 Now the frosting on this cake is beyond words. It is a heavenly cloud of lusciousness. I'm not kidding, those words can not describe it well enough.
I love this frosting! Simply sublime! It is also easy to make. Whip everything up with a chilled bowl and beaters to get the best results, and if you want to make it a day in advance I recommend using a pinch of xanthan gum.
The xanthan gum is an emulsifier that will stabilize the whipped frosting so it will hold up longer. It won't effect the flavor or texture unless you add too much. It only takes a small pinch to have a strong stabilizing effect. If you get too heavy handed with the stuff you will end up with a gummy ruined frosting.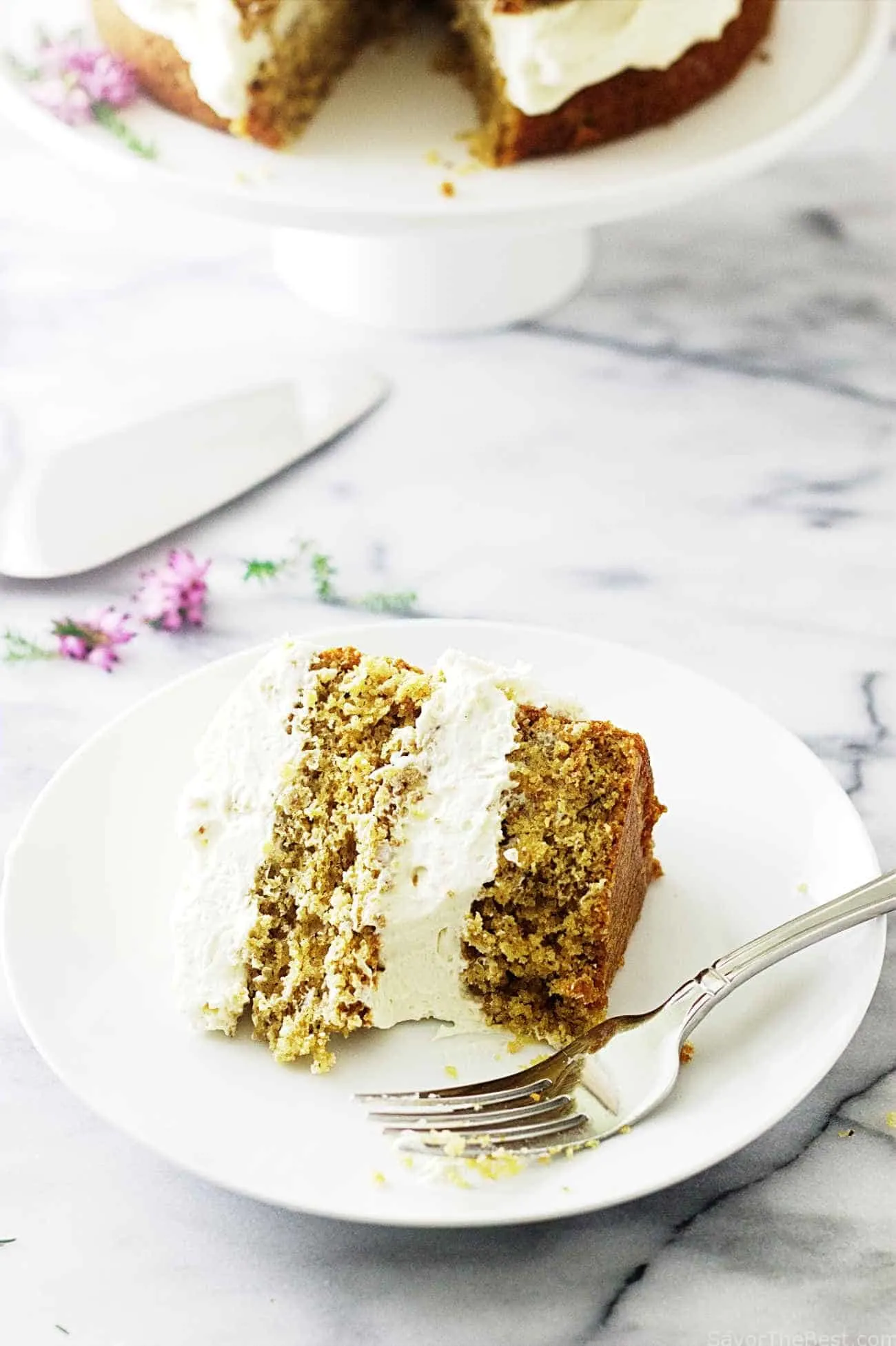 If you're wondering what xanthan gum is, it is a product used as a thickener or stabilizer in foods. It is made by fermenting corn or wheat sugars with certain bacterias.
The folks at Bob's Red Mill use sugars from wheat starch, however, it is gluten free. Since the process involves using the sugars in the wheat and not the proteins, there is no gluten involved in the production of xanthan gum. It is my secret ingredient for stabilizing whipped cream.
You may also like our Lavender Cake with Lavender Cream Cheese Icing or our Black Forrest Cherry Cake
For More Einkorn Recipes: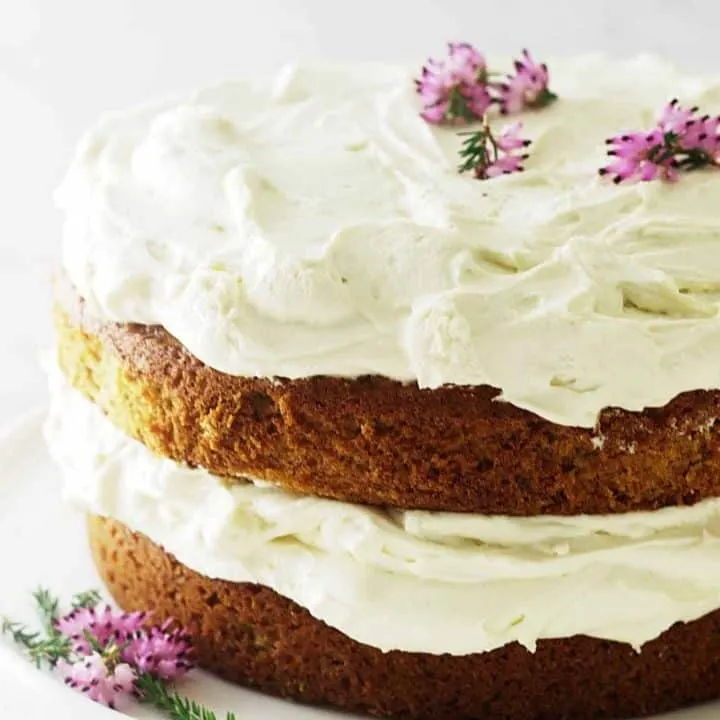 Einkorn Honey Almond Cake
This honey almond cake is a dense, moist cake made with Einkorn flour. It has pronounced flavors of honey and almonds and it is topped with a heavenly mascarpone honey frosting.
Ingredients
Dry Ingredients
1 3/4 cups sifted all purpose Einkorn flour (210 grams)
2/3 cup almond meal/flour (74 grams)
1 1/4 teaspoons baking powder
1/2 teaspoon baking soda
3/4 teaspoon salt
Wet Ingredients
12 tablespoons butter softened (170 grams)
1 cup honey (340 grams)
1/4 cup coconut sugar (50 grams)
3 eggs
1/2 cup sour cream (120 grams)
1 teaspoon almond extract
1 teaspoon vanilla extract
Honey Mascarpone Frosting
2 cups heavy cream (680 grams)
1 cup mascarpone cheese (226 grams)
1/4 cup plus 2 tablespoons honey (90 grams)
1/2 teaspoon vanilla extract
1/4 teaspoon xanthan gum (optional, see notes)
Instructions
For the cake
Preheat the oven to 325°F. Grease two 8-inch round cake pans and dust them with flour or line the bottoms of them with parchment paper.
In a large bowl, blend the dry ingredients together and set aside.
In a medium mixing bowl, combine the butter, honey and coconut sugar and beat on medium speed until smooth. Add the eggs one at a time and beat until well blended then add the sour cream, almond extract and vanilla extract.
Add the flour mixture to the wet mixture and fold it in with a spatula until well combined.
Divide the batter into the two prepared cake pans. Bake for 25 to 30 minutes until a toothpick inserted in the middle comes out clean.
Keep the cakes in their pans while you let them cool on wire racks.
Mascarpone Honey Frosting
Chill a mixing bowl and the whisk attachment in the freezer for 3 to 4 minutes.
When the bowl is chilled, remove it from the freezer and place the cream and mascarpone in the bowl. Whisk on medium high speed until soft peaks form. Pour in the honey, vanilla and xanthan gum, if using, and continue to whisk until stiff peaks form. Refrigerate until ready to frost the cake.
To frost the cake
Invert the cake onto a cake plate and peel off the parchment paper. Spread half of the frosting on top of the cake then invert the second cake on top of the frosting. Peel off the parchment and spread the rest of the frosting on top.
Notes
All purpose Einkorn flour forms clumps so it is best to sift the flour
Using a kitchen scale will give you the most accurate measurement of your flour. If you don't have a kitchen scale, be sure to sift the flour first then spoon it into the measuring cup and level it off.
Xanthan gum is optional, it will stabilize the whipped frosting and help it last longer. If you use the xanthan gum the frosting will remain stabilized for 2 to 3 days. It doesn't take much, do not use more than the 1/4 teaspoon called for in this recipe or the frosting will have a gummy texture.
There is enough frosting in this recipe to fill and frost the entire cake if desired. If you choose to frost the entire cake, use 1/3 of the frosting to fill the cake and the remaining 2/3 to cover the cake.
Nutrition Information:
Yield:

10
Serving Size:

1
Amount Per Serving:
Calories:

791
Total Fat:

59g
Saturated Fat:

34g
Trans Fat:

2g
Unsaturated Fat:

20g
Cholesterol:

214mg
Sodium:

627mg
Carbohydrates:

60g
Fiber:

3g
Sugar:

40g
Protein:

10g
Nutrition information is a guideline only, is calculated automatically by third-party software, and absolute accuracy is not guaranteed.