This tender einkorn pumpkin cake roll is pure decadence. The pumpkin cake is moist, incredibly tender and full of pumpkin flavor while the filling is a silky smooth mascarpone cream with a hint of rum.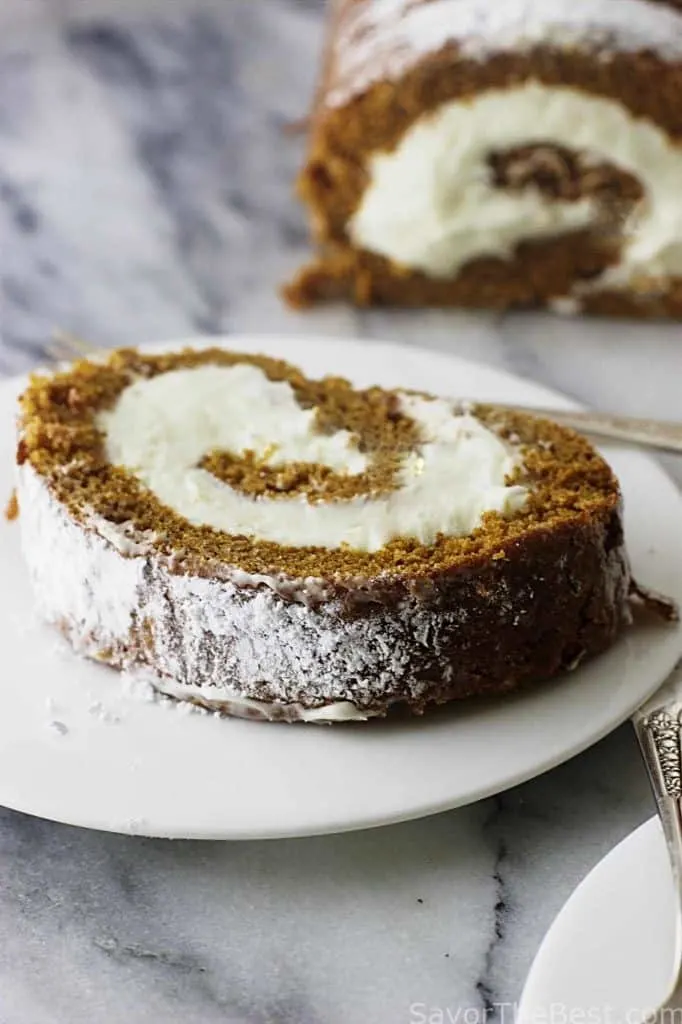 We used einkorn flour to make the tender pumpkin cake. Even though einkorn flour has a high protein content, it behaves more like a low protein, low gluten flour such as cake flour. It is the perfect flour for baking delicate, tender cakes, pancakes and pastries. It is more nutritious than cake flour and frankly, has a better flavor.
The unique properties of einkorn are what make it such a perfect flour for recipes like this cake.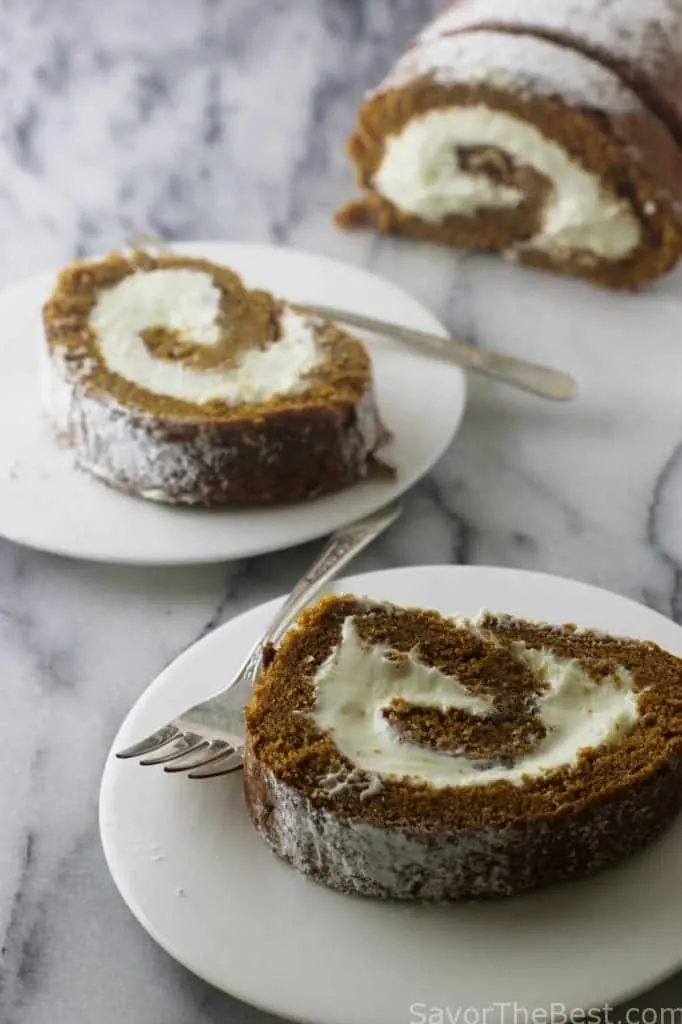 Coconut sugar is used as the sweetener in this cake and adds a rich caramelized flavor to the cake. If you haven't heard of coconut sugar before it is worth giving it a try. You can replace it cup for cup in any recipe calling for regular sugar.
Coconut sugar is made from the flowers of the coconut tree and is less refined than ordinary sugar. It does not look, taste or smell like coconuts. It actually looks and tastes more similar to brown sugar but has a more robust flavor.
Unlike regular sugar, it has impressive amounts of zinc, calcium and iron as well as antioxidants. It also contains inulin which is a water soluble plant fiber that can assist in gut health and overall metabolism. This doesn't mean you will be healthier if you start consuming large quantities of coconut sugar. It is after all, still sugar and should be used conservatively like any other form of sugar. We do however feel that it lends a slightly healthier choice for sugar and has a unique flavor profile that goes very well with many baked goods.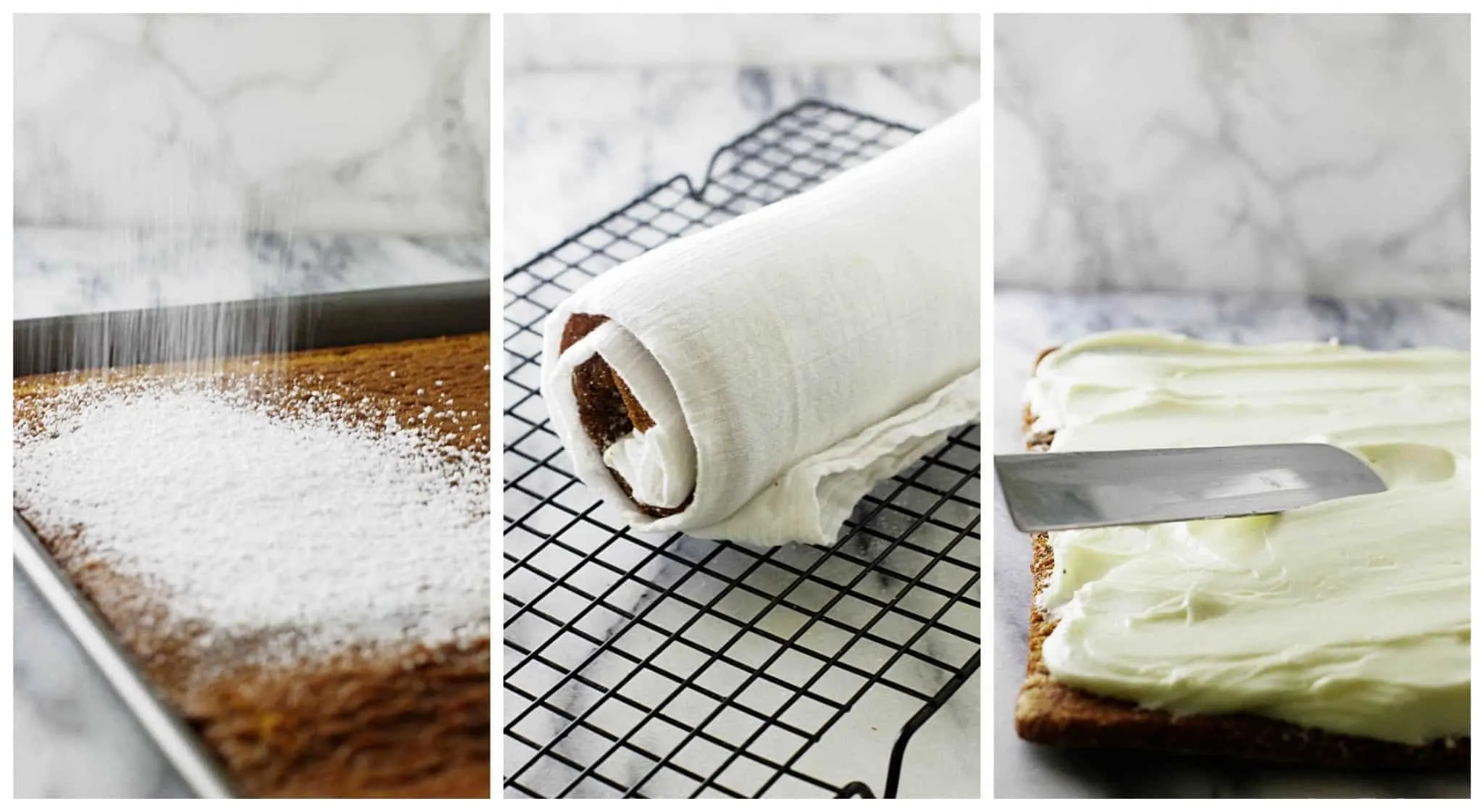 The tender pumpkin cake is easy to make and can actually be made a day ahead of time and rolled up in a towel to hold it's shape. You will want to roll the cake up while it is still warm and moldable. This is the trick to making any cake roll. If you wait until it is completely cool before you roll it up, it will not roll into a perfectly round log and might crack. This trick also gives the cake some "memory" when it is cooled and re-rolled. We used a lint free tea towel to roll the cake up then let it sit to cool down while we made the luscious mascarpone rum filling.
If you don't have a tea towel you can use parchment paper but a good dusting of powdered sugar will prevent everything from sticking when you unroll it.
Once the cake has come to room temperature, unroll it, spread it with the filling, then roll it back up again. Make sure you don't put the cake in the refrigerator before you unroll it. A very cold cake will crack when you unroll it and make the process a bit messy. However once you roll it back up with the mascarpone filling, you will definitely need to keep it in the fridge.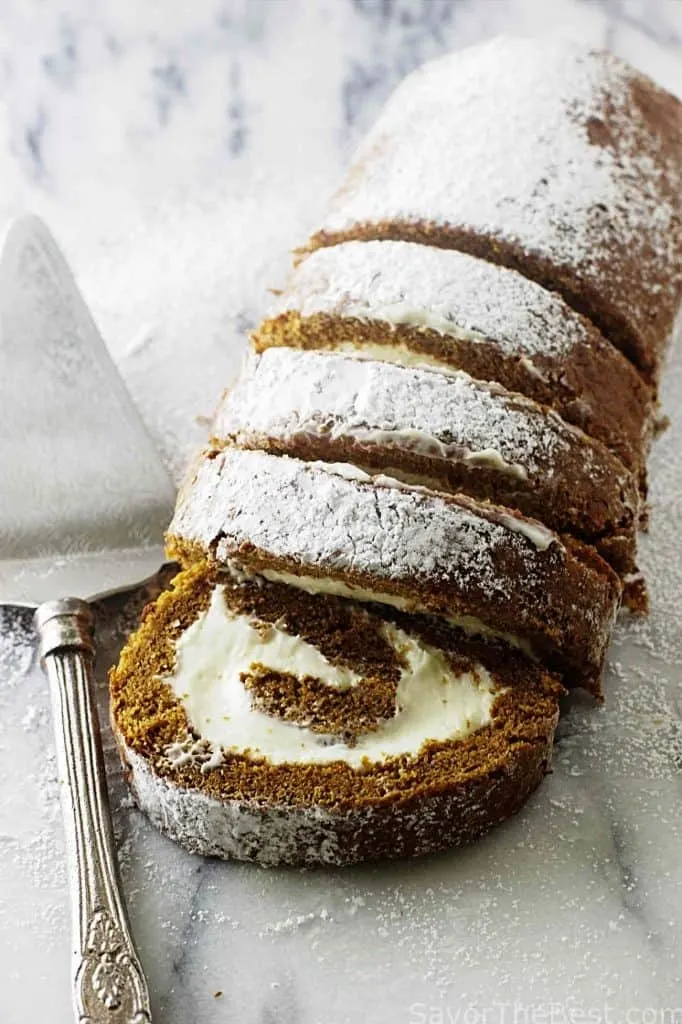 You might also enjoy our Pumpkin Spice Caramel Latte Cake or our Coconut Cake Roll or our Einkorn Honey Almond Cake
CONNECT WITH SAVOR THE BEST!
Be sure to follow us on our social media accounts
Facebook * Instagram * Pinterest * Twitter * Youtube
Did you make this recipe? We would love to hear from you. Drop us a comment below.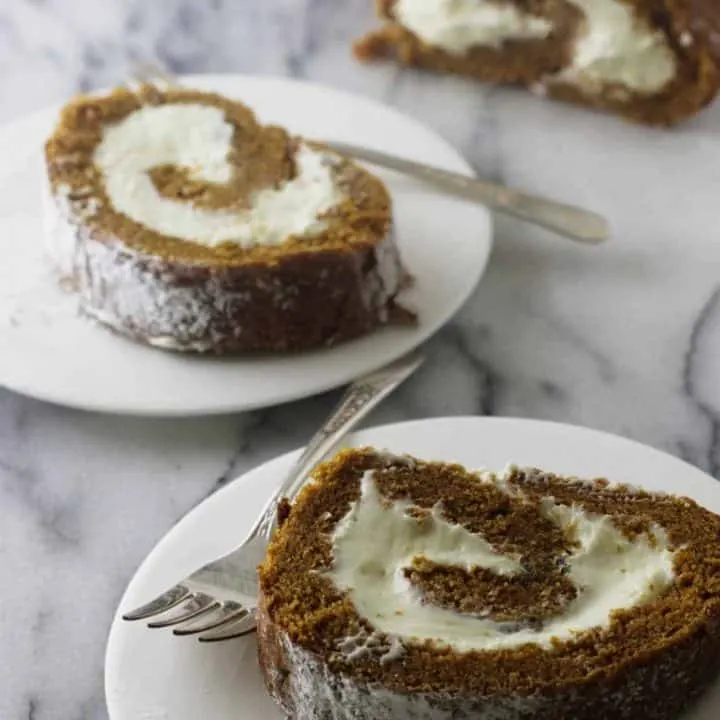 Einkorn Pumpkin Cake Roll
This tender pumpkin cake roll is pure decadence. The pumpkin cake is moist, incredibly tender and full of pumpkin flavor while the filling is a silky smooth mascarpone cream with a hint of rum.
Ingredients
Cake
3/4 cup all purpose einkorn flour (90 grams)
1/2 teaspoon baking powder
1/2 teaspoon baking soda
1 teaspoon pumpkin pie spice
1/4 teaspoon salt
3 eggs (room temperature)
1 egg white
1 cup coconut sugar (200 grams)
1 teaspoon vanilla extract
2/3 cup canned pumpkin puree (150 grams)
1/4 cup powdered sugar (use this to roll the cake up with a towel)
Filling
8 ounces mascarpone cream
1 cup powdered sugar
1/8 teaspoon salt
3 tablespoons rum (or 1 1/2 teaspoons rum extract)
1 cup heavy cream
Instructions
For the cake
Preheat the oven to 375° F
Spray a 15 X 10 inch jelly roll pan with non-stick spray. Line the pan with parchment paper then spray the parchment paper with non-stick spray.
Place a mesh strainer over a bowl and place the flour, baking powder, baking soda, pumpkin pie spice and salt into the strainer and sift into the bowl. Sifting the dry ingredients will ensure that any lumps will be removed from the einkorn flour which tends to clump easily.
Combine the eggs, egg white and coconut sugar in a large mixing bowl and beat until thick, about 3 minutes. Beat in vanilla extract and pumpkin puree. Fold in flour mixture until well combined. Spread evenly into the prepared jelly roll pan.
Bake for 11 to 14 minutes until the cake springs back when touched.
Immediately run a knife along the edge of the pan to loosen the cake from the pan.
Dust the top of the cake with confectioner's sugar and place a kitchen towel over the sugar. Place a baking sheet or plastic cutting board over the towel and flip the cake over so the bottom of the cake is on top.
Gently peel off the parchment paper and roll the cake in the towel jelly-roll style, starting with a short side. Cool completely on a wire rack.
For the filling/frosting:
In a stand mixer, fitted with a whisk attachment, add the mascarpone cream, powdered sugar, salt and rum. Whisk together just briefly until smooth. Stop the motor and scrape down the sides and bottom of the bowl. With the mixing speed on low, add the heavy cream and slowly raise the speed and beat until the mixture is thick and creamy and has formed firm peaks.
To assemble the cake roll:
Unroll cake. Spread the mascarpone cream evenly over cake to within 1 inch of edges. Roll up again and place seam side down on a serving platter. Cover and refrigerate for 1-2 hours. Sprinkle with powdered sugar before serving. Store in the refrigerator. Yield: 10-12 servings.
Notes
Make sure you measure your jelly roll pan. This recipe calls for a 10 x 15 inch jelly roll pan. If you use a larger pan the cake will be too thin. The side of the jelly roll pan should be 3/4 inch high.
Whole eggs will whip up with much more volume if they are brought to room temperature before you whip them. You can bring them to room temperature quickly by placing them in a bowl of warm water for a few minutes before you crack them open.
You can substitute brown sugar for the coconut sugar.
 Rolling the cake up while it is still warm is an important step to ensuring success with the cake roll. It will roll very easy while it is still warm then once it cools and is unrolled and covered with the filling, it will 'remember' its shape and re-roll without any trouble.
Nutrition Information:
Yield:

8
Serving Size:

1
Amount Per Serving:
Calories:

527
Total Fat:

29g
Saturated Fat:

16g
Trans Fat:

1g
Unsaturated Fat:

10g
Cholesterol:

152mg
Sodium:

416mg
Carbohydrates:

59g
Fiber:

2g
Sugar:

47g
Protein:

7g
Nutrition information is a guideline only, is calculated automatically by third party software, and absolute accuracy is not guaranteed.