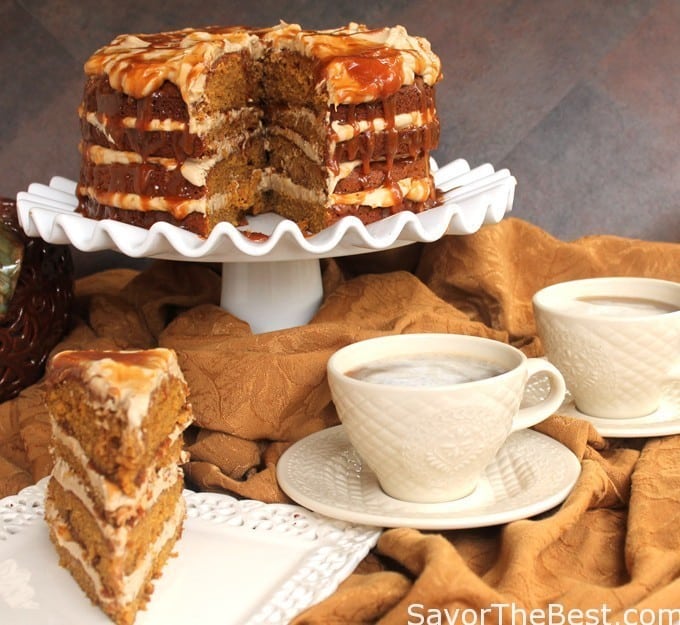 I live about an hour south of Seattle Washington where you can find a latte stand on nearly every corner. A couple of weeks ago I was on a trip to Eastern Washington where there are significantly fewer latte stands and a caffeine-deprived girl can go bananas. When I came across a small drive up latte stand I didn't hesitate. I usually just order an Americano. Dark. No sugar. No cream. No fluffy foofoo. However, this time I was feeling like something sweet and saw their pumpkin spice caramel latte. Now how can anyone say no to that! It was a delicious pumpkin spice latte with a salty caramel sauce drizzled over the top of the latte foam. So good!
I have been craving that pumpkin spice caramel latte for over two weeks now. The local joints make pumpkin spice lattes but I just haven't found one that is as good as that first one…. drizzling with caramel sauce.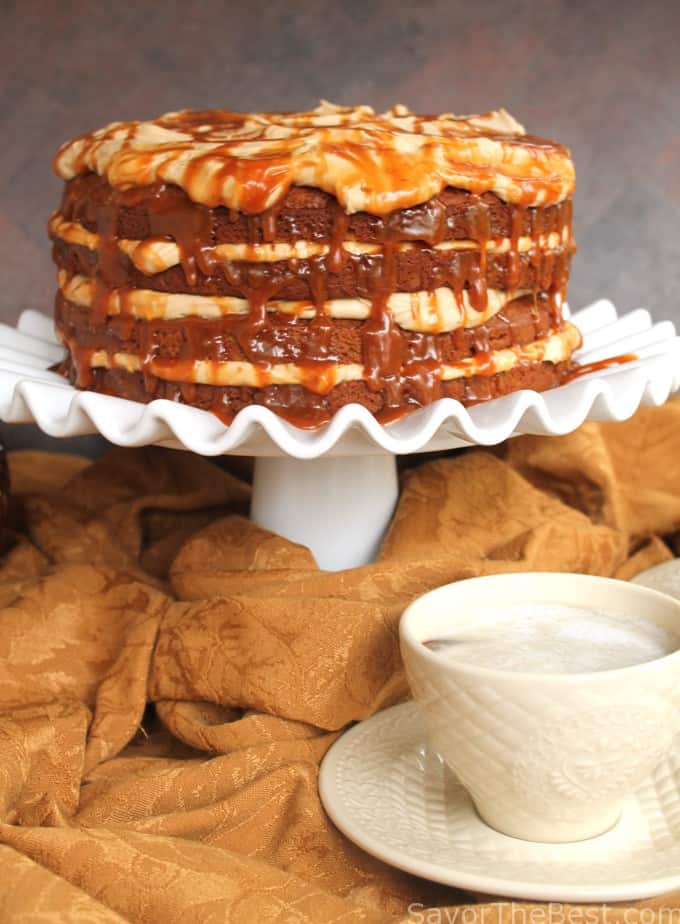 That flavor has been on my mind so much I decided to give it whirl in a baked confection. A pumpkin spice cake with latte cream frosting and copious amounts of caramel drizzled all over. It will be a re-incarnation of my first love. Maybe better. Yes, it is better because I can have the leftovers and lick the spoon when I am finished with the caramel sauce.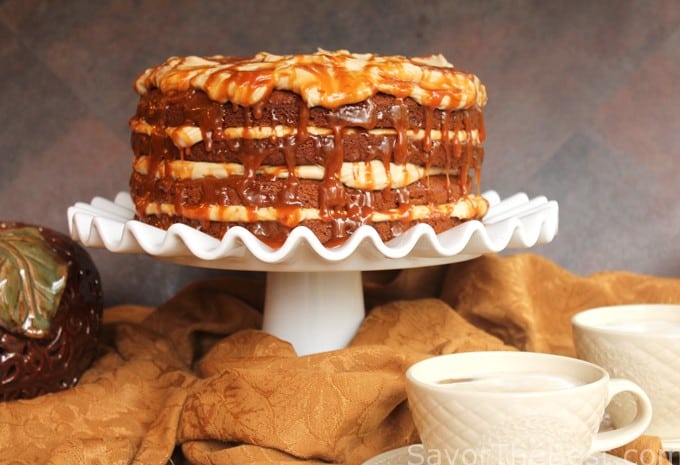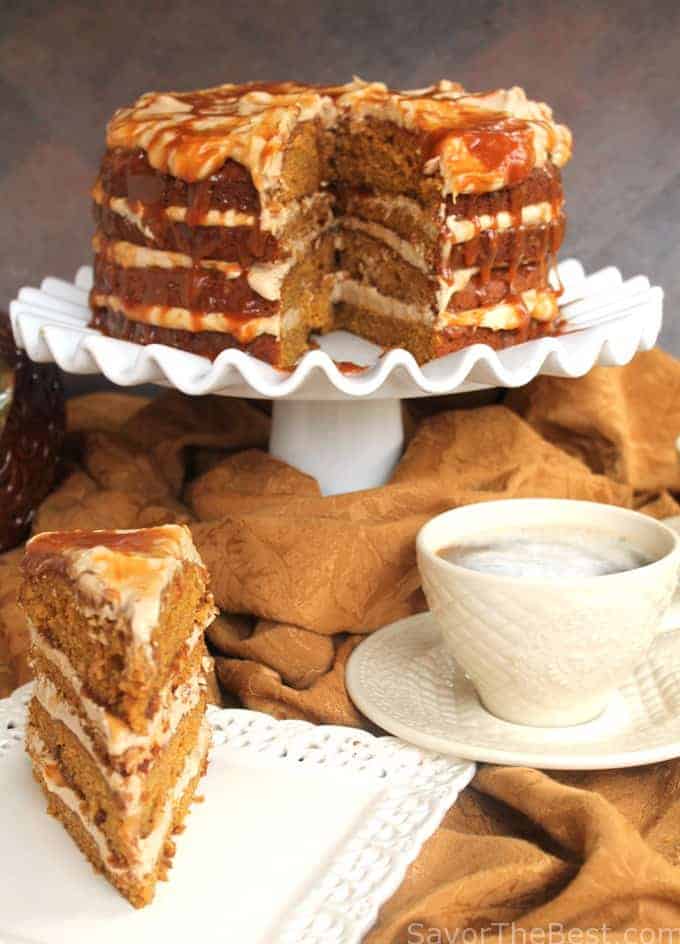 The cake is so simple to make. Throw the dry ingredients in a bowl, give them a whirl to mix and sift the ingredients then toss in the wet ingredients and mix them up well. How easy is that? You don't need a box mix; this is just as easy and tastes better. To ensure a moist cake I take the cake out when there is still a crumb or two sticking to the toothpick. You don't want a wet, gooey toothpick but if you take it out when it is perfectly clean and dry, you may have over-cooked the cake.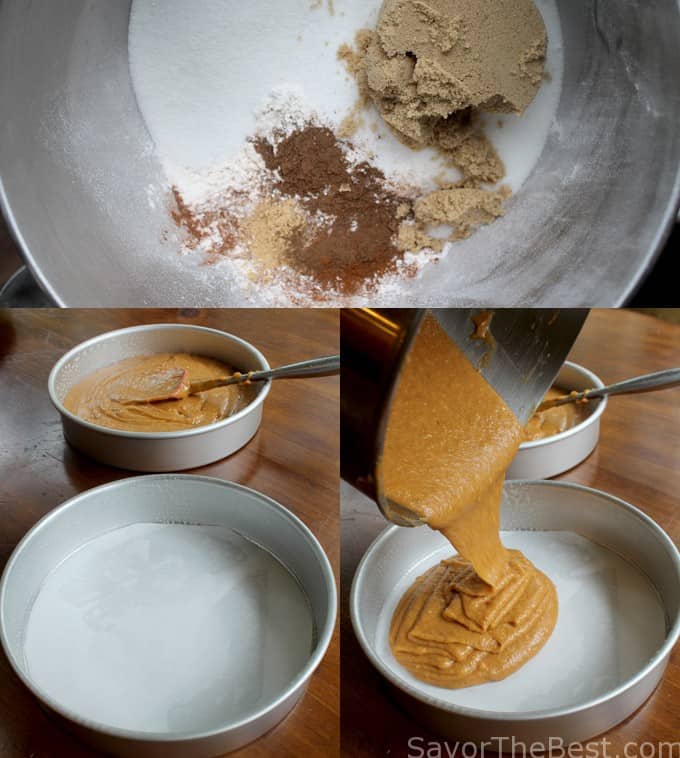 The frosting is equally as simple. Whip up the sugar, coffee granules and cream cheese until it is very soft then pour in the heavy cream. This will give you a sort of stabilized whipped cream that will hold up for 2 or 3 days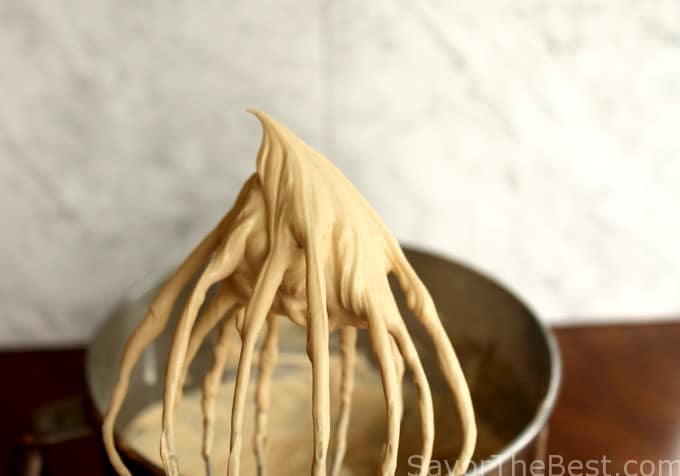 The tricky part, if there is one, is making the caramel sauce. If you haven't made candy before then be very careful with this step. In order to caramelize the sugar you will have to heat it to a blazing hot 320°. Don't get any on you! Once you get the sugars caramelized, you will add cream and butter to it. This is where you need to have planned ahead and made certain to use a large enough pan. The mixture will bubble up furiously and if your pan is too small it will flow like lava out of the pan and onto your counter. Make sure you add it slowly and keep the children out of the kitchen. If you are a bit intimidated by this process, store-bought caramel sauce will work just fine. However, once you make your own caramel sauce you may not ever want to buy a store brand again, the flavor of homemade caramel is amazing.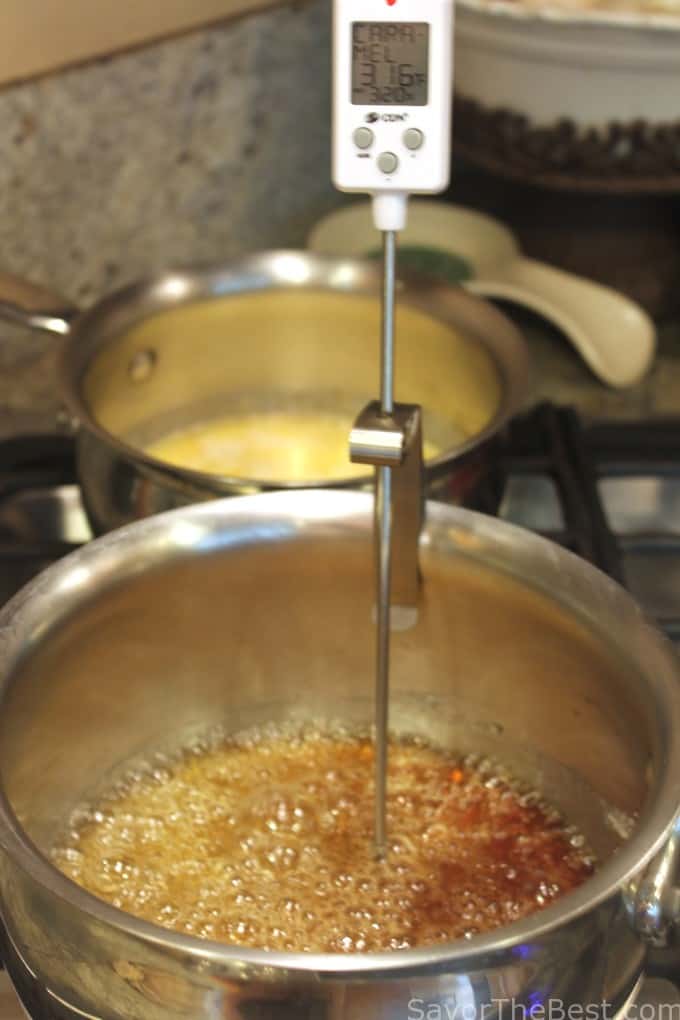 David Lebovitz has some great tips on making caramel as well as an explanation of the process. If you don't have a candy thermometer don't let that stop you, it can be done without one as David explains in his post. I like the thermometer myself because I tend to multitask and my thermometer gives me an alarm when the sugar is reaching the desired temperature. Without the thermometer I am afraid I would step away too long and end up with burnt caramel, which isn't half bad as long as it doesn't get too burnt.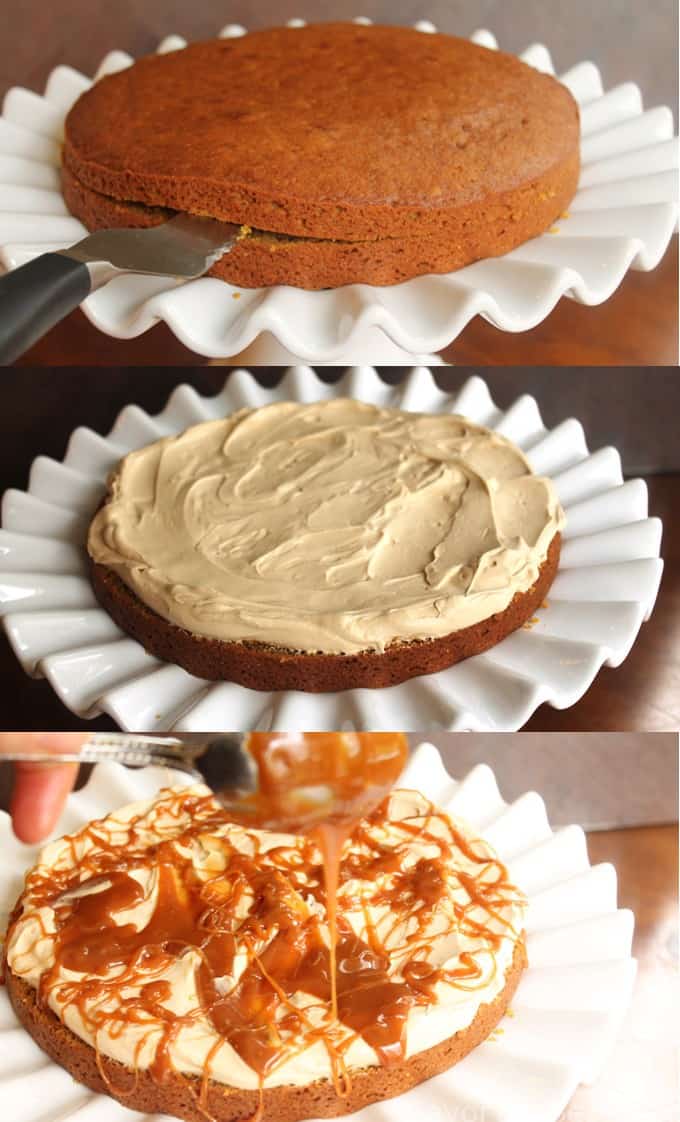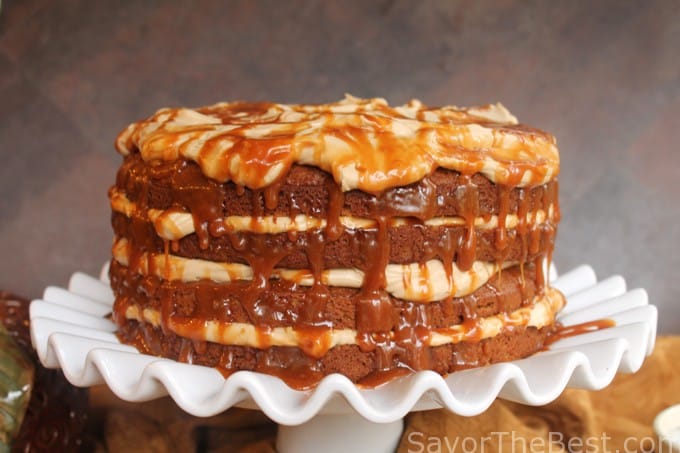 CONNECT WITH SAVOR THE BEST!
Be sure to follow us on our social media accounts
Facebook * Instagram * Pinterest * Twitter * Youtube
Did you make this recipe? We would love to hear from you. Drop us a comment below.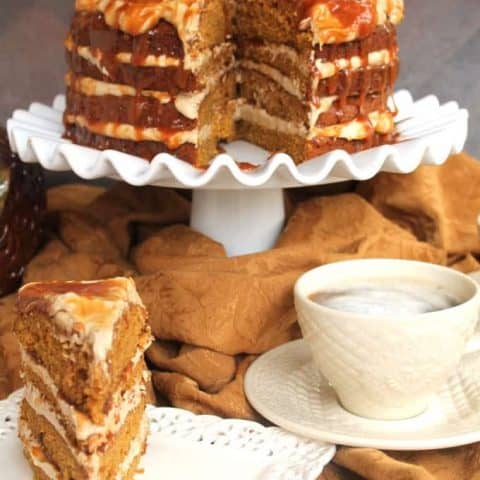 Pumpkin Spice Caramel Latte Cake
Total Time:
1 hour
30 minutes
A moist pumpkin spice cake with a latte flavored cream frosting and a delicious caramel sauce drizzle.
Ingredients
Pumpkin Spice Cake
3 cups (360 grams) all-purpose flour
2 teaspoons baking powder
1 teaspoon baking soda
1 ½ teaspoons salt
2 ½ teaspoons ground cinnamon
1 1/4 teaspoon ground ginger
1 teaspoon ground allspice
¼ teaspoon ground cloves
2 cups (400 grams) sugar
½ cup (100 grams) packed brown sugar
3/4 cup canola oil
4 large eggs
15 ounces pumpkin puree
2 ½ teaspoons vanilla extract
Latte Whipped Cream
8 ounces cream cheese, softenend
1 ½ cups powdered sugar
1 teaspoon vanilla extract
2 ½ teaspoons instant coffee granules
2 cups heavy cream
Caramel Sauce
½ cup heavy cream
2 tablespoons butter
½ teaspoon vanilla extract
¾ teaspoon salt
¼ cup light corn syrup (helps prevent crystallization)
1 cup sugar
Instructions
Pumpkin Spice Cake
Preheat the oven to 350°F. Grease two 9-inch round cake pans and line the bottoms with parchment paper.
Place the first 10 ingredients (from flour to brown sugar) into a mixing bowl and blend the ingredients on low speed for 1 to 2 minutes to get the ingredients sifted and combined.
Add the oil, eggs, pumpkin, and vanilla. Mix on low until the dry ingredients are moistened then increase the speed to medium and mix for 2 minutes until well combined, be sure to stop the mixer and scrape down the sides halfway into the mixing.
Divide the batter into the prepared pans and smooth the surface. Bake about 40 minutes or until a toothpick inserted into the center comes out just barely clean.
Set the pans on cooling racks to cool completely then run a knife around the edges of the pans to loosen the cakes then invert them onto racks and remove the parchment paper.
Latte Whipped Cream
In a large mixing bowl, combine the cream cheese, sugar, vanilla and coffee granules. Using a whisk attachment, beat on low speed until combined then increase the speed to medium-high and beat until smooth.
Turn the mixer to low and slowly pour in the heavy cream (go slowly to prevent splatter). Once the cream is combined, increase the speed to medium-high and whip for 1 minute then stop and scrape the sides down and whip again until you see medium-stiff peaks.
Caramel Sauce
Place the cream, butter, vanilla, and salt in a small saucepan and heat over medium heat, if it begins to boil, reduce the heat and keep warm while you cook the syrup.
In a medium saucepan (about 3 quarts), fitted with a candy thermometer, heat the syrup with the sugar over medium-high heat. Cook, stirring gently until the sugar is completely melted then leave it undisturbed without stirring anymore.
Cook until the syrup reaches 340°
Remove the saucepan from the heat and very CAREFULLY stir in the warm cream mixture (the mixture will bubble up toward the top of the pan then subside)
Return the pan back to the heat and cook until the candy thermometer reads 235° to 237°.
Allow to sit at room temperature and cool down before assembling the cake.
Assembling the Cake
Cut through each of the cakes horizontally so you have 4 cake layers (use a turntable and a serrated knife. Holding the knife steady, spin the turntable to cut through the cakes.)
Place one of the cake layers on a cake plate then pipe or spread ¼ of the latte cream on top of the cake. Drizzle ¼ of the caramel sauce over the latte cream. Repeat the pattern 3 more times.
Notes
Use extra caution when making the caramel sauce as the hot sugar can burn you quickly if you get any on you.You will get the best results if you use a candy thermometer in order to achieve the right consistency for the caramel sauce.When making the caramel sauce, be sure to use at least a 3-quart saucepan to cook the sugar mixture in as the mixture boils and foams up to the top when the cream is added.