You are going to love this Chocolate Fudge Swirled Pumpkin Bread! It has layers of rich, fudgy chocolate swirled into a moist pumpkin bread. It's the best chocolate pumpkin bread you will ever have.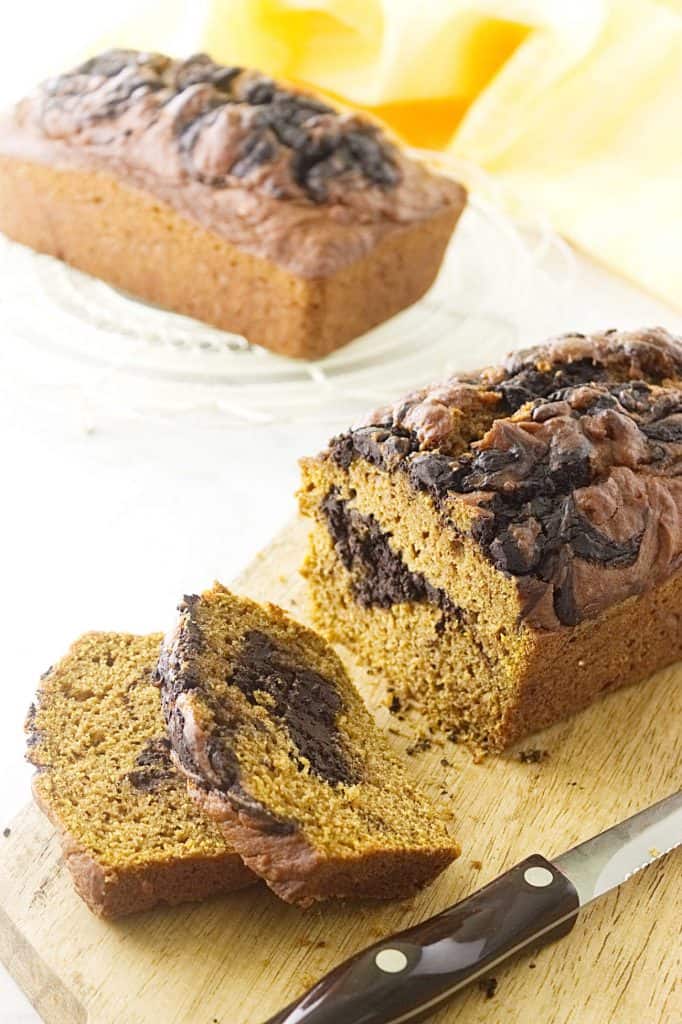 What's better than a rich, fudgy, chocolate mixed with sweet moist pumpkin bread!? Pumpkin bread is pretty amazing in itself but if you add a rich chocolate fudge swirl to it and the combination is irresistible.
Is it fair to call this breakfast when it really tastes like dessert? I'm pretty sure that calling it pumpkin bread qualifies it for breakfast but this bread makes an amazing dessert.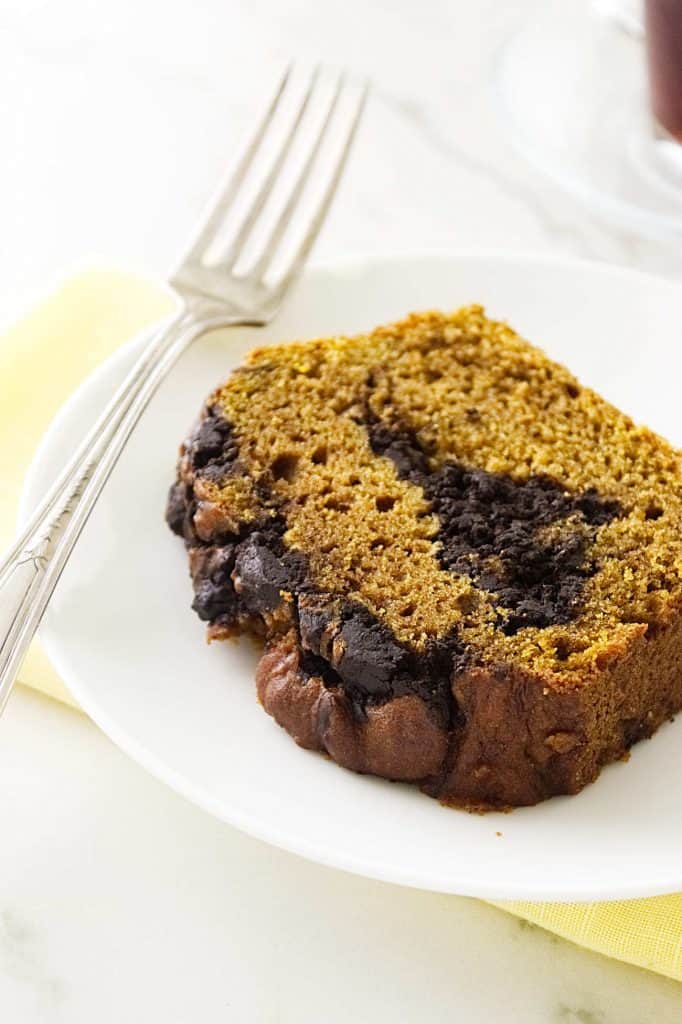 How To Make Chocolate Fudge Swirled Pumpkin Bread:
As much as you may love your stand mixer or even your electric hand mixer, do not use either of them for this recipe. This pumpkin bread will be so much better and more tender if you mix the ingredients by hand.
The secret to success with this recipe is to only mix the batter until the dry ingredients are moist and just barely combined. Our recipe uses a two-bowl process called the "muffin method".
This method of mixing minimizes how much the batter is mixed. The goal here is to prevent gluten development which will make a tough bread. If you mix the batter until it is smooth, it has been over-mixed. You want to see some lumps in the batter and it should seem like it needs another stir or two.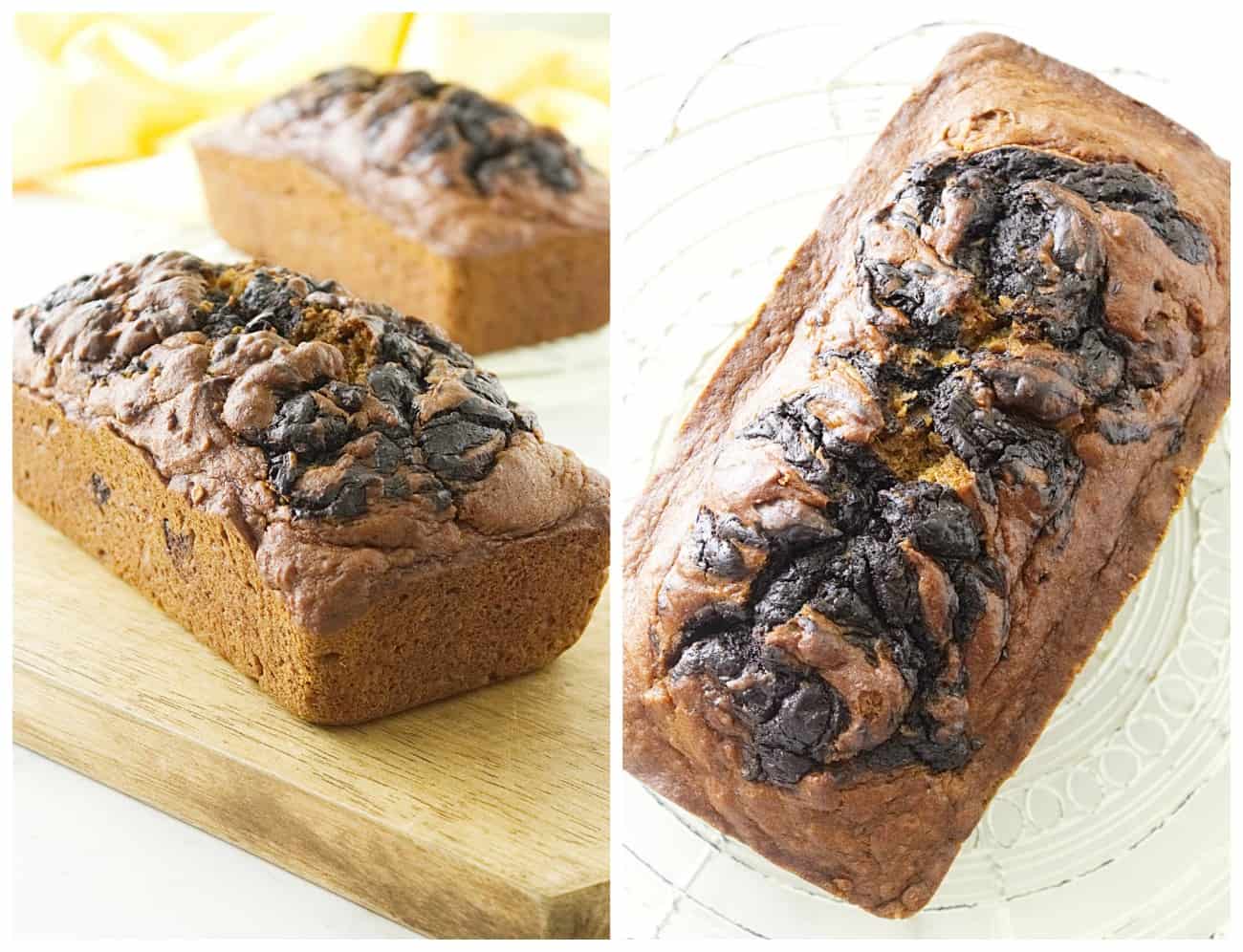 Chocolate Fudge Swirled Pumpkin Bread
Make the Chocolate Fudge layer:
Prepare the chocolate fudge layer first so it has a chance to cool down while you make the pumpkin bread batter. It's super-simple, just pour hot cream over the chopped chocolate and stir it until all the chocolate is melted. Stir in the cocoa powder for a super-intense chocolate flavor and extra structure then let it sit to cool.
Mixing Method for Tender Chocolate Fudge Swirled Pumpkin Bread:
Combine the dry ingredients in one bowl and whisk them together (you don't want to bite into a lump of salt or baking soda).
Mix all the wet ingredients together in a second bowl.
Pour the wet ingredients over the dry ingredients and GENTLY fold them together with a spatula.
It's really that simple but it so much easier to say than to do. The biggest problem people have when making quick bread or muffins is to over-mix the batter. Don't stir the batter… fold it!! Only fold the batter until all the large pockets of flour are gone and stop while you still have some small lumps. Those lumps will dissipate while the bread is cooking.
Putting it all Together:
First of all, put a layer of pumpkin bread batter on the bottom of two bread loaf pans. You will want them to be 8- 1/2 by 4- 1/2 inches.
Next, dollop the chocolate fudge mixture on top of the pumpkin layer.
Give the chocolate fudge a good swirl but don't mix it in all the way.
Repeat one more layer of pumpkin and chocolate.
Bake!!
The hardest part of making this bread is waiting until it is cool enough to slice!
Other recipes you may enjoy: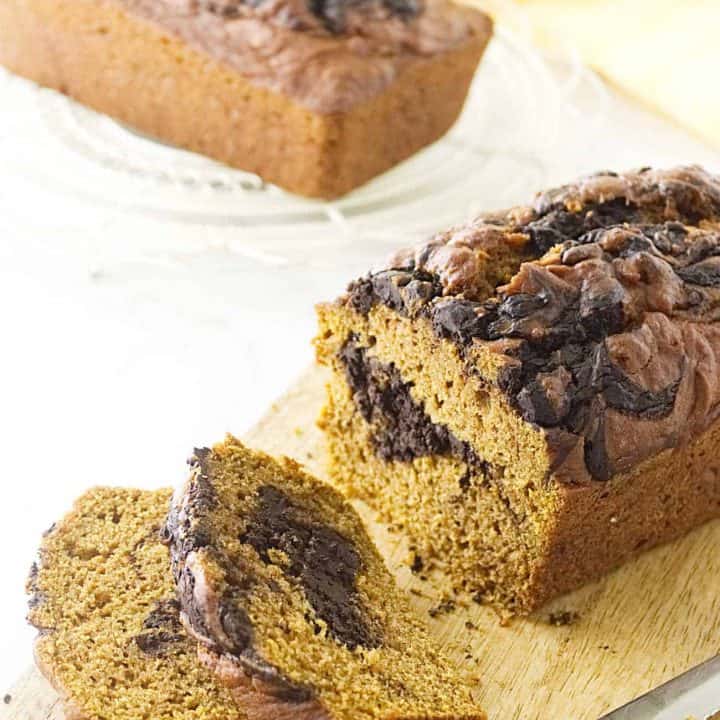 Chocolate Fudge Swirled Pumpkin Bread
Total Time:
1 hour
10 minutes
A delicious chocolate fudge swirled into a moist and tender pumpkin bread make an irresistible combination.
Ingredients
DRY INGREDIENTS
3 cups all purpose flour (360 grams)
1 tablespoon pumpkin pie spice *see notes
1 1/2 teaspoons baking powder
1 teaspoon baking soda
1 teaspoon salt
WET INGREDIENTS
1 can (15 ounces) pumpkin puree ** see notes
1 1/2 cups sugar (300 grams)
2/3 cup oil (132 grams)
4 eggs
1 tablespoon vanilla
FOR THE FUDGE SWIRL
1/2 cup heavy cream
5 ounces dark chocolate chopped
2 tablespoons cocoa powder
Instructions
Heat oven to 350° F. Grease two loaf pans (8 1/2 by 4 1/2 inches each)
MAKE THE FUDGE SWIRL

Place the cream in a small saucepan and heat over medium heat until just barely simmering. (or you can heat the cream in the microwave).
Remove from heat and stir in the chopped chocolate until completely melted and smooth. Stir in the cocoa powder. Set aside and let cool while you make the pumpkin bread.
MAKE THE PUMPKIN BREAD BATTER
In a small bowl, combine the flour, pumpkin pie spice, baking powder, baking soda and salt.
In a large bowl, stir the pumpkin, sugar, oil, eggs and vanilla until well combined.
Fold the dry ingredients into the wet ingredients. (Don't over mix, some small lumps of flour are fine).
Divide half of the batter between the two loaf pans. Dollop half of the chocolate mixture on top of the batter then swirl it into the batter. Add the rest of the batter to the pans and dollop the batter with the remaining chocolate then give it a swirl. Bake for 50 to 60 minutes or until a toothpick inserted in the pumpkin section of the bread comes out clean.
Let the bread cool in the pans for 20 minutes then run a knife around the sides of the loaf pans. Remove the bread and let them cool on a wire rack for 1 to 1 1/2 hours.
Notes
Make sure you use pumpkin puree and not pumpkin pie filling. Pumpkin puree is just pumpkin, nothing more. Pumpkin pie filling has spices and sugar added to it and will drastically change the outcome of this recipe.
This recipe also works well with homemade pumpkin puree. If you are using homemade pumpkin puree, you will need to use 2 cups of pureed pumpkin. Be aware that some homemade versions are more watery than others and may effect the outcome of the bread. If you find you have a watery pumpkin puree then let it sit in a strainer for a while to drain off some liquid.
If you don't have pumpkin pie spice you can combine 1 3/4 teaspoons cinnamon, 1/2 teaspoon nutmeg, 1/2 teaspoon ginger, 1/4 teaspoon cloves.
This recipe will make 1 larger loaf in a 9 by 5 inch loaf pan. If you use the larger loaf pan increase the baking time to 70 to 80 minutes.
Nutrition is based on getting 16 slices from each loaf of bread
Nutrition Information:
Yield:

32
Serving Size:

1 slice
Amount Per Serving:
Calories:

174
Total Fat:

8g
Saturated Fat:

2g
Trans Fat:

0g
Unsaturated Fat:

5g
Cholesterol:

28mg
Sodium:

140mg
Carbohydrates:

23g
Fiber:

1g
Sugar:

12g
Protein:

3g
Nutrition information is a guideline only, is calculated automatically by third party software, and absolute accuracy is not guaranteed.