These pumpkin whoopie pies are dangerously easy to make. They are basically pumpkin cookies with cream cheese frosting but we doubled the fun and sandwiched them together to make whoopie… uhm, whoopie pies.
These pumpkin whoopie pies start with two incredibly soft and tender pumpkin cookies. The texture is almost cake-like and they just melt in your mouth.
After the cookies come out of the oven and cool down, you sandwich some creamy, sweet cream cheese frosting between two cookies and you have a whoopie pie. It has all the flavors of a pumpkin cupcake but they are smaller so you can eat more.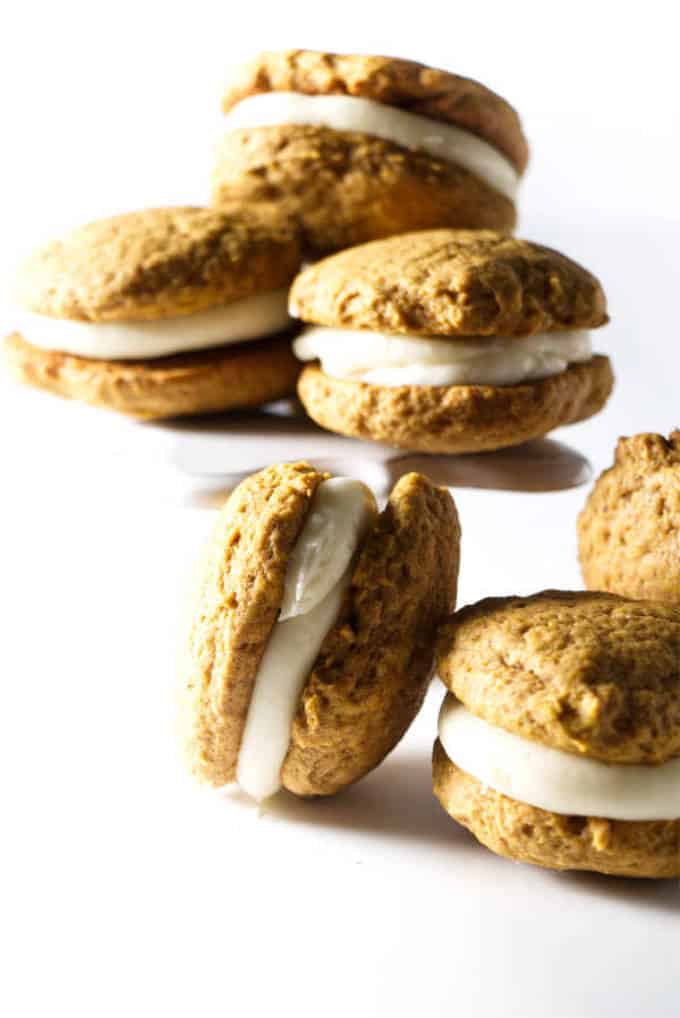 Sandwiching these little morsels together makes them portable and stackable. You can toss a few in a sandwich bag and they won't stick together since the gooey frosting is in the center of the cookies.
But you don't have to make whoopie pies out of these cookies. You can have twice as many cookies if you don't sandwich them together. Just frost the tops of each cookie and you will have well over 2 dozen pumpkin cookies with cream cheese frosting.
About the ingredients you need for Pumpkin Whoopie Pies:
If you are new to baking from scratch then you might think the list of ingredients looks long and overwhelming. It really isn't that bad. I broke the recipe down into sections of dry ingredients and wet ingredients. The list of dry ingredients looks long because I have used 4 different spices.
Cinnamon
Nutmeg
Ginger
Allspice
If you want to replace those 4 spices with pumpkin pie spice then that works just as well.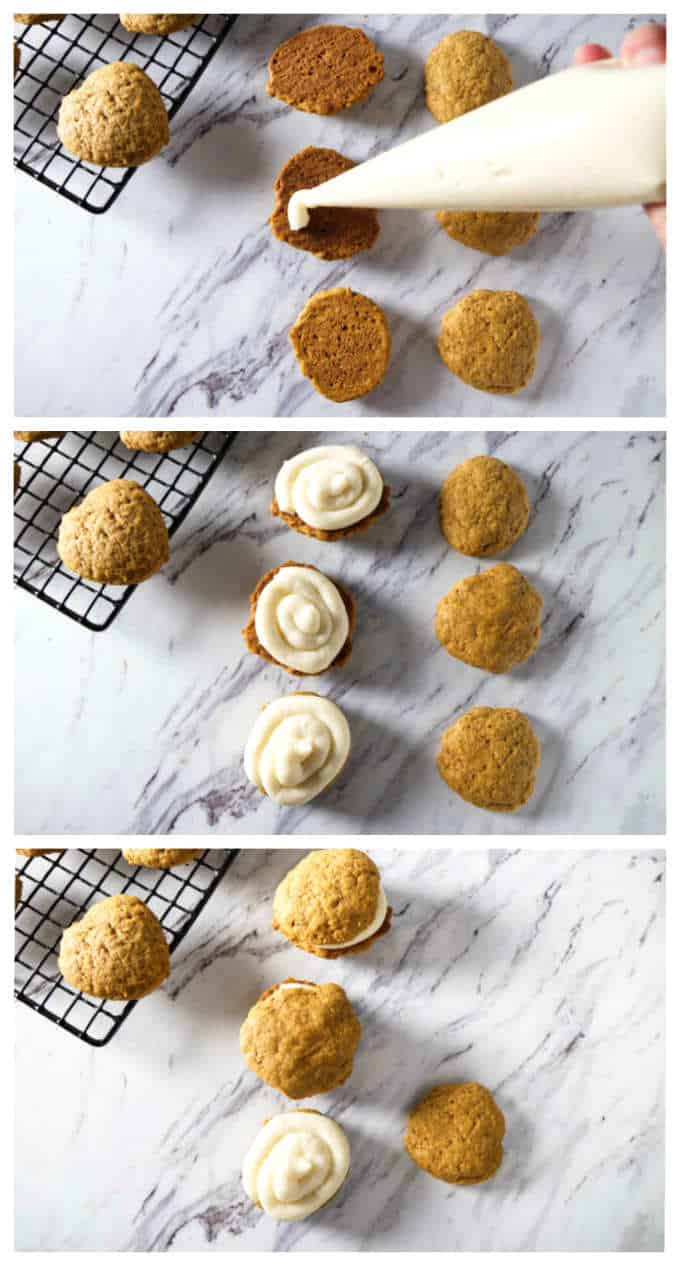 Tips for making tender pumpkin cookies for the whoopie pies:
1. Blend the dry ingredients together before you add them to the wet ingredients.
I usually use a whisk but a sifter works even better. The reason you want to whisk or sift the dry ingredients together is that you want to distribute the baking powder, soda, and salt evenly into the flour.
It will also make sure there are not any lumps of flour or leavening. Baking soda is especially susceptible to clumping up. Even a tiny clump of baking soda in your cookies will give you a nasty taste when you bite into that clump. If you sift all the ingredients they will be perfectly distributed throughout the cookie dough and the cookies will be light and fluffy.
2. Let the butter and eggs come to room temperature.
The butter should be soft enough to make an indent if you push your finger into it. If you start with soft butter it will aerate better when you cream the butter and sugars together. That will help make your whoopie pies light and fluffy like they should be.
The eggs should be at room temperature too because the room temperature ingredients will help incorporate better and keep the cookies light and tender.
3. Slightly flatten the mounds of dough before you bake them.
I use a cookie scoop to scoop the dough onto the baking sheets. It creates nice round, perfectly portioned balls of dough. The dough will rise when it bakes and get too tall if you don't push it down a bit first. You don't have to make them pancakes, just flatten the tops. When they bake, they will turn into pretty little mounds that make perfect whoopie pies.
4. Let the pumpkin cookies cool before you spread the cream cheese frosting on them.
The cream cheese frosting will melt if you don't wait for the cookies to cool down first. That might be the hardest part about making these whoopie pies.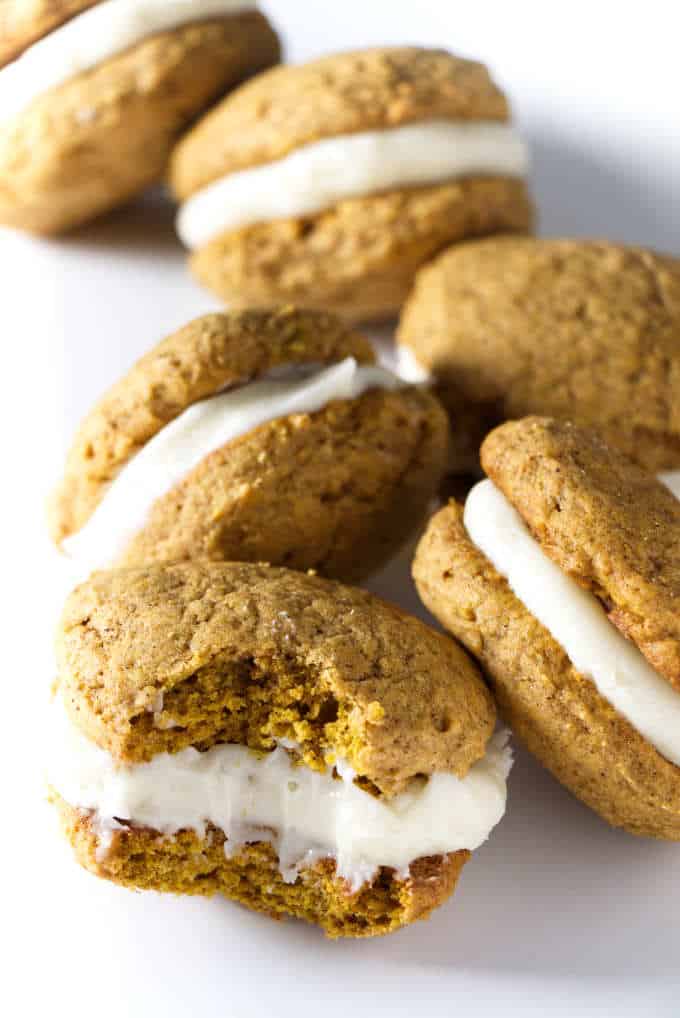 SOME OTHER RECIPES WE ARE SURE YOU WILL LOVE:
These Italian Wedding Cookies are rich, buttery, melt-in-your-mouth delights. Unlike the name suggests, they are not just for weddings. We make them all year long but they are especially popular during the Christmas season.
These Christmas Cutout Cookies are sweet, soft, buttery morsels of joy. Best of all they hold their shape when you bake them because they won't puff up and spread.
These Triple Ginger Almond Cookies are honestly the BEST ginger cookies on this planet. They are loaded with ginger and they have an added crunch from chopped almonds.
CONNECT WITH SAVOR THE BEST!
Be sure to follow us on our social media accounts
Facebook * Instagram * Pinterest * Twitter * Youtube
Did you make this recipe? We would love to hear from you. Drop us a comment below.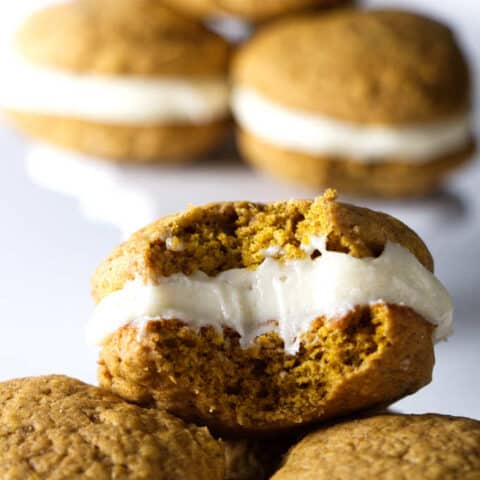 Pumpkin Whoopie Pies
Yield:
16 Whoopie pies or 32 cookies
An ultra-creamy cream cheese frosting gets sandwiched between two soft, light, and fluffy pumpkin cookies to create a pumpkin whoopie pie.
Ingredients
Dry Ingredients
2-1/2 cups all-purpose flour (300 grams)
3/4 teaspoon baking soda
1/2 teaspoon baking powder
1/2 teaspoon salt
2-1/2 teaspoons cinnamon
1/2 teaspoon nutmeg
1/4 teaspoon ground ginger
1/4 teaspoon allspice
Wet Ingredients:
3/4 cup butter, softened (12 tablespoons)
1 cup packed brown sugar
1/2 cup granulated sugar
3/4 cup pumpkin puree
2 eggs
1 teaspoon vanilla extract
Cream Cheese Frosting
1/4 cup butter, softened
4 ounces cream cheese, softened
2 cups powdered sugar
1 teaspoon vanilla extract
Instructions
Preheat the oven to 350°F. Line a couple of baking sheets with parchment paper or spray them with non-stick spray.
Whisk the flour, baking soda, salt, and spices in a medium bowl. Set aside.
Add the following to a mixing bowl: butter, brown sugar, and granulated sugar. Beat on medium speed until light and fluffy. Add the pumpkin puree, eggs and vanilla extract and beat well. The mixture will look curdled, don't worry.
Stir in the flour mixture.
Drop balls of dough the size of rounded tablespoons onto the baking sheets. Space them about 2 inches apart.
Bake the cookies for about 10 to 13 minutes or until golden brown and slightly cracked on the surface. Set on wire racks to cool completely.
Cream cheese frosting:
Beat the butter and cream cheese on medium speed until soft and creamy. Slowly add the powdered sugar and beat until well combined. Mix in the vanilla.
Turn half of the pumpkin cookies upside down and spread or pipe some frosting on the bottom of the cookies. Place another cookie (flat side down) on top of the frosting to create a cookie sandwich. Repeat with all of the cookies.
Notes
This makes 16 pumpkin whoopie pies or 32 pumpkin cookies with cream cheese frosting.
Recommended Products
As an Amazon Associate and member of other affiliate programs, I earn from qualifying purchases.
Nutrition Information:
Yield:

16
Serving Size:

1 whoopie pie
Amount Per Serving:
Calories:

335
Total Fat:

15g
Saturated Fat:

9g
Trans Fat:

0g
Unsaturated Fat:

5g
Cholesterol:

61mg
Sodium:

267mg
Carbohydrates:

48g
Fiber:

1g
Sugar:

32g
Protein:

4g
Nutrition information is a guideline only, is calculated automatically by third party software, and absolute accuracy is not guaranteed.