This recipe for pumpkin chocolate chip muffins is a fall favorite. It is packed with pumpkin flavor, warm cinnamon spice, and chocolate chips.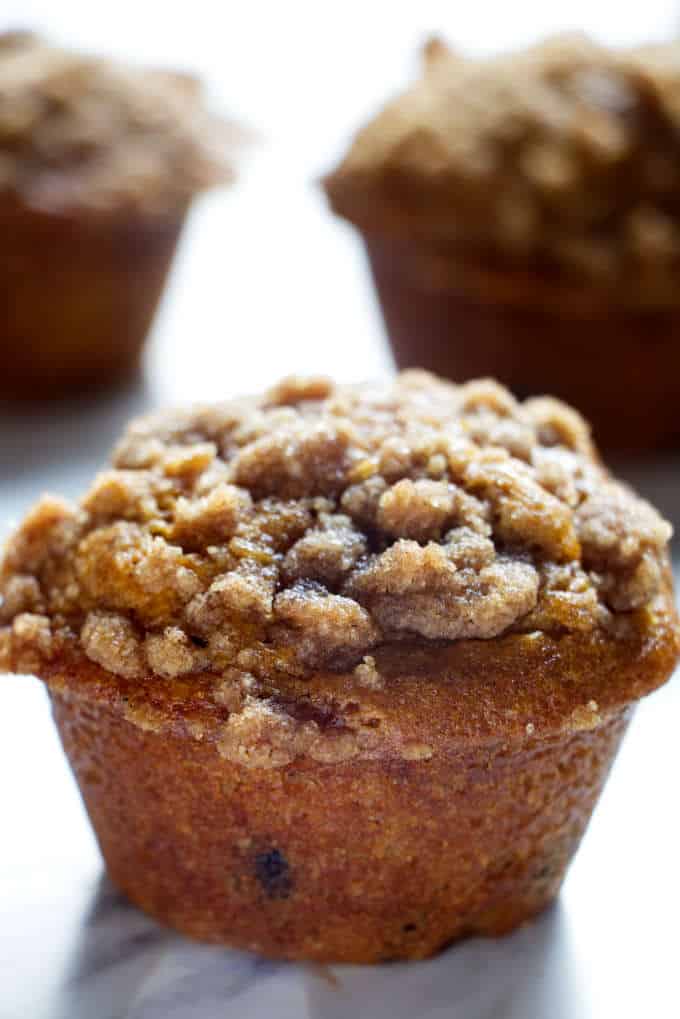 I don't know who decided muffins could be a breakfast food but I'm on board for all the muffins for breakfast. These muffins have pumpkin in them so that has to be healthy right? I mean we are talking fiber and vitamins.
Plus, chocolate is supposed to be healthy too. And these muffins have plenty of chocolate chips in them.
Ok, the realist in me knows that there is plenty of sugar too and that isn't exactly a healthy way to start breakfast. But sometimes that is how I roll. I will make up for it next week when I have these healthy egg muffin cups with turkey bacon. But today it is all about muffins. Pumpkin chocolate chip muffins and I'm not feeling guilty about it.
These muffins are tender, moist and oh so good. There is just enough cinnamon and nutmeg to complement the pumpkin flavor but not so much that it overpowers it. And then there are the chocolate chips.
If your thinking chocolate and pumpkin seem like a strange combination, you really gotta try it. The two make such a perfect match it's a love affair.
Want more chocolate? Try our easy chocolate cake.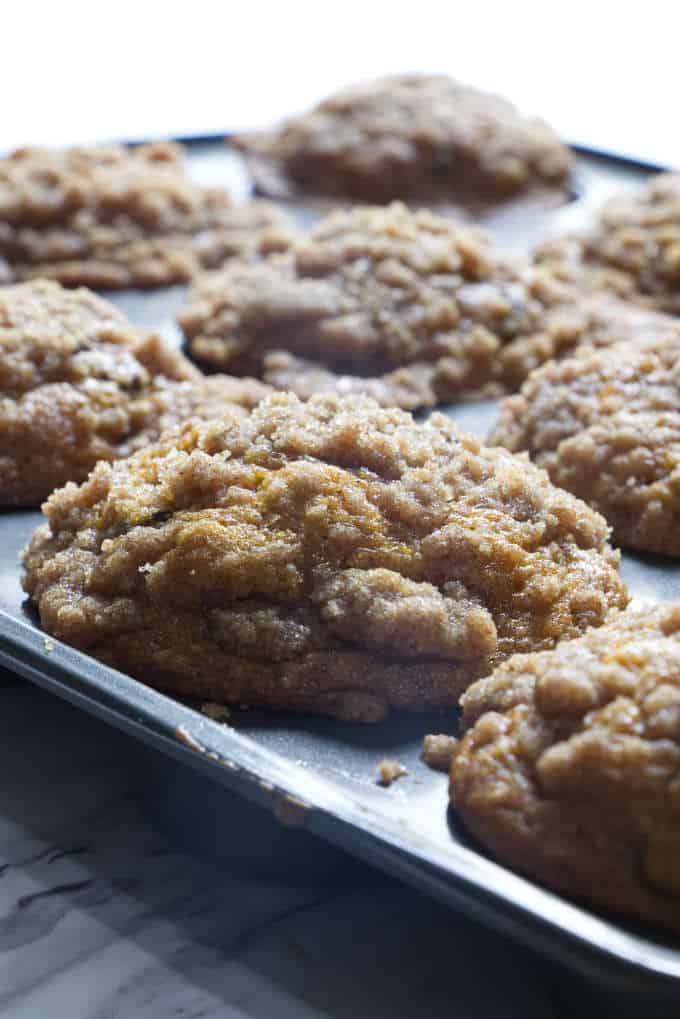 HOW TO MAKE PUMPKIN CHOCOLATE CHIP MUFFINS
This is an easy recipe but there are some tips that will help you make these muffins really good.
First of all, it is important to mix the ingredients correctly. If you over-mix the batter you can end up with tough dense muffins.
Our goal is to get light, airy, tender muffins with a moist interior. I'm sure that is your goal too. So read on and I will tell you how to make these muffins perfectly tender and moist.
You should blend the wet and dry ingredients separately then add the dry ingredients to the wet mixture. You will have the best results if you use a wide spatula like this one to fold the mixtures together. If you use an electric mixer, you risk over-mixing the batter.
The more you mix the batter, the more likely it is to develop gluten. That's the thing that makes tough muffins and leads to all kinds of disappointment.
The dry ingredients should just barely be moistened. You should still see some streaks of flour and some lumps in the batter. Especially if you haven't stirred in the chocolate chips yet. Then once the chocolate chips are poured in, you should only fold them in until they are dispersed throughout the batter.
The lumps will bake out so don't worry about lumpy batter. That is what you want. A smooth, perfectly blended batter is definitely going to have gluten development and give you tough muffins.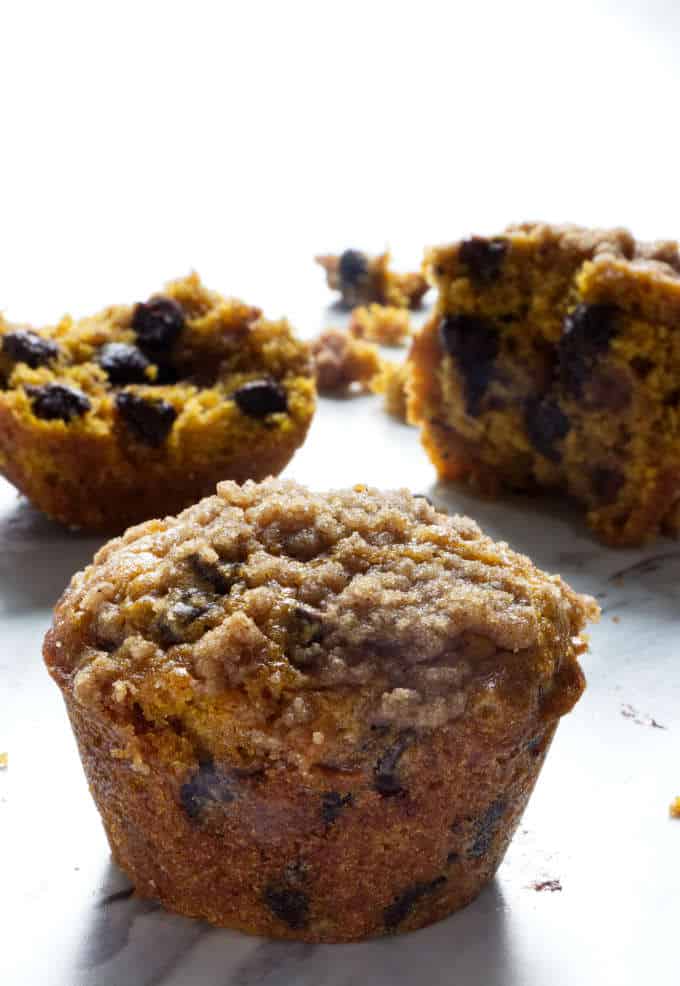 CHOOSE THE RIGHT MUFFIN TIN
It is best to use a light muffin tin. If you have dark muffin tins you can still make this recipe work. Since dark pans will absorb more heat then you should turn your oven down by 25°F. Everything else in the recipe is the same.
CAN YOU FREEZE PUMPKIN CHOCOLATE CHIP MUFFINS?
These muffins are definitely freezer-friendly. I like to freeze them on a sheet pan then stick them in a re-sealable freezer bag. If you freeze them first, they won't stick together in the bag and you can reach in and grab one when you're ready for a treat.
They will store in the freezer for up to 6 months if you keep them sealed well. Thaw them at room temperature for an hour. If you're in a hurry then stick them in the microwave for 20 seconds at a time until they are thawed and slightly warm.
Don't re-heat them in the microwave for longer than 20-second intervals or they will cook too much and get tough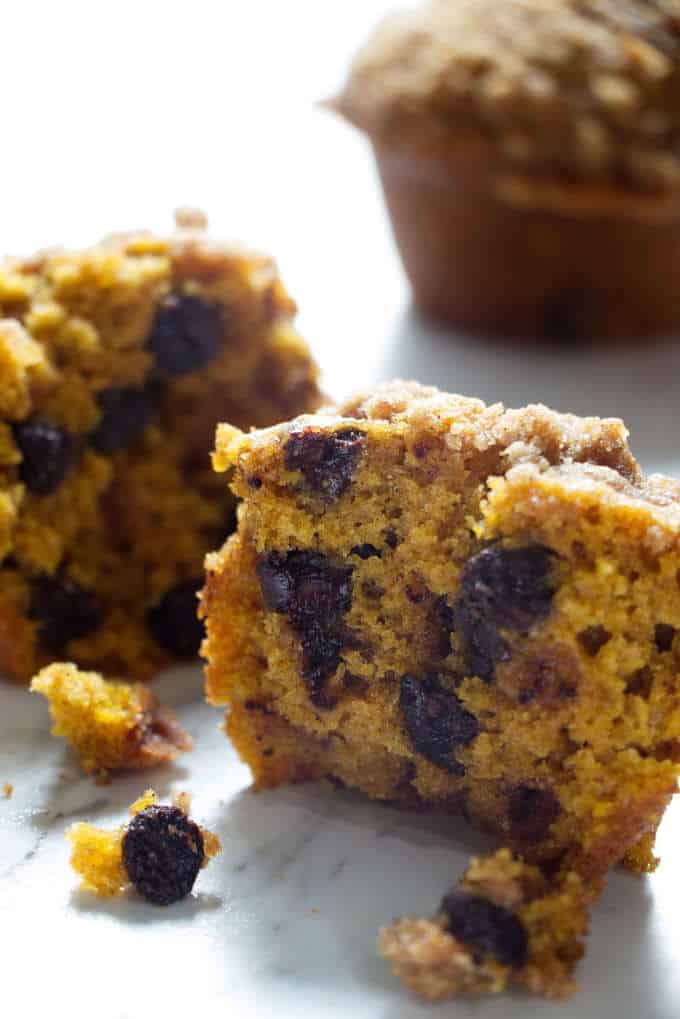 SOME OTHER RECIPES WE ARE SURE YOU WILL LOVE:
Chocolate Fudge Swirled Pumpkin Bread
Salted Chocolate Fudge Cookies
CONNECT WITH SAVOR THE BEST!
Be sure to follow us on our social media accounts
Facebook * Instagram * Pinterest * Twitter * Youtube
Did you make this recipe? We would love to hear from you. Drop us a comment below.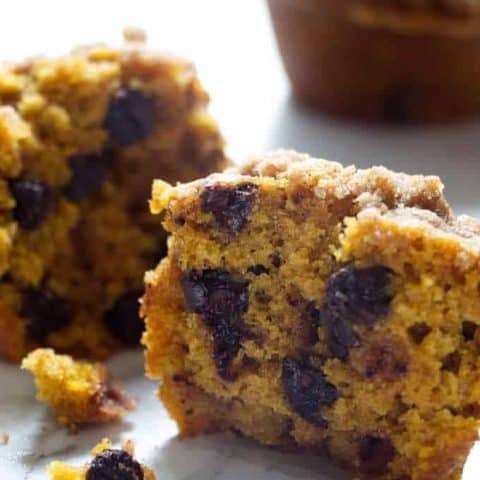 Pumpkin Chocolate Chip Muffins
Moist pumpkin chocolate chip muffins packed with pumpkin flavor, warm cinnamon spice, and chocolate chips.
Ingredients
FOR THE STREUSEL TOPPING
1/2 cup packed brown sugar
1/3 cup all-purpose flour
4 tablespoons butter, softened
1-1/2 teaspoons ground cinnamon
1/4 teaspoon salt
FOR THE MUFFINS
2-1/2 cups all-purpose flour (300 grams)
1-1/2 teaspoons baking powder
1/2 teaspoon baking soda
2-1/2 teaspoons pumpkin pie spice*
1 teaspoon salt
1 (15-ounce) can pumpkin puree*
1 cup granulated sugar
1 cup packed brown sugar
3/4 cup vegetable oil
3 large eggs
1 teaspoon vanilla
2 cups chocolate chips
Instructions
FOR THE STREUSEL TOPPING
Place all the streusel topping ingredients in a bowl and stir together with a fork until it has the consistency of wet sand. Set aside for later.
FOR THE MUFFINS
Pre-heat the oven to 424°F (you will reduce the temp. after the first 5 minutes) and grease a standard-sized muffin tray.
Place the flour, baking powder, baking soda, salt, and pumpkin pie spice in a bowl and whisk or sift together. Set aside while you mix the wet ingredients.
Place the pumpkin, sugar, brown sugar, oil, eggs, and vanilla in a large bowl and stir with a whisk until smooth or use a mixer.
Fold the flour mixture into the pumpkin mixture until just barely combined (it's ok if there are still lumps, if you mix until it is super smooth the muffins will not be as tender).
Add the chocolate chips and gently fold them into the batter.
Scoop the batter into the greased muffin tin. Sprinkle the topping evenly over each muffin.
Bake for 5 minutes at 425°F then reduce the heat to 350°F. Continue to make for another 15 to 18 minutes or until a toothpick inserted in the center of the muffins comes out clean.
Let the muffins cool down for 10 to 15 minutes before removing them from the muffin tin.
Notes
If you don't have pumpkin pie spice you can substitute by combining 1-1/2 teaspoons cinnamon, 1/2 teaspoon nutmeg, 1/4 teaspoon ginger, and 1/4 teaspoon cloves.
Make sure you use canned pumpkin puree and not canned pumpkin pie filling.
When you fold the dry ingredients into the wet pumpkin mixture, don't over-mix the batter.
If you are using a darker muffin tin then reduce the oven temperature by 25°F.
Recommended Products
As an Amazon Associate and member of other affiliate programs, I earn from qualifying purchases.
Nutrition Information:
Yield:

24
Serving Size:

1 muffin
Amount Per Serving:
Calories:

261
Total Fat:

13g
Saturated Fat:

5.7g
Cholesterol:

32mg
Sodium:

161mg
Carbohydrates:

32g
Fiber:

1.5g
Sugar:

22g
Protein:

3g