This spiced pumpkin cheesecake is an ultra creamy and smooth cheesecake that is full of warm spices and all the pumpkin flavor you could want. It is surprisingly easy to make and I have a special tip to help you prepare an easy, leak-proof water-bath.
Our spiced pumpkin cheesecake is a complete celebration of fall and winter. It is a guaranteed crowd favorite and a recipe that you will want to keep around every year.
Seriously, this pumpkin spice cheesecake is the perfect addition to your holiday dinners.
If you're on a pumpkin craze right now, you're not alone. The fall season screams "pumpkin" like summer screams "lemonade" or "ice cream".
This season is made for pumpkin spice. And this pumpkin spice cheesecake is the ultimate satisfaction to all your pumpkin cravings. It is rich and creamy, smooth and silky, full of pumpkin spice flavors, and absolutely irresistible.
When you're ready to serve it, take it out of the pan and place it on a serving platter.
It only takes 3 minutes to make the topping so save that step until your ready to serve the cheesecake.
Do I Really Need To Use a Water-bath to Bake a Cheesecake?
You can bake a cheesecake without a water-bath but it won't be as smooth and creamy. You could also just lower the oven temperature and cook the cheesecake for a much longer time but it is much easier to put it in a water bath.
Here is a tip for an easy, fuss-free water-bath that will not leak. Grab a package of slow cooker liners on your next shopping trip. I don't use slow cooker liners in my crockpot, I use them to water-proof my cheesecakes. It is so much easier and fool-proof than wrapping the outside of the springform pan in aluminum foil.
All you have to do is set the pan inside the heat-proof bag, roll the excess down to the edge of the pan and tie a knot to keep it secure.
If you want to see how we did it with our Bourbon Vanilla Cheesecake, check out the video on that recipe.
If you can't find a slow cooker liner then an oven-proof turkey bag works just as well.
Can I Make Spiced Pumpkin Cheesecake in Advance?
One of the best things about cheesecake is that it can be made in advance. If you're planning a holiday party, you will do yourself a big favor if you choose a dessert that you can make ahead of time. It's a lifesaver for your dinner plans.
You can make this spiced pumpkin cheesecake 5 days in advance. Yes! Five days. The crust won't be as crisp after 5 days but it will still be delicious and it will save you so much last-minute rush on the day of your dinner.
After you bake the cheesecake let it cool down completely then cover it with plastic wrap and set it in the fridge. I keep it in the springform pan for easy storage and to prevent it from being bumped into.
SOME OTHER RECIPES WE ARE SURE YOU WILL LOVE:
CONNECT WITH SAVOR THE BEST!
Be sure to follow us on our social media accounts
Facebook * Instagram * Pinterest * Twitter * Youtube
Did you make this recipe? We would love to hear from you. Drop us a comment below.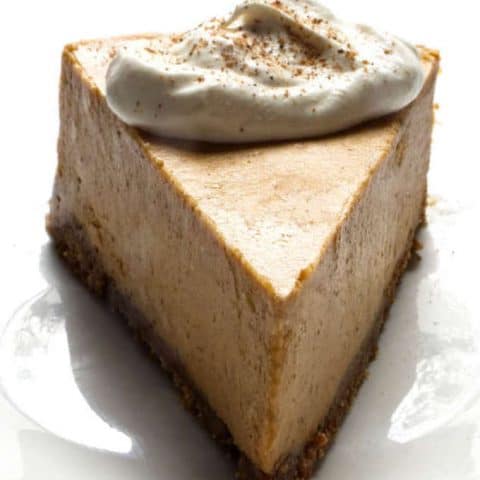 Spiced Pumpkin Cheesecake
Yield: 12 servings
Prep Time: 20 minutes
Cook Time: 1 hour 15 minutes
Total Time: 1 hour 35 minutes
This spiced pumpkin cheesecake is an ultra creamy and smooth cheesecake that is full of warm spices and all the pumpkin flavor you could want
Ingredients
CRUST
1-1/2 cups graham cracker crumbs (about 10 whole crackers)
1/4 cup granulated sugar
1 teaspoon cinnamon
½ teaspoon ground ginger
1/4 teaspoon nutmeg
¼ teaspoon ground allspice
1/4 teaspoon cloves
1/4 teaspoon salt
6 tablespoons butter, melted
FILLING
3 (8-ounce) packages cream cheese, softened
1-1/2 cups granulated sugar
1 teaspoon ground cinnamon
½ teaspoon ground ginger
¼ teaspoon ground nutmeg
¼ teaspoon ground cloves
¼ teaspoon allspice
½ teaspoon salt
1 can (15 ounces) pumpkin
1 tablespoon vanilla extract
5 large eggs, room temperature
1 cup sour cream
TOPPING:
1/2 cup heavy cream
1/3 cup sour cream
1/2 cup brown sugar
1 teaspoon vanilla extract
Instructions
FOR THE CRUST:
Adjust oven rack to lower-middle position and heat oven to 325 degrees. Spray a 10-inch springform pan with nonstick cooking spray.
Pulse crackers, sugar, and spices in food processor until evenly ground,
drizzle melted butter over, and mix with rubber spatula until evenly moistened. Turn crumbs into prepared springform pan and spread into even layer.
Bake about 15 minutes or until lightly browned. Cool on wire rack while you prepare the filling.
FOR THE FILLING:
Bring a pot of water to simmer. You will use this for the water bath.
Beat cream cheese at medium speed until soft and creamy. Scrape down the bowl with a rubber spatula. Add the sugar, spices and salt. Beat until well combined. Scrape down the bowl
Add the pumpkin and vanilla and beat at medium speed for about a minute. Scrape the bowl. Add the eggs one at a time and beat for a few seconds after each addition. Scrape the bowl and beat until the eggs are completely blended.
Add the sour cream and stir by hand or beat at low speed until combined. Scrape down the bowl again to incorporate all of the batter.
In order to make the springform pan leak-proof, place it in an oven-proof bag. You can use either a turkey bag or a crockpot liner. Roll the excess of the bag up so it comes to the edge of springform pan and tie it in a knot to secure it. If you don't have a oven proof bag you can wrap the outside of the springform in aluminum foil.
Pour the batter into the springform. Set the springform pan inside a larger pan, such as a roasting pan in. Pour the hot water into the larger pan. The water should reach about half way up the side of the springform. Do not get any water inside the springform.
Bake for 60 to 75 minutes or until the center of the cheesecake is slightly wobbly. If you have an instant read thermometer it should read 145 to 150°F.
Cool the cheesecake (while still in the water bath) on wire rack.
When the water cools down, remove the springform pan from the water bath and allow the cheesecake to cool down on the counter until it reaches room temperature.
Place in the refrigerator for 4 to 6 hours to let it set up completely.
TOPPING
Combine all the ingredients for the topping and whip on medium high speed until thick and creamy. Serve the cheese cake with a dollop of sweet cream topping.
Notes
This cheesecake also fits in a 9-inch springform pan. If you use a 9-inch pan you will need to increase the baking time by about 10 minutes.
You can make this cheesecake up to 5 days in advance. Keep covered in the refrigerator until ready to serve.
To see how we used the oven proof bag as a water-proof liner, check out our video for our bourbon vanilla cheesecake
Recommended Products
As an Amazon Associate and member of other affiliate programs, I earn from qualifying purchases.
Nutrition Information:
Yield: 12
Serving Size: 1
Amount Per Serving:
Calories: 449
Total Fat: 34g
Saturated Fat: 20g
Cholesterol: 170mg
Sodium: 462mg
Carbohydrates: 29g
Fiber: 1.2g
Sugar: 21g
Protein: 8.4g