Our bourbon vanilla cheesecake with chocolate ganache is unbelievably soft and silky. This ultra-custardy cheesecake is firmer than pudding but softer and creamier than a traditional cheesecake.
Bourbon Vanilla Cheesecake with Chocolate Ganache
A hint of bourbon enhances the vanilla in this custardy cheesecake. The entire cake is sandwiched between two layers of rich dark chocolate. The thick, crunchy, chocolate crust is an excellent contrast to the creamy, smooth cheesecake texture. The top is enrobed in a rich and luxuriant chocolate ganache.
This recipe was adapted from Rose Levy Berenbaum's book "The Cake Bible". Rose calls her cheesecake "Cordon Rose Cheesecake", perhaps because it is such a masterpiece. It is definitely one of my favorite recipes in her entire book.
The original recipe calls for lemon juice which we have replaced with bourbon in this recipe, however, the lemon makes a spectacular cheesecake as well. We choose to spike the cheesecake with bourbon because it is a better compliment to the chocolate.
A Leak-Proof Water Bath for Cheesecake
Cheesecake is actually a custard and needs gentle heat to cook correctly. A water bath helps control the temperature and prevent the edges from becoming overheated and dry. It improves the overall texture and helps prevent the cheesecake from cracking.
The problem with water baths is that you need to prevent water from seeping into the springform pan. You can do this by wrapping the springform with several layers of aluminum foil. However, aluminum foil tears easily and allows water to seep into the cheesecake.
We use oven-proof plastic bags such as a turkey bag or a slow cooker bag. If you slip the springform pan into the bag and wrap it snugly around the pan, it does a much better job at preventing leaks.
Making an Ultra Creamy Cheesecake
Many recipes for cheesecake will call for sour cream because it helps lighten the texture and make it creamy and silky. This cheesecake calls for an extraordinarily high proportion of sour cream. The larger ratio of sour cream makes this cheesecake ultra-creamy and silky.
The problem that results from adding extra sour cream is that it adds additional moisture. This causes a small amount of liquid to accumulate while baking. It isn't' a problem if you do not make a crust for the cheesecake. However, if you make a crust, then the liquid will seep into the crust and make it soggy.
Adding cornstarch will help absorb the liquid and keep the crust from getting wet. If you want the creamiest cheesecake possible, then eliminate the cornstarch and make the cheesecake without a crust.
Cheesecake and Feast of Weeks or Pentecost
Pentecost falls on May 20th this year. Pentecost originates from the Jewish harvest festival called Shavuot, or Feast of Weeks. For the Jews, it is tradition to eat dairy and read from the book of Ruth. Although this tradition does not seem to have been adopted in Christianity, we love the custom. To embrace the tradition, we think it is the perfect time to indulge in a creamy cheesecake and read one of the most beloved love stories in the Bible.
A Summary of Ruth
The book of Ruth is about a Gentile, or non-Jew, uniting with a Jew. It was during a difficult time in Israel and there was a famine in the land. A Jewish man named Elimelech, took his wife Naomi and his two sons to the foreign land of Moab to escape the famine. Elimelech died, and Naomi stayed in Moab with her sons. The boys married two Moabite women but eventually both the boys died as well.
A Devoted Daughter-in-Law
Naomi decided to return to her homeland in Bethlehem, and she encouraged her two daughters-in-law to remain in Moab and re-marry. Both of the women obviously loved Naomi a great deal and wanted to stay with her. However, eventually Orpah decided to remain in Moab, but Ruth would not leave her mother-in-law. Ruth clung to Naomi and said "wherever you go, I will go. Wherever you live, I will live. Your people will be my people and your God will be my God. (Ruth 1:16)
This was not an easy decision for Ruth. She had to leave everything she knew behind. She left her country, family, friends, and customs
A Woman of Virtue
After the women returned to Bethlehem, Ruth was compelled to help support her mother-in-law. She went to a farm to gather the scraps of grain that were left behind from the barley harvest. Ruth's reputation of sacrificial love and compassion for her mother-in-law spread quickly throughout the land. When Boaz, the owner of the farm, saw that Ruth was gathering the scraps of barley, he had compassion for her and helped her. He told his workers to drop larger amounts of barley for Ruth to gather. Then he told Ruth to work only in his field where he could ensure her safety. He also invited Ruth to drink and eat with his workers and made sure she was cared for and treated well.
Ruth was overwhelmed by the kindness that Boaz showed her. When she asked him why he was being so kind to a foreigner, Boaz replied, "I have been told about what you have done for your mother-in-law…..May the Lord repay you for what you have done. May you be richly rewarded by the Lord, the God of Israel, under whose wings you have come to take refuge" (Ruth 2:11-12)
Match Maker
When Naomi found out where Ruth had been working, she exclaimed that Boaz was a relative and a kinsman redeemer. A kinsman redeemer was a relative who had the responsibly to take care of another relative that was in trouble. Even to go as far as to marry a widow so that she would not be destitute.
Since there was a generation separating their ages, Naomi knew that Boaz would not ask Ruth to marry him. So Naomi began to play match-maker. She gave Ruth instructions to uncover Boaz's feet and lay down. Now, that is a strange custom and must have made Ruth feel awkward. But she trusted Naomi and did exactly as she was told. Naomi told Ruth that Boaz would understand what it meant and would take care of everything.
Our Redeemer
Eventually, Boaz not only married Ruth but in the process, he sheltered and provided for Naomi. Boaz and Ruth had a son named Obed who was the great-grandfather of King David. This eventually fulfilled one of the many prophecies of Jesus Christ, the Messiah. God had told David that the Messiah would come from his lineage. (Jeremiah 23:5). Jesus is our ultimate kinsman redeemer. The price he paid through his death, redeems anyone who calls on Him in faith.
Video: How to make our cheesecake with chocolate ganache:
Some other recipes you might like: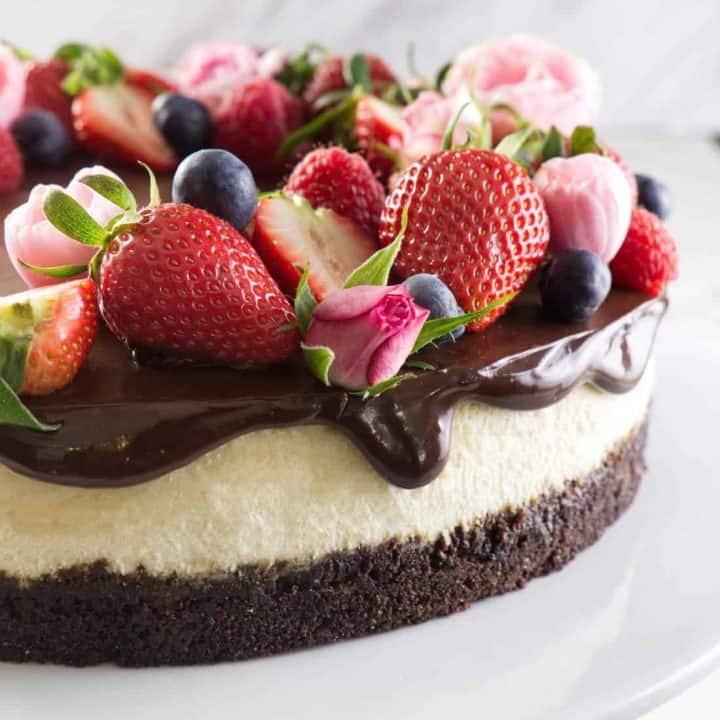 Bourbon Vanilla Cheesecake with Chocolate Ganache
Yield: 12 servings
Prep Time: 15 minutes
Cook Time: 1 hour 45 minutes
Total Time: 2 hours
Our bourbon vanilla cheesecake with chocolate ganache is unbelievably soft and silky. This ultra-custardy cheesecake is firmer than pudding but softer and creamier than a traditional cheesecake.
Ingredients
Chocolate Graham Cracker Crust
1-1/2 cups chocolate graham cracker crumbs (about 10 crackers)
1/4 cup sugar
3 tablespoons unsweetened cocoa powder
6 tablespoons butter, melted
1/4 teaspoon salt
Cheesecake
2 (8-ounce) packages cream cheese
1 cup sugar (200 grams)
2 teaspoons cornstarch (optional, see notes)
3 tablespoons bourbon
1 tablespoon vanilla extract
1/4 teaspoon salt
3 large eggs
3 cups sour cream
Ganache Topping
6 ounces dark chocolate chopped
3/4 cup cream
Instructions
Pre-heat the oven to 325°F.
Make graham cracker crust
Place all the ingredients for the crust into a bowl and stir until well combined. Press the crumb mixture into the bottom of a 9-inch springform pan. Place the pan in the oven and pre-bake the crust for 10 minutes.
Remove the pan and let it cool on a baking rack while you prepare the cheesecake filling.
Make the cheesecake filling
Combine the cream cheese, sugar, bourbon, vanilla, and salt. Mix with an electric mixer until smooth. Add the eggs and continue to mix on medium speed until smooth. Add the sour cream and mix on low until well combined.
Pour the batter into the crust in the springform pan. Place the springform pan in a slow cooker liner or a turkey-sized oven bag. Tie the excess plastic snuggly around the edge of the pan and place the springform pan. Add hot water to the larger pan. The oven-proof bag will prevent water from seeping into the springform pan.
Bake the cheesecake for 45 minutes at 325°F then turn the oven off but leave the cheesecake in the oven. Do not open the door of the oven. Let the cheesecake remain in the oven for 1 more hour. The cheesecake will continue to cook as the oven slowly cools.
Remove the cheesecake from the oven and let it cool on a baking rack for an hour (it will be jiggly but it will firm up after it has cooled).
Cover it with plastic wrap and put it in the refrigerator for 6 hours or overnight.
To unmold the cheesecake, run a thin knife around the sides of the cheesecake and release the sides of the springform pan.
Ganache Topping
Place the chopped chocolate in a small bowl.
Heat the cream just to its boiling point and pour the cream over the chocolate.
Allow the hot cream to melt the chocolate and stir well to combine.
Let the ganache cool slightly to thicken up then pour it over the cheesecake and refrigerate until time to serve. If desired, decorate the top with fresh fruit.
Optional: decorate the top with fruit and flowers.
Notes
Since this cheesecake has a high ratio of sour cream, a small amount of liquid will accumulate while baking. Adding cornstarch will help absorb the liquid and keep the crust from getting wet. If you bake this cheesecake without a crust you can eliminate the cornstarch and the cheesecake will be slightly creamier without the cornstarch.
When you create a water bath, be sure the outside of the springform pan is sealed well to prevent water from leaking into the cheesecake. You can use tin foil to seal the outside of the pan but tin foil often tears and leeks. A slow cooker liner or a large turkey oven bag will be much better at preventing water from seeping into the cheesecake. If the bag is excessively larger than the springform pan, simply gather the excess and tie it in a knot. Make sure the bag fits snug around the springform pan.
Have you made this bourbon vanilla cheesecake with chocolate ganache. We would love to hear from you.
Tag us on Instagram.
Like us on Facebook.