The Holiday season is eggnog season! This Eggnog Tart transforms the classic custard pie into a holiday treat! Rich, silky smooth with that eggnog flavor and freshly grated nutmeg on top.
Eggnog is one of those seasonal specialties that we only see in the supermarkets during the festive holidays. You can usually spot cartons of eggnog in the dairy section about the first of November. By the middle of January, it will be gone. If not sooner.
Of course, you don't have to wait for the holidays to enjoy eggnog. You can absolutely make your own 'from scratch' any time of the year. We have a great easy recipe for Holiday Eggnog that you can check out.
Eggnog Tart Vs. Custard Pie:
Our eggnog tart is basically an old-fashioned custard pie. Who makes custard pies anymore? When I was a kid we had some home-grown chickens and lots of eggs. Mom would bake up custard pies quite frequently. It was a delicious way to keep up with the industrious egg-laying hens.
So, our eggnog tart is almost the same as Mom's custard pie. Mom always used a standard pastry crust for her pies. We used a cookie-like shortbread crust. This crust is the same no-roll crust we used in our Chocolate-Mint Tart which you should check out, it is like a truffle treat! We pressed the shortbread crust into a large 11-inch tart pan and blind-baked it to a golden brown.
There is cornstarch in this crust. That might seem a bit strange but it makes the crust lighter and crunchier. If you don't have cornstarch, you can leave it out but we like the texture with it in the mix.
How We Made our Eggnog Tart:
To make the eggnog filling for our tart we grabbed a carton of the supermarket variety eggnog and jazzed it up with a bit more sugar, eggs and vanilla. We did add a touch, (three tablespoons) of rum to the mixture but you can substitute rum extract if you prefer.
We poured that eggnog custard into the pre-baked shortbread crust and grated a generous dusting of nutmeg over the top.
Baking the Eggnog Tart:
This custardy tart is rich with eggs. Eggs need to cook at a low temperature to keep them from curdling. That is how you get the delicate, silky smooth texture to desserts like flan, crème brûlée and cheesecakes.
We baked our eggnog tart for almost an hour, then checked it for doneness and baked it for another five-minutes. Here is a key point in knowing when to remove the custard from the oven. When there is still five minutes of the cooking time remaining, give the pan a gentle shake. If the center three-inch circle is all that jiggles slightly, remove the custard and set on a cooling rack. If more than the center jiggles it needs more baking.
Another way of checking for doneness is to use a butter knife. Insert the knife straight down into a spot that is half-way between the edge and the center. If there is custard on the knife, continue baking for another five minutes. The three-inch center circle should be all that jiggles slightly.
The jiggly center of the eggnog tart will continue to cook from residual heat but firms up perfectly when fully set.
After the tart had cooled in the fridge overnight we cut a slice to taste. The silky, smooth texture and the wonderful eggnog flavor was a delight to our taste buds!
It sure does bring back memories of my Mom's custard pies. ❤️
SOME OTHER RECIPES WE ARE SURE YOU WILL LOVE:
CONNECT WITH SAVOR THE BEST!
Be sure to follow us on our social media accounts
Facebook * Instagram * Pinterest * Twitter * Youtube
Did you make this recipe? We would love to hear from you. Drop us a comment below.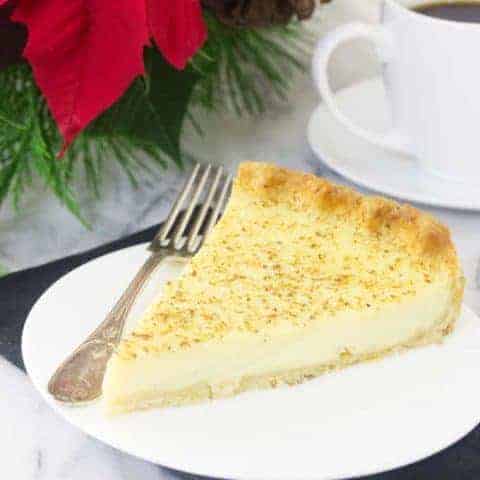 Eggnog Tart
Yield: 10 Servings
Prep Time: 30 minutes
Active Time: 1 hour
Total Time: 1 hour 30 minutes
This Eggnog Tart transforms the classic custard pie into a treat for the holidays. Rich and creamy with that eggnog flavor and fresh grated nutmeg on top.
Ingredients
For the Shortbread Crust:
1/2 cup (60g) powdered sugar
1 teaspoon vanilla
2 egg yolks, whisked lightly with a fork
1/4 teaspoon sea salt
1 stick butter, (1/2 cup) melted and cooled
2 cups (240g) all-purpose flour
1 tablespoon cornstarch
For the Eggnog Custard:
4 whole large eggs
2 large egg yolks
1/2 cup sugar
3 cups eggnog, store-bought or homemade
1/2 teaspoon salt
1 teaspoon vanilla
3 tablespoons rum (or 2 teaspoons rum extract)
Nutmeg gratings for garnish
Instructions
For the Shortbread Crust:
Lightly coat an 11-inch, removable bottom tart pan and set aside.
In a medium-size bowl, using a spatula or wooden spoon, mix the powdered sugar, vanilla, egg yolks and sea salt. Add the cooled butter and mix to a smooth consistency then, add the flour and cornstarch and stir until the dough forms a smooth ball.
Press the dough into the bottom and up the edges of the prepared tart pan. Smooth the crust with the flat bottom of a measuring cup or flat-bottomed glass.
Prick the crust with a fork, place on a baking sheet and transfer to the freezer for 30 minutes.
Preheat the oven to 350F.
Remove the crust from the freezer, spray a piece of aluminum foil with non-stick spray and press the sprayed side of foil very tightly up against the bottom and up the sides of the crust. Add pie weights and transfer to the middle rack of the oven.
Bake for 15 minutes. Remove foil and continue to bake uncovered for another 10 minutes, or until golden brown. Remove from the oven and let cool on a wire rack.
For the Eggnog Custard:
Reduce the oven to 325°F
Beat the eggs, egg yolks and sugar together with electric mixer until well combined. Add the eggnog, salt, vanilla, rum and vanilla. Beat on low speed until well blended.
Set a fine-mesh strainer over a large bowl and pour the mixture through to stain out any egg residue.
Set the cooled tart crust on a baking sheet lined with parchment paper and pour the strained eggnog mixture into the crust. Grate nutmeg over the top and transfer to the middle of the oven.
Bake the tart until the filling is set but still jiggles slightly in center, 55 to 60 minutes (filling will continue to set as it cools). Transfer to a cooling rack and cool for 30 minutes. Refrigerate and chill tart, uncovered, until cold, at least 2 hours. Just before serving release the side of the pan and transfer to a serving plate.
Notes
Spray the aluminum foil with non-stick oil spray and press it, sprayed side against the frozen crust.
Line the baking sheet with parchment paper for easy clean up in case the filling leaks.
Straining the filling through a mesh strainer is optional but takes only a little time and will ensure a smooth filling.
The rum can be substituted with brandy or an extract of rum or brandy. It can also be omitted.
You may want to cover the edge of the crust to prevent over-browning using strips of aluminum foil or a silicone pie crust protector.
When there are still five minutes of the baking time remaining, give the pan a gentle shake. If the center three-inch circle is all that jiggles slightly, remove the custard and set on a cooling rack. If more than the center jiggles bake for another five minutes and check again.
Recommended Products
As an Amazon Associate and member of other affiliate programs, I earn from qualifying purchases.
Nutrition Information:
Yield: 10
Serving Size: 1 Slice
Amount Per Serving:
Calories: 401
Total Fat: 19g
Saturated Fat: 10.5g
Cholesterol: 228mg
Sodium: 313mg
Carbohydrates: 46.6g
Fiber: 0.7g
Sugar: 22.7g
Protein: 9.2g