Oh, my…., this holiday eggnog is so rich and flavorful and just perfect for our Christmas Eve when we open a few gifts.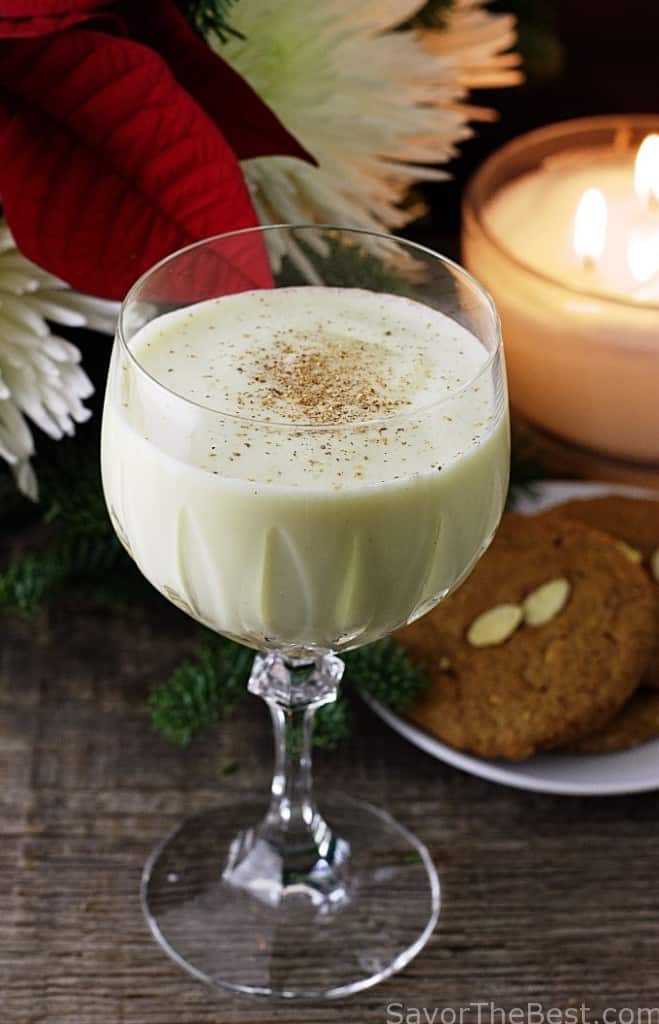 I love this eggnog! It is so rich and full of vanilla flavor without the cloying over-sweetness of the commercial eggnogs. While this eggnog is definitely not 'low-fat, low-cal' it tastes as if it is made from heavy cream. Actually, it doesn't have any high-fat cream but is made from eggs and whole milk.
Yes, I know there are a lot of calories here but this is a holiday eggnog and it is Christmas-time. Enjoy!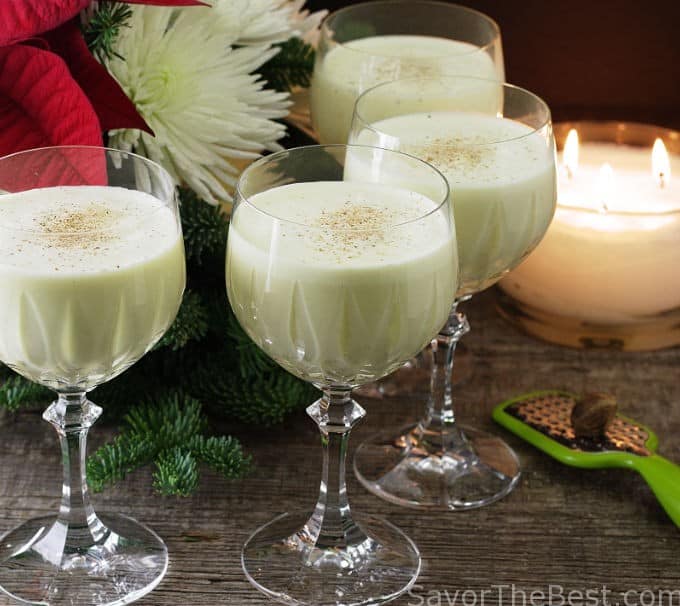 There are two versions of eggnog, one is the traditional method of mixing raw eggs with the milk and flavorings while the second version is a custard-type with eggs, milk, a little cornstarch and flavorings cooked to thicken it slightly and then cooled before drinking.
This eggnog is the cooked version and we have added the scraped seeds from a vanilla bean which enhances the flavor. And, a few gratings of fresh nutmeg on top of each serving is a must!
Eggnog is frequently spiked with bourbon, rum or brandy at serving time, however, I personally enjoy it plain as a virgin-eggnog.
To keep this nog icy cold while sipping it you can add a couple ice cube, however, that seems to melt and water down the beverage.
I have found that adding frozen eggnog cubes instead of ice cubes is so much better without diluting the eggnog. Just pour a little eggnog into your ice cub tray and freeze it.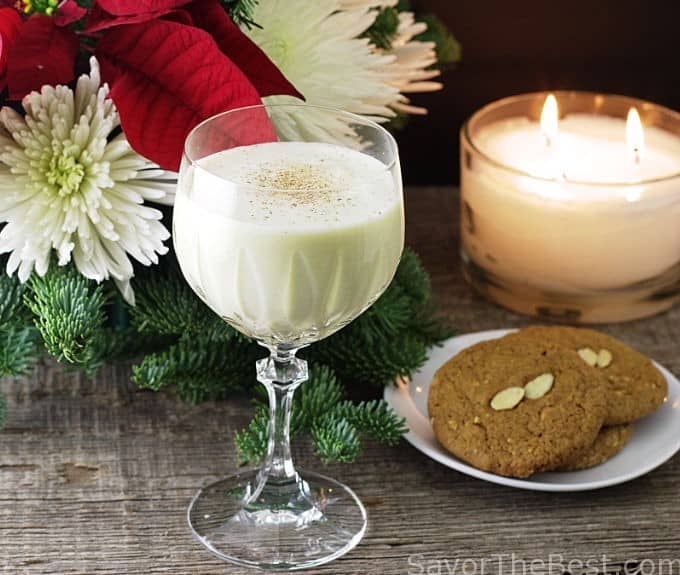 For more ideas on holiday beverages see:
CONNECT WITH SAVOR THE BEST!
Be sure to follow us on our social media accounts
Facebook * Instagram * Pinterest * Twitter * Youtube
Did you make this recipe? We would love to hear from you. Drop us a comment below.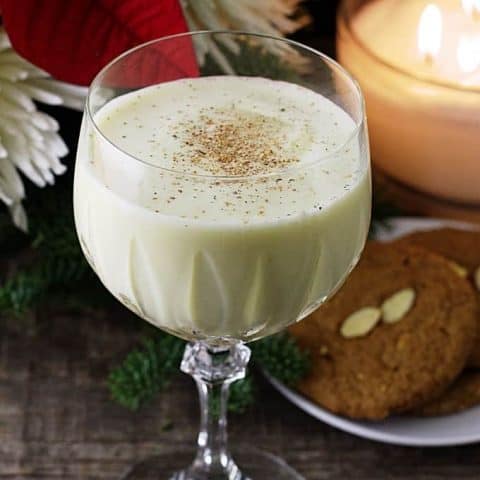 Holiday Eggnog
Yield: 4 servings
Prep Time: 10 minutes
Cook Time: 25 minutes
Total Time: 35 minutes
A decadent eggnog with an intense vanilla flavor that is perfect for the holiday season.
Ingredients
6 large eggs
1 cup sugar
1 1⁄2 tablespoons cornstarch
5 cups whole milk
1 vanilla bean, split and seeds removed (reserve the seeds)
4 whole cloves
1 cinnamon stick
1 pinch salt
1 teaspoon vanilla extract
Reserved vanilla bean seeds
Fresh nutmeg gratings
Instructions
Set up a double-boiler with 2-inches of water in the bottom pan, not touching the bottom of the top pan. Bring the water to a boil, then reduce to low and simmer while making the eggnog.
Add the eggs to a mixing bowl and beat well. Add the sugar, cornstarch and milk, mix on low speed to combine.
Pour the mixture into the top portion of the double-boiler and add the scraped pod of the vanilla bean, the whole cloves, cinnamon stick and the pinch of salt. Cook, stirring constantly, until the mixture thickens slightly, it should barely coat the back of a spoon, about 20-25 minutes.
Remove the top portion of the double-boiler to the counter-top, remove and discard the vanilla bean pod, cloves and cinnamon stick and add the vanilla extract.
In a small dish, combine 1/4 cup of the eggnog mixture and the reserved vanilla bean seeds. Whisk to break up the seeds, then stir into the eggnog mixture, stirring to combine well. Transfer the eggnog to a pitcher or jar and allow it to cool for 15 minutes then refrigerate until cold. Serve with a grating of nutmeg.
Nutrition Information:
Yield: 4
Serving Size: 1
Amount Per Serving:
Calories: 506
Total Fat: 17g
Saturated Fat: 8g
Trans Fat: 0g
Unsaturated Fat: 7g
Cholesterol: 310mg
Sodium: 272mg
Carbohydrates: 69g
Fiber: 0g
Sugar: 66g
Protein: 19g
Nutrition information is a guideline only, is calculated automatically by third-party software, and absolute accuracy is not guaranteed.