This Blackberry Strawberry Banana Smoothie is a great way to start your day or refuel after a workout. The combination of blackberries, strawberries, and bananas gives this smoothie an amazing flavor, and the yogurt adds a boost of protein and a creamy texture. The best part is that this drink is quick and easy to make.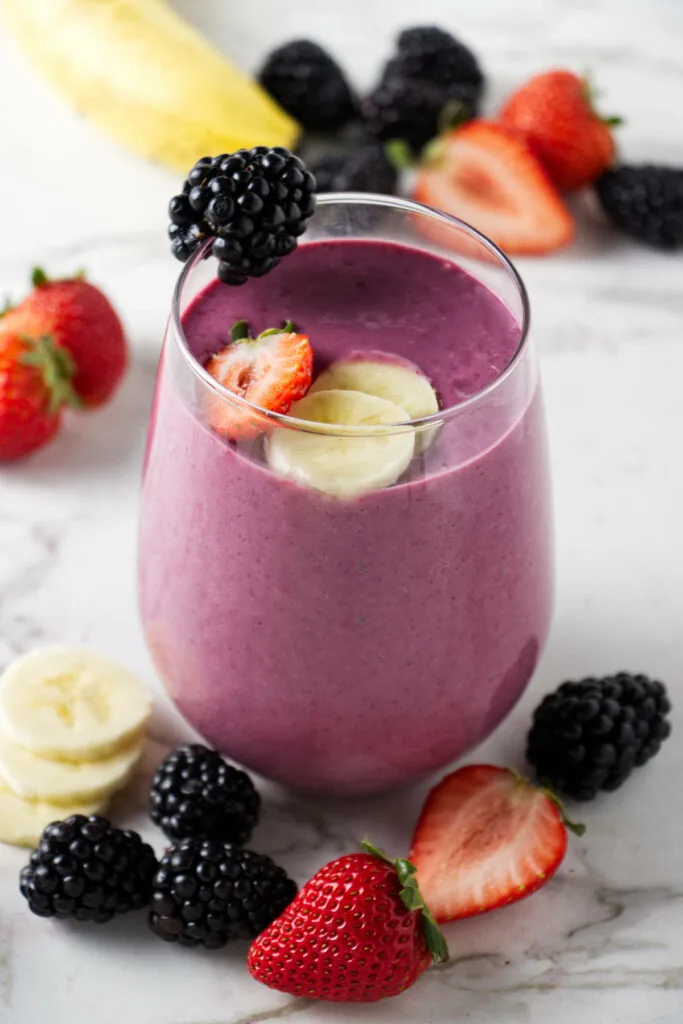 Smoothies are a great way to get a healthy dose of nutrition in a convenient drink. Try our spinach arugula smoothie or strawberry smoothie for more delicious recipes. You can make them thick like a milkshake and fool yourself into thinking you're having a decadent ice cream treat.
Why This Recipe Smoothie Works
You can use fresh or frozen fruit. Using frozen fruit will make a thicker smoothie and eliminate the need for ice cubes, and fresh fruit will make a thinner drink.

This recipe works so well because of its classic flavor combination. Blackberries, strawberries, and bananas all have a natural sweetness to them. If you like a sweeter smoothie, toss in a couple of dates or add some honey for a natural sweetness.

Yogurt gives the smoothie its creamy texture, protein, and probiotic benefits. You can use any yogurt you like, such as Greek, coconut, or almond yogurt.

It's easy to adjust the thickness of the pureed fruit drink. Start with a small amount of milk and add more as needed until you reach your desired thickness.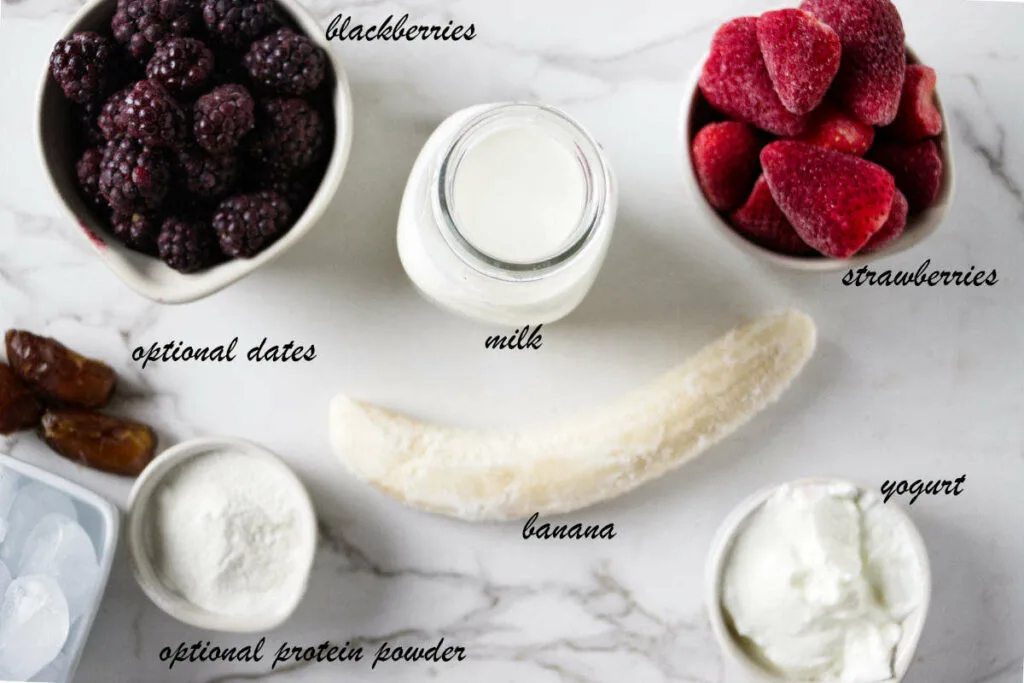 Ingredients for the Strawberry Blackberry Smoothie
Here is a list of the ingredients you will need for this blackberry strawberry banana smoothie recipe. Scroll down to the recipe card for all the details.
Milk (or a dairy-free milk)
Yogurt (plain or vanilla)
Blackberries (fresh or frozen)
Strawberries (fresh or frozen)
Banana (fresh or frozen)
extras
Ice cubes
Protein powder (choose your favorite)
Pitted dates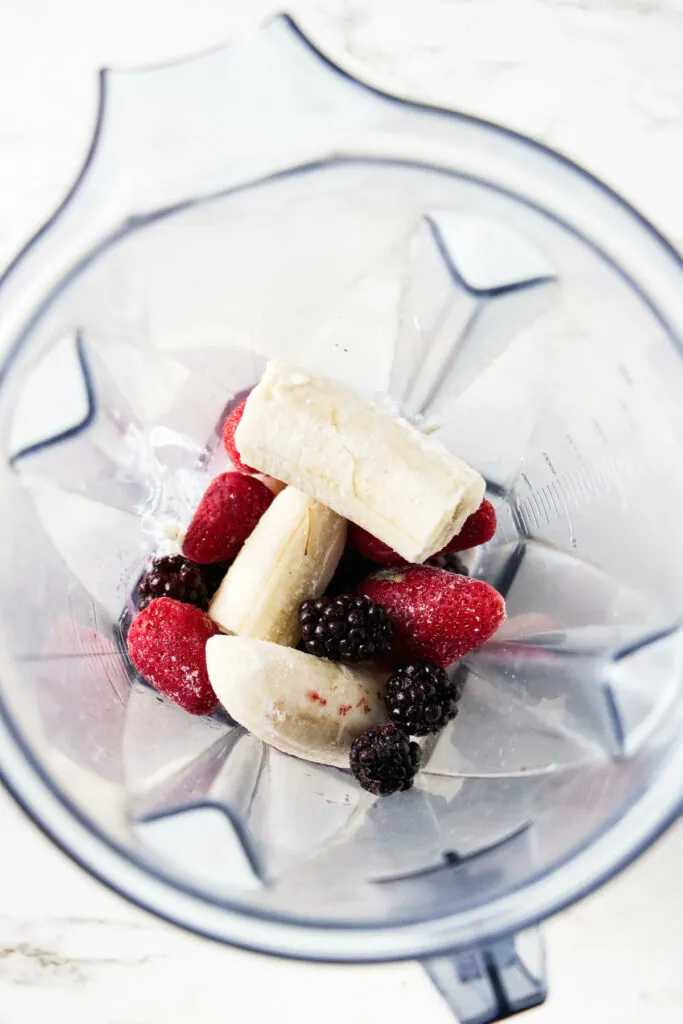 Smoothie Recipe Highlights
Here is a brief overview to give you an idea of what to expect when making this strawberry blackberry banana smoothie. Scroll down to the recipe card for all the details.
Start by pouring a small amount of milk into the bottom of a blender, then add the remaining ingredients.
Blend everything on high until smooth.
Pour in more milk or add ice cubes if you want to change the consistency of your smoothie, then combine them into the smoothie.
Add any of the optional ingredients and blend well.
Serve your blackberry strawberry smoothie immediately, and enjoy.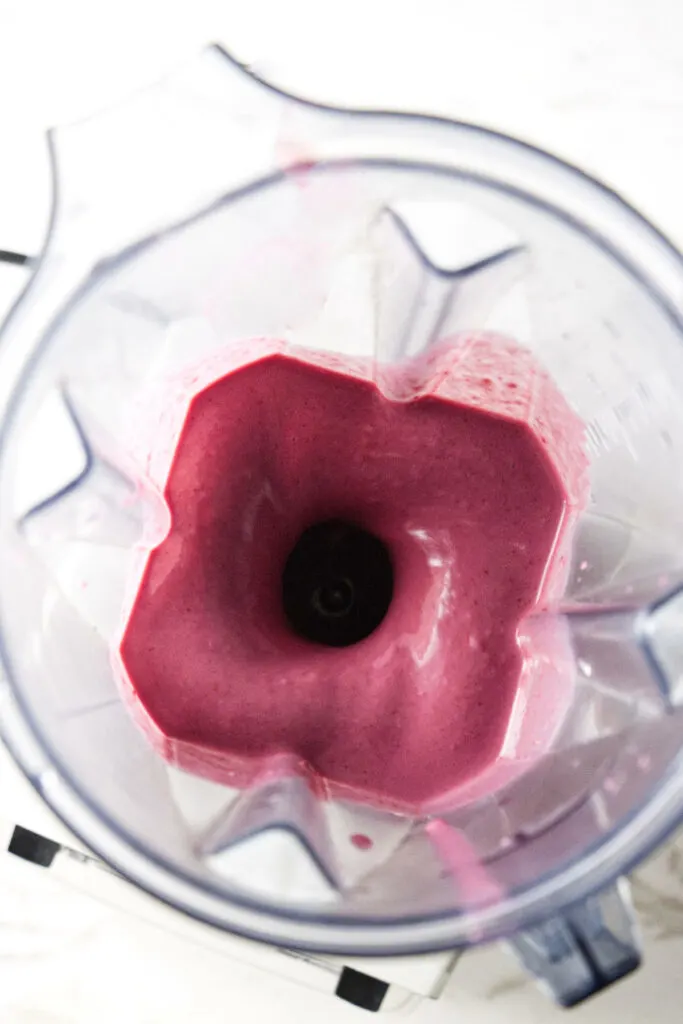 Tips for Berry Banana Smoothie
Stop the machine and scrape down the sides of your blender if you notice some of the stuff getting stuck in one spot.

Frozen fruit will make the smoothie thicker, but you are more than welcome to use fresh fruit to create this banana berry smoothie.

A high-powered blender will give you the best results, but any standard kitchen blender works fine for this recipe.

If you don't have a blender, this recipe works in a food processor.
Substitutions and Variations
Feel free to choose your favorite type of milk! Almond milk, oat milk, coconut milk, and dairy milk all work great.

To make a non-dairy strawberry blackberry smoothie, swap out the dairy yogurt for coconut yogurt.

For more protein and healthy fats, add in some nut butter such as almond, cashew, or peanut butter. You can also add a scoop of protein powder.

Add flax seeds, hemp seeds, or protein powder to increase the fiber and nutritional value.
Here are some flavor mix-ups to give you some ideas:
Coconut Berry Bliss
Swap out the milk for coconut milk and add half a cup of frozen pineapple chunks. Keep the banana, but replace the blackberries with mango chunks.
Strawberry Nut Delight
Use almond milk as the base and add a few tablespoons of almond butter for a creamy, nutty texture.
Green Power
For a veggie-packed version, keep the base as is, but add in a cup of spinach or kale. If you're feeling adventurous, add a teaspoon of spirulina for an extra nutritional boost
Frequently Asked Questions
What is the best liquid to put in a fruit smoothie?
It depends on what you are looking for in your smoothie. Milk will give the smoothie a creamy flavor, fruit juice will give it a sweeter, fruitier flavor, and water will dilute the flavors but make the smoothie lower in calories.
What should you not mix in a smoothie?
Avoid adding canned fruit, sugar, and artificial sweeteners if you want to keep your smoothie healthy and nutritious.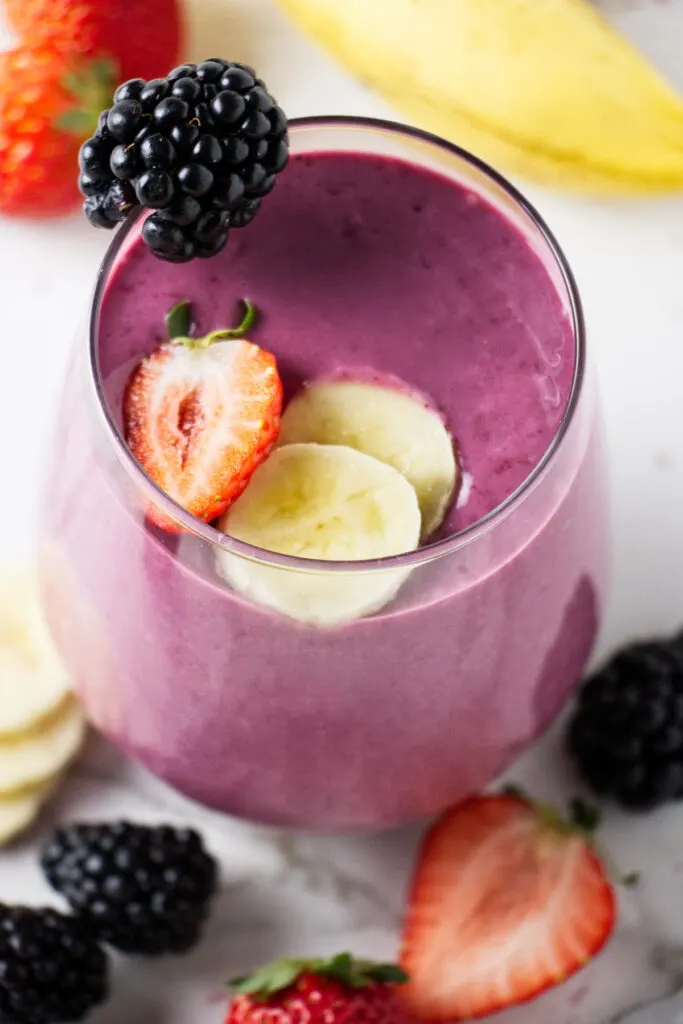 This banana berry smoothie is sure to fill you up and help you start the day off on the right foot. You could even use it as a post-workout energy booster. If you make it extra thick, it will be like having a healthy milkshake.
More Drink Recipes
⭐️ Helpful Tools
Some of the following are affiliate links. We may receive a small commission if you click on these links and purchase something. You don't pay any extra, but it will help us keep the lights on.
♥️ More Recipes You Will Love:
Our healthy mango sorbet is made with only mangoes. Frozen mangos blend up smooth and creamy and taste just like ice cream.
Our homemade strawberry popsicles are sweet, fruity treats. We added jam to the icy treats to give them a less icy texture. If you feel adventurous, make your own strawberry jam (and use the leftovers for a buttermilk scone.
Our strawberry fig jam is made with fresh fruit, and it is packed with flavor. Use it to top our healthy barley biscuits or our sour cream biscuits.
Connect With Savor the Best:
Please follow us on our social media accounts
Facebook * Instagram * Pinterest * Youtube * Twitter
Did you make this recipe? We would love to hear from you. Drop us a comment below.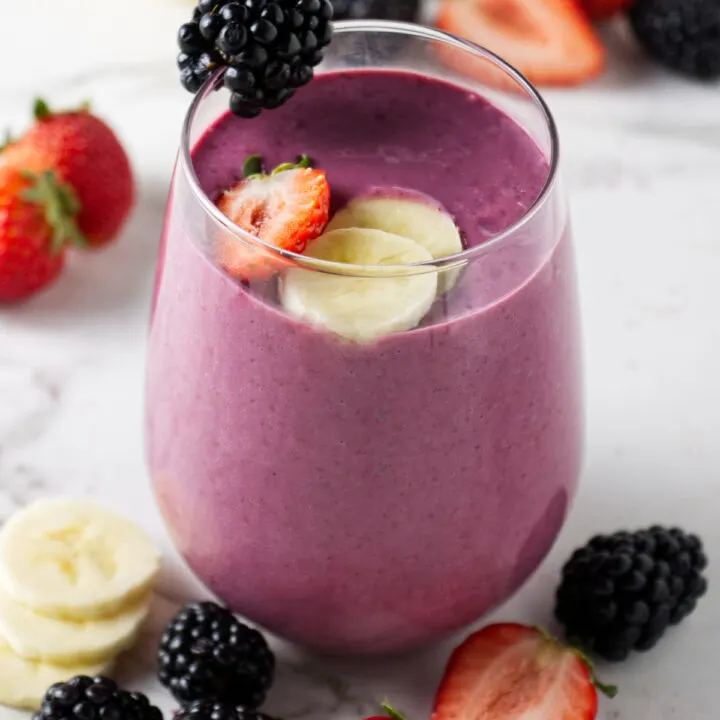 Blackberry Strawberry Banana Smoothie
This blackberry strawberry banana smoothie is a great way to kickstart your day. It's a delicious and nutritious blend of antioxidant-rich blackberries, sweet strawberries, and creamy bananas that come together for the perfect morning treat.
You can use fresh or frozen fruit, and you can make it dairy free if desired.
Ingredients
½ to 1 cup milk or non-dairy milk replacement
¼ cup plain or vanilla yogurt**
1 cup blackberries, fresh or frozen
½ cup strawberries, fresh or frozen
1 banana, fresh or frozen, cut into chunks
Optional Ingredients
½ cup ice cubes
½ scoop protein powder
1 to 2 dates, pits removed
Instructions
Pour ½ cup milk into a blender. Add the yogurt, blackberries, strawberries, and banana. Blend until smooth.
Add ice for a thicker smoothie or add additional milk if you want a thinner consistency.
If you want an extra protein boost, add 1/2 scoop of your favorite protein powder.
For extra fiber and sweetness, toss in the dates and blend until smooth
Notes
Start with just ½ cup of milk to get things blended, and add more if you want a thicker consistency.
For a non-dairy fruit smoothie, you can use your favorite milk replacement, such as almond milk or oat milk, and replace the yogurt with soy or coconut yogurt.
If you use frozen fruit, the smoothie will be thicker.
Depending on your blender, you may have to stop it a couple of times and scrape down the sides.
This recipe works in a standard blender or a high-powered blender, but you will get a smoother consistency if you use a high-powered blender.
Nutrition Information:
Yield:

2
Serving Size:

1
Amount Per Serving:
Calories:

261
Total Fat:

5g
Saturated Fat:

3g
Trans Fat:

0g
Unsaturated Fat:

2g
Cholesterol:

17mg
Sodium:

121mg
Carbohydrates:

42g
Fiber:

7g
Sugar:

31g
Protein:

16g
Nutrition information is a guideline only. It is calculated automatically by third-party software, and absolute accuracy is not guaranteed.