Nothing shouts "Summer" more than a glass of old-fashioned lemonade, wouldn't you agree? The little things, like the feeling of a cold glass in your hands and the tangy sweetness of fresh lemons, can make a hot day feel special.
This homemade lemonade recipe is so simple, but it tastes like sunshine in a glass! All you need is fresh lemons, water and sugar or your favorite sugar substitute. I will tell you my tips for this easy recipe and the perfect lemonade ratio. Get ready to be the star of your next BBQ or family gathering!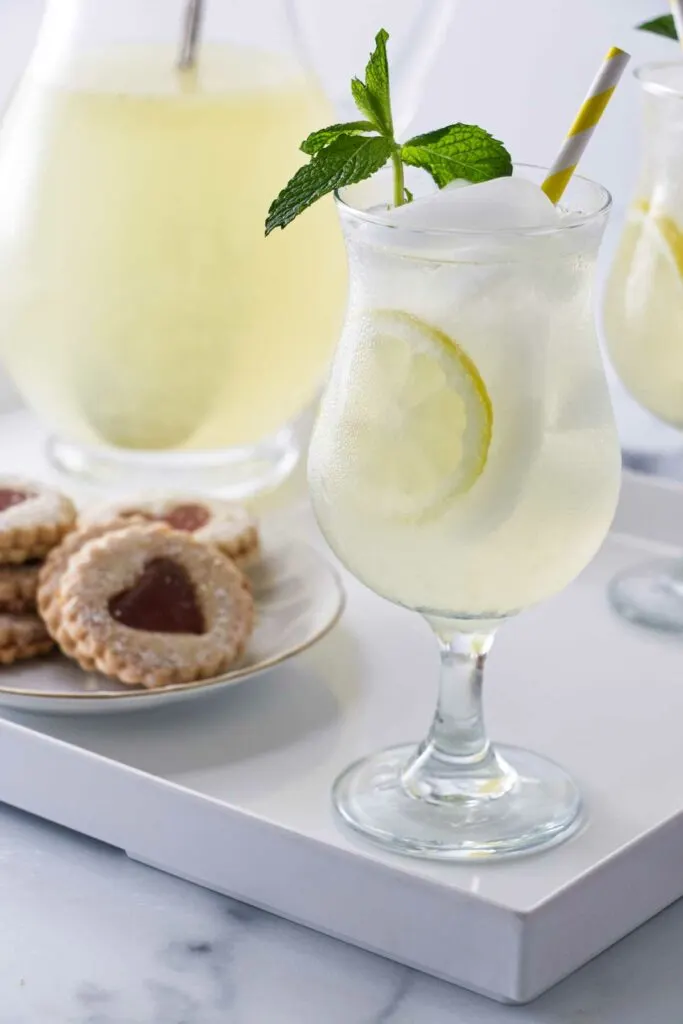 Here is Why This Lemonade Recipe Works
Freshness: There's something special about the taste of homemade lemonade that store-bought ones just can't compete with. Fresh lemons give a true, tangy, lemony flavor and the freshness is unbeatable.
Customizable Sweetness: One of the best things about making your own lemonade is the control you have over the sweetness. You can adjust the sugar levels to your liking, making it the perfect drink for those who prefer a tangier lemonade or those who like it sweeter.
Healthier than that powdered stuff: You know exactly what's going in your drink, and you can choose to exclude any artificial preservatives or sweeteners. Plus, it's a fun way to stay hydrated during those hot summer days!
Ingredients for Old Fashioned Lemonade
Here is a list of the ingredients you will need for this recipe. Scroll down to the printable recipe card for all the details.
Turn the Sugar into Simple Syrup:
Sugar. Regular granulated sugar is all you need. If you want to use a natural sweetener like honey or a sugar-free alternative, then that works as well.
Water.
Mixing the Lemonade:
Water. You can use plain water or carbonated water for a little effervescence.
Lemons. I like to have extra lemons so I can add lemon slices to the pitcher for garnish.
Extras. Ice cubes, fresh mint for garnish, and drinking straws are nice to have.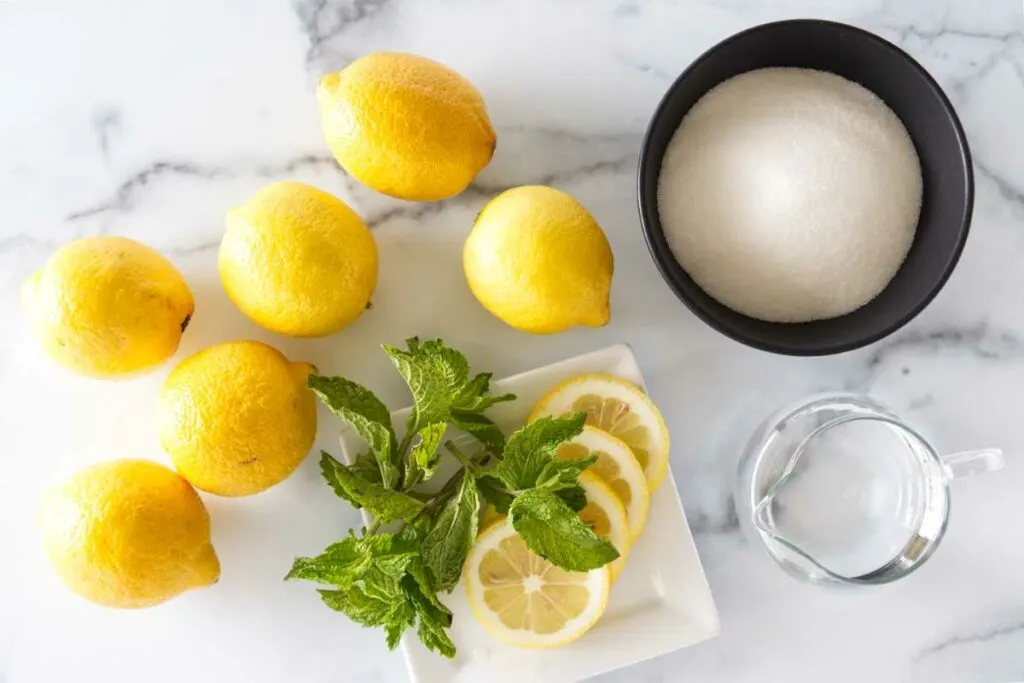 Sweet Variations
Ginger Lemonade: Fancy a bit of a zing to your lemonade? Grate some fresh ginger and squeeze the juice into your lemonade. Ginger offers a subtle spiciness that complements the tart lemon flavor.
Lavender Lemonade: Check out our recipe for lavender lemonade. We added lavender to the simple syrup, and when we mixed the purple syrup with the acidic lemons, the drink turned from purple to a pretty pink color.
Sparkling Lemonade: Switch up regular water with sparkling water for a fizzy version. This gives your lemonade a fun, bubbly twist!
Hibiscus Lemonade: We have an easy recipe that uses dried hibiscus flowers and it makes a vibrant red lemonade.
How to Make Homemade Lemonade
Here is a brief overview to get an idea of what to expect with this old school, country living, lemonade recipe. Scroll down to the printable recipe card for all the details.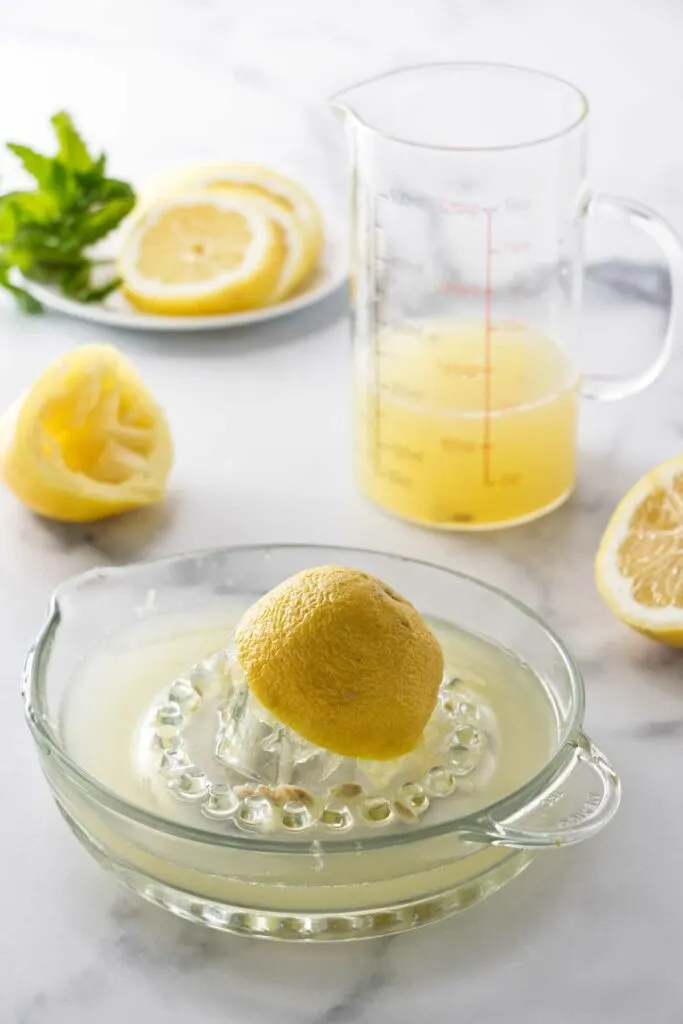 The simple syrup recipe:
Add the sugar and water to a saucepan and bring to a boil. Stir until the sugar dissolves.
This may seem like an unnecessary step, but it will make it so easy to sweeten the lemonade. Simple syrup dissolves immediately into the cold drink and won't leave any grains of sugar sitting on the bottom of the glass.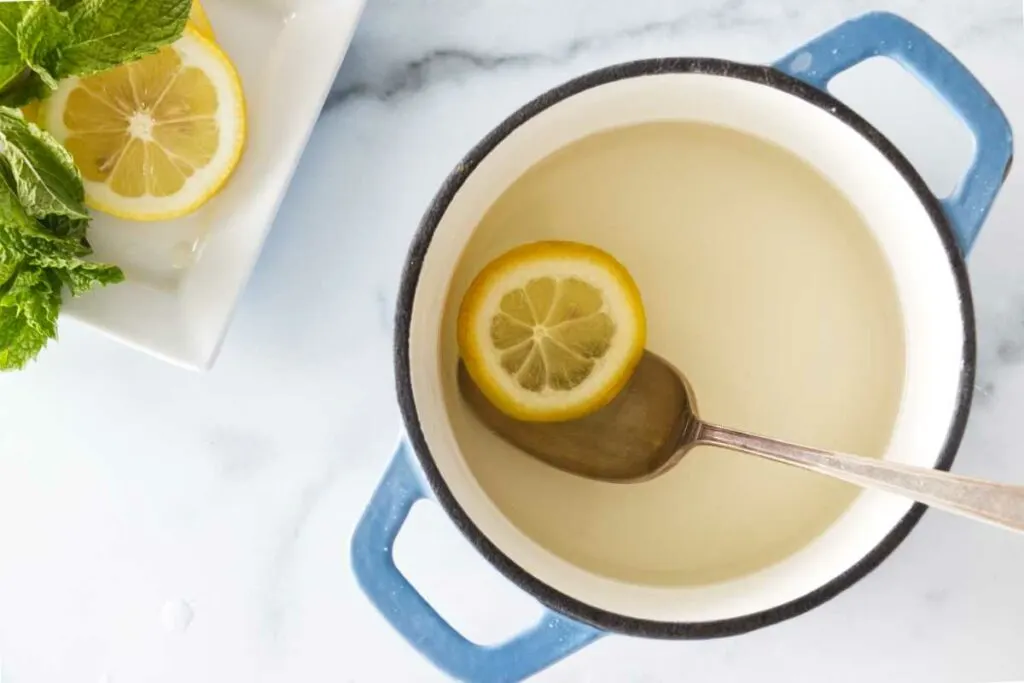 For the Lemonade:
Pour cold water into a pitcher, add the lemon juice and the cooled syrup.
Add lemon slices and ice cubes if desired.
Adjust the sweetness by adding more simple syrup for a sweeter drink or extra lemon juice for a more tart drink.
Lemonade Ratio
The perfect ratio for lemonade is 1:2:4. That is 1 cup of sugar, 2 cups of lemon juice, and 4 cups of water. That will make the lemonade super lemony and perfectly sweet. It also gives you plenty of room to adjust the sweetness with more sugar or dilute the tartness with extra water.
Serving Suggestions
Classic sugar cookies, crispy oatmeal shortbread, or chewy pistachio cookies complement the tart flavor of lemonade wonderfully. For a healthier twist, offer a fresh fruit salad.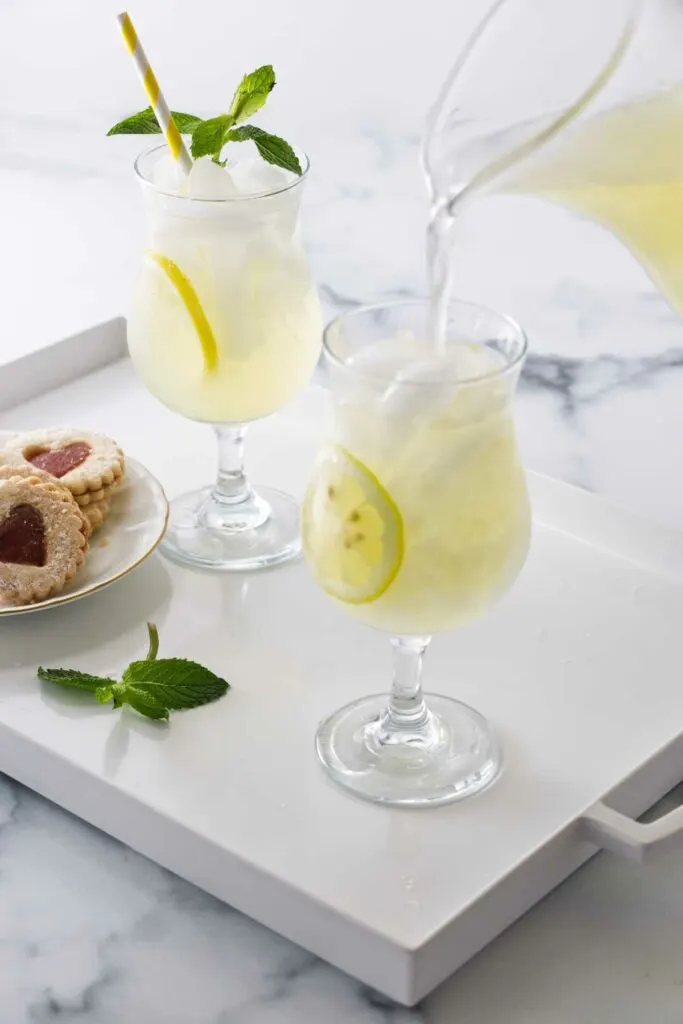 Tips for Success
Simple syrup ratio: The standard ratio for simple syrup is 1:1, meaning you'll use equal amounts of sugar and water. If you want to give guests an option to make their lemonade sweeter, make extra simple syrup to serve next to the pitcher of lemonade.
Juicing the lemons: Roll your lemons on the counter before juicing them. This helps break down the cell walls and release more juice.
Sweetness Level: Adjust the sweetness according to your preference. Start with less simple syrup if you prefer a more tart beverage.
Make lemonade ice cubes: Freeze extra lemonade in an ice cube tray and add them to your lemonade. As the cubes melt, they won't dilute the lemonade the way regular ice cubes would.
Storage
In the fridge: Pour the lemonade into a clean, airtight container. Glass is preferable as it doesn't hold onto flavors or odors. If you've added fresh fruits or herbs, remove them before storage to prevent them from becoming soggy. Seal the container tightly and store it in the refrigerator for up to a week.
In the freezer: Pour your lemonade into ice cube trays. Place the trays in your freezer and let the lemonade freeze solid. Once it's frozen, you can pop the lemonade cubes out and store them in a freezer-safe bag or container.
Use frozen lemonade cubes instead of ice in your drinks, or add them to a blender for a quick and easy slushy!
More Lemon Recipes
Lemons are incredibly versatile and can be used in so many delicious ways! From sweet treats to savory sensations, lemons can truly do it all. Here are a few lemon-inspired recipes to put all those lemons to good use!
Frequently Asked Questions
Why do you boil water for lemonade?
You need to boil water to make simple syrup. The simple syrup will dissolve easily in liquid, and it is an easier way to sweeten the lemonade than using granulated sugar.
Do you have to use simple syrup to sweeten lemonade?
No, you don't have to use simple syrup. You can stir granulated sugar right into the lemonade, but it will take longer for the sugar to dissolve. You can also use honey or agave nectar to sweeten lemonade.
So there you have it, folks! The secret to the perfect, refreshing summer drink lies in its simplicity. Making your own lemonade not only lets you control the sweetness but also guarantees you're drinking a healthier, preservative-free beverage.
Homemade old fashioned lemonade is more than just a thirst quencher—it's a celebration of summer in a glass!
Helpful Tools
Some of the following are affiliate links. We may receive a small commission if you click on these links and purchase something. You don't pay any extra, but it will help us keep the lights on.
More Recipes You Will Love:
Connect With Savor the Best:
Please follow us on our social media accounts
Facebook * Instagram * Pinterest * Youtube * Twitter
Did you make this recipe? We would love to hear from you. Drop us a comment below.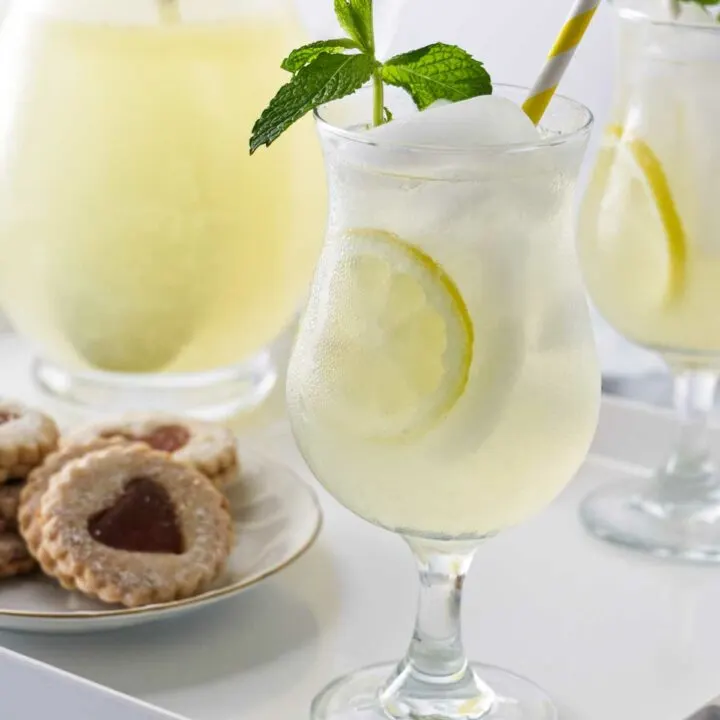 Old Fashioned Lemonade
A cold glass of Old Fashioned Lemonade is perfect for a hot, summer day! This easy recipe has the sweet-tart citric taste just like the lemonade that Grandma made!
Ingredients
For the Simple Syrup:
1 cup granulated sugar
1 cup water
For the Lemonade:
4 to 5 cups cold water
2 cups lemon juice (from about 10 lemons)
1 lemon, thinly sliced
Ice cubes
Fresh mint for garnish
Instructions
Make the simple syrup:
Add the sugar and 1 cup of water to a small saucepan set over medium-high and bring to a boil. Stir until the sugar has fully dissolved. Remove from the heat and cool to room temperature. You will have approximately 1-½ cups of simple syrup.
For the Lemonade:
Pour 4 cups of the cold water into a 2-quart pitcher. Add the lemon juice and 1 cup of the simple syrup stirring well. Taste and adjust to your liking. If it is too strong, add an extra cup or two of water. Add extra lemon juice if you like it more tart. If you want it sweeter, add more simple syrup.
Add lemon slices to the pitcher.
Place several ice cubes and a lemon slice in tall glasses and fill with lemonade. Top each serving with a sprig of mint if desired.
Notes
For a sweeter lemonade, do not add sugar to the pitcher of cold lemonade, as it will not dissolve easily. My suggestion is to make additional simple syrup by combining ½ cup of the lemonade and ½ cup of sugar in a saucepan. Heat the mixture, stirring occasionally until the sugar dissolves. Remove from the heat, cool, and add to the pitcher of lemonade according to your taste preference.
If you want to replace the sugar with honey, it works best if you make the simple syrup using honey instead of sugar. That way, the honey will dissolve easier.
If you want to use agave nectar instead of sugar, just stir the agave into the lemonade. Agave will dissolve easily in cold drinks.
Some lemons have an excessive amount of seeds. To easily remove many of them before squeezing, cut the lemons in half and insert a dinner fork in several places of the exposed flesh, gently twisting the fork. The seeds will rise to the surface, where you can scrape them off with the fork. Repeat the procedure with each lemon. Then proceed with the juicing. The fork will break up the lemon flesh to help release its juice.
If the lemons are especially firm and difficult to juice, try rolling them on the countertop while firmly pressing down, which breaks down the tissues. Also, you can place them in the microwave for 15-20 seconds before squeezing them.