Roasted strawberry yogurt popsicles make a delicious summertime dessert that can easily morph into a deluxe breakfast. At only 150 calories and 1 gram of fat each, these yogurt popsicles are a satisfying and healthy indulgence. You won't believe how much flavor comes from the roasted strawberries.
Fat adds flavor and creaminess to foods. I like fat and fat likes me. Maybe too much because I can't shake it loose 😊.
You will find a plethora of fattening desserts on this blog site. These no-bake cheesecakes with a chocolate-covered strawberry inside are guaranteed to send you into dessert bliss.
Just don't look at the calorie and fat count on those cheesecakes. It is something you eat when you are throwing caution to the wind. Or when you are going to ride 200 miles on your bicycle to burn off all the calories.
Yes, I did that. I rode the Seattle to Portland annual bike ride with my daughter-in-law, Sara. Since we are both nurses, we volunteered to ride the route as medical support. If you want to know more about that long bike ride, check out my Instagram stories under the STP 2019 highlights.
Low-fat dessert with a load of flavor!
Just because fat adds flavor to your food doesn't mean that low fat has to be flavorless. Frankly, I don't enjoy eating low-fat desserts that are slack on flavor just for the sake of eating something sweet.
I want a dessert that tastes as good as it looks. And these roasted strawberry yogurt popsicles deliver.
Roasted Strawberries is the secret ingredient!
You can make these popsicles a lot faster if you just mash the fresh strawberries and blend them in with the yogurt. But let me tell you how to make these popsicles better.
You gotta roast the strawberries!
Roasting the strawberries intensifies their flavor and concentrates all the strawberry goodness. It is a simple step but it takes a bit of time.
My strawberries were pretty juicy and it took close to 60 minutes to get them cooked down and concentrated. When I make roasted strawberries with less juicy strawberries it only takes around 35 minutes. It also depends on just how 'roasted' you want them.
The more you cook them, the more concentrated and caramelized the sugars will get. If you want a bit more caramelization to the strawberry juices you can cook them longer but it will make them pretty sticky. If you cook them until they are caramelized, make sure to scoop them off the baking tray before they get cool or the sugary strawberry syrup will get cold, hard, and cling to the baking sheet.
Tips for roasting strawberries:
Use a rimmed baking sheet. The rim will prevent the juices from dripping all over the oven floor.
Line the baking sheet with parchment for easy cleanup.
Roast the strawberries until the juices get thick but do not burn.
Scrape the berries and juices off the baking sheet while they are still warm so the sugar doesn't stick to the baking sheet.
Does freezing yogurt kill probiotics?
Good news! The team at Columbia University has confirmed that the probiotics (healthy bacteria) in yogurt will survive the freezing process. So, you can add one more checkmark to the health benefits of eating these roasted strawberry yogurt popsicles. They are a guilt-free dessert if you eat them in moderation.
Of course, you will want to be sure to choose yogurt that has live and active cultures. Just read the label when you buy your yogurt. The most common probiotic I see in yogurt is lactobacillus acidophilus and lactobacillus bulgaricus.
Weight Watchers and Slimming World compatible:
These roasted strawberry yogurt popsicles are ZERO points using the Weight Watchers Freestyle program.
For Slimming World, the popsicles are 4 Syns because the fruit is cooked. Either way, you have a healthy, low-fat dessert that can easily sub for breakfast.
SOME OTHER RECIPES WE ARE SURE YOU WILL LOVE:
Strawberry and rhubarb unite for a classic and delicious combination in this strawberry rhubarb crisp. It is fast and easy to make and you don't have to bother with rolling out any dough.
How can you go wrong with chocolate covered strawberries? These little bites of heaven make for a healthy, low-calorie dessert that will totally satisfy your sweet tooth.
Want more healthy endings? These baked pears with ricotta yogurt cream are a great way to finish any meal.
If you haven't tried grilled pineapple then stop everything and go make this grilled pineapple with cinnamon sugar. It is a dessert that marks off all the checkboxes.
CONNECT WITH SAVOR THE BEST!
Be sure to follow us on our social media accounts
Facebook * Instagram * Pinterest * Twitter * Youtube
Did you make this recipe? We would love to hear from you. Drop us a comment below.
Yield: 8 popsicles
Roasted Strawberry Yogurt Popsicles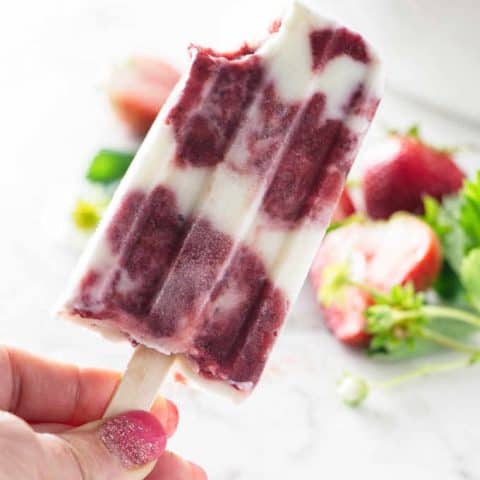 Roasting intensifies the flavor of the strawberries in these roasted strawberry yogurt popsicles. They are a perfect healthy dessert and even great for breakfast. Weight Watchers and Slimming World friendly.
Prep Time 10 minutes
Cook Time 1 hour
Total Time 1 hour 10 minutes
Ingredients
2-1/2 pounds strawberries 6.5 cups
2 teaspoons sugar
1 tablespoon lemon juice
1-1/4 cup plain low-fat yogurt
1 teaspoon vanilla extract
Optional: sugar, honey, or stevia to taste
Instructions
preheat the oven to 350°F.
Slice the strawberries in half and place them on a rimmed baking sheet then sprinkle them with sugar.
Place in the oven and roast for 45 to 60 minutes, stirring the berries halfway through the cooking time. Watch them closely to prevent the juices from becoming too sticky.
Remove from the oven and scrape the berries and juices into a bowl.
Mash the strawberries with a fork, leaving a few larger chunks then place in the fridge to cool.
Stir the lemon juice and vanilla extract into the strawberry mixture. Taste it and if you want it sweeter, add some sugar, honey or stevia.
In a separate bowl, combine the yogurt and vanilla extract. If you want it sweetened, add some sugar or stevia to taste.
Fill the popsicle molds by alternating 1 tablespoon of strawberry mixture with 1 tablespoon of yogurt. Leave about 1/4 inch space at the top of the molds.
Insert a popsicle stick and freeze until solid.
Notes
Use a rimmed baking sheet when you roast the strawberries so the juices don't run all over the oven.
If you line the baking sheet with parchment paper, the sticky juices will be easier to clean.
Recommended Products
As an Amazon Associate and member of other affiliate programs, I earn from qualifying purchases.
Nutrition Information:
Yield:
8
Serving Size:
1
Amount Per Serving:
Calories: 154
Total Fat: 1g
Saturated Fat: 0g
Trans Fat: 0g
Unsaturated Fat: 1g
Cholesterol: 2mg
Sodium: 23mg
Carbohydrates: 35g
Fiber: 7g
Sugar: 25g
Protein: 4g
Nutrition information is a guideline only, is calculated automatically by third party software, and absolute accuracy is not guaranteed.