Nothing beats homemade ice-cream but if you can't find your ice-cream churner you can still have some amazing ice cream. We have pulled together 14 amazing no-churn ice cream recipes from some of our favorite food bloggers.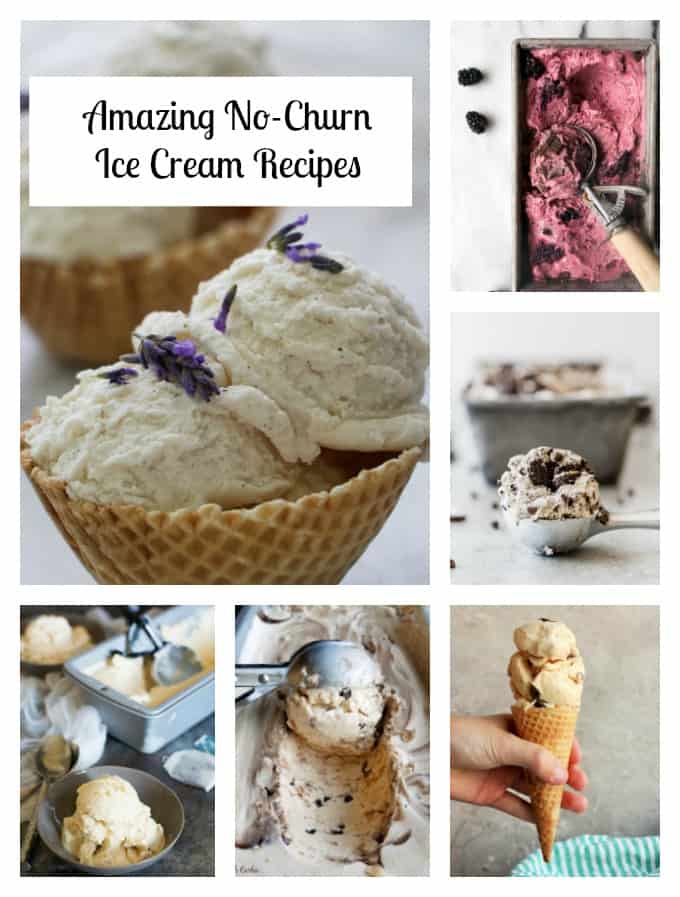 No-Churn Ice Cream Recipes
If it is too hot to turn the oven on then try some of these desserts to cool you down. No oven required!
Grab a spoon and give these no-churn ice cream recipes a try.
We love lavender in ice-cream and this no-churn vanilla-lavender ice cream has us enchanted. From Savor the Best.
Bourbon and cherries! Need I say more? Lucy at Super Golden Bakes added some crunchy texture to this amazing ice cream by using digestive biscuits.
The blackberries are growing like crazy in our backyard and they need to go into this blackberry chip ice cream. Christina at Dessert for Two just made it better by adding chopped dark chocolate to the recipe.
If you have ever put cream in your Earl Grey, you know Earl Grey in your cream is gonna be good. The folks over at Fearless Dining will show you how to make this no-churn Earl Grey ice cream.
Whitney at Salt and Baker makes this no-churn oreo ice cream with only five ingredients.
Jay and Leah at Gastronom Blog have concocted a pretty amazing flavor. This no-churn chocolate-coffee-stout fudge ripple ice cream will have you hooked.
We like how Dini at The Flavor Bender uses natural flavors and colorings to make all the different colors in this fun party flavored ice cream.
Pumpkin doesn't have to be a seasonal Fall flavor. When you put pumpkin in ice-cream it becomes a summer flavor! Ellen from Confessions of an Overworked Mom has an easy recipe.
What's in a Sundae cone dream no-churn Ice cream? Carlee at Cooking with Carlee says it is studded full of dulce-de-leche, crushed sugar cones, mini chocolate chips, and a fudgy chocolate swirl.
Peach is such a refreshing flavor in ice cream. Nikki at Tikkido makes it easy with this no-churn peach recipe.
Have you tried salt on your watermelon? It's actually a good thing. And Karyn at Pint Sized Baker puts the flavor in a no churn ice cream. Then she adds chocolate. I'm sold!
I'm a nut for peanut butter and Sarah at Sustainable Cooks made this super peanutty by using powdered peanut butter then she added in some mini peanut butter cups.
Meaghan at 4 son's R Us made a no-churn version of the famous Ben and Jerry's Cherry Garcia ice cream.
Oh, that sweet-tart flavor of rhubarb ice cream! Have you tried it? Jeanine at Faithfully Gluten Free makes this no-churn Rhubarb Ice Cream with only six ingredients.
Have you made any No-Churn Ice Cream Recipes lately? We would love to hear from you. Drop us a comment below or snap a picture and hashtag us #savorthebest on Instagram of Facebook