These chewy brownies with almonds are the perfect dessert for any occasion. They are so easy to make and they only require one bowl. They're rich, fudgy and full of chocolate flavor. They have the perfect amount of crunch from the almonds. This recipe makes a large batch in a 13 x 9 inch pan because you can't have too many brownies. Am I right?
Bonus: No mixer required!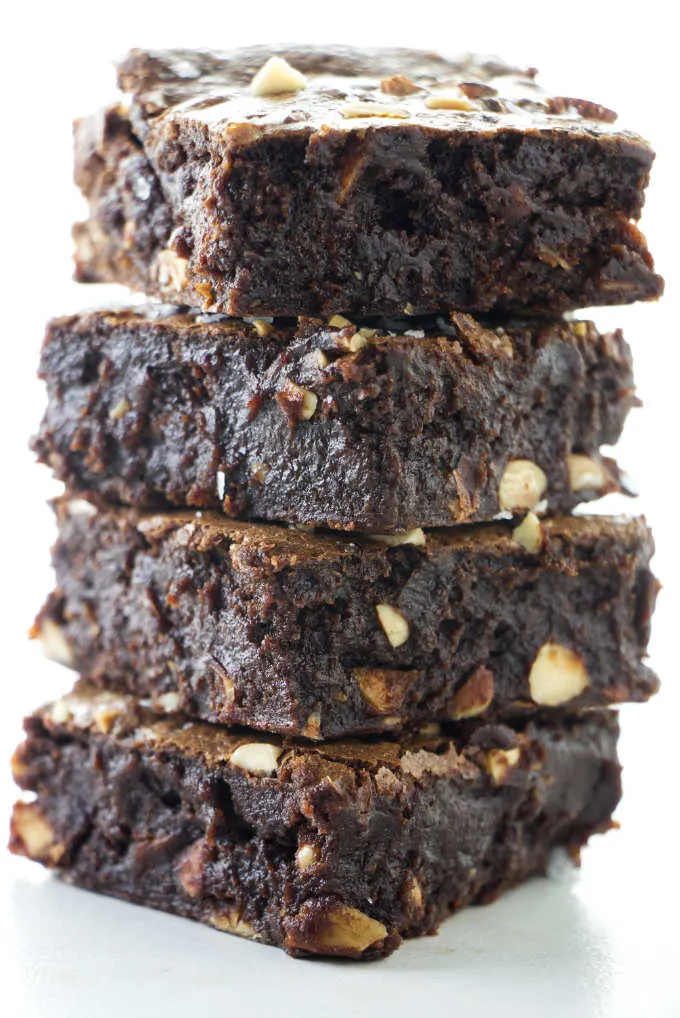 Brownies are one of the most comforting and satisfying desserts around. These fudgy, chewy brownies with almonds will be your new go-to recipe for any occasion! We used two different types of chocolate and two types of fat in order to get both chewy and fudgy textures.
The cocoa powder and oil makes them dense and chewy while the melted chocolate and butter make them gooey and fudgy. These factors, plus making sure you don't over-bake the brownies is what will give you chewy and fudgy brownies.
Adding roasted almonds to the brownies gives them a bit of crunch and nuttiness. If you want even more almond flavor, you can add 1/2 teaspoon of almond extract to the batter when you stir in the vanilla extract.
We finished the brownies with a sprinkle of large Maldon salt flakes. The salt flakes transform the brownies into an even more tantalizing taste sensation. Salt is the secret to better brownies. Add salt flakes to the top of our triple chocolate brownies or einkorn brownies while you are at it. Salt flakes are even good on our brown sugar fudge or anything sweet.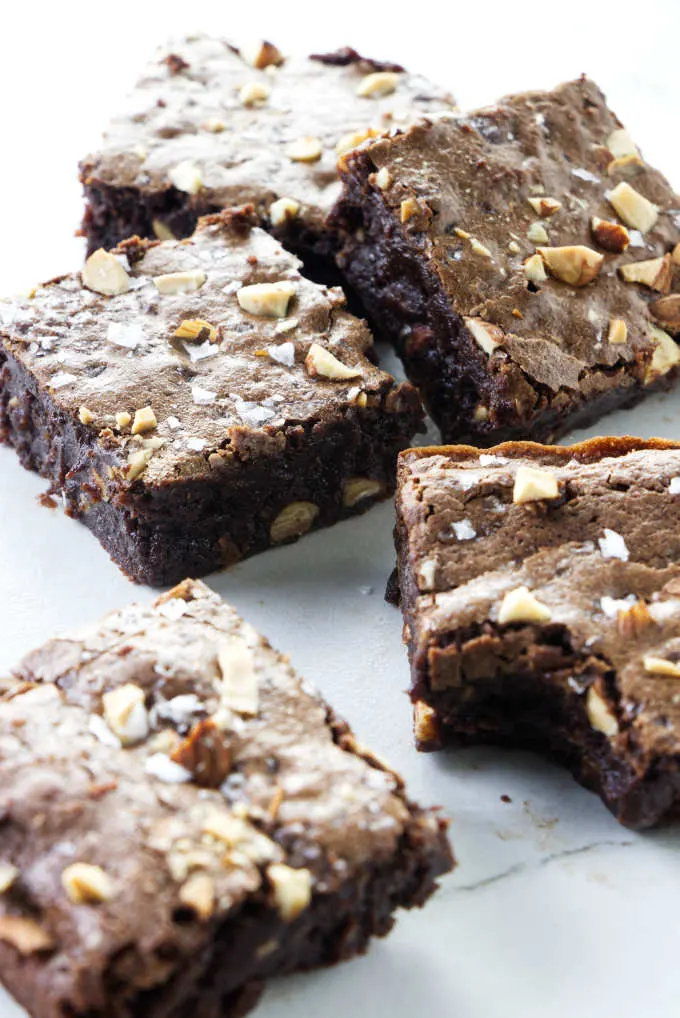 Here's Why We Love Them:
Easy to make in one bowl
Full of chocolate flavor with a hint of almond crunch
No mixer required
Amazing brownies that are easy to make and take minimal time
Makes a large batch
Chewy AND fudgy brownies
The Ingredients You Will Need:
Butter. You can use salted or unsalted butter. Using salted butter will not add too much salt to cheese brownies.
Unsweetened chocolate. A bar of Bakers chocolate will work.
Hot coffee. Coffee will enhance the chocolate flavor.
Cocoa powder. Use unsweetened cocoa powder and not the sweetened drink mix.
Sugar. Granulated white sugar.
Vanilla extract. You can also add 1/2 teaspoon of almond extract if you would like.
Oil. Use a neutral oil like canola oil.
Eggs. We used whole eggs and a couple of extra egg yolks. The extra egg yolks help make the brownies extra chewy.
Flour. All-purpose flour.
Almonds. Roasting the almonds will give them a better flavor.
We also used two kinds of salt:
Regular table salt and Salt flakes. For the salt flakes, make sure you use finishing salt like Maldon salt or Fleur de Sel. The texture of these larger salt granules is quite unique and they do not make the brownies too salty.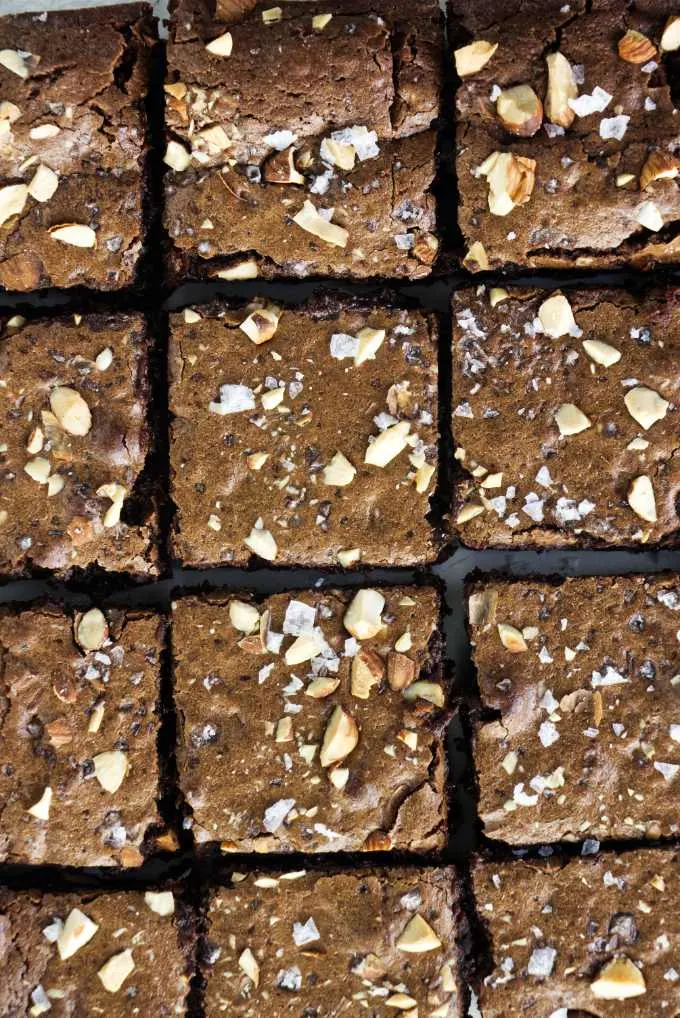 How to Make Brownies from Scratch:
Here is a brief overview of our recipe for brownies with almonds. Make sure you scroll down to the printable recipe card for all the details.
Melt the chocolate and butter.
Stir in the rest of the ingredient except the flour and finishing salt.
Stir in the flour.
Sprinkle finishing salt on top and bake.
Frequently Asked Questions:
Why are my brownies wet in the center?
If your brownies are still warm then they will seem wet and gooey in the center. Once they cool down they will firm up and be easier to slice. If they are still wet then they did not bake long enough. If you want to be a bit OCD about baking them, you can use an instant-read thermometer and bake them until the center reaches 193° to 198°F.
How do you make chewy brownies?
These brownies are perfectly moist and chewy. I learned the secret to chewy brownies from Cooks Illustrated. It's all about the right ratio of saturated fat to unsaturated fat so you will find not only butter but also oil in this recipe.
The extra egg yolks also help create the right fat ratio without making the brownies greasy. We also used less flour in these brownies so they would have a chewy texture. If you use more flour, they will turn out a bit cakey.
How do you make fudgy brownies?
Melted chocolate and butter contribute to the fudgy texture in these brownies.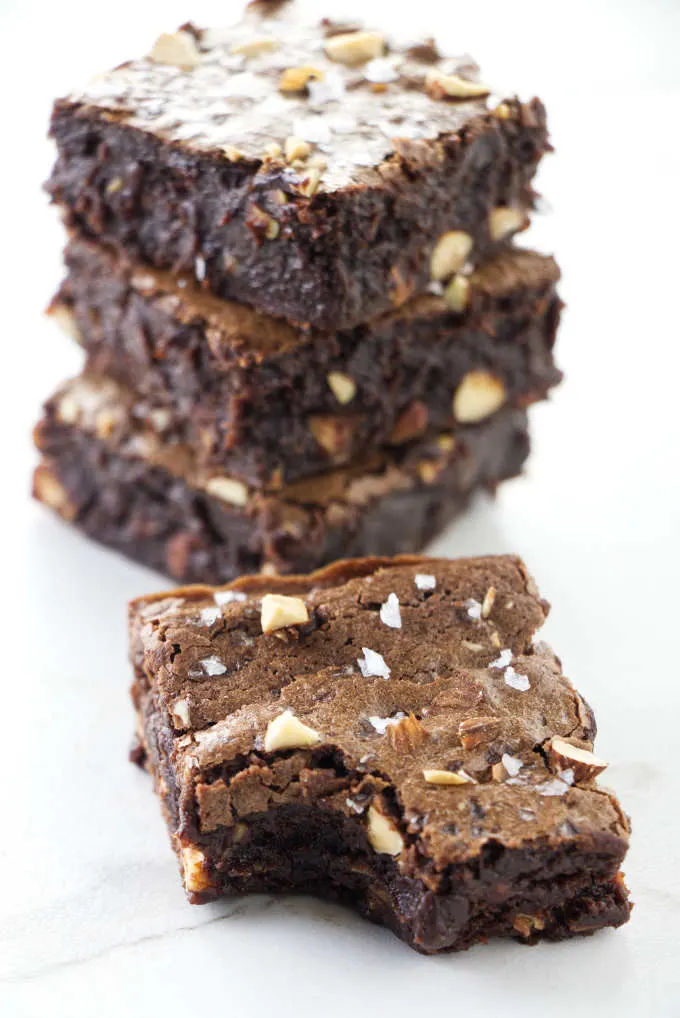 Connect With Savor the Best:
Please follow us on our social media accounts
Facebook * Instagram * Pinterest * Youtube * Twitter
Did you make this recipe? We would love to hear from you. Drop us a comment below.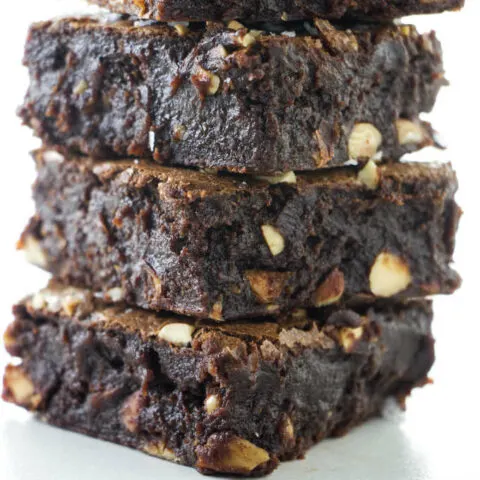 Chewy Brownies with Almonds and Sea Salt
Perfectly chewy brownies with roasted almonds and sea salt. Melted chocolate and cocoa powder give the brownies incredible chocolate flavor. These brownies are the perfect blend of chewy and fudgy, with a rich chocolate flavor that is accentuated by the roasted almonds and sea salt.
Ingredients
4 tablespoons butter
4 ounces unsweetened chocolate, roughly chopped
½ cup hot coffee
1/2 cup cocoa powder
2 ½ cups sugar
2 teaspoons vanilla extract
1 teaspoon sea salt
½ cup vegetable oil
2 eggs
2 egg yolks
1 ¾ cups all-purpose flour
1 cup toasted almonds, roughly chopped
½ teaspoon large flake Maldon or Fleur de Sel finishing salt
Instructions
Preheat the oven to 350 degrees. Grease a 13 x 9 inch pan with nonstick cooking spray.
In a microwave-proof bowl, melt the butter and chopped chocolate in 20 to 30-second intervals until smooth.
Stir in the hot coffee, cocoa powder, sugar, vanilla, and salt. Mix well. Beat in oil then the eggs and egg yolks until well combined. Add the flour and stir until the batter is smooth. Stir in the chopped almonds.
Scrape the batter into the prepared pan then sprinkle the finishing salt on top and bake until the edges look set, about 28 to 30 minutes. Don't overbake. They will look underbaked in the center but the chocolate will firm up when the brownies cool.
Let cool completely in the pan for about 1 to 1 ½ hours before cutting.
Notes
To toast the almonds, place them in the oven at 350° for 8 to 12 minutes until they smell fragrant.
If you want a bit more almond flavor in these brownies, you can add 1/4 to 1/2 teaspoon of almond extract. Don't add too much almond extract though as it is a strong flavoring.
The brownies will appear underbaked in the center and a toothpick test will show a gooey brownie on the toothpick. You can tell they are done baking when the edges look firm even if the center seems soft. The brownies firm up when they cool.
If you want a definitive test to know that the brownies are completely baked, you can use an instant-read thermometer. The center of the brownies will be 193°F to 198°F when they are completely baked.
Nutrition Information:
Yield:

21
Serving Size:

1
Amount Per Serving:
Calories:

279
Total Fat:

14g
Saturated Fat:

4g
Trans Fat:

0g
Unsaturated Fat:

10g
Cholesterol:

41mg
Sodium:

261mg
Carbohydrates:

35g
Fiber:

2g
Sugar:

24g
Protein:

4g
Nutrition information is a guideline only, is calculated automatically by third-party software, and absolute accuracy is not guaranteed.