The old-world classic bread pudding was once known as a 'poor man's dessert' but has been elevated to 'gourmet' status with variations of the original recipe. With our Pumpkin Bread Pudding we include all the favorite fall flavors that we love in pumpkin pie.
Bread pudding of one variety or another can be found on high-end gourmet restaurant menus but during the holiday season Pumpkin Bread Pudding is often featured as their specialty dessert.
What is Bread Pudding?
The basic bread pudding is a concoction of stale bread cubes soaked in cream, milk, eggs, sugar and vanilla. By simply adding canned pumpkin and the warm spices of cinnamon, ginger, cloves, and nutmeg the pudding is transformed into an elegant, Pumpkin Bread Pudding.
Repurpose Leftover Bread
Growing up in a large family in an era when moms and grandmas still baked their own bread, there was always some left-over stale bread around. We ate bread pudding quite often and I totally get why the phrase 'poor man's dessert' was tagged to this creamy, luscious dessert.
Inexpensive Ingredients:
Bread
Eggs
Pumpkin
Milk
Cream
Sugar
Spices
The ingredients are inexpensive and readily available in your home already. Most likely you will not need to run off to the store to buy something special.
Easy to Make:
It was easy to prepare and the ingredients were inexpensive. Plus, mom always loaded it up with raisins, cinnamon and sometimes nuts. And that baked, warm, creamy goodness would serve our whole family! But this awesome Pumpkin Bread Pudding was never on the dessert menu at our house.
How Do You Measure Bread Cubes?
Did I mention that this is an easy dessert to prepare? We removed the crusts from a pound of stale bread and cut it into bite-size cubes. Don't bother trying to measure out 'cups' of bread cubes as our measurements may not match yours. How many bread cubes do you put into a measuring cup anyway? And do you heap it up or make it level? We used a two-quart baking dish and just piled the bread cubes into the baking dish to fill it nearly full. Much easier!
To make this even easier a food processor or blender works a fast wonder with the eggs, pumpkin, milk, cream, sugar and spices. Then…. just pour that creamy custard over the bread cubes, press the bread down so they all get submerged and let them soak up that yummy goodness. Just before baking sprinkle the top with chopped pecans and bake until it is puffy and crunchy on top.
Oh you are going to love this Pumpkin Bread Pudding and it just might be elevated to the top of your holiday dessert list.
Other Recipes you might like on Savor the Best:
Video: How to make Pumpkin Bread Pudding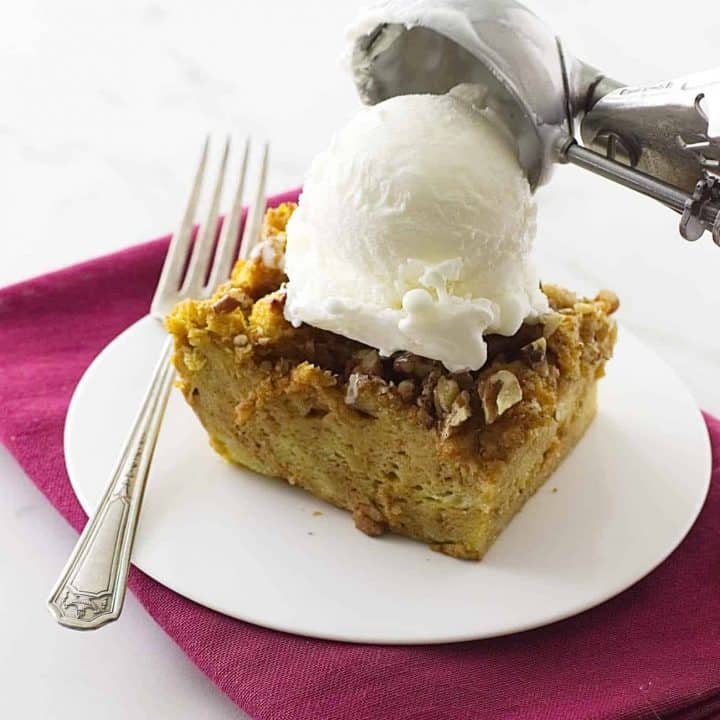 Pumpkin Bread Pudding
Yield: 12 servings
Prep Time: 30 minutes
Cook Time: 1 hour
Total Time: 1 hour 30 minutes
The classic bread pudding has been transformed into Pumpkin Bread Pudding with all the flavors that we love in pumpkin pie.
Ingredients
1-1/4 pounds stale bread, crusts removed, cut into 1-inch pieces, 14 ounces of bread cubes.
1 tablespoon butter, melted
1 15-oz. cans pure pumpkin purée
6 large eggs
2 cups whole milk
1 cup heavy cream
1 cup (200g) granulated sugar
1 tablespoon pure vanilla extract
1 1/2 teaspoon ground cinnamon
1 teaspoon ground ginger
1/2 teaspoon freshly grated nutmeg
1/2 teaspoon ground cloves
1 teaspoon fine sea salt
1 cup chopped pecans (optional)
Instructions
Preheat the oven to 325°F.
Brush the melted butter inside of a 2-quart ovenproof baking dish. Add the bread cubes to the dish, smoothing out to an even layer.
In a blender or food processor, add the pumpkin, eggs, milk, cream, sugar, vanilla, cinnamon, ginger, nutmeg, salt, and cloves. Process until smooth and well blended.
Pour the pumpkin mixture over the bread cubes, pressing down with a spatula or spoon to totally immerse the bread. Allow to sit at room temperature for 20 minutes to absorb the pumpkin mixture.
Stir the mixture lightly and sprinkle the nuts on the top. Transfer the dish to the middle rack of the oven and bake 55-60 minutes, until puffed up and a skewer inserted in the center comes out clean.
Nutrition Information:
Yield: 12
Serving Size: 1
Amount Per Serving:
Calories: 495
Total Fat: 21g
Saturated Fat: 8g
Trans Fat: 0g
Unsaturated Fat: 12g
Cholesterol: 122mg
Sodium: 638mg
Carbohydrates: 64g
Fiber: 4g
Sugar: 26g
Protein: 13g
Nutrition information is a guideline only, is calculated automatically by third party software, and absolute accuracy is not guaranteed.