Our Pumpkin Brioche Bread Pudding is classic comfort food with the seasonal twist of pumpkin and warm spices. And if you're feeling fancy, go ahead and sprinkle some optional pecans on top for an extra crunch! Trust me, this is not your grandma's bread pudding—it's so much more.
If you're looking for something special to finish off your fall feast, then this dessert should definitely be on the menu!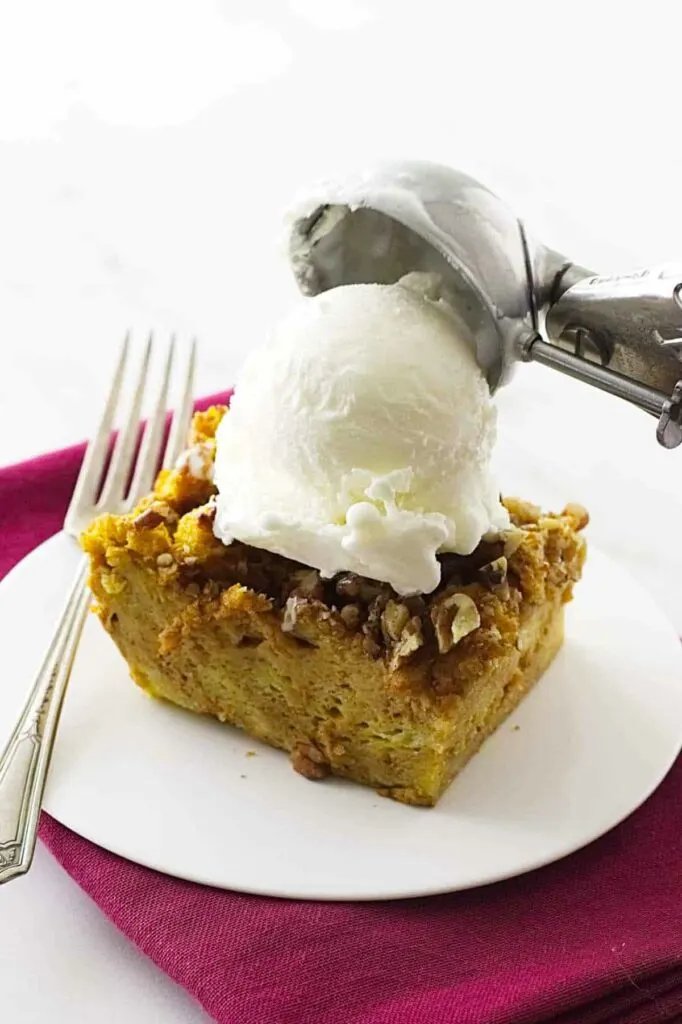 This pumpkin bread pudding with soft, buttery enriched bread takes this classic fall dessert to the next level. The buttery bread adds a richness and sweetness that perfectly complements the pumpkin puree and warm spices.
What is Bread Pudding?
The basic bread pudding is a concoction of bread cubes soaked in cream, milk, eggs, sugar and vanilla. By simply adding canned pumpkin and the warm spices of cinnamon, ginger, cloves, and nutmeg the pudding is transformed into an elegant, pumpkin bread pudding with enriched bread.
Why You Will Love This Pumpkin Brioche Pudding
This bread pudding is easy to make and can be customized just the way you like it. You can add different spices, nuts, or dried fruit to the batter. You can also serve brioche pumpkin bread pudding with a variety of toppings, such as whipped cream, ice cream, bourbon sauce, or caramel sauce.
Easy to make. This recipe is simple to follow, even for beginner bakers.
Delicious. The combination of pumpkin, French-enriched bread, and pecan streusel is simply irresistible.
Budget friendly. Most of the ingredients to make this bread pudding are inexpensive probably in your pantry already.
Versatile. You can serve this bread pudding for breakfast, brunch, or dessert.
Perfect for fall. This dessert is the perfect way to celebrate the flavors of autumn.
Ingredients For Brioche Bread Pudding
Brioche

Bread

– You can also use Challah.
Eggs
Pumpkin – Canned pumpkin, or even fresh cooked butternut squash.
Milk

Cream

– If you want to go a little lighter, you can also use Half & Half.
Sugar – Regular sugar, or for a richer flavor you can use brown sugar.
Spices – You can use Apple or Pumpkin Pie spice blends if you don't have all the individual spices.
Bread Pudding Using Pumpkin and Brioche Bread
This brioche pumpkin pudding is a fall-flavored delight, bursting with warm spices and enveloped in a creamy, rich custard. We love to serve it with a dollop of freshly whipped cream for a touch of sweetness.
Pile the torn pieces into the casserole dish; they'll settle as the custard is absorbed.
Pour the mixed pumpkin spice custard over the bread.
Smooth the custard to ensure all the ingredients get fully coated, and let sit for 20 minutes before baking.
Sprinkle the chopped pecans on the top and transfer the baking dish to the middle rack of the oven.
Full ingredient amounts and directions are in the recipe card below.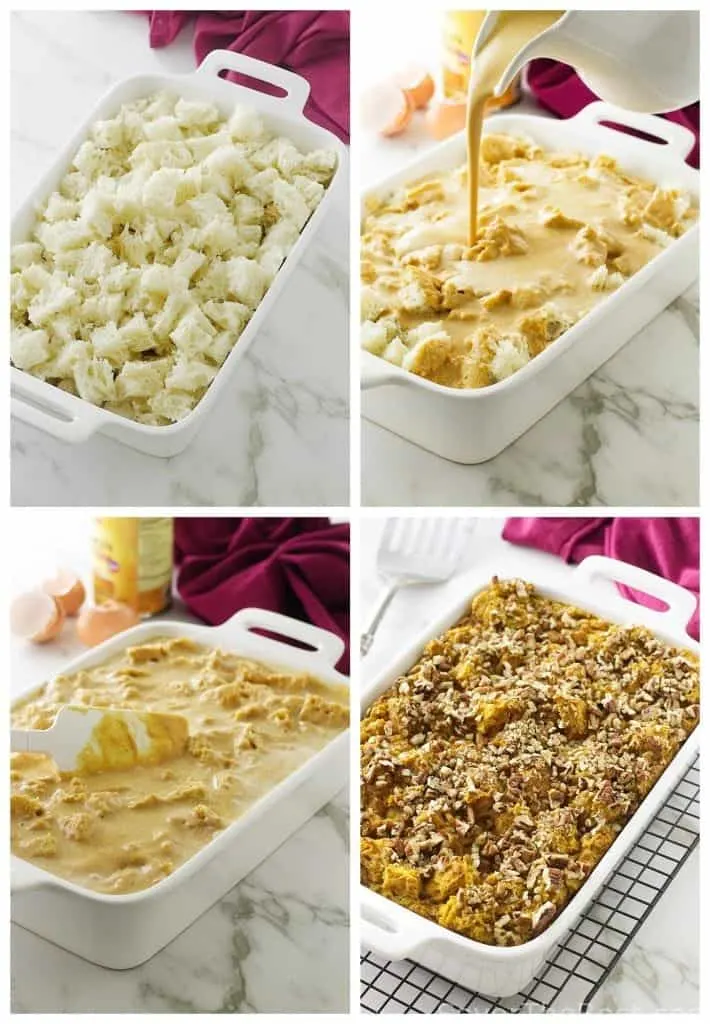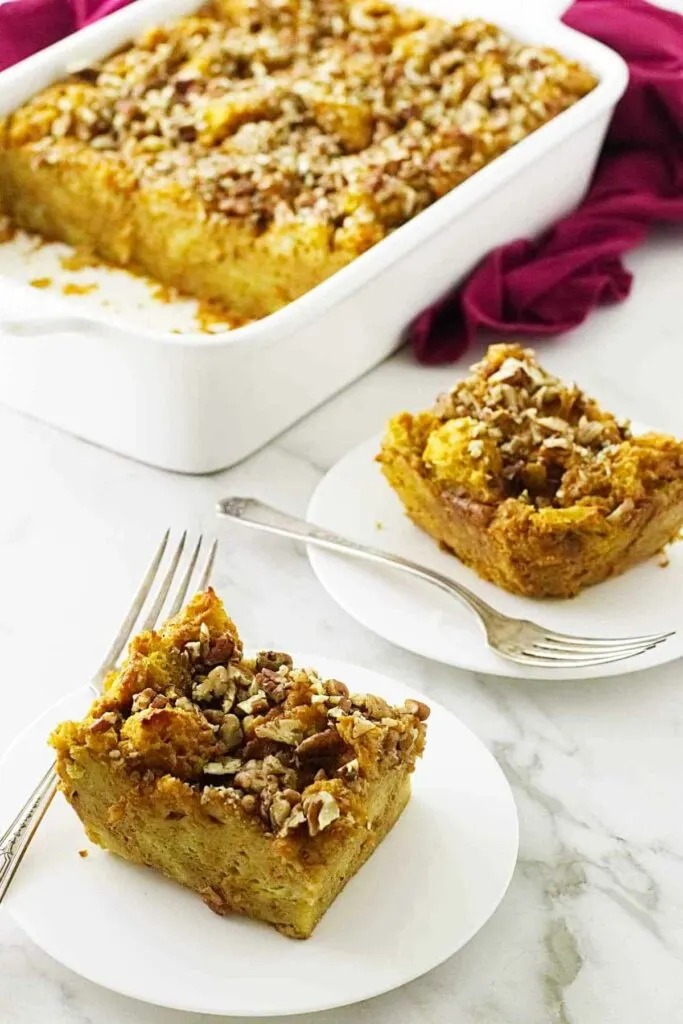 Serving Suggestions
This recipe is perfect for any occasion. It's a great dessert for special occasions, such as Thanksgiving or Christmas, or a delicious and comforting breakfast or brunch dish.
You can serve this bread pudding warm or cold. It's delicious plain, but you can also serve it with a variety of toppings, such as whipped cream, ice cream, or caramel sauce.
Whichever way you serve it, it's sure to become a new family favorite.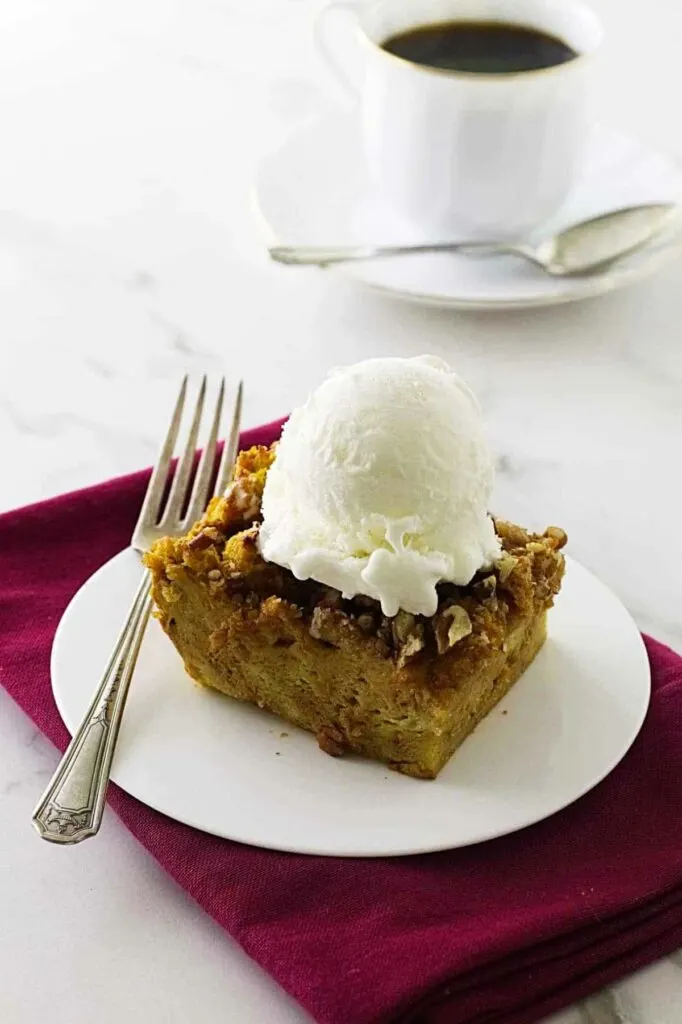 Additional Pumpkin Recipes
Substitutions and Variations
Here are a few substitutions and variations when making this brioche pumpkin bread pudding recipe:
Evaporated milk can be substituted for the milk.
You can substitute half-and-half for the heavy cream.
You can add 1/2 cup of chocolate chips to the batter if you love pumpkin and chocolate together!
Prep ahead to save time: Make the mixture up to 24 hours before baking. I like waking up in the morning and popping it in the oven for a warm breakfast.
Storage Options
This bread pudding can be stored in the refrigerator for up to 3 days.
It can also be frozen for up to 2 months.
To reheat, thaw the bread pudding overnight in the refrigerator. Then, bake it in a preheated oven at 350 degrees F (175 degrees C) for 20-25 minutes, or until heated through.
Helpful Tools
Some of the following are affiliate links. We may receive a small commission if you click on these links and purchase something. You don't pay any extra, but it will help us keep the lights on.
Some pieces of equipment you may find helpful when making this pumpkin bread pudding with brioche:
Tips For Success
If you don't have brioche bread, you can use any type of bread, such as challah, sourdough, or French bread.

You can add different spices to the batter, such as allspice or cardamom.

You can also add other varieties of nuts or dried fruit to the batter before cooking.

Related Recipes
Connect With Savor the Best:
Please follow us on our social media accounts
Facebook * Instagram * Pinterest * Youtube * Twitter
Did you make this recipe? We would love to hear from you. Drop us a comment below.
Frequently Asked Questions
Can I make this recipe without the brioche bread?
Yes, you can make this bread pudding recipe using Challah bread, French bread, sourdough bread, and even day old white bread.
Can I make this recipe ahead of time?
Yes, you can make this recipe up to 24 hours ahead of time. Simply assemble the pudding and refrigerate it. When you're ready to bake, let the pudding sit at room temperature for 30 minutes before baking.
How long should I bake pumpkin bread pudding with brioche?
The baking time will vary depending on the size of your baking dish and the type of bread that you use. Start checking the bread pudding after 50 minutes, and bake it for an additional 5-10 minutes, or until it is set and the top is golden brown.
How do I know when the bread pudding is done?
The bread pudding is done when it is set and the top is golden brown. You can also insert a toothpick into the center of the bread pudding and it should come out clean.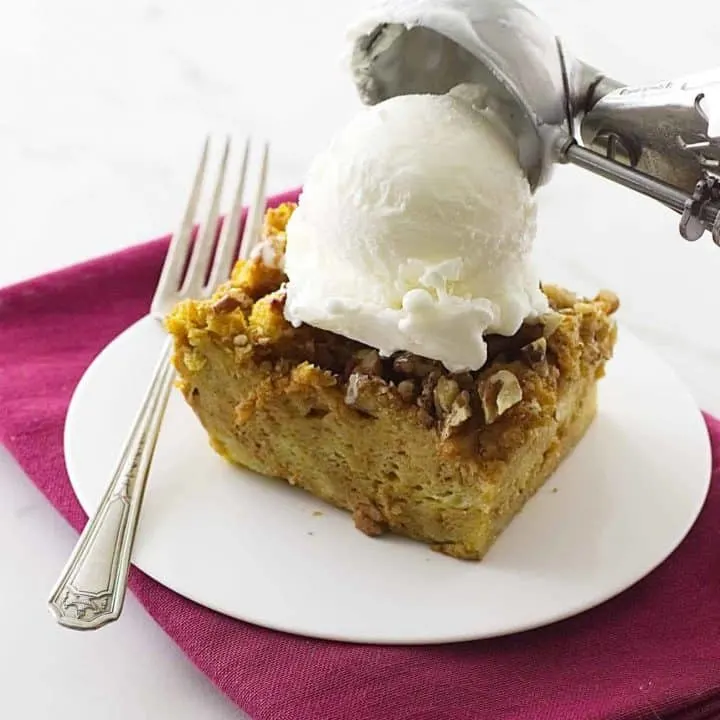 Pumpkin Brioche Bread Pudding
Total Time:
1 hour
30 minutes
Pumpkin Brioche Bread Pudding is sure to satisfy your cravings with it's creamy, sweet interior, crunchy nutty topping and the subtle hint of pumpkin. Perfect for a cozy night in or when entertaining guests.
Ingredients
1-1/4 pounds brioche bread, cut into 1-inch pieces, 14 ounces of bread cubes.
1 tablespoon butter, melted
1 15-oz. cans pure pumpkin purée
6 large eggs
2 cups whole milk
1 cup heavy cream
1 cup (200g) granulated sugar
1 tablespoon pure vanilla extract
1 1/2 teaspoon ground cinnamon
1 teaspoon ground ginger
1/2 teaspoon freshly grated nutmeg
1/2 teaspoon ground cloves
1 teaspoon fine sea salt
1 cup chopped pecans (optional)
Instructions
Preheat the oven to 325°F.
Brush the melted butter inside of a 2-quart ovenproof baking dish. Add the bread cubes to the dish, smoothing out to an even layer.
In a blender or food processor, add the pumpkin, eggs, milk, cream, sugar, vanilla, cinnamon, ginger, nutmeg, salt, and cloves. Process until smooth and well blended.
Pour the pumpkin mixture over the bread cubes, pressing down with a spatula or spoon to totally immerse the bread. Allow to sit at room temperature for 20 minutes to absorb the pumpkin mixture.
Stir the mixture lightly and sprinkle the nuts on the top. Transfer the dish to the middle rack of the oven and bake 55-60 minutes, until puffed up and a skewer inserted in the center comes out clean.
Nutrition Information:
Yield:

12
Serving Size:

1
Amount Per Serving:
Calories:

495
Total Fat:

21g
Saturated Fat:

8g
Trans Fat:

0g
Unsaturated Fat:

12g
Cholesterol:

122mg
Sodium:

638mg
Carbohydrates:

64g
Fiber:

4g
Sugar:

26g
Protein:

13g
Nutrition information is a guideline only, is calculated automatically by third party software, and absolute accuracy is not guaranteed.