Pineapple is naturally juicy and full of flavor and adds a sweet note to this delightful chicken curry sandwich. We have combined a savory blend of mayo and Indian curry with hints of mint to the filling and piled it into tender Brioche buns. Whether you're serving this Pineapple Chicken Curry Sandwich as lunch for two or as a main course for a large luncheon, this is not your everyday chicken salad sandwich, this is a special treat!
When the summer days are long and it is too hot to cook or even fire up the grill, a sandwich is the perfect meal choice. It is also the perfect time to enjoy fresh pineapples, as they are ripe and abundant this time of year.
About the Pineapple
Before we dig into this sweet and savory sandwich recipe, I wanted to tackle some common questions on pineapples because there's nothing quite like a fresh pineapple when it's perfectly ripe. We've shared helpful tips on the blog before, discussing common questions and topics such as:
How do you know when a pineapple is ripe?
How do you select a ripe pineapple?
How to cut a pineapple
For a everything-you-need-to-know on pineapples, you can read more under our Grilled Pineapple with Cinnamon Sugar recipe.
About the curry
The curry in this Pineapple Chicken Curry Sandwich is what creates a bold and savory flavor, a delightful twist to your classic chicken salad sandwich. Plus, the main spice in most curry powders is turmeric, which has amazing health properties and anti-inflammatory effects. In our recipe for roasted asparagus with curry sauce, we use Madras curry powder which definitely has some heat to it, but you can also swap it for a more mild, slightly sweet curry powder like Maharajah.
This Pineapple Chicken Curry Sandwich is the perfect way to use up some leftover chicken to create an impressive lunch or dinnertime meal. We use rotisserie chicken for our curry chicken salad base. Add chopped vegetables, pineapple, the mayo and curry powder and spoon onto your bun or bread of choice. Serve the sandwich with a lovely summertime garden salad or a heavier side like this Einkorn Coconut Curry Risotto.
We hope you love this twist on the classic chicken salad sandwich. It's sweet and tangy with a side of savory spice. Happy eating!
SOME OTHER RECIPES WE ARE SURE YOU WILL LOVE:
Our Watermelon, Feta and Mint Salad brings together sweet, summertime flavors in this beautiful dish.
There's nothing like fresh-baked bread and this Einkorn Sourdough recipe is sure to please.
This Lemongrass Chicken Satay is a must this grilling season! Thai-flavored, grilled chicken served with a spicy peanut sauce makes for the perfect appetizer or main course.
CONNECT WITH SAVOR THE BEST!
Be sure to follow us on our social media accounts
Facebook * Instagram * Pinterest * Twitter * Youtube
Did you make this recipe? We would love to hear from you. Drop us a comment below.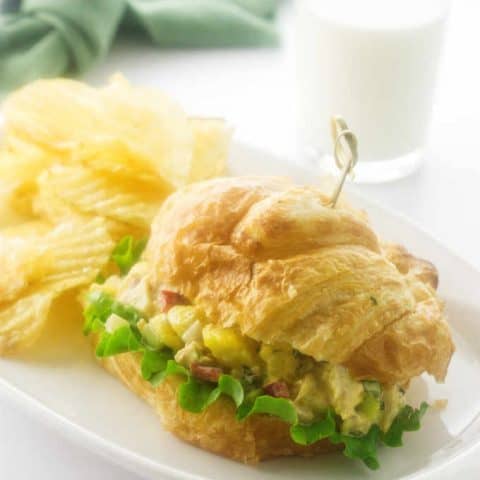 Pineapple Chicken Curry Sandwich
Yield: 6 Servings
Prep Time: 30 minutes
Total Time: 30 minutes
Fresh pineapple, rotisserie chicken and vegetables team up with a savory curry -mayo dressing for a delightful sandwich.
Ingredients
To Prepare the Pineapple:
1-1/2 cups fresh pineapple, peeled and cut into small cubes (about 1/2 of a pineapple)
For the Filling:
2 cups chicken, chopped
1/2 cup celery, diced
1/2 red bell pepper, diced
1/2 cup purple onion, diced
1/4 cup chopped fresh mint
For the Curry Mayonnaise:
3/4 cup mayonnaise
1 tablespoon fresh lemon juice
1 teaspoon Madras curry powder (See Notes)
Assemble the Sandwiches:
6 Brioche buns or hamburger buns
2 tablespoons butter, softened
Fresh lettuce leaves
Instructions
Prepare the Pineapple:
Place the pineapple on its side and slice off the top and 1/2-inch of the bottom and discard.
Set the pineapple upright and slice the peel off from top to bottom. After all the peel has been removed the "eyes" will be exposed. The eyes can be removed by making shallow diagonal cuts on each side of a line of eyes.
When all the eyes have been removed, cut the pineapple in half. Cut 1/2 of the pineapple into small chunks and place in a large bowl.
For the Filling:
Add the chicken, celery, red bell pepper, onion and mint to the bowl with the pineapple chunks and combine.
For the Curry Mayonnaise:
In a small dish add the mayonnaise and the curry powder whisking to combine.
To assemble the sandwiches:
Butter both sides of each of the buns and place lettuce leaves on the bottom half of the bun. Spread 1/2 to 3/4 of a cup of filling on the lettuce and add the top portion of the bun. Serve immediately with chips
Notes
Cover the remaining pineapple with plastic and refrigerate. Use within 2 days.
Shredded rotisserie chicken can be used for this recipe, or 2 large chopped cooked chicken breasts.
Buttering the buns will help prevent soggy buns.
Croissants and hamburger buns are other great choice for this sandwich
There are several Indian curry powders and each have different levels of spiciness. For a more mild, slightly sweet curry, try a Maharajah curry powder.
Store unused filling in a covered container refrigerated for up to two days.
Nutrition Information:
Yield: 6
Serving Size: 1 Sandwich
Amount Per Serving:
Calories: 277
Total Fat: 19g
Saturated Fat: 6.7g
Cholesterol: 64mg
Sodium: 302mg
Carbohydrates: 12.9g
Fiber: 1.1g
Sugar: 5.6g
Protein: 14.4g