Sweet caramelized grilled pineapple with cinnamon sugar is a healthy, fat-free dessert that is fast and easy to make. This grilled pineapple recipe is a simple dessert that is frequently served in Brazilian Steakhouses but you can make it at home. The cinnamon and sugar get caramelized as the pineapple chars over the hot grill which elevates the flavors to a whole new level.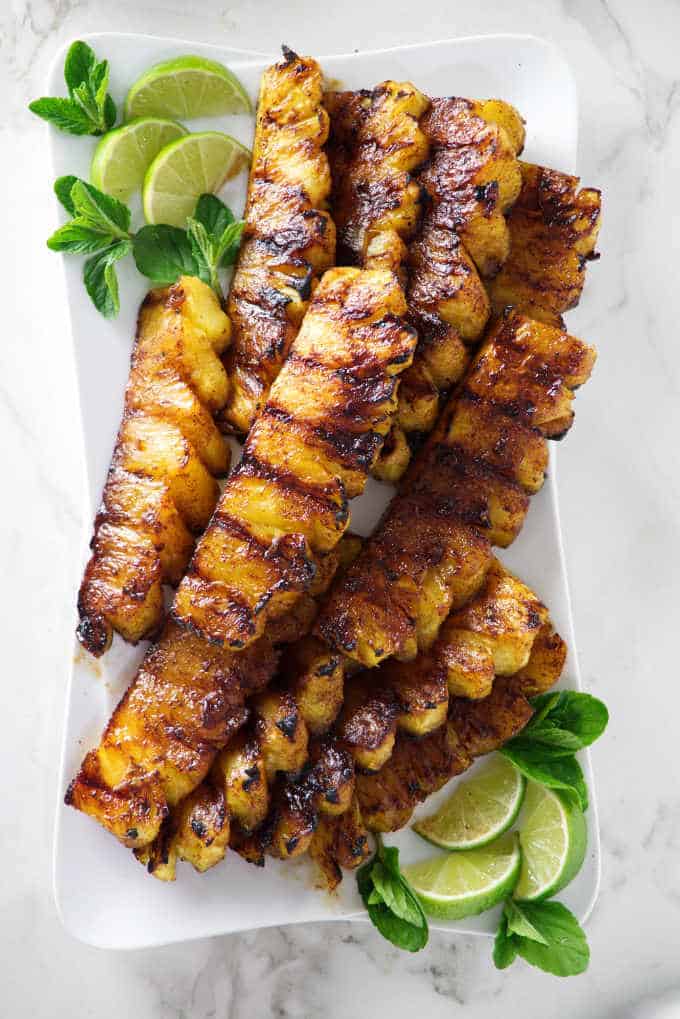 If you like this recipe, you will like our grilled pineapple chicken kabobs or our pineapple chicken curry sandwich.
If you have ever been to a Brazilian Steakhouse, you have probably seen the grilled pineapple on their rotisserie. Cinnamon pineapple is a common flavor combination in Brazilian cuisine.
When we see it in Brazilian Churrascaria restaurants, the pineapple is always whole. They put the whole pineapple on a large rotisserie skewer and sprinkle it with a cinnamon sugar mixture.
After the outside of the pineapple gets nicely grilled, they slice chunks of Brazllian pineapple onto your plate then sprinkle more sugar mixture on the pineapple and put it back over the fire.
It's a pretty spectacular show so make sure you save room for the pineapple if you ever go to a Brazilian Churrascaria.
But you don't have to go to a restaurant to have yummy caramelized grilled pineapple. It is easy to make at home and it makes a healthy dessert. In our version of Brazilian pineapple, we slice the pineapple first, then coat each slice in cinnamon and sugar before we put it on the grill.
Cinnamon Pineapple
While making these grilled pineapples, my head got stuck with the tune of "Sugar Sugar by the Archies" (if you're old enough to remember the lyrics). A little sugar (and cinnamon) does some amazing things on this Brazilian pineapple.
You will love this grilled pineapple recipe. Pineapple is sweet enough and it doesn't actually NEED sugar to make it sweet. However, the sugar helps the pineapple get a yummy caramelized coating.
Grilling the pineapple with a bit of sugar makes a sensational flavor. If you grill the pineapple hot enough, the sugar creates a crunchy, sugary, charred coating. So good!
We used brown sugar but you could use regular granulated white sugar if that is what you have on hand.
You need to keep in mind that the sugar will burn quickly and you can over-char the pineapple if the coals are too hot. Just keep a close eye on the pineapple and turn them when they start to get caramelized. If they seem to cook too quick then slide them over to a cooler part of the grill.
Cinnamon Sugar Grilled Pineapple!
Cinnamon and sugar go together like peas in a pod. It is a classic flavor combination that goes with so many things. I'm sure you have tried it on cinnamon toast and cinnamon rolls but have you tried it on candied pecans?
And then of course there is this recipe for cinnamon sugar grilled pineapple. It is a must-try! However, if you want to avoid processed sugar then you can substitute the sugar with honey for a more natural dessert.
Whatever you do, you have to try cinnamon and sugar on grilled pineapple. The pineapple will caramelize without the sugar (just not as quickly) but the cinnamon and sugar combination is fantastic.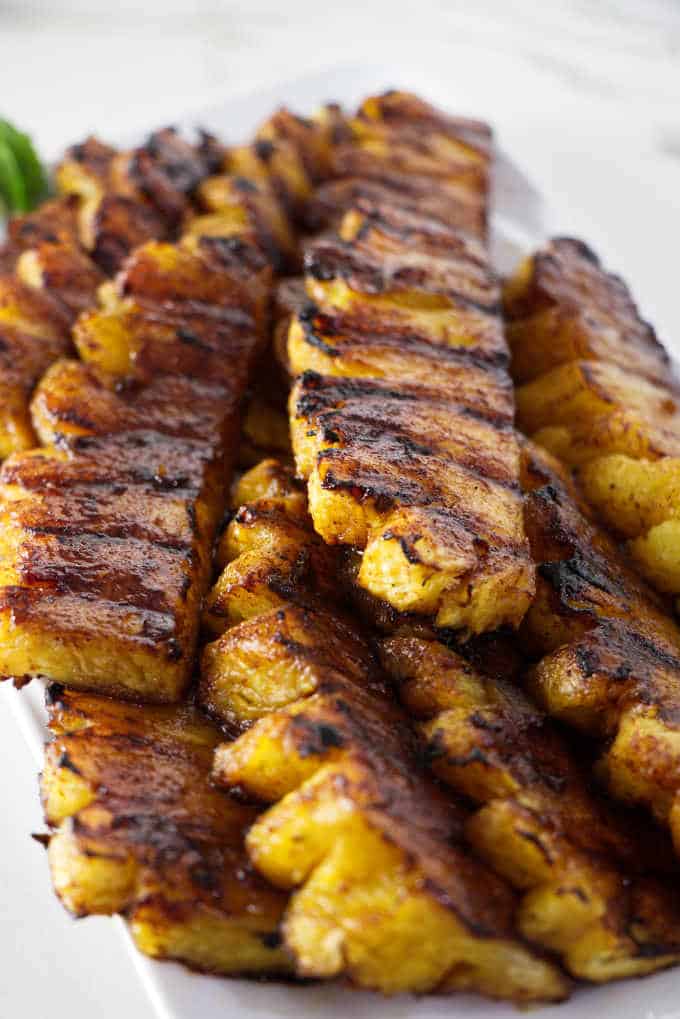 Ingredients for Brazilian Cinnamon Pineapple
All you need are three ingredients for an amazing dessert.
Pineapple
Brown sugar
Cinnamon
How to Grill Cinnamon Pineapple
This is a simple recipe and the trick is in the technique. Here is a brief overview of the process but make sure you scroll down to the printable recipe card for all the details.
Trim the skin off the pineapple and slice it into spears.
Combine the cinnamon and sugar in a bowl and sprinkle it over the pineapple spears.
Place on a hot grill for 4 to 5 minutes on each side.
Tips for Success
Make sure you coat the grill with oil before you heat up the grill.
You want a moderately hot grill but you don't want flames.
Don't leave the pineapple on the grill too long or let the cinnamon and sugar burn. You want it to get a dark amber color to bring out the caramelization but don't let it go beyond amber to black.
Select ripe pineapple.
If you pick a pineapple that is not ripe, it will get softer, but it will not get sweeter. Pineapple will not ripen after it is picked off the tree so make sure you select the ripest pineapple you can find for this grilled pineapple.
Are you wondering how you can select a ripe pineapple? Here are some tips.
How to select fresh, ripe pineapple:
Give the pineapple a squeeze.
You want a firm pineapple. If you find a soft pineapple, that is NOT a sign of ripeness, it is a sign of old age and stale fruit.
Remember, pineapple does not ripen once it is picked, it only gets softer. So soft pineapple is old pineapple. Firm pineapple is fresh.
Look for green leaves.
The leaves on the top of the pineapple should be green and healthy. The longer the pineapple sits out, the browner and dryer the leaves will get.
Smell the pineapple.
Tip the pineapple upside down and give the base of it a sniff. If it smells fermented, it is old. Fresh pineapple will have a fresh clean scent.
You might even smell a bit of sweetness but don't be concerned if it doesn't smell sweet. Super fresh pineapple will just smell fresh, not necessarily sweet.
Color is not always an indication of ripeness.
Did you know that a green pineapple can be ripe? It is a misnomer that yellow pineapples are riper than green pineapples.
If you have a really yellow pineapple, it may have been exposed to ethylene which will only make it loose chlorophyl (the green pigment) but will not make it sweeter. So don't be fooled by the color.
I have selected green pineapples that were sweeter than yellow pineapples. I have also had yellow pineapples that were sweeter than green pineapples.
Truly the best indication of fresh, ripe pineapples will be in the leaves and the firmness of the flesh.
Pulling the leaves is a myth.
Have you ever heard that you should be able to easily pull the leaves out of a ripe pineapple? Well, that is really a myth. If you can pull a leave out of the pineapple, the only thing that means is that the leaf is loose. It has nothing to do with ripeness.
Purchase where freshness is guaranteed.
If all else fails and you still are not sure if your pineapple is fresh and ripe, shop in a grocery store that guarantees freshness. Some stores choose pineapples that get flown in overnight and haven't been sitting on a boat for several days during shipment.
Even if your pineapple isn't completely ripe, this grilled pineapple with cinnamon sugar will be a big hit. Grilling the pineapple will make it softer and the caramelized coating from the sugar will give it an extra dose of sweetness.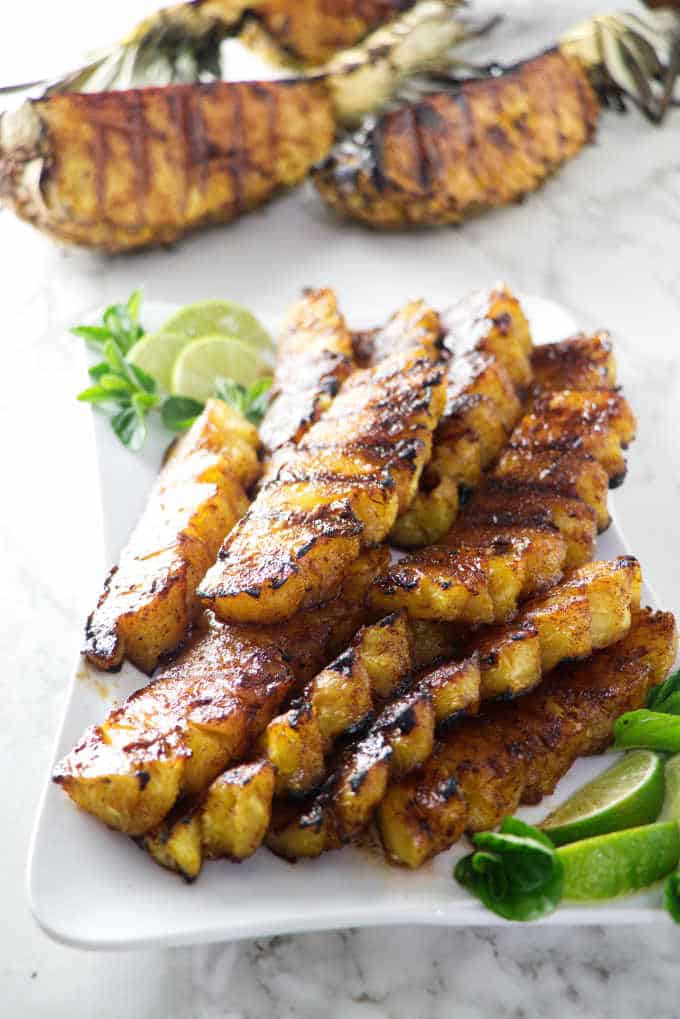 Why does pineapple burn your mouth?
Have you ever eaten fresh pineapple and noticed sores on your tongue and the insides of your cheeks? Did you think you are allergic to pineapple? Most likely, the reaction is not from an allergy.
There is an enzyme in fresh pineapple called bromelain. Bromelain breaks down proteins and acts as a meat tenderizer.
The inside of your mouth is raw flesh. Bromelain dissolves the protective mucosa in your mouth and, well…. starts to tenderize the meat in your mouth.
That doesn't mean it is harmful. Bromelain is also used intentionally for medicinal purposes. It just means you can't eat a lot of fresh pineapple without having some of the mucosal membranes start to break down.
You can prevent the burning sensation from pineapple.
Bromelain gets destroyed when it is heated so this grilled pineapple should not burn your mouth. Go forth and eat all the grilled pineapple you want. No burning here!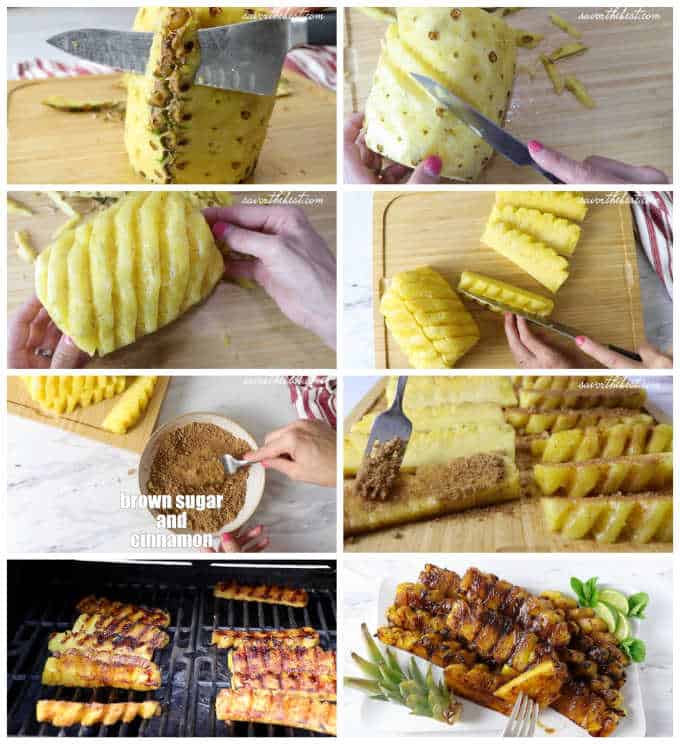 Weight Watchers and Slimming World Compatible:
Are you following Weight Watchers or Slimming World? This is a great dessert that won't bulk up the points. Since the fruit is cooked it does count for extra Syns so 1 serving is 6 Syns with Slimming World. If you eliminate the sugar it only has 2 Syns per serving.
For Weight Watchers, 1 serving counts for 3 Smart Points and if you do not add the sugar, it has zero SP.
How to cut a pineapple.
There is more than one way to skin a pineapple. There are even gadgets that will help you get the job done. I haven't tried any of them. All I use is a sharp knife. I cut pineapples the way my friend taught me when I lived in the Philippines. She showed me how to slice a very thin portion of the skin and then cut out the 'eyeballs'.
This technique minimizes waste and gives the pineapple a decorative look with ridges. You can see how I cut the pineapple in our video above. Since the little 'eyeballs' on the pineapple grow in a pattern, you can just cut grooves in a spiral around the pineapple. It gets rid of the brown spots and makes the pineapple pretty.
If you don't want to take the extra time to cut the 'eyes' out, you can simply cut the skin off in deeper sections, removing the eyes and the skin at once. Since you will have to cut deeper into the pineapple when you do that, you will lose more fruit but it will be faster.
Or you can do it real quick like my son in this IGTV video. He cut the skin deep enough to get the majority of the eyes and then went back and cut out the remaining eyes.
SOME OTHER RECIPES WE ARE SURE YOU WILL LOVE:
Start your morning with some baked grapefruit. We sprinkle a little salt on the grapefruit to bring out the sweetness.
This recipe for roasted apples and aged goat cheese makes a healthy dessert with a little sweet from the apples and a savory bite from the cheese.
These baked pears with ricotta yogurt cream is another healthy dessert. It is low in fat, full of fiber, and a great ending to any meal.
Connect With Savor the Best:
Please follow us on our social media accounts
Facebook * Instagram * Pinterest * Youtube * Twitter
Did you make this recipe? We would love to hear from you. Drop us a comment below.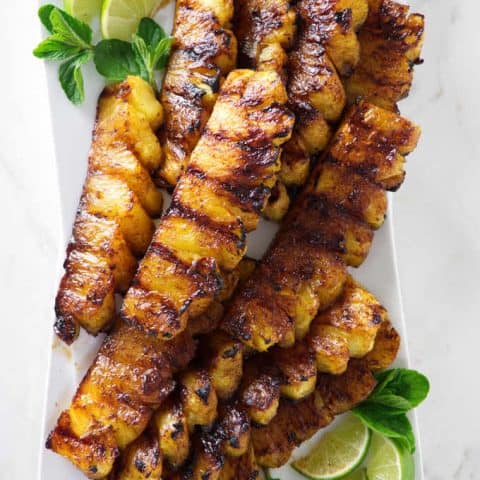 Grilled Pineapple with Cinnamon Sugar
Grilled pineapple with cinnamon sugar is a healthy, fat-free dessert. The cinnamon sugar creates a crunchy caramelized coating and the grilled pineapple will not burn your mouth like raw pineapple. Weight Watchers SP= 3/serving, Slimming World 6.5 Syn/serving
Ingredients
1 pineapple
1/2 cup brown sugar
1 tablespoon cinnamon
Instructions
Get the grill ready. Coat the grill with cooking spray and pre-heat to medium heat. (or pre-heat an indoor grilling pan).
Slice the top and bottom off of the pineapple then trim off the outer skin, cut out any brown "eyes" and slice it into spears. (You do not have to remove the center core if you don't want to, the core will get soft and sweet when it grills and you can eat it.)
Combine the brown sugar and cinnamon in a bowl then sprinkle it on the pineapple spears.
Grill for 4 to 5 minutes on each side or until golden brown and caramelized.
Notes
WW SmartPoints= 3/serving
Slimming World= 6.5 Syns/serving
If you eliminate the sugar it has Zero WW SP and 2 Syns for Slimming World
Nutrition Information:
Yield:

6
Serving Size:

2 pineapple spears
Amount Per Serving:
Calories:

75
Total Fat:

0g
Saturated Fat:

0g
Trans Fat:

0g
Unsaturated Fat:

0g
Cholesterol:

0mg
Sodium:

5mg
Carbohydrates:

20g
Fiber:

1g
Sugar:

18g
Protein:

0g
Nutrition information is a guideline only, is calculated automatically by third party software, and absolute accuracy is not guaranteed.