I bought a 10-pound box of pears at a roadside fruit stand last week and I have been enjoying them everyday. For the past three days I have been eating baked pears for dessert and this morning I had one of these leftover baked pears for breakfast. It has been satisfying my cravings for sweet treats and making me feel like I am making a healthy choice when I want a dessert. These baked pears combine the crunchy sweet texture of a honey-nut-oat granola along with a decadent cream made with ricotta and yogurt that is lightly sweetened with honey. Whether you have this for dessert or breakfast, it has plenty of fiber and protein to satisfy your cravings and hold you over until your next meal.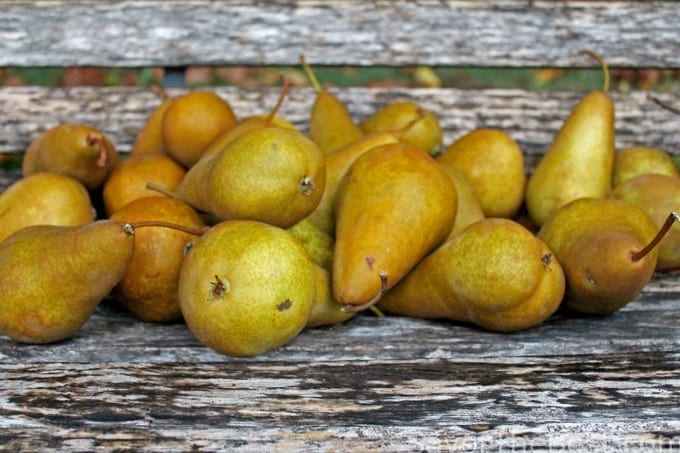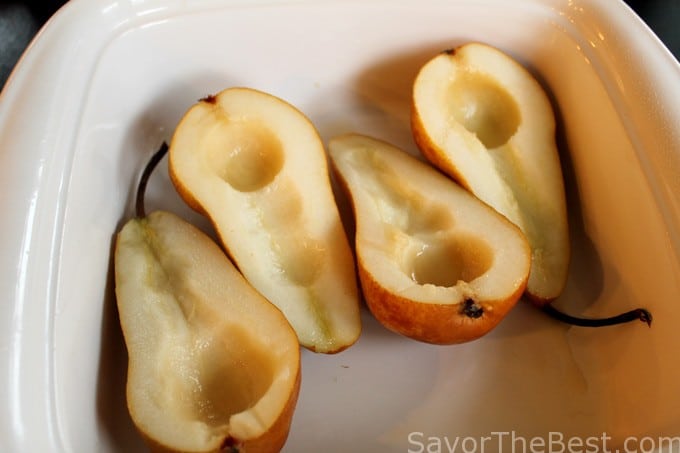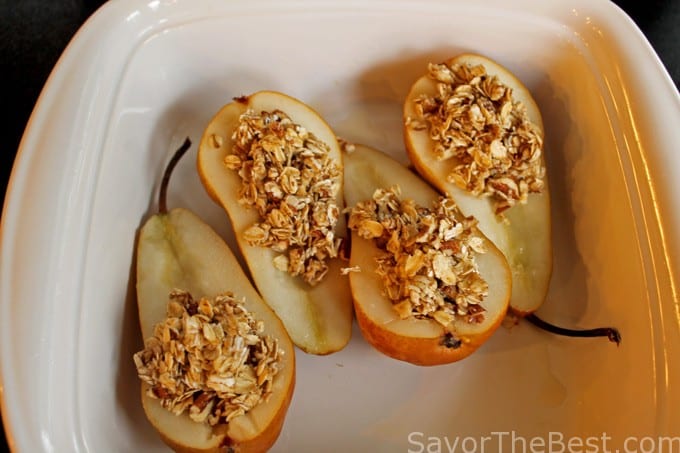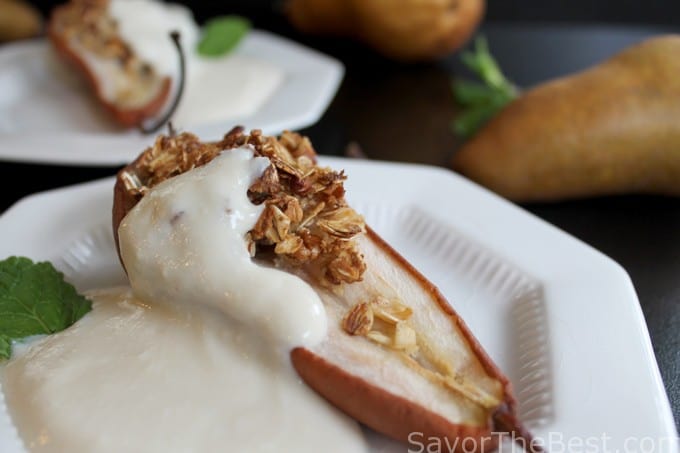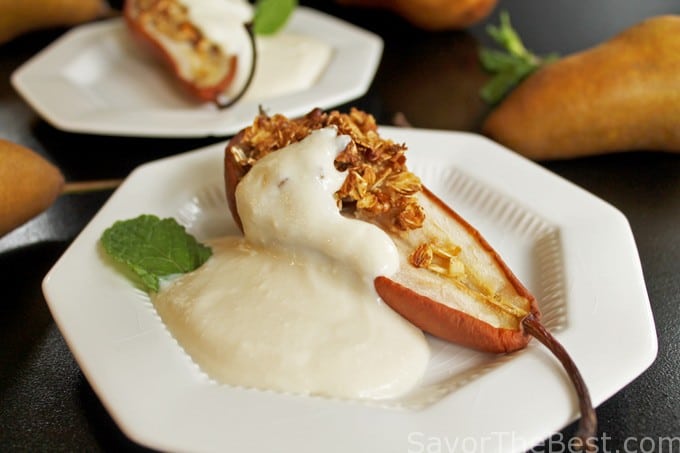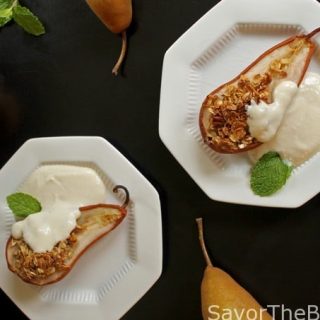 Baked Pears with Ricotta-Yogurt Cream
Yield: 4 servings
Prep Time: 10 minutes
Cook Time: 30 minutes
Total Time: 40 minutes
Baked pears with a crunchy honey-nut-oat granola and a creamy ricotta-yogurt sauce. The ricotta and yogurt provide a healthy balance of protein and the pears are a delicious and healthy way to satisfy a sweet craving. This makes a great breakfast or dessert.
Ingredients
Pears
2 large ripe pears
Juice of 1/2 lemon
½ cup oats
¼ cup pecan nuts, chopped
pinch of salt
2 tbsp honey
Ricotta Yogurt Cream
3/4 cup ricotta
1/4 cup Greek yogurt
3 tablespoons honey
1/4 teaspoon vanilla
Instructions
Pears
Preheat the oven to 400°F grease an 8 inch ovenproof dish. Cut each pear in half and using a teaspoon scoop out the cores. Drizzle the lemon juice over them to prevent them from turning brown.
Place the oats, pecans, salt and honey in a bowl and mix well to combine. Fill the cavities of the pear halves with the honey-nut mixture and bake for 25-30 minutes or until the pears are softened.
Ricotta Yogurt Cream
Combine the ricotta, yogurt, vanilla and honey in a bowl. Cover and set in the refrigerator until the pears are ready. Serve the ricotta yogurt cream with the warm pears.
Nutrition Information:
Yield: 4
Serving Size: 1
Amount Per Serving:
Calories: 247
Total Fat: 5g
Cholesterol: 15mg
Sodium: 74mg
Carbohydrates: 46g
Protein: 8.5g