What's not to love about red wine and chocolate? They are perfect pairs! I promise, you will love these Red Wine Poached Pears with Chocolate Ganache. This elegant dessert is just what you need to finish off a special event dinner!
This is an easy, fancy dessert that can be made in advance. The pears can be served at room temperature or chilled with the rich, warm chocolate sauce.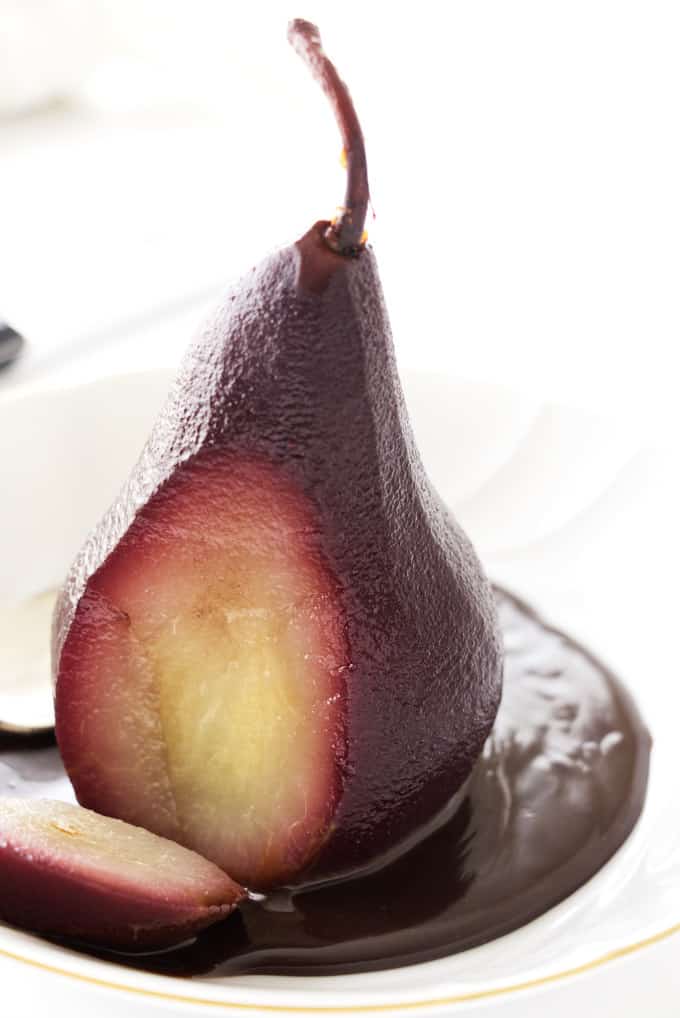 Why you will like red wine poached pears with chocolate ganache
Red wine poached pears are elegant, sophisticated and make an impressive presentation! Here are a few other reasons why you'll love this dish:
You need less than 10 ingredients to make it
It comes together really quickly with a preparation time of only 10 minutes and a cooking time of only 20 to 25 minutes
It's very easy to make and tastes amazing.
It is a light and healthy dessert that tastes indulgent.
If you want to try more pear desserts check out our baked pears with ricotta cream or a fresh pear cake with crumb topping.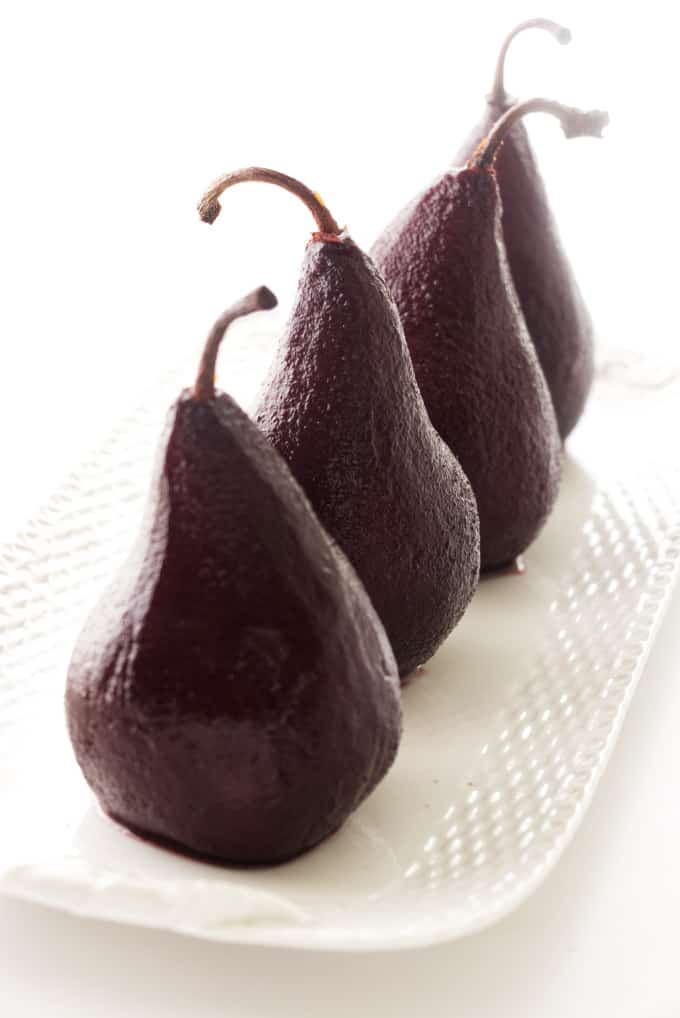 Ingredients needed for this recipe
Here are all the ingredients you'll need for the poached pears:
Dry red wine. I used my husband and son's home-crafted 2013 Barbera wine because it is GOOD and we have gallons of it. A Cabernet Sauvignon, Merlot, or Syrah are also great choices but the most important tip I can give you is to choose a dry red wine that you like and would serve for dinner.
Brown sugar. Use light or dark brown sugar.
Orange, the juice plus a strip of zest.
Cinnamon stick. Cinnamon sticks will give the poaching liquid another layer of flavor. (Do not substitute with ground cinnamon).
Star anise. Use a whole pod, it gives the poaching liquid a delicious flavor that compliments the red wine and cinnamon.
Vanilla extract. A flavor enhancer.
Pears. Bosc pears are ideal for this application. Anjou pears are also a good choice. Personally, I would pass on the Bartlett pears as they will become too soft and not hold their shape. Choose pears that are slightly under-ripe and barely give when lightly pressed near the stem.
To make the ganache you'll need:
Semi-sweet chocolate. Use good quality chocolate. A few suggestions are Baker's semi-sweet bars, found in the baking aisle of most stores, Callebaut, often found in bulk foods and Ghirardelli 4 oz. bar. Although you could use chocolate chips, they do include additives and will not melt as well as quality chocolate.
Heavy cream, at least 36% fat.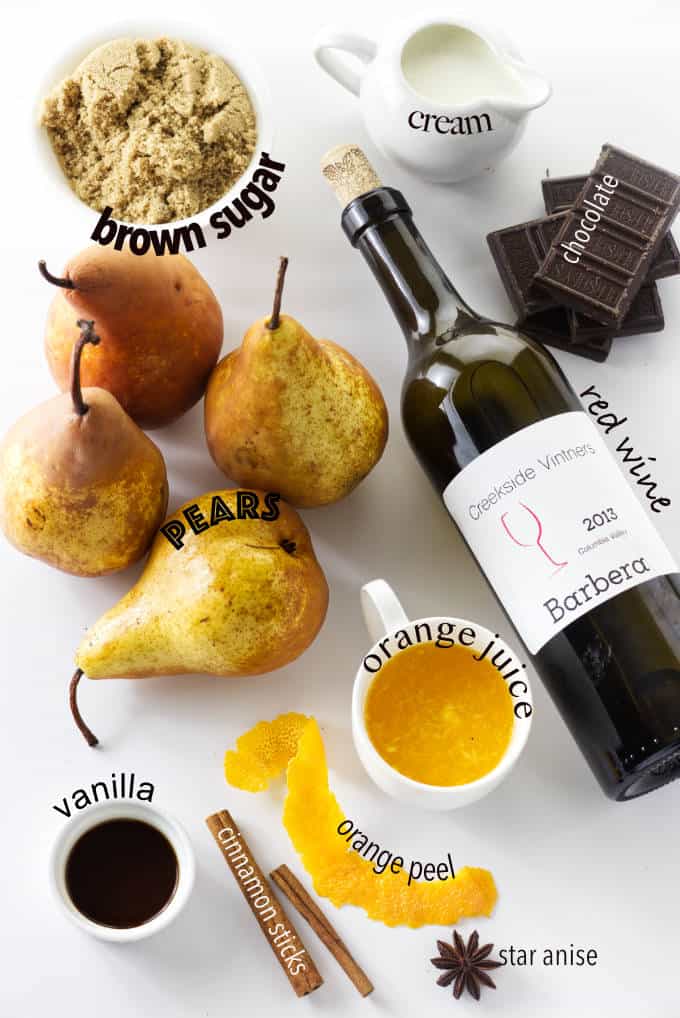 How to make red wine poached pears with chocolate ganache
There are two separate components to this dish: the poached pears and the chocolate ganache. Here are the basic steps for making each of these.
For the Poached Pears:
Poached pears are easy to make! These are the basic steps:
Simmer the poaching liquid: Heat the wine, sugar, orange juice, orange zest, spices, and vanilla until the sugar dissolves.
Peel the pears: Do not peel the pears until the poaching liquid is simmering. Pro tip: Use a kitchen Scotch Brite pad to lightly rub and smooth the peeling tool marks from the pears.
Poach the Pears: Place peeled whole pears into the simmering poaching liquid. Allow the pears to simmer for 20 minutes, rotating every 5 minutes for even cooking.
Cool pears: Remove the pot from the heat and let the pears cool in the poaching liquid until they reach room temperature.
Refrigerate: Place the pears upright into a large dish. Cover and refrigerate until ready to serve.
For the Chocolate Ganache
To make the chocolate ganache, it's two simple steps:
Heat cream: Warm up the heavy cream until some small bubbles are visible, but the cream is not boiling.
Make ganache: Pour the warm cream over the chopped chocolate. Let it sit for a few minutes to soften the chocolate; then stir until smooth. Do not use the whisk as it will create bubbles.
To serve the dish, spoon a puddle of chocolate ganache into the bottom of a shallow dish. Place a poached pear on top of the chocolate. Enjoy! ♥️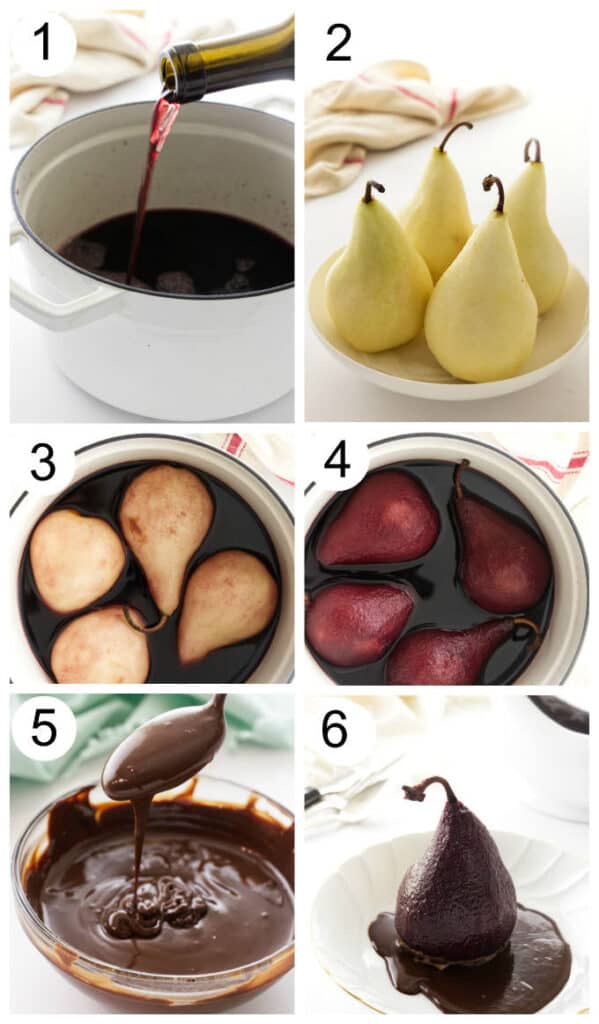 Tips for recipe success
Tips for Perfect Poached Pears
Make sure you're using a pot that is large enough to fit both your poaching liquid as well as the pears once submerged.
You can use any of your favorite spices in the poaching liquid, including cardamon pods and cloves
Use a dry red wine that you would drink because it will impart all its flavors onto the poached pears.
Prepare your poaching liquid before you peel your pears otherwise they oxidize and turn brown quickly. If you add the pears into the red wine poaching syrup right after you peel them then they won't have a chance to turn brown.
Choose firm, slightly under ripe pears as they hold their shape well during the simmering process and a long soak in the poaching liquid.
Overripe pears will get mushy during the poaching process.
For perfectly smooth peeled pears, use a clean kitchen sponge, like a Scotch Brite Dobie pad, to gently scrub off any imperfections
Slice a thin sliver off the bottom to allow the pears to stand upright
Tips for the Perfect Chocolate Ganache
Choose a high-quality chocolate for the best flavor
Do not use chocolate chips as they contain stabilizers
Do not let the cream come to a boil as it can cause the ganache to separate and become oily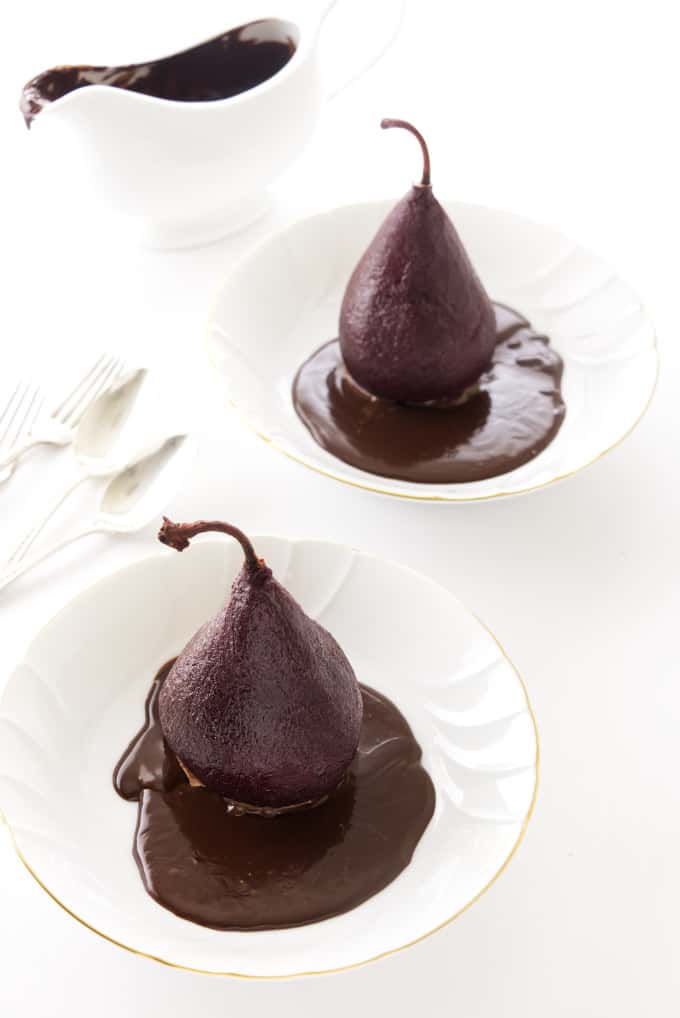 Frequently asked questions
How do I prevent my peeled pears from browning?
Try to peel your pears at the last possible second so that you can submerge them immediately in the poaching liquid.
If you do end up peeling your pears in advance, let them soak in cold water with some lemon juice to prevent discoloration before poaching.
How long do poached pears keep?
These poached pears will keep for up to 5 days in the refrigerator. Store the chocolate ganache in a separate dish. You can warm the ganache up slightly to pour it over the pears when it is time to serve them.
Do you core poached pears?
This recipe does not call for coring the poached pears. However, if you wish, you can use a small appetizer spoon or paring knife to remove the core from the bottom of the pear. This is best done after the pears have poached.
How do you eat poached pears?
These pears would be a bit messy if you try to pick them up with your hands. Instead, serve them with a spoon and fork to hold it down. The flesh gets soft and tender when it poaches, which makes them easy to cut with a spoon. Use the spoon to scoop up the delicious chocolate ganache.
SOME OTHER RECIPES WE ARE SURE YOU WILL LOVE:
Pumpkin Mousse: Light, fluffy as a cloud and bursting with all the pumpkin pie flavors! Pumpkin Mousse is the perfect ending to a great holiday dinner. This is a make-ahead dessert that is simple to prepare with a can of pumpkin and a few basic ingredients.
Cranberry Curd Tart: This cranberry curd tart has a pecan brown sugar crust and gets topped with a light Swiss meringue. It is a show stopper to your holiday table.
Chocoflan Cake: Chocoflan cake combines a fudgy chocolate cake and a creamy, smooth caramel flan. During the baking process, the two layers magically switch places creating the two layers.
CONNECT WITH SAVOR THE BEST!
Be sure to follow us on our social media accounts
Facebook * Instagram * Pinterest * Twitter * Youtube
Did you make this recipe? We would love to hear from you. Drop us a comment below.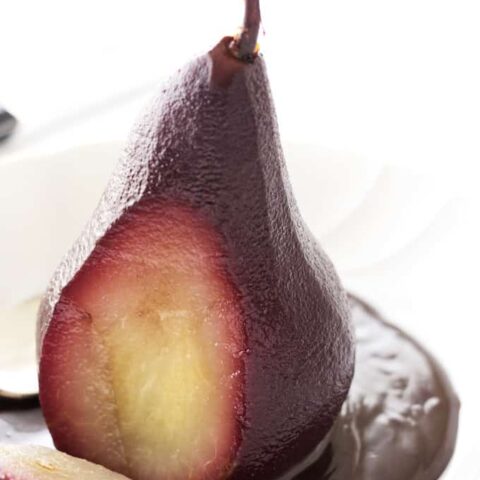 Red Wine Poached Pears with Chocolate Ganache
Red wine poached pears with chocolate ganache makes an elegant dessert that is as impressive as it is delicious! This is a fancy dessert that is simple to prepare in advance.
Ingredients
For the Pears:
1 bottle dry red wine
1/2 cup brown sugar
1 large orange, juiced
Orange zest strip, 4-inches long
2 cinnamon stick
Star anice
1 tablespoon vanilla extract
4 firm ripe Bosc pears
For the Ganache:
4 oz. semi-sweet chocolate, finely chopped
1/2 cup heavy cream
Instructions
For the Poached Pears:
In a 6-quart Dutch oven or similar size saucepan, add the wine, sugar, orange juice, zest, spices and vanilla. Bring to a simmer on medium-low heat, stirring occasionally to dissolve the sugar.
Peel the pears and place them into the simmering poaching liquid. Keep the heat on medium-low with the pears simmering gently for 20 minutes. Rotate the pears every 5 minutes so they will poach evenly. Use a rubber or silicon spatula to rotate the pears as a metal spoon will scratch and mar the surface of the pears.
Remove the Dutch oven/saucepan from the heat and allow the pears to cool to room temperature in the poaching liquid.
Transfer the pears to a large dish, standing upright, drape with a piece of plastic wrap and refrigerate until ready to serve.
For the Chocolate Ganache:
Place the chopped chocolate in a small bowl. Heat the cream in a small saucepan, just until small bubbles are visible along the inside edge of the pan, do not allow the cream to boil.
Pour the hot cream over the chocolate, cover and allow to sit for 3-5 minutes. Stir with a spoon or spatula until the chocolate is smooth.
To serve:
Spoon a puddle of several tablespoons of chocolate ganache into each of four shallow bowls and place a poached pear in the chocolate.
Notes
Select a saucepan that will comfortably hold the pears when they are submerged on their sides.
Any variety of spices can be substituted such as cardamon pods, cloves.
Peeled pears oxidize quickly and it is best to prepare the poaching liquid and have it simmering before peeling the pears. If it necessary to peel the pears a few minutes in advance you can hold them, submerged in cold water that has a lemon squeeze into it.
To remove the ridges on the pears left from the peeling process, use a clean kitchen sponge, example…Scotch Brite Dobie pad and gently rub the pear while holding it under cold water. It works like an eraser to smooth the pear surface.
Slicing a thin sliver with the peeler, from the bottom of the pears will help the pears stand upright in the dish.
Choose a good quality chocolate for the ganache. We do not recommend the chocolate chips intended for cookies as they have stabilizers included.
Do not allow the cream to boil as it may cause the ganache to separate and become oily.
Nutrition Information:
Yield:

4
Serving Size:

1
Amount Per Serving:
Calories:

616
Total Fat:

19g
Saturated Fat:

12g
Trans Fat:

0g
Unsaturated Fat:

6g
Cholesterol:

34mg
Sodium:

27mg
Carbohydrates:

77g
Fiber:

8g
Sugar:

58g
Protein:

3g
Nutrition information is a guideline only, is calculated automatically by third-party software, and absolute accuracy is not guaranteed.