This lemon ricotta cake has a lovely lemon flavor and an incredibly moist crumb. Part cheesecake and part butter cake it has the perfect balance of creaminess and lightness.
Rich and not overpoweringly sweet, you can serve this cake for any occasion. It would be lovely for an afternoon tea, dessert, or even as a breakfast or brunch option.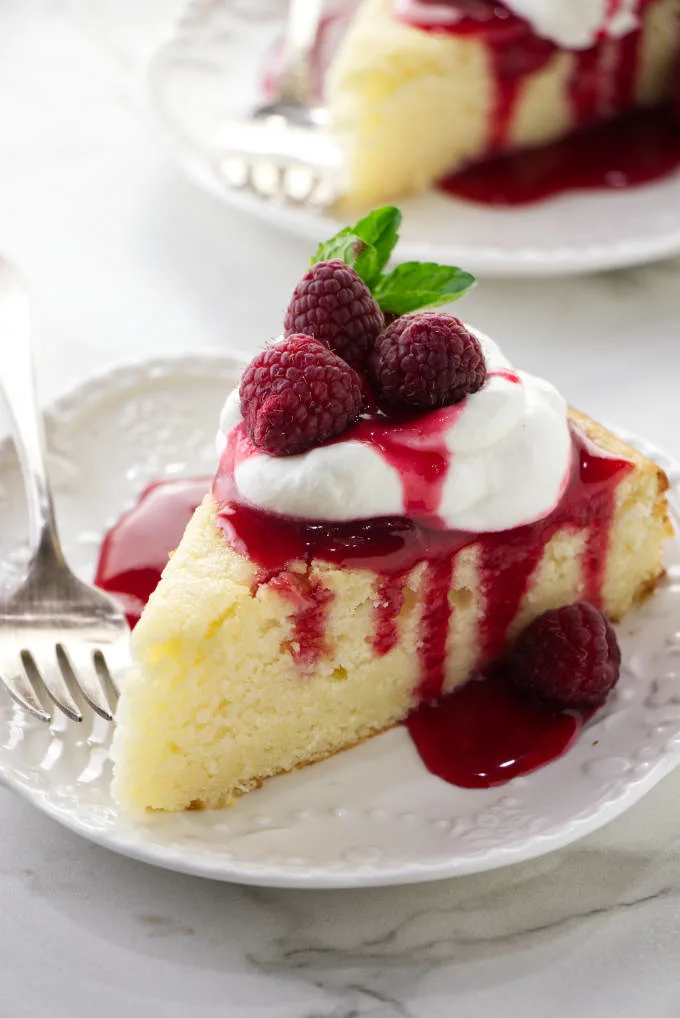 We served this ricotta cake with the same homemade raspberry sauce used in our flourless chocolate cake.
The tart raspberry balances the flavor and texture of the Lemon Ricotta Cake. A dollop of whipped cream and some candied lemon slices would make a lovely finish.
Lemon Ricotta Dessert:
Lemon Ricotta Cake is an Italian dessert known for its rich flavor and creamy texture. The ricotta keeps the cake so moist that it lasts for several days, yet the flour and whipped eggs give it a much lighter texture than cheesecake.
Easily customizable with different glazes, sauces, fruits, or simply on its own.
Stays moist because of the ricotta.
Eat it for breakfast, lunch, a snack, or supper!
A refreshing summertime treat that isn't too sweet.
Ingredients You Will Need:
Flour. All-purpose flour works well for this ricotta dessert. You can use cake flour if you want but it isn't necessary for this recipe.
Baking Powder. Make sure your baking powder is less than six months old. Old, expired baking powder won't give your cake as much of a rise.

Salt. While you won't taste the salt, you'll taste that "something" is missing without it.

Eggs. It is important to have the eggs at room temperature for this recipe. The eggs will reach what is called the "ribbon stage". This is the same way we made our hot milk sponge cake.

Sugar. Granulated white sugar.

Butter. You can use salted or unsalted butter. Most brands of salted butter do not have enough salt to make a big difference in this recipe.

Vanilla Extract. This will round out the flavors of the cake.

Lemon Oil. The lemon oil is optional but gives this Italian ricotta cake a brilliant lemon flavor.

Lemon Juice and Lemon Zest. Use whether or not you are using lemon oil. If you have extra lemons, consider making more lemon desserts like our lemon lavender cake, whole lemon tart, or lemon dessert sauce.

Whole Milk Ricotta. The ricotta makes this cake so rich and creamy. Make sure the ricotta you are using is not too wet. For more ricotta desserts, try our lemon ricotta strawberry tart or our marsala strawberries with ricotta.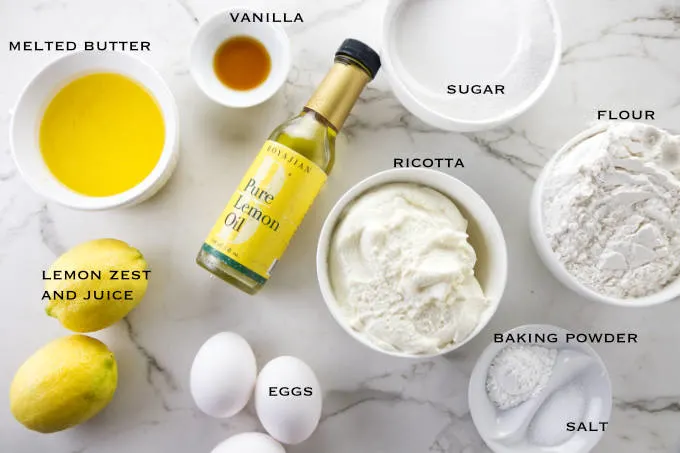 How to Make the Cake:
Here is a quick overview of how to make a lemon ricotta cake. Make sure you scroll down to the printable recipe card for all the details
Combine the dry ingredients in a small bowl.
Beat the eggs and sugar together in a separate bowl.
Add the melted butter, vanilla, lemon oil, lemon zest, and lemon juice.
Stir some of the eggs into the ricotta. Pour the thinned-out ricotta mixture into the remainder of the egg mixture.
Fold in the flour mixture.
Pour the batter into the cake pan and bake.
Let the cake cool completely before removing it from the pan to avoid breakage.
While the cake is cooling, prepare the raspberry sauce: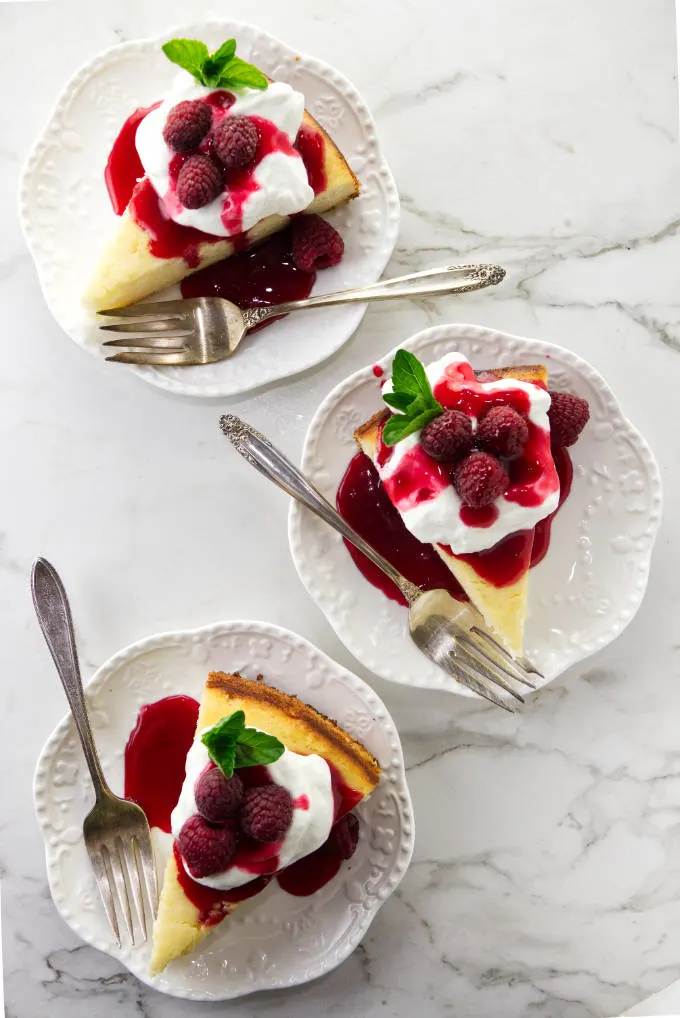 Tips for Success:
While the lemon oil is optional, it will add a delicious depth of flavor to the cake. Lemon oil is quite powerful and you only need a drop to taste it. You can use it in other recipes like our blackberry lemon bread.

If you cannot find lemon oil, do not substitute it with lemon extract. The lemon extract will have an overpowering artificial taste.

Take the eggs out early to warm up to room temperature. Room temperature eggs will beat to a higher volume than cold eggs.

You can also put the eggs in warm water for a few minutes to warm them slightly above room temperature. As mentioned above, the eggs will need to reach the ribbon stage which is when it gets thick, fluffy, and almost triples in volume.

If the whole milk ricotta is quite wet, put it in a sieve for up to 30 minutes to remove excess liquid.
Use full-fat ricotta for best results.
Frequently Asked Questions:
Can you freeze Italian ricotta cake?
Yes, you can freeze this ricotta cake. Let it cool down completely then wrap it in plastic wrap and place it in a freezer-proof bag. You can store it in the freezer for up to 6 months.
Does ricotta cake need to be refrigerated?
You can keep this lemon ricotta cake at room temperature for a couple of days. It will last up to 5 days if you store it in the refrigerator.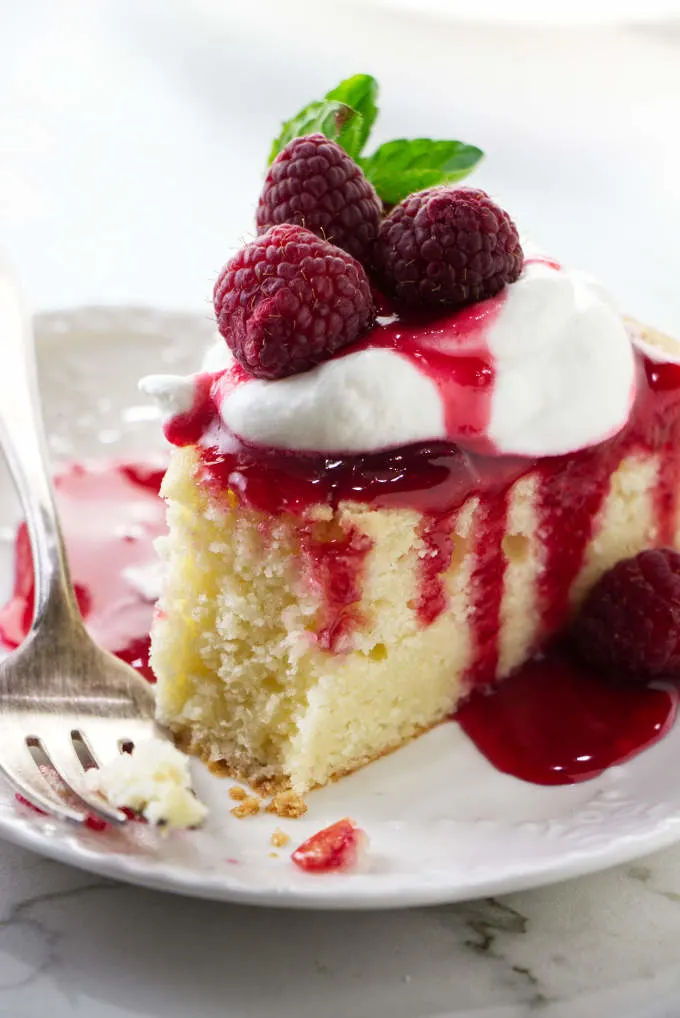 Helpful Tools:
Some of the following links are affiliates. If you click on these links and purchase something, we may receive a small commission. You don't pay any extra but it will help us keep the lights on.
Some Other Recipes We Are Sure You Will Love:
Have you ever tried ricotta pancakes? If not, you really need to give one of our recipes a try. We have a sourdough ricotta pancake recipe as well as a traditional ricotta pancake recipe.
Our peaches and cream tart has a seductive layer of cream cheese topped with juicy, sweet peaches. It is in a buttery shortbread crust which makes this an easy dessert.
Our lemon meringue cake is made with a light sponge cake and filled with tart lemon curd. It gets topped with a fluffy Italian meringue that is heavenly.
Connect With Savor the Best:
Please follow us on our social media accounts
Facebook * Instagram * Pinterest * Youtube * Twitter
Did you make this recipe? We would love to hear from you. Drop us a comment below.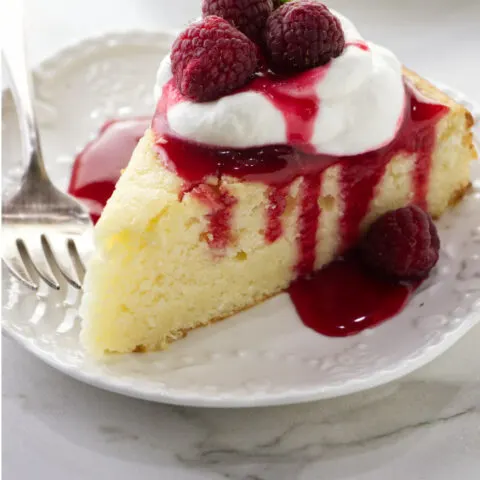 Lemon Ricotta Cake
The lemon flavor really shines in this cake and the ricotta and butter give it a rich flavor. The texture of the cake is a bit of a cross between a cheesecake and a butter cake. It is dense, yet light, creamy, and aerated. It is difficult to describe but so easy to eat.
Ingredients
1-1/2 cups all-purpose flour
1-1/2 teaspoons baking powder
1/4 teaspoon salt
3 large eggs, room temperature
1 cup sugar
8 tablespoons butter, melted
1 teaspoon vanilla extract
1/2 teaspoon lemon oil (optional, see notes)
zest of 2 lemons
3 tablespoons lemon juice
1-1/2 cups whole milk ricotta
Raspberry Sauce
4 cups fresh or frozen raspberries
1/4 cup granulated sugar
1 tablespoon lemon juice
Whipped Cream
1 cup heavy cream, chilled
2 to 3 tablespoons sugar
1/2 teaspoon vanilla extract
Instructions
For the Cake
Preheat the oven to 350°F and line a 9-inch springform pan with parchment paper.
In a small bowl, combine the flour, baking powder, and salt. Whisk or sift the flour mixture until there are no lumps.
In a large mixing bowl, combine the eggs and sugar. Beat on high speed for 7 to 10 minutes until almost tripled in size. The mixture will get very light yellow, thick and fluffy.
Turn the mixer to low speed and add the melted butter, vanilla, lemon oil, lemon zest, and lemon juice. Mix on low just until well blended.
Place the ricotta in a bowl and pour about 1/3 of the egg mixture into the ricotta. Stir well to loosen the ricotta and thin it out. Pour the thinned-out ricotta mixture into the mixing bowl with the egg mixture. Use a wide spatula to fold the batter until well blended.
Add the flour mixture and use a spatula to fold the flour into the batter.
Spread the batter into the cake pan and bake for 38 to 45 minutes or until a toothpick inserted in the center comes out clean.
Let the cake cool completely before removing it from the pan. If you remove it while it is still warm, it tends to break easily.
For the Raspberry Sauce
Place the raspberries, sugar, and lemon juice in a saucepan. Bring to a simmer over medium heat stirring frequently for 10 to 12 minutes.
Pour the raspberry mixture into a strainer placed over a bowl. Push the raspberries through the strainer with a spoon or spatula. Discard the seeds.
For the Whipped Cream
Add the cream, sugar, and vanilla to a mixing bowl.
Whip on medium-low speed for 30 seconds then increase the speed to medium-high. Whisk until stiff peaks form, about 45 to 90 seconds (depending on your mixer).
Serve the cake with raspberry sauce and dollops of whipped cream.
Notes
Lemon oil will give the cake an extra pop of lemon flavor. It is pretty potent stuff and 1/2 teaspoon or just a drop more is all you need. Do not use lemon extract or it will have an artificial flavor and do not use extra lemon juice as it will add too much liquid to the cake.
You can store the raspberry sauce for 7 days in the fridge or for 6 months in the freezer.
Let the eggs come to room temperature or even let them sit in warm water for a few minutes so they are slightly warmer than room temperature. Warm eggs will beat to a higher volume than cold eggs.
Make sure the cream is chilled when you make the whipped cream. It also helps to stick the mixing bowl in the freezer for a few minutes before you begin making the whipped cream. Cream whips to a higher volume when it is cold.
This cake tastes great cold or warm. Store in a sealed container on the counter for 2 days, in the fridge for 3 to 4 days or in the freezer for up to 6 months.
Recommended Products
As an Amazon Associate and member of other affiliate programs, I earn from qualifying purchases.
Nutrition Information:
Yield:

12
Serving Size:

1
Amount Per Serving:
Calories:

444
Total Fat:

23g
Saturated Fat:

13g
Trans Fat:

1g
Unsaturated Fat:

8g
Cholesterol:

110mg
Sodium:

247mg
Carbohydrates:

51g
Fiber:

5g
Sugar:

28g
Protein:

10g
Nutrition information is a guideline only, is calculated automatically by third-party software, and absolute accuracy is not guaranteed.