Treat your dinner guests with a classic dessert of Roasted Pears with Mascarpone Cream! This easy, elegant dessert of roasted pears is sweet and tart. The whipped mascarpone cream is velvety smooth with a touch of almond flavor added.
This is a simple recipe that puts the spotlight on the delicately tart-sweet pears. It's well-balanced and comes together fairly quickly. This is the perfect make-ahead dessert when you need a light finish to an already rich, filling dinner.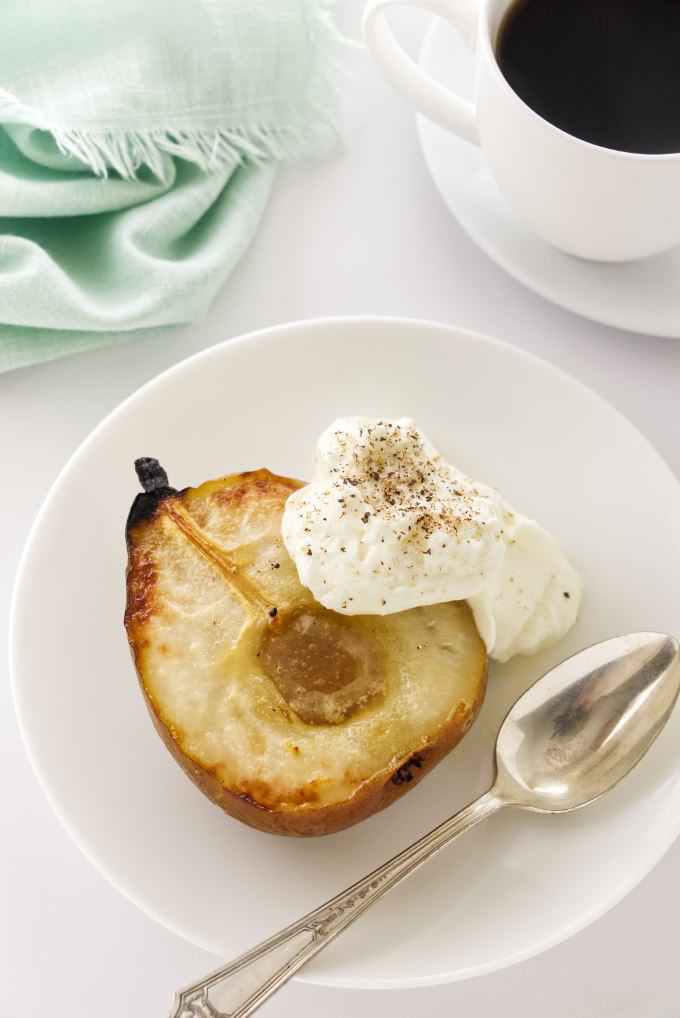 If you like this recipe, you will love our red wine poached pears and our pomegranate pear salad.
Why You Will Like Roasted Pears with Mascarpone Cream:
Roasted pears with mascarpone cream are classical, sophisticated, and delightful. Here's why we know you'll appreciate this recipe:
The dessert is easy to make
You need fewer than 10 ingredients
Prep time is less than 15 minutes
The dessert is low in sugar, and yet very satisfying and incredibly flavorful
It is an impressive dessert!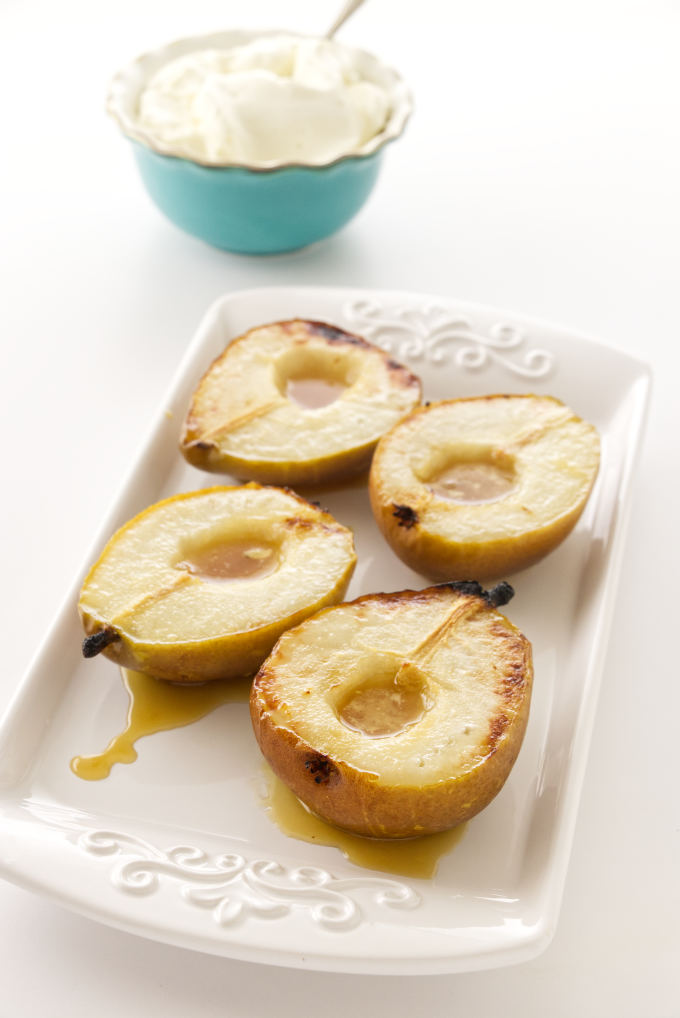 Ingredients Needed for Roasted Pears with Mascarpone Cream:
Gather the following ingredients to bake this delicious dessert:
Pears
Lemon
Butter
Honey
Mascarpone cheese
Whipping cream
Granulated sugar
Almond extract
Nutmeg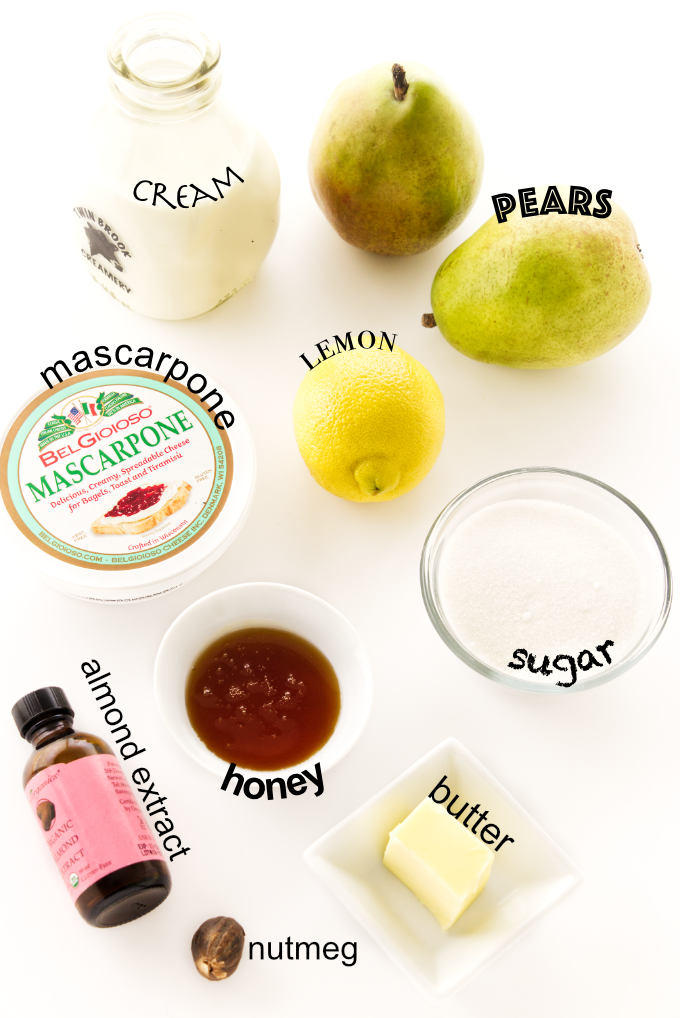 How to Make Roasted Pears with Mascarpone Cream:
This delightful dessert can be made in advance and served at room temperature or chilled. This is a brief "how to" but please scroll to the bottom of the post for the complete instructions plus notes in the recipe card.
Slice each pear in half and scoop out the core.
Squeeze lemon juice over the pear halves and place on a parchment-lined baking sheet.
Add a cube of butter to each pear half and drizzle with honey.
Bake until tender.
Combine the ingredients for the mascarpone cream and whip until thick.
Serve warm or cold.
You can choose to either peel the pears or leave them with their skins on. We prefer the un-peeled pears as the firmer skin helps to keep their shape.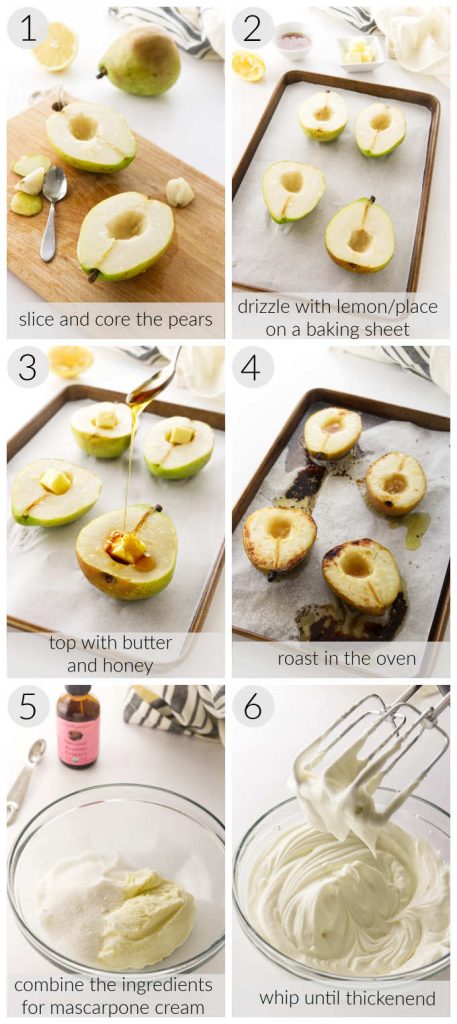 Tips for Recipe Success:
This recipe is so simple. You're guaranteed to nail it! Here are a few tips for perfect roasted pears:
You can use any pear variety, but Bosc and Anjou are favorites!
Use pears that are firm and slightly underripe. Overripe pears will turn to mush when roasted.
Slice a thin sliver off the outside curved side of the pear so that it sits evenly on the parchment paper.
Frequently asked questions:
Should you Serve Roasted Pears Warm or Chilled?
This recipe of roasted pears with mascarpone cream can be served either warm or chilled. It's completely up to you and your cravings!
How Do you Know if Your Roasted Pears are Done?
Use the tip of a knife to poke into the thickest part of the pear half 15 minutes into roasting. If it slides in with just the tiniest bit of resistance, the pear is roasted. If you feel a lot of resistance, let the pears roast a few more minutes and recheck. Remember, the pears will continue to cook from residual heat while they cool.
What Pears are good for Baking?
Any variety of pear will work beautifully, however Bosc and Anjou are our recommendations. They retain their shape well and develop a beautiful, caramel-like sweetness when roasted.
How Ripe Should Pears be for Baking?
Ideally, the pears should be firm and slightly underripe so that they hold their shape when roasting. If you use an overripe pear, it will turn to mush in the oven. If you have overripe pears, it may be better to make a pear paste or jam instead!
Choose ripe fruit that yields the very slightest when pressed next to the stem. If the pears are very hard when you buy them, store them in a paper bag for several days to ripen.
Mascarpone is a slightly tart, velvety, and creamy cheese originating in Italy. American cream cheese is much firmer and a little more acidic.
What is a Good Substitute for Mascarpone?
If you want to make this recipe but you do not have mascarpone cheese, you can substitute with cream cheese!
However, cream cheese is much firmer so you may need to add more whipping cream for a lighter texture. The end product will also be a little more acidic so it may be a good idea to add extra granulated sugar until you reach your desired sweetness level.
Can I Substitute Ricotta for Mascarpone?
Ricotta has a much drier and grainier consistency, so it would not be a great substitute in this case. Mascarpone is also tarter on the palate, so ricotta would taste somewhat flat in comparison.
How Long do Baked Pears Keep?
Roasted pears keep for 3 days in the refrigerator in an airtight container. You can enjoy them chilled or reheated in the microwave or oven. Beware of overheating to the mushy stage.
How Long Does Mascarpone Cream Keep?
If you have extra mascarpone cream, keep in mind the best before dates of the mascarpone as well as the heavy cream. Assuming there is enough leeway in the expiration dates, mascarpone cream tastes freshest and retains the best texture when enjoyed within 3 days.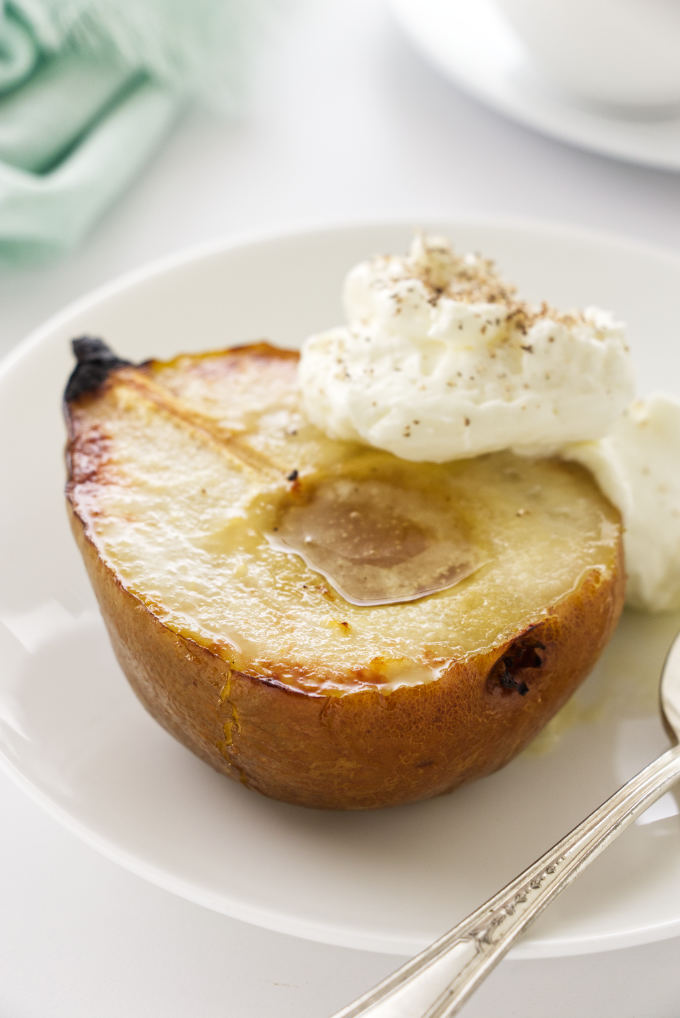 SOME OTHER RECIPES WE ARE SURE YOU WILL LOVE:
CONNECT WITH SAVOR THE BEST!
Be sure to follow us on our social media accounts
Facebook * Instagram * Pinterest * Twitter * Youtube
Did you make this recipe? We would love to hear from you. Drop us a comment below.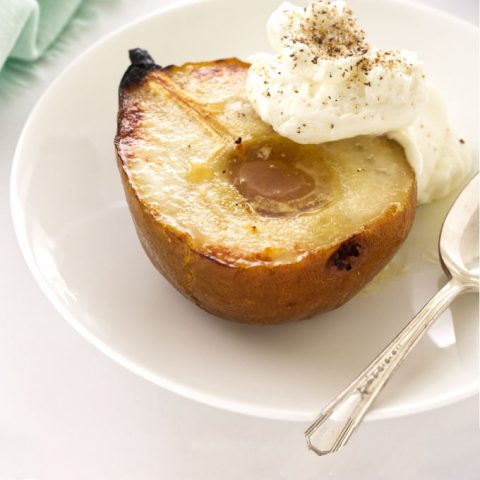 Roasted Pears with Mascarpone Cream
Yield: 4 Servings
Prep Time: 10 minutes
Cook Time: 20 minutes 15 seconds
Total Time: 30 minutes 15 seconds
Sweet and juicy oven baked pears is an easy, classic dessert that can be served warm or chilled. The whipped mascarpone cream is lightly flavored with almond extract.
Ingredients
2 pears,
1 lemon
2 tablespoons butter, cut into 4 cubes
2 tablespoon honey
For the Mascarpone Cream:
8 ounces mascarpone cheese
3/4 cup whipping cream
2 tablespoons granulated sugar
1/4 teaspoon almond extract
Nutmeg gratings
Instructions
Preheat the oven to 375°F. Line a rimmed baking sheet with parchment paper.
Working with one pear at a time, cut it in half from stem to base and scoop out the core. Slice a thin sliver off the pear to allow to sit level.
Squeeze lemon juice over the pear and place on the parchment lined baking sheet. Repeat with each remaining pear.
Add a butter cube to each pear half and drizzle with honey.
Bake 15-20 minutes until tender when a knife tip slides into the thickest part easily. (The roast time will be determined by the size and firmness of your pears. Begin checking after 15 minutes).
Remove from the oven and allow to cool at room temperature.
The Mascarpone Cream:
In a small dish, whip the mascarpone and sugar together until creamy. Add the whip cream, almond extract and a pinch of salt and whip to a thick, creamy consistency.
To Serve:
Place a pear half on each of 4 plates and top with a scoop of mascarpone cream. Garnish each serving with nutmeg gratings.
Notes
Any variety of pears can be roasted, however, you will not go wrong with the Bosc and Anjou pears.
Choose firm, slightly under-ripe pears.
Keeping the skin on the pear helps contain the juices and will hold in shape when roasted.
Roasting time will be determined by how ripe the pears are as well as their size. Check the pears for doneness after 15 minutes. Pears should be slightly firm when pierced with a toothpick at their thickest part. They will continue to cook when removed from the oven.
To put a crisp brown edge on the pears, remove them from the oven 2 minutes before they are done, raise the oven rack to the highest position and turn the oven to broil. Return the pears to the oven and broil for 1-2 minutes until slightly browned.
Overcooking the pears will result in mushy pears.
Nutrition Information:
Yield: 4
Serving Size: 1
Amount Per Serving:
Calories: 567
Total Fat: 48g
Saturated Fat: 30g
Trans Fat: 1g
Unsaturated Fat: 14g
Cholesterol: 143mg
Sodium: 306mg
Carbohydrates: 34g
Fiber: 3g
Sugar: 27g
Protein: 5g
Nutrition information is a guideline only, is calculated automatically by third-party software, and absolute accuracy is not guaranteed.