I always seem to find the best grapefruits this time of the year. I love the sweetness mixed with a tangy tartness and the complexity it can add to dishes. I have been adding it to my mixed green salads these days but I mostly have just been eating them like an orange. Roasting or baking a grapefruit brings out it's sweetness and tones down the tart puckering flavor.
I am reminded of some tender memories of my grandmother when I bake grapefruit. Along with homemade yogurt and deep conversations, my grandmother would serve me baked grapefruit for breakfast.
We were both early risers and breakfast was always such a precious time for us. I would watch the sunrise and enjoy the peaceful joy of her company. I don't think I will ever eat a baked grapefruit without remembering my grandmother.
Yield: 4 servings
Baked Grapefruit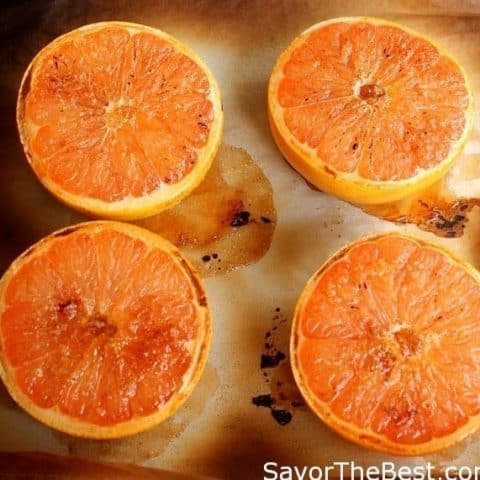 Baking grapefruit highlights it's sweetness and tones down the tart flavor for a delightful addition to breakfast.
Prep Time 2 minutes
Cook Time 8 minutes
Total Time 10 minutes
Ingredients
2 grapefruits cut in half
½ teaspoon cinnamon
¼ teaspoon salt
¼ cup (50 grams) raw sugar
Instructions
Pre-heat the oven broiler
Slice a small section off the bottom of each grapefruit halve so it will sit without rocking. Place them on a baking sheet.
Sprinkle cinnamon and salt over all 4 halves of grapefruit then top each one with a tablespoon of sugar.
Place under the broiler for 6-8 minutes until the sugar is melted.