Ohhh…..this pretty grapefruit, mint and fennel salad with pistachios just shouts "Springtime"! I love this salad and it will be the perfect addition to our dinner table.
Not only does this salad make a beautiful presentation but it has a delicious blend of flavors that are crisp and refreshing.
We used Texas grapefruits that have a vibrant, ruby color and they are ultra-sweet and juicy. Removing the grapefruit segments is not as difficult as you may think and there is a great 'How To' instruction at The Yummy Life.
The slight anise flavor from the crisp slices of the fennel bulb pairs well with the fresh taste of mint and the juicy grapefruit. We added thin slices of red onion which gives an interesting and complex edge to the salad while the roasted pistachios bring a saltiness and crunch to the party.
The light and flavorful citrus vinaigrette is made with grapefruit juice, olive oil, rice vinegar and a touch of honey.
This grapefruit, mint and fennel salad with pistachios would be welcome any time of the year but the grapefruit are in abundance right now and it is perfect for Easter Sunday dinner.
This recipe was inspired from one served at Fresh Bistro in Seattle, WA
Check out more great salad ideas:
Yield: 6 servings
Grapefruit, Mint and Fennel Salad with Pistachios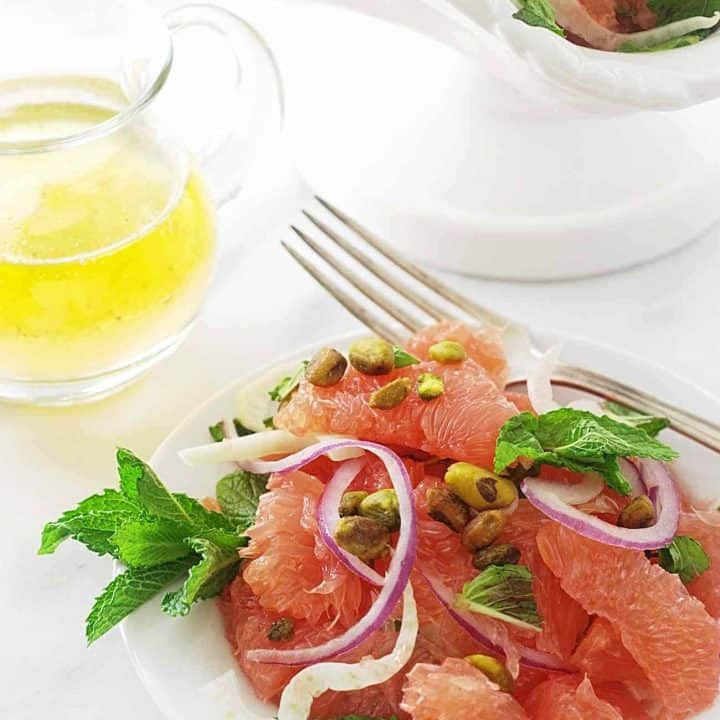 To make this grapefruit, mint and fennel salad with pistachios we used the sweet Texas grapefruits that have a vibrant, ruby color and they are ultra-sweet and juicy. We added a generous portion of fresh mint, crunchy fennel, onion rings and salty roasted pistachios. It is tossed with a vinaigrette of citrus, honey and rice vinegar.
Prep Time 15 minutes
Total Time 15 minutes
Ingredients
4 large Texas red grapefruits
1 medium fennel bulb
1/2 medium red onion
1 cup (packed) fresh mint leaves
1/2 cup roasted, salted pistachios, plus more for garnish
Fresh mint sprigs for garnish
For the Citrus Vinaigrette:
1/4 cup reserved grapefruit juice
1/4 cup champagne vinegar
1 tablespoon honey
1/2 cup olive oil
1/4 teaspoon sea salt
pinch freshly ground white pepper
Instructions
Cut the rind from the grapefruits, and working over a bowl to catch the juice, remove the individual segments with a sharp knife, placing the segments into a salad bowl. Reserve the juice.
Prepare the remaining ingredients and add to the salad bowl:
Wash and trim the top from the fennel bulb, slice the bulb in half lengthwise. Remove the core from the fennel and discard, cut the fennel crosswise into thin 1/8-inch slices. Peel the red onion and cut half of it into thin 1/8-inch round slices. Tear the mint leaves into pieces, add the roasted pistachios.
For the Citrus Vinaigrette: (makes about 1 cup vinaigrette)
In a small dish whisk together the grapefruit juice, vinegar, honey, olive oil, salt and white pepper.
Toss the salad ingredients with a portion (1/3 cup) of the vinaigrette, garnish with remaining pistachios and mint sprigs. Alternatively, divide the dressed salad into six small plates and garnish each one with the remaining pistachios and mint sprigs
Nutrition Information
Yield
6
Serving Size
1
Amount Per Serving
Calories 170
Total Fat 9g
Saturated Fat 1g
Sodium 49mg
Carbohydrates 23g
Fiber 4g
Sugar 13g
Protein 3g
Nutrition information is a guideline only, is calculated automatically by third-party software, and absolute accuracy is not guaranteed.