There is an explosion of flavors in our Roasted Squash and Beet Salad! Fat segments of juicy fresh grapefruit, chunks of soft, creamy blue cheese, and chopped Pistachio nuts add additional texture and flavor. A simple drizzle of olive oil and balsamic vinegar is all that is needed for this refreshing salad.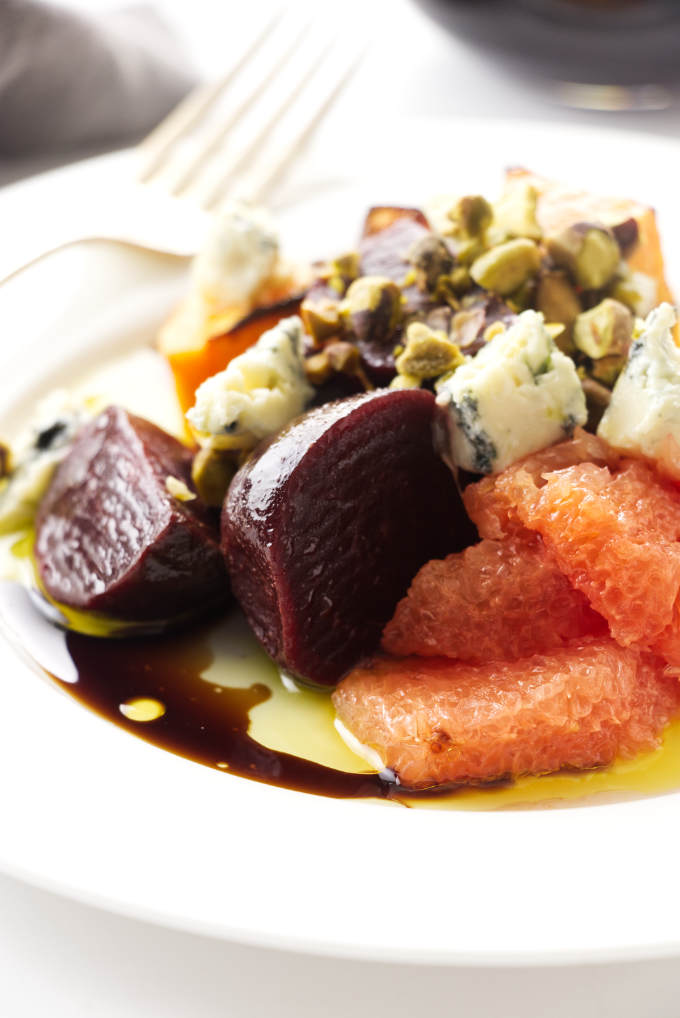 Roasting brings out the sweet, earthy flavors of butternut squash and red beets. When combined with the sweet-tangy ruby grapefruit and blue cheese you have an amazing autumn-inspired side salad! If you love the hard-to-beat flavors of roasted butternut squash and roasted beets you will also love our Roasted Beet Salad with Fennel and Radish.
Why We Love this Roasted Squash and Beet Salad:
It is the perfect fall salad with its vibrant colors and exciting tastes.
Roasting of the butternut squash and red beets bring out their earthy flavors.
The citrusy sweetness of the grapefruit contrasts deliciously with the creamy blue cheese.
A sprinkling of chopped, roasted Pistachio nuts adds flavor and crunchiness complimenting the varied textures.
Butternut Squash Facts: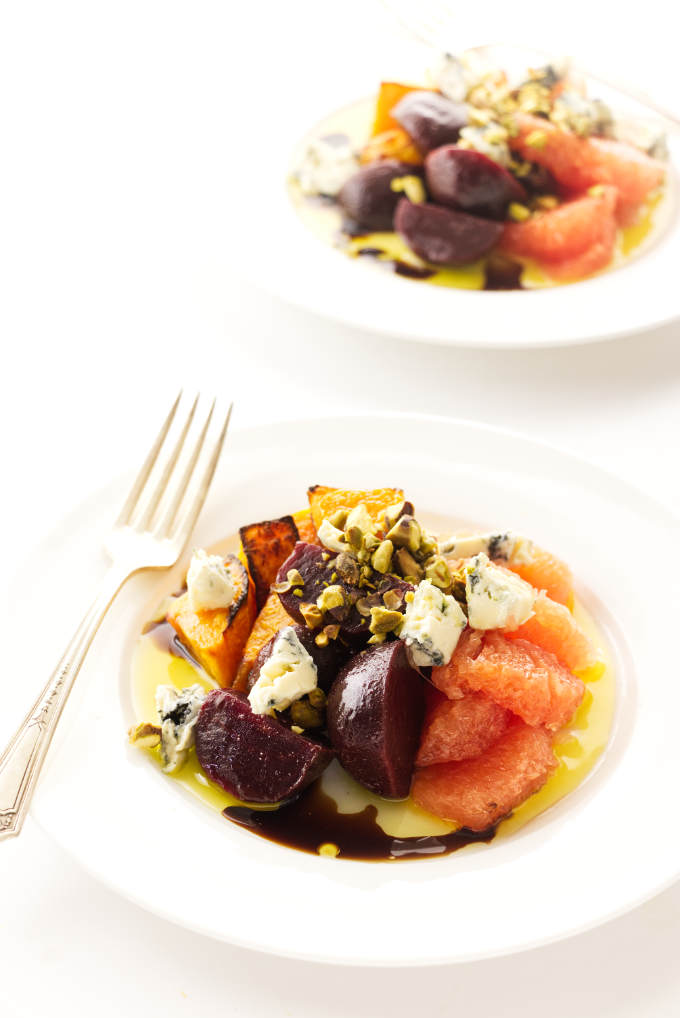 Ingredients Needed to Make this Salad:
Red beets
Butternut squash
Vegetable oil
Grapefruit
Blue cheese
Olive oil
Balsamic vinegar
Salt/pepper
Roasted chopped Pistachios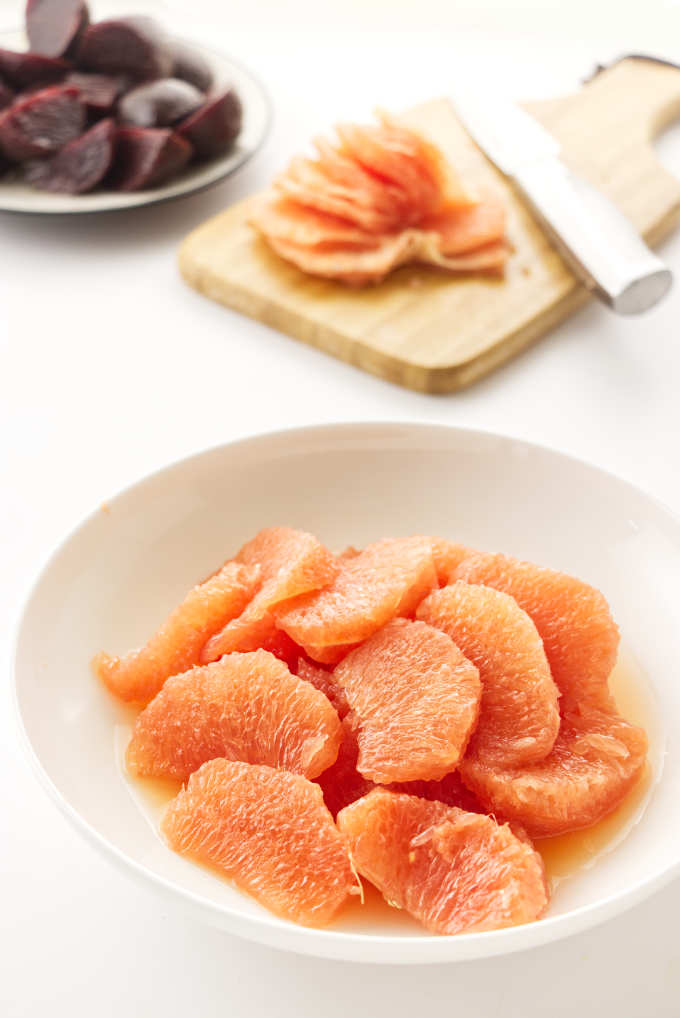 How to Make this Butternut and Beet Salad:
We begin with roasting the beets as they will take more time to prepare. As a time-saver, you can roast the beets in advance. For roasting tips see our post, Roasted Beets for tips on how to roast and peel beets.
Here is a quick overview of the process, however, be sure to scroll down to the printable recipe card for all the details.
Wrap the beets in foil and roast them in the oven.
Roast the butternut squash cubes and chill in the refrigerator.
Slice off the grapefruit peeling and cut out the segments. Be sure to drain them to keep the salad from being too juicy.
Cut the blue cheese into chunks
Assemble the salad on chilled salad plates. Drizzle with olive oil, balsamic vinegar, salt, pepper and the Pistachio nuts.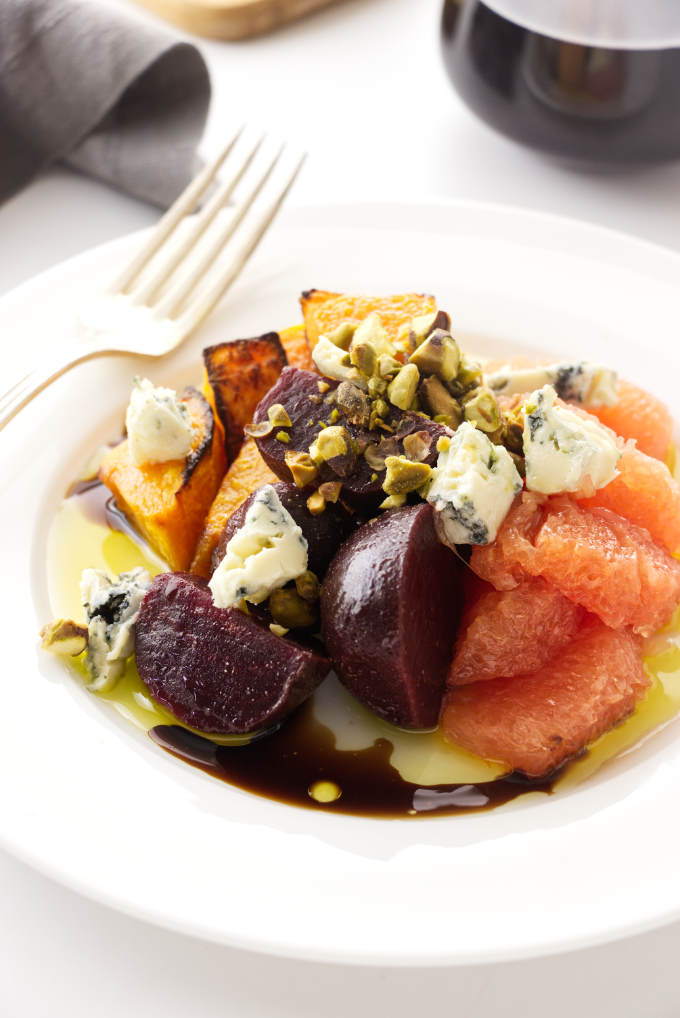 Tips for Roasting Butternut Squash:
Choose a large butternut with a long neck as it is easier to cut into cubes for roasting.
Two minutes in the microwave will soften the tough skin of the squash for easy peeling.
Cut the butternut cubes the same size for uniform roasting.
Roast the butternut until barely tender. The squash continues to cook from residual heat when you remove it from the oven. Over-cooked squash cubes will be soft and mushy.
If you roast the beets in advance, they will keep well in the refrigerator for several days.
Some Other Recipes We Are Sure You Will Love:
Italian Caprese Salad: Ripe, juicy tomatoes and thick slices of fresh Mozzarella cheese combined with fresh basil leaves in this easy, classic Italian salad served with balsamic vinegar and olive oil.
Fried goat cheese discs have a crunchy, golden crust and join sweet roasted beets in this Fried Goat Cheese Discs and Roasted Beet Salad: We used a simple dressing of olive oil and aged balsamic vinegar for the dressing.
Roasted Baby Beet Salad with Feta Cheese: Crisp salad greens, topped with roasted baby beets and creamy feta cheese make an outstanding, delicious starter salad. We chose a tangy champaign-time vinaigrette to drizzle over the salad.
Connect With Savor the Best:
Please follow us on our social media accounts
Facebook * Instagram * Pinterest * Youtube * Twitter
Did you make this recipe? We would love to hear from you. Drop us a comment below.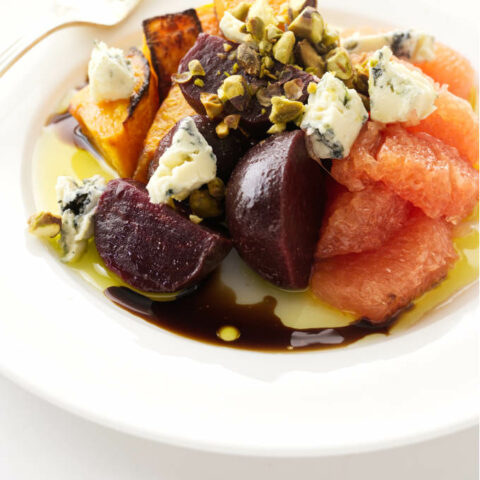 Roasted Squash and Beets Salad
Yield: 4 Servings
Prep Time: 20 minutes
Cook Time: 1 hour 15 minutes
Total Time: 1 hour 35 minutes
The earthy flavor of roasted butternut squash and beets are combined with sweet-tangy ruby grapefruit segments in this roasted squash and beets salad. Chunks of soft, creamy blue cheese and chopped Pistachio nuts add additional texture and flavor. A simple drizzle of olive oil and balsamic vinegar is all that is needed for this refreshing salad.
Ingredients
1 pound medium red beets
1/2 small butternut squash, peeled and cubed
2 tablespoons vegetable oil
2 large Texas Ruby grapefruits
4 oz. blue cheese, cut into chunks
4 tablespoons olive oil
4 tablespoons balsamic vinegar
Salt/pepper
1/4 cup chopped Pistachios
Instructions
For the Beets:
Preheat the oven to 400°F
Trim the tops of the beets, leaving stubs of 2-inches on each one but do not remove the tail.
Rinse the beets under cold water scrubbing off any soil. Dry with a paper towel and brush with oil.
Wrap the beets individually in foil, place on a baking sheet and roast until tender when pierced at the top of the beet, about 45-60 minutes, depending on size of beets.
When beets are tender, transfer from the oven, remove the foil. When cool enough to handle, rub the beets with a paper towel, beginning at the tail to remove the skin. Cut off and discard the top end Place the peeled beets on a plate and transfer to the refrigerator to cool.
For the Butternut Squash:
Place the cubes into a bowl, drizzle with 1 tablespoon of oil and scatter the cubes on a parchment-lined baking sheet.
Roast the butternut cubes for 12-15 minutes until just tender. Transfer from the oven and allow to cool.

For the Grapefruit:
Cut the ends from the grapefruits and slice off the peeling. Working over a bowl to catch any juices, cut the fruit into segments. Place the segments on a paper towel lined plate.
To Assemble the Salad:
Cut the chilled beets into bite-size pieces and divide between 4 chilled salad plates. Add an equal amount of butternut squash cubes, grapefruit and orange segments to each plate. Divide the blue cheese chunks equally to the salads.
Drizzle olive oil and balsamic vinegar over each serving, add fresh grindings of salt and pepper. Top each serving with a tablespoon of chopped pistachio nuts.
Notes
The beets and butternut squash can be roasted in advance and refrigerated.
Do not remove the skins of the beets under running water as it dilutes the flavor of the beets. The skin wipes off easily with a dry paper towel.
Roast the butternut cubes only until they are barely tender. Mine were perfect at 12 minutes.
To get neat segments of grapefruit, slice each segment on both sides of the membrane.
Set the grapefruit segments on a paper towel-lined plate and blot them with another paper towel to remove excess moisture.
Nutrition Information:
Yield: 4
Serving Size: 1
Amount Per Serving:
Calories: 428
Total Fat: 33g
Saturated Fat: 8g
Trans Fat: 0g
Unsaturated Fat: 23g
Cholesterol: 21mg
Sodium: 598mg
Carbohydrates: 27g
Fiber: 5g
Sugar: 17g
Protein: 11g
Nutrition information is a guideline only, is calculated automatically by third-party software, and absolute accuracy is not guaranteed.