Enjoy a delectable creamy butternut squash soup with crisp prosciutto during these cool fall evenings. This thick, creamy butternut soup is topped off with crispy pieces of salty prosciutto that contrasts wonderfully with the sweetness of the butternut squash soup. All you need is a piece of sourdough bread to dunk into this filling soup.
Our creamy butternut squash soup will take under an hour to make and works well as either an appetizer or a main meal for a light dinner. The fresh herbs and garlic help give this soup a flavorful seasoning with every bite.
What Are the Benefits of Eating Butternut Squash?
Did you know that butternut squash is high in vitamin A? It actually packs more than the recommended serving amount in just one cup. Butternut squash provides you with more than just a considerable amount of Vitamin A. It also has fiber, magnesium, and potassium and it's fat-free, sodium free and cholesterol free.
This creamy butternut squash soup with crispy prosciutto is a delicious way to eat your vegetables and enjoy the fall harvest.
How Do You Peel Butternut Squash Easily?
Butternut squash is pretty hard in its raw form. You will need a sharp knife to get through the hard flesh. First, cut off a quarter-inch from the top and stem end of the butternut squash.
Next, cut the butternut squash in half so that you have two smaller and more manageable halves. One half will be the fat round end and the other half will be the longer narrow end.
Now use a vegetable peeler to peel the skin off the squash. You will see some green stripes under the skin. Make sure you peel the green away too.
Once each half of squash has been peeled, set them on end and cut them in half the long way. The fatter, rounder end will have seeds in it. Use a spoon or ice cream scooper to scoop the seeds out. From here you can cut the butternut squash down to 2-inch cubes.
What You Need to Make Creamy Butternut Squash Soup With Crispy Prosciutto:
Here is a run-down of the items you will need for your shopping list:
Prosciutto

Olive oil

One medium onion

Thre cloves garlic

One butternut squash

Salt/pepper

Fresh sage

Chicken broth

Heavy cream
How to Make Creamy Butternut Squash Soup With Crispy Prosciutto:
Start off by getting the prosciutto nice and crisp. We did this pretty easily in the oven. Just line a baking sheet with aluminum foil and then set a wire cooling rack on top. Put the prosciutto on the wire rack so the grease will drip under it and onto the baking sheet. The aluminum foil makes it easy to clean the grease when your finished.
We used a Dutch oven to cook the soup in but you can use any heavy duty soup pot. First, brown the onion until it is soft then add the garlic.
After the onion and garlic has a chance to release their flavors, add the cubed butternut squash, the seasonings and the chicken broth. Simmer together until the butternut squash is soft and tender.
How To Purée The Hot Soup:
The next step is puréeing the soup. You can either use a food processor, a blender or an immersion blender. We love using an immersion blender for this. It makes pureeing soup fast and easy. All you need to do is stick the immersion blender into the pot and blend away.
If you don't have an immersion blender then work in batches to puree the soup in a regular blender or a food processor then pour the blended soup back in the pot.
If you use a blender or food processor, make sure you are careful. Hot liquid will expand in the blender and burst out the top so only fill the blender half-way full. It is even better if you wait until the soup cools down a bit before you blend it.
After the soup is smooth, reheat if necessary, then add the cream and adjust the seasoning. Ladle the creamy soup into bowls and crumble the crispy prosciutto on top.
This is a thick, creamy soup. For a thinner consistency can be adjusted by increasing the chicken broth.
What is the Flavor of Butternut Squash?
Butternut squash has a sweet taste with a nutty and moist flavor combined. When I think of enjoying a good bite of butternut squash I think of a taste that's similar to sweet potatoes or perhaps almost like a butterscotch flavor.
Can You Freeze Butternut Squash Soup?
This creamy butternut squash soup can be frozen. Make sure it cools down completely before placing it in a freezer proof container then freeze it for up to 6 months.
When you re-heat the soup, heat gently on medium-low, do not bring it to a boil or the cream will curdle.
More Soup Recipes We Are Sure You Will Love:
CONNECT WITH SAVOR THE BEST!
Be sure to follow us on our social media accounts
Facebook * Instagram * Pinterest * Twitter * Youtube
Did you make this recipe? We would love to hear from you. Drop us a comment below.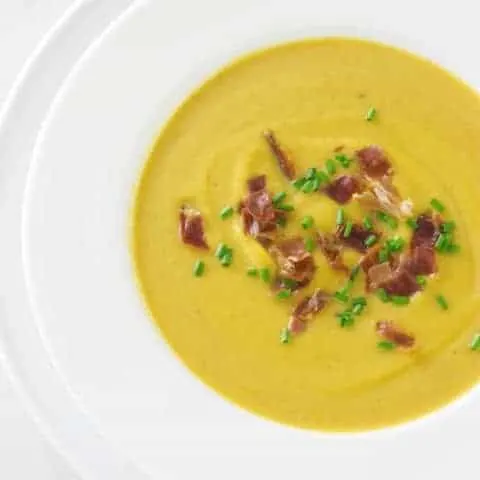 Creamy Butternut Squash Soup with Crisp Prosciutto
The crisp, salty flavor of prosciutto compliments the delicate flavor of butternut squash in our Butternut Soup with Crisp Prosciutto. This thick, creamy soup and crusty bread will satisfy a lunch or dinner appetite.
Ingredients
8 ounces prosciutto
2 tablespoons extra-virgin olive oil
1 medium onion, coarsely chopped
3 cloves garlic, coarsely chopped
3-4 pounds butternut squash, peeled, seeded and cut into 2-inch cubes
1 teaspoon salt
1/4 teaspoon black pepper
2 teaspoons chopped fresh sage
4 cups chicken broth
1 cup heavy cream
Chopped fresh herbs
Instructions
PREHEAT THE OVEN TO 400°F.
Line a baking sheet with aluminum foil and set a wire cooling rack over it. Lay the slices of prosciutto on the wire rack and transfer to the oven. Bake for 12 to 14 minutes, until the prosciutto is crisp. Remove from the oven and transfer the prosciutto to paper towels, blot to remove any drippings. Reserve
In a Dutch oven or large saucepan set over medium-high heat, add the olive oil and when it is heated add the chopped onion and cook, stirring often, until the onion is soft but not browned, about 3-4 minutes. Add the garlic and cook until fragrant, about 30 seconds.
Add the cubed butternut squash, salt, pepper, chopped sage and the chicken broth. Increase the heat to high and bring to a boil, stirring frequently. Reduce to low and simmer for 15-20 minutes, stirring occasionally, until the squash is cooked and very soft.
Working in batches, transfer the soup to a blender or food processor and purée until thick and very smooth. As each batch becomes smooth and creamy transfer to another saucepan and continue processing until all the vegetables are processed. Alternatively, if you have an immersion stick blender you can purée the soup right in the Dutch Oven or saucepan.
Reheat the soup if necessary. Taste and adjust seasoning. Add the cream and stir to combine.
Ladle the soup into soup plates/bowls, crumble one or two slices of prosciutto on each serving along with chopped chives or herbs of choice.
Notes
For added flavor, roast the onions, garlic and butternut squash on the same foil-lined baking sheet after the prosciutto has been cooked.
If roasting the vegetables, do not char them as it will affect the color of the soup.
For safety when processing the soup in the blender, fill the blender only 2/3 full.
The soup can be pureed directly in the saucepan with a stick/immersion blender.
This is a thick, creamy soup. For a thinner consistency adjust by increasing the chicken broth.
To reheat the soup, do not boil once the cream has been heated as the cream may cause curdling.
Recommended Products
As an Amazon Associate and member of other affiliate programs, I earn from qualifying purchases.
Nutrition Information:
Yield:

8
Serving Size:

1
Amount Per Serving:
Calories:

226
Total Fat:

11.5g
Cholesterol:

36mg
Sodium:

1027mg
Carbohydrates:

22.8g
Fiber:

3.7g
Sugar:

4.7g
Protein:

10.6g