Brrr…it has been so cold and the flu bug is sweeping through our country and has invaded our home. A hot bowl of chicken noodle soup is just what the doctor ordered.
When everyone has the sickies and no appetite there isn't any need to fuss over what to fix for dinner as chicken noodle soup will be just perfect. It is time to get out the soup pot because this is good medicine!
Chicken noodle soup is nourishing and it is an age-old nutritious soup with recipes handed down from our grandmothers who have always told us the soup has healing powers.
Actually, I am not convinced of that trivia but I know for sure that it is super-delicious and always welcome when I have a cold or flu. It is also considered to be great comfort food. Could that be the healing power?
Good, Old-Fashioned Chicken Noodle Soup:
Our recipe for chicken noodle soup is healthy, satisfying and economical. I would bet that most homes have the ingredients available right there in their kitchen cupboards and refrigerators.
Another benefit of this soup is that it goes together fast. Fast as a speeding bullet? No-ooo, but it is fast like in less than one hour, and if you use pre-cooked chicken it is even faster. Plus, there will be leftovers for the next couple of days.
We use the chicken thighs that have the bones and skins as they add flavor, flavor and more flavor. Also, we added chicken broth to enhance the flavor even more.
You can use the store-bought chicken broth but If you have any homemade chicken broth in the freezer that is even better. You can't go wrong with a good pour of white wine added to the pot either.
What is in our Chicken Noodle Soup?
Our soup has generous portions of chicken chunks, onions, carrots, celery, garlic and a string-tied bundle of fresh herbs that the French call 'Bouquet Garni'.
A Bouquet Garni eliminates the need of chopping the herbs but still delivers all the flavors. We chose fresh rosemary, thyme and parsley, tightly tied together with a string long enough to overhang the pot so it can be pulled out when the soup is finished.
Noodles or Pasta?
In those good 'ole days our grandmothers would add their own handcrafted egg noodles to their soups and if you want to give that option a try then I suggest you make a batch of our homemade einkorn pasta dough.
It is easy to make and sooo delicious. If you are short on time there are plenty of options available with store-bought pasta. Here are a few ideas:
Spiral pasta

Bow-Ties

Elbow Macaroni
Orzo
We love the thick fettuccine pasta that doesn't get all mushy the next day. The fettuccine is cooked separately and added to the soup at the finish. Another option would be to add the uncooked pasta to the soup pot and the starch from the pasta would slightly thicken the broth.
Whether you are down with the flu or not, a bowl of chicken noodle soup is good stuff anytime. Serve this soup with crackers or slices of warm crusty bread.
PS….as a side note, I have watched my grandmother go out to the hen house with her trusty hatchet, select a lucky fat hen, do it in, pluck off the feathers and butcher it herself. Then she would make the soup. We've come a long way since those days. 🙂
More soups to check out:
Have you made this recipe? We would love to see a picture. Tag us on instagram!!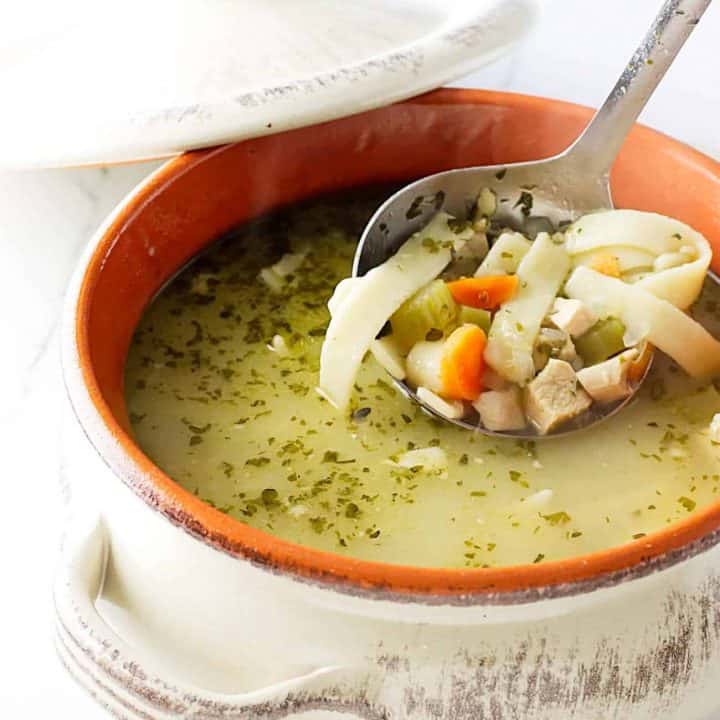 Chicken Noodle Soup
Chicken noodle soup is so comforting not only when you are down with the flu but anytime. It is healthy and nourishing full of chicken chunks, vegetables and thick noodles in a flavorful chicken broth.
Ingredients
2 tablespoons vegetable oil
4 pounds bone-in, chicken thighs
2 onions, diced
3 stalks celery
3 carrots, each about 8-inches long, scrubbed and diced
4 garlic cloves, finely chopped
4 quarts low-sodium chicken broth
2 cups white wine
2 teaspoons sea salt
1/4 teaspoon freshly ground white pepper
Bouquet Garni (fresh herb string-tied bundle of rosemary, thyme, parsley)
2 bay leaves
8 ounces dry pasta or egg noodles
Instructions
In a large stock pot set over medium high, heat the oil and add the chicken thighs and sear both sides to a golden brown. Transfer the chicken to a plate and add the onions, celery and carrots to the pot. Cook for 3 minutes and then add the chopped garlic, cook an additional 30 seconds. Return the chicken thighs to the pot and add the chicken broth, white wine, salt/pepper, herb bundle and bay leaves. Bring to a boil, reduce the heat to low and simmer for 30 minutes.
Transfer the chicken from the soup to a plate and when cool enough to handle, remove and discard the skin and bones, cut the chicken into bite-size pieces and return the the soup pot.
In a large saucepan of salted water, cook the pasta to just tender, drain and add the pasta to the soup pot. Taste the soup and adjust seasoning if necessary. Remove and discard the bay leaves and herb bundle. Serve hot with crackers or crusty bread.
Nutrition Information:
Yield:

16
Serving Size:

1
Amount Per Serving:
Calories:

399
Total Fat:

19g
Saturated Fat:

5g
Trans Fat:

0g
Unsaturated Fat:

14g
Cholesterol:

148mg
Sodium:

549mg
Carbohydrates:

20g
Fiber:

1g
Sugar:

2g
Protein:

34g
Nutrition information is a guideline only, is calculated automatically by third party software, and absolute accuracy is not guaranteed.